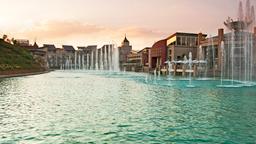 BAQ - JNB
Find cheap flights from Barranquilla to Johannesburg
Search hundreds of travel sites at once for deals on flights to Johannesburg
FAQs for booking Barranquilla to Johannesburg flights
Can I fly to Johannesburg? Are there any travel restrictions when entering Johannesburg?
Can I fly to Johannesburg without having to quarantine on arrival?
Do I need to take a coronavirus (Covid-19) test before flying to Johannesburg?
Can vaccinated people travel to Johannesburg?
What documents do I need to fly to Johannesburg?
What other coronavirus (Covid-19) restrictions are there in Johannesburg?
How long does a flight from Barranquilla to Johannesburg take?
Which airports will I be using when flying from Barranquilla to Johannesburg?
How does KAYAK find such low prices on flights from Barranquilla to Johannesburg?
How does KAYAK's flight Price Forecast tool help me choose the right time to buy my flight ticket from Barranquilla to Johannesburg?
What is the Hacker Fare option on flights from Barranquilla to Johannesburg?
What is KAYAK's "flexible dates" feature and why should I care when looking for a flight from Barranquilla to Johannesburg?
Top airlines flying Barranquilla E Cortissoz to Johannesburg OR Tambo
Scores according to KAYAK customer reviews
7,9
Lufthansa
Overall score based on 27 942 reviews
Pros: "Crew was competent"
Cons: "The plane was hot the entire flight"
Pros: "The flight crew & the flight itself was great."
Cons: "The flight was delayed by 4 hours. Not only did I miss my connecting flight, but I also missed my rescheduled flight. I had to wait another 7 hours in the airport waiting for a flight. And due to this I missed an important meeting."
Pros: "Free wine!"
Cons: "I travelled economy and found the seats not very enabling for big and tall folks as myself ! Other than that I highly recommend flying Lufthansa"
Cons: "No complaints. Good vegan food."
Cons: "Crew was not very friendly, the lack of customer service is evident."
Pros: "Transfer route through Frankfurt Airport was tight but not as tight as outbound. Lovely crew."
Cons: "Bus to plane at departure, no room in overhead lockers as space taken up with small bags"
Pros: "Flight crew made up time to arrive on time despite late arrival. They are pretty amazing - they got a plane hundreds of miles in the same time it took the ground crew to get my bag from the plane to the baggage claim."
Cons: "Frankfurt is just an awful airport. Too many landings and not enough infrastructure. Also tired of planes having to park thousands of yards from the terminal. The time to get the bag is as long as the flight. Each about 55 minutes. There is very little about German efficiency here."
Pros: "Seating space was fair"
Cons: "Too hot"
Pros: "The service was outstanding!"
Cons: "Someone stole my phone charger :("
Cons: "Flight was 2 hours late in departing from Frankfurt."
Pros: "Made up most of the time. Latrobe leaving due to queue."
Cons: "That I did not know in advance there was a snack. Would have odered vegan as it was had nothing."
Pros: "Crew was hospitable and flight was clean."
Pros: "Nice plane, efficient boarding and very attentive crew. There's plenty of entertainment options and free win with dinner."
Cons: "Everything was great. No complaints."
Pros: "I have always liked Lufthansa; however, got put on an American Airlines flight due to a missed connection and there were no further flights until later in the afternoon. Had to change airlines and they assured me my luggage would follow me. It did not!!!! Too many security checks, switching from place to place and being herded like cattle was not too pleasant. Security people were rude and very busy talking to each other to tend to their jobs. One person would tell you to do something and the next person would give you completely different direction. They were arguing amongst themselves and not paying attention to one of the most important things.....customers."
Cons: "On AA flight there were two small children running up and down the airplane most of the flight. Very disturbing and no one could rest. They were playing chase, hitting everyone's seat, and screaming at each other quite a bit. Parents obviously did not discipline them at all. After waiting in the airport for a completely different flight and not know what to expect this flight was not a pleasant one. American Airlines had overbooked the flight and they were begging people to give up their seats. They had a weight problem due to fuel amount and when we were approaching DFW we were diverted to Houston because we did not have enough fuel to stay in a holding pattern. We sat on the tarmac for a couple of hours, refueled, several people got off the plane in Houston in order to make connecting flights and then we FINALLY flew back to Dallas"
Pros: "DID NOT LIKE MY LUGGAGE GOING MISSING! IT'S STILL MISSING AND, AFTER RECEIVING PROMISES OF DELIVERY TODAY, THERE IS NOW NO RECORD OF MY LUGGAGE!"
Cons: "DID NOT LIKE MY LUGGAGE GOING MISSING. IT'S STILL MISSING AND, AFTER RECEIVING PROMISES OF DELIVERY TODAY, THERE IS NOW NO RECORD OF MY LUGGAGE!"
Cons: "We were 24 hours late for departure without warning. We only found it out at airport. Air attendant didn't take customer's complain seriously. When we asked if there were a choice for food. Answer was YES - to eat or not to eat."
Pros: "Nothing"
Cons: "Water was spilled on me by flight attendant. Luggage was left in Frankfort. Did not have clothes or medications, or daily necessities. Must wait 1 1/2 days to get luggage"
Pros: "Food, drinks, crew hel;pful"
Cons: "Boarding was not orderly, stupid system of delayed displaying of gate assignment"
Cons: "Bus shuttle to plane"
Pros: "Complementary Drinks. Beautiful Flight Attendants."
Cons: "Nothing"
Pros: "The cabin crew on our Munich to Denver leg was absolutely the best ever!"
Pros: "great flight attendants, decent food, on-time arrival. all good."
Pros: "On time"
Cons: "General boarding should be by zones or rows and not first come first serve."
Cons: "Flight was a little late to depart, but did make up most of the time over the Atlantic."
Pros: "Service is good, you actually get food and drinks, thanks for that."
Cons: "The seats in the economy class are too small. Not once did I have someone sitting next to me who could actually fit in his seat. They weren't particularly large people, just average men but their arms were in my space all the time. Also if I drop something, I cannot pick it up, there's no room. For transatlantic flights the seats should be bigger."
Pros: "Pleasantly surprised by the leg room for economy class--albeit I'm of small stature"
Cons: "Being on-board at the gate for an hour, due to a technical issue not meeting flight captain expectation"
Pros: "It was good the checking desk person was polite and done her best to put get me on to British Airways flight to get to my destination on the same day."
Cons: "But we waited tilll 12.30pm still flight took off at 14.00 and arrive in Dubai at 23.50pm instead of 22.30pm person went home who suppose to pick me up. I got to the place I was staying at 01.39am which was very uncomfortable. I will never fly again with Lufthansa Airline it use to like British Airways but definitely they have lost the customer touch."
Cons: "The on board entertainment sucks you need to upgrade"
Pros: "People of Lufthansa and the clients who were flying with me."
Cons: "The cabin got a little hot during the night and made it hard to be comfortable. Also, the seats lean pretty far back so I had little room in front of me when the person sitting in front of me leaned their seat all the way back."
Pros: "Good space between seats"
Cons: "Old and loud plane, especially loud and shaky on taking off"
Pros: "Everything"
Cons: "Not a thing"
Pros: "Very efficient, clean and comfortable."
Cons: "N/A"
Pros: "Everything on time"
Cons: "Nothing"
Pros: "Boarding was organized, flight was not profoundly oversold."
Cons: "Food was not appetizing."
Pros: "Plane not full so we hat an extra Seat"
Pros: "Excellent crew service. Nice man from Italy who spoke Italian, German, Spanish and English. I cannot recall his name (Gian....??) but he was wonderful. Helpful, professional and congenial. Thank you."
Cons: "Bathrooms were well ventilated, very strong smell."
Cons: "It was delayed by 9.5 hours!!!!!"
Cons: "11 hours of crying babies was too much. The practice of placing 4 cribs together on the bulkhead encouraged one baby to set the others off screaming. The toddler siblings then started fussing, the parents were then jumping up and down, jostling the other passengers, it was a nightmare! Hated every minute of it."
Pros: "The food was good, and crew came around several times to offer drinks."
Cons: "The airplane was extremely cold and the flight staff was rude"
Pros: "Munich airport is convenient and boarding went smoothly"
Cons: "This was an SAA plane, not Lufthansa. I have only had excellent service on Lufthansa. This flight again did not have a functioning entertainment system. I asked for this to be addressed and the SAA crew ignored the request and in the morning looked surprised to find out that several of the TV monitors had not worked at anytime on the flight. Not impressed."
Pros: "Very nice crew"
Cons: "Boarding and take off was late, probably the fault of destination airport"
Pros: "Good entertainment options, large bathroom area on a lower level"
Cons: "Food options and space"
Pros: "Comfort, choice in movies, leg room, toilets on one level and plenty, staff helpful"
Cons: "Baby cry all the way."
Pros: "Very accomdating crew"
Pros: "Entertainment, comfort"
Cons: "Food was not good. Too salty."
Pros: "Horrible seats"
Cons: "One of the crew at the airplane was really rude was a Male. He needs be more sensitive with special needs passengers."
Pros: "Nothing. It's a terrible airline. Seriously, don't book with them unless you're desperate or you want to have an anxiety attack."
Cons: "American isn't my preferred airline for obvious reasons (delays, notoriously bad service, old planes, and a lack of amenities like WiFi and tv's), but now I'll never spend my money with them again. They took me off an already delayed flight after I'd already boarded to examine my smart bag. I know that lithium batteries can't be taken in the underbelly of the plane and I knew my bag would likely be checked at the gate (why I removed the battery and left it at home in the first place). When they asked me if I had a lithium battery in my bag I said "no." They then gate checked the bag and allowed me on the plane. After everyone had been boarded (half an hour after we'd been scheduled to take off) they then called my name out on the speaker. I had to then de-board the plane and re-explain to staff that there was no lithium battery in my bag. The staff didn't believe me citing the infallible logic: "there are ports so there's a battery." I told them again and again that the battery had been removed and the charging ports—while there—were inert as they weren't attached to the battery. STILL, I had to remove all of my clothes from the bag, and open every single compartment (of which there were many) for them to allow me to get back onto the plane. They were telling me that they might have to "rebook the flight" if my bag couldn't get on. I don't think I need to explain how agitated/terrified that made me."
Pros: "The flight was on time, the turbulence was minimal. Overall a smooth flight, and the attention of the flight attendants was great. We arrived about 25 minutes earlier than what we had to, which was great."
Cons: "Having a variety of food options would be nice."
Cons: "Phoenix airport is horrible for on time departures. Always."
Cons: "Tried to cancel the flight because of an emergency but American only wants money."
Cons: "Less passengers or bigger plane means more room. Everything was perfect except for being uncomfortably cramped."
Pros: "The boarding was quick and easy and the lights were dimmed as it was a red eye flight. Couldn't have asked for anything more."
Pros: "Getting to my destination"
Cons: "Having air conditioning on an aircraft on a hot summer day is critical. Especially on a 2 hours delay on the tarmac!"
Pros: "One flight attend was especially careful of not hitting elbows with cart coming down the aisle."
Cons: "More food options! And, as always, more room in seat."
Pros: "Crew was nice. I bought two seats so that I would be comfortable Also the in flight Wi-Fi was a nice touch"
Cons: "Fight was delayed; possibly due to weather Wish the economy seats had just a little more legroom for those of us who are taller"
Pros: "the flight departure on time"
Cons: "the service in the plane is poor"
Pros: "Smooth flight"
Pros: "The crew were nice, glad I paid for the extra legroom."
Cons: "The food was only so-so, but it's only a short flight so you can't expect too much."
Cons: "The delayed flight was an issue, this caused me to miss my connecting flight. Punctuality is very important to me and should be to your airline."
Cons: "The seats were small and I'm 5'3"
Pros: "Plane had a modern feel with exception of entertainment."
Cons: "No entertainment on the back of the screen. This is 2018, who doesn't have that??? Sit length was a little small. I'm 5'10 and barely fit."
Pros: "The meal."
Pros: "Horrible landing. Also-landed early and srive around for 20 min with no announcement from cockpit"
Pros: "Nothing. Just the pilot"
Cons: "Everything. Bad communication. 1 h delay. Then 3 hs in the plane. We ran out of gas. 2 more hours taxiing Never seen something similar. I really hope my mileage refund."
Cons: "This flight was delayed by almost 5 hours. While I understand there are some delays sometimes, this was the ONLY flight to Greensboro out of DCA, and the times kept changing throughout the day, even though the gate agents knew that the issue was that the crew was delayed. There should be backup crew available and when there are delays, the passengers should be kept informed. There should be other flight options available when this happens. I never received an apology from anyone I encountered throughout the process, and some personnel were rude even though I was polite."
Pros: "All was good"
Pros: "Flight was delayed then cancelled. No explanation, apologies, or provision for accommodation was made or offered!"
Cons: "Everything"
Cons: "The seats."
Pros: "The crew was pleasent and helpful"
Cons: "Didn't get my bag, on either end"
Cons: "My bags were sent on an earlier flight so they were sitting on a different terminal and I was on a different one. At 9:30 pm in -12 degree Celsius I was waiting for a shuttle to take me to that terminal which was very unnecessary because it's their responsibility to give me my bag at the right terminal."
Cons: "Deben explicar con claridad las políticas de equipaje en vuelos operados por American Airlines."
Pros: "Flight crew had a great sense of humor - they were extra friendly while boarding as well, made traveling with AA the best! Boarding was delayed due to previous flight but our pilot even managed to get us to Denver early! Wish I could have this crew everywhere I go!"
Cons: "Canceled flight due to hurricane Irma and couldn't book me on a flight until 5 days later, had to buy an overpriced ticket on a different airline and still waiting for refund."
Pros: "The plane was clean, leaving on time, with fewer passengers there was much room and the service was surprisingly friendly for an American Airlines flight."
Cons: "The crew had a light task with the fewer passengers on board and they made the best of it... not neglecting the passengers, but definitely looking out for themselves and that was a bit obvious by creating small cabins for them to stay in using the curtains near the door exits and encouraging people to move to empty rows to clear the back rows for them to sleep on. Not bad, but just a bit obvious."
Cons: "We waited for 3 hours inside the plane on taxi then had to get off for an hour because of traffic delays."
Pros: "I loved the delay."
Cons: "Sits are very tight."
Pros: "The cabin crew were friendly and apologetic for the chronic problems with the entertainment system. The pilot gave us a smooth flight and landing, and was very conscientious about turbulence prevention and safety."
Cons: "The inflight entertainment system was spotty. Some customers had monitors that worked, some did not. A woman with a two-year old had one of the malfunctioning monitors and was forced to entertain her child for nine hours without tv, movies or music. Similarly, on our flight over to London 10 days earlier, my husband and I were 2 of more than 30 passengers whose monitors never worked and we were forced to fly for 7 hours in the dark on an overnight flight staring at the backs of seats. It was miserable. The cabin crew told passengers they had begged the airline for years to replace the system but the airline refuses. Will not fly American Airlines transatlantic again."
Pros: "A nonstop flight, with a friendly efficient crew, met my expectations. A crew member went above and beyond when I asked for a coffee stirrer with my coke and ice."
Cons: "I've been spoiled by another airline's access to screens on the back of the headrest. I have my own hand held devices to entertain myself instead."
Pros: "The water was clean"
Cons: "Everything else! We were first sold a British airlines flight, and then we got switched to American Airlines. I don't know if that is actually an okay thing for them to do. When we got onto to plane we were stuck on the runway for over 2 1/2 hours, where the outside temperature was 95 degrees and the AC in the plane didn't work. The delay was all due to a mechanical difficulty with the engine, this did not give us peace of mind when flying over the atlantic. while up in the air my newly wedded wife and I were hoping maybe we could watch a movie to help keep our minds off the creaking of the wings, the pool of sweat from the delay, and the grumpy flight attendants. Seeing as it was a 9 hour international flight, you would have expected some sort of entertainment. Maybe a personal TV.... nope. Maybe a community TV... nope. At least they have to have a radio....... nope. All we got were our two thumbs to twiddle. After a much needed nap. We woke up hoping maybe for a hot breakfast, but to put the cherry on top of some terrible ice cream, we got a mediocre cold breakfast. All in all I will not fly American Airlines again. I would happily and quickly pay double for any other airlines but them. It's such a poor reprisentation of our country."
Pros: "My neighbor."
Cons: "We sat on the tarmac for over an hour for no apparent reason."
Pros: "It was a great flight. We took off right away and were able to get off the plane immediately at LAX."
Cons: "We were delated in leaving, which made my connecting flight a little tight. It was stressful."
Cons: "Space too tight. Nothing was offered to us, not even a cup of water. Staff not friendly, mean even."
Pros: "Legroom was decent and the flight was fairly empty. So lot of space."
Cons: "No vegetarian food though it was mentioned earlier."
Pros: "Flight crew was peofessional"
Cons: "First flight was delayed. Delay not related to weather. American refused to provide hotel. the provided hotel and meal voucher for a fellow traveler on same flight who missed his connection. I was told he was accommodated because he is priority. When asked how I become priority I was told "he spends more money and flies more often." To me that means as a customer I am not a priority to American Airlines."
Pros: "Great food, comfort, and smiles :)"
Pros: "Attentive staff, easy boarding"
Cons: "AA got rid of the video screens on the chair in front of you; poor snack selection"
Cons: "Tight seating. Stewardess over the speaker was very hard to understand. Not a smooth landing."
Pros: "It was a reminder again why I never fly United"
Cons: "The late departure from Baranquilla cause many people to miss connections after passing through immigration in Miami."
Pros: "The flight attendants were the most rude and upsetting people o have ever felt with"
Pros: "Very nice crew. Full meal"
Pros: "That I at least had an aisle seat."
Cons: "I used to fly USAir all the time. The service was excellent. Following the merger, not so much anymore. The seat was very cramped. So much so that I had trouble walking when I got off the plane, and I'm in pretty good shape. I used to get upgraded often with USAir. Now that I have 3 times the mileage built up, it never happens. This wasn't the worst American flight , however. I recently had the displeasure of flying on one of the new planes, and that seat was so upright, cramped, and hard, it was like being on Spirit! (And I refuse to get on their planes ever again) my entire body was sore and stiff after flying on the new AA jet."
Pros: "Great seats."
Cons: "Customer service both over the phone and in person not very helpful to ensure connecting flights were made. Much better experience with Southwest in regards to coordinating delayed flights. AA could have done a much better job to ensure more flyers made thei connecting flights."
Pros: "Great crew of airplane staff"
Read more about Lufthansa
Safety measures for airlines flying from Barranquilla to Johannesburg
Airlines flying from Barranquilla to Johannesburg have enacted additional safety measures and adjusted policies to better accommodate travellers. Policies vary by airline.
Heightened sanitation
Daily cleaning, installation of cabin HEPA filters on flights from Barranquilla to Johannesburg
Mandatory masks
Masks required on board, masks provided on flights from Barranquilla to Johannesburg
Social distancing seating
Middle seats unavailable to book on flights from Barranquilla to Johannesburg
Pre-flight testing
Testing for antibodies, testing for symptoms for flights from Barranquilla to Johannesburg
Book cheap flights from Barranquilla to Johannesburg
Recent return flight deals
Search by stops
Search by airline
Search by price
Barranquilla - Johannesburg Flights