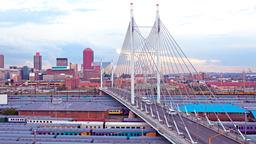 BJL - JNB
Find cheap flights from Banjul to Johannesburg
Search hundreds of travel sites at once for deals on flights to Johannesburg
Top tips for finding a cheap flight
Looking for a cheap flight? 25% of our users found flights on this route for R14 131 or less one-way.
FAQs for booking flights from Banjul to Johannesburg
How long does a flight from Banjul to Johannesburg take?
Which airlines provide the cheapest flights from Banjul to Johannesburg?
Which airports will I be using when flying from Banjul to Johannesburg?
How does KAYAK find such low prices on flights from Banjul to Johannesburg?
How does KAYAK's flight Price Forecast tool help me choose the right time to buy my flight ticket from Banjul to Johannesburg?
What is the Hacker Fare option on flights from Banjul to Johannesburg?
What is KAYAK's "flexible dates" feature and why should I care when looking for a flight from Banjul to Johannesburg?
Top airlines flying Banjul Yundum Intl to Johannesburg OR Tambo
Scores according to KAYAK customer reviews
7,9
Lufthansa
Overall score based on 27 793 reviews
Pros: "The flight attendants were stellar--polite, respectful, helpful, attentive. I want to particularly commend the attendant who, after I notified her that someone was very ill in the adjacent bathroom, stood discreetly nearby and offered the person a glass of water when he emerged. Very considerate."
Cons: "The transfer was a horrible, stressful experience. We knew it as a short connection but Lufthansa had accepted it. On our outward bound flight three weeks earlier, we were all met and escorted swiftly by a flight attendant from the first leg plane (EWR-MUN) to the second leg plane (MUN-Nice) to ensure that we all made it onboard. Impressive. On our return journey, no such luck! No attendant to meet us, and a huge line at immigration, full of panicked and stressed-out passengers jockeying for position, with no-one from ANY airline there to do a triage for those with the shortest connections. Ridiculous. In addition, the passport-scanning machines were very slow and quirky. My own passport was rejected because there was no evidence I had passed through Munich on my outward bound journey!! RIDICULOUS. I managed to slip through to a human being and begged the immigration officer to let me go through with my husband, who had had no such problem. The officer told me he could not find a stamp from my earlier transit through!!! Eventually I suppose he did because he let me through. The stamp was there, I found it, but it had been sloppily applied and was half off the page...hence the rejection by the scanner. We made the flight by minutes. NOT GOOD! Surely Lufthansa could do better in their own country???"
Pros: "Smooth and easy flight"
Cons: "Food and drinks served late"
Pros: "Flight attendant served snacks and drinks in less than hour's flight. Well done!"
Pros: "The flight was quick and minimal turbulence. Crew was friendly"
Pros: "Customer service is excellent"
Cons: "At SFO customer service with extra charge could not able to explain the amount of extra charges and not quiet professional"
Cons: "The arm rests on either side of my seat where closed so I had limited mobility in my seat (by closed I mean they didn't move and had no open space between where your arm sits and the top of the chair)"
Pros: "Spacious seat, easy charging."
Cons: "Boarding"
Pros: "Yes"
Cons: "Better food"
Cons: "No complaints. Good vegan food."
Cons: "I arranged assistance but nobody showed up."
Pros: "Crew rearranged people before takeoff to allow elbow room. Excellent food, salad and vegetable with meat option to help with hydration, wonderful noodle."
Cons: "Slightly too cool but I had an extra blanket and that is preferable to hot."
Pros: "Service"
Pros: "Crew. Courteous, engaging and supportive, of-course with a smile."
Cons: "Nothing on this flight"
Cons: "No seat assigned at check-in or even as they begin boarding. I thought I was flying Lufthansa. Air Canada gate agents were condescending. Very disappointed."
Pros: "The service was outstanding!"
Cons: "Someone stole my phone charger :("
Pros: "The service was excellent. The flight was on time. The crew was very friendly."
Pros: "Nothing"
Cons: "Everything"
Pros: "Flight was good, comfort was good. Crew was not very friendly."
Cons: "The food on Lufthansa flights is getting worse and worse."
Pros: "I have always liked Lufthansa; however, got put on an American Airlines flight due to a missed connection and there were no further flights until later in the afternoon. Had to change airlines and they assured me my luggage would follow me. It did not!!!! Too many security checks, switching from place to place and being herded like cattle was not too pleasant. Security people were rude and very busy talking to each other to tend to their jobs. One person would tell you to do something and the next person would give you completely different direction. They were arguing amongst themselves and not paying attention to one of the most important things.....customers."
Cons: "On AA flight there were two small children running up and down the airplane most of the flight. Very disturbing and no one could rest. They were playing chase, hitting everyone's seat, and screaming at each other quite a bit. Parents obviously did not discipline them at all. After waiting in the airport for a completely different flight and not know what to expect this flight was not a pleasant one. American Airlines had overbooked the flight and they were begging people to give up their seats. They had a weight problem due to fuel amount and when we were approaching DFW we were diverted to Houston because we did not have enough fuel to stay in a holding pattern. We sat on the tarmac for a couple of hours, refueled, several people got off the plane in Houston in order to make connecting flights and then we FINALLY flew back to Dallas"
Pros: "Food is provided"
Cons: "Delayed 6 hours on the plane"
Pros: "Outstanding cabin crew."
Cons: "Mediocre food with totally inadequate available snacks between meal services. Inadequate meal before landing."
Pros: "On time good entertainment"
Cons: "The seats were horrible"
Pros: "Nothing"
Cons: "Water was spilled on me by flight attendant. Luggage was left in Frankfort. Did not have clothes or medications, or daily necessities. Must wait 1 1/2 days to get luggage"
Pros: "Nothing"
Cons: "Airlines Front desk delay, long boarding , poor food"
Cons: "They supposed to check the visa for Europe from the depart airport and they failed to do that .At last in Munich they examined it so hard and had to leave and go back to the depart."
Pros: "On time"
Cons: "They don't have entertainment"
Pros: "Very friendly staff and good was good."
Cons: "Had to wait 35 minutes on the plane due to weather before taking off and there wasn't much care on how that would impact everyone's connecting flights."
Pros: "Great service, on time departure, excellent amenities"
Cons: "The flight was over before I expected it!"
Cons: "The on board entertainment sucks you need to upgrade"
Cons: "The cabin got a little hot during the night and made it hard to be comfortable. Also, the seats lean pretty far back so I had little room in front of me when the person sitting in front of me leaned their seat all the way back."
Pros: "I found the seats roomy - plenty of leg room. They were very comfortable in the way they leaned back. The food was very good, even though the meal was a simple lunch. The plane was very clean and bright."
Cons: "There was nothing I did not like. In fact, I felt: "This is the way flying aught to be.""
Pros: "Everything"
Cons: "Not a thing"
Pros: "Everything was pretty good. Except for the seats."
Cons: "On the long haul flight the seats started to hurt after a few hours. The seats on the short haul flight felt more comfortable."
Pros: "There service helping us with the boarding process was phenomenal!"
Cons: "It was delayed by 9.5 hours!!!!!"
Pros: "Leg room in Coach. Six bathrooms on a lower level relieved congestion and gave a place to stretch legs. WIne and cocktails included in meal. Crew was plesant."
Cons: "Munich airport: only a vending machine in the waiting area. Flight was delayed one hour and couldn't buy water if you had no coins."
Cons: "The flight was delayed for 2.5 hours, for a reason they never made clear after they let the passengers wait in line for 45 minutes to board. Once aboard, the Lufthansa planes were much much less comfortable than the Air Canada plane I took to Frankfurt. There is very little space and the seats are crammed together. The food they served was very bad, especially again in comparison with Air Canada. Once we arrived in Toronto, they made us wait nearly an hour before exiting the aircraft. It would seem that the Toronto airport would have to know we were coming and should have prepared accordingly, but apparently not. We sat, several passengers missed their connecting flights and were angry. I nearly missed my flight, having to run and race through customs (who are in no hurry)."
Cons: "The airplane was extremely cold and the flight staff was rude"
Pros: "Munich airport is convenient and boarding went smoothly"
Cons: "This was an SAA plane, not Lufthansa. I have only had excellent service on Lufthansa. This flight again did not have a functioning entertainment system. I asked for this to be addressed and the SAA crew ignored the request and in the morning looked surprised to find out that several of the TV monitors had not worked at anytime on the flight. Not impressed."
Pros: "From Munich to Toronto, it was great, especially being seated where I wanted, the window. I was able to watch great movies too, and during a 9hr flight, thats really nice."
Cons: "The food could be better. Too salty. But it is better than nothing and it was hot! So that was good."
Cons: "Food was not good. Seat leg room very uncomfortable"
Pros: "personal screen with option to start / pause and restart movie, good selection of movies but not the resent ones. Hot food, quick service. considered crew"
Cons: "no relaxing/ meditating music to ease sleeping only voice guided recordings, 3 hrs delay increased travel to 11 hrs 45 min"
Pros: "Lots of space."
Cons: "The food was just okay."
Cons: "The most unpleasant flight attendants we have ever had in our flying lives. Rude, condescending, treating passengers as if we are not human. Lufthansa should carefully examine their training."
Cons: "The buses to the planes had no ac. It was like a sauna. The plane was not ready for boarding so you were in the bus for 25 minutes. It was in the 90s in the bus before they opened the doors"
Cons: "Gate agents could be more friendly."
Pros: "Service was good. In flight selection of movies, music, tv etc was good. Flight camera was cool. Got a snack and drink in a 50 minute flight."
Cons: "Nothing"
Pros: "On time"
Pros: "This was our first time experience and we appreciated the dedication and the level of safety the crew administered, especially during this time of Covid 19. Thanks"
Cons: "Just keep up the good work."
Pros: "i could not contact momodo not in e-mail, telephone or chat momodo was real bad with solving problems and i will not recommend you with any way"
Pros: "Nothing noteworthy was done well."
Cons: "The boarding staff is incompetent resulting in a 2+ hour boarding time. No control or concern for boarding zones, multiple unnecessary and inconsistent ticket checks, and unclear process. If you took 300 toddlers, made 50 of them gate agents and said board an airplane, you would get about the same result. Food and crew in flight were mediocre. Entertainment system in the seat back doesn't work, shuts off in the middle of films, and is for some reason controlled by the wrong arm rest. I was in the aisle seat, my arm rest control panel did not control anything, but every time my neighbor shifted her arm it changed the volume on my system. Ethiopian airlines is what failure looks like."
Cons: "The cabin crew had masks to protect themselves I think against the threat of Coronavirus. We passengers did not have them. It looked awkward. How about if instead of handing out headsets they gave passengers masks?! Overall I enjoy ET."
Cons: "cramped boarding space and Addis airport. Inadequate space for volume of traffic. Capital investment in expansion required if Ethiopian to compete!"
Pros: "Friendly crew. Excellent check-in. Priority bags came off first."
Cons: "Chicken was undercooked. No power outlets."
Cons: "They know better than me"
Cons: "Airport Addis Ababa is chaos."
Pros: "seat not comfortable"
Cons: "more drinks along the way"
Pros: "Very good,on time good service"
Cons: "Better seats on business in boing 737 800"
Pros: "Very conformable and quiet."
Cons: "Nothing very nice flight."
Pros: "YES"
Cons: "nothing"
Pros: "Same as above."
Cons: "Staff needs to be briefed on what an insulin pump is."
Pros: "It was a comfortable flight with good intertainment."
Cons: "The food could be better."
Pros: "Crew were nice"
Cons: "Always delaying, catastrophic food."
Cons: "The whole boarding process was a bit chaotic. I was really called on the plane. I tried to signal for a blanket or some food but there was only 2 cabin crew members."
Pros: "Flight time changed without notice. Delays in Medinah caused us to miss our connecting flight to Johannesburg. Really poor communication. No agents would take calls in Jeddah. Really terrible service. Would avoid using this airline at all cost. Not the first time I've been delayed by them"
Cons: "Flight time changed without notice. Delays in Medinah caused us to miss our connecting flight to Johannesburg. Really poor communication. No agents would take calls in Jeddah. Really terrible service. Would avoid using this airline at all cost. Not the first time I've been delayed by them"
Cons: "Lack of communication. The flight was delayed and boarding was very chaotic due to poor communication."
Cons: "Cabin crew quite distracted. Between rows 19-23, orders were totally mixed up People given wrong food or drinks"
Pros: "Seats are reasonably comfortable with sufficient storage space Food was OK"
Cons: "Chech in was poor - didn't have priority stickers for business class luggage. Had to go to different counter for hotel voucher. Overall not good and professional Didn't have ice on the plane ( for drinks, water etc)"
Pros: "Good service in the plane"
Cons: "In Lomé ground crew are horrible and asking for bribes including the supervisor."
Pros: "New plane fantastic cabin"
Cons: "There was a fight but nothibg to do with the flight crew just some passenger with mental issues"
Cons: "They didn't announce when boarding started/what zones were to go."
Cons: "The whole thing was a disaster. I lost my connection flight due to incompetence from the Ethiopian airlines representative"
Pros: "I took a roundtrip to Addis Abeba, Ethiopia from Washington, DC. The trip was 13 hours there and 16 on the way back (I think that included a refueling stop in Dublin). There was plenty of food and beverages provided throughout the flight - usually every 3 hours or so. Blankets, pillows, and several movie/entertainment were provided."
Cons: "I would prefer the the main cabin lights be kept off longer."
Pros: "Food was pretty good. Flight attendants were very nice, however they didn't do too much on a screaming baby that wouldn't shut up the entire flight."
Cons: "Late take off from Newark led to us almost missing our connections to Johannesburg. We were moving like sheep herded to buses. Seemed very unorganized. The inflight entertainment was very basic compared to other star alliance flights in the states. Can't understand the pilots very well when they spoke English. P"
Pros: "The food served is awesome and sufficient. The flights are comfortable and the crew are friendly. My luggage came right on time and was properly handled"
Cons: "Well there was no entertainment in the flight. That is it"
Pros: "Everything Kosher food was excellent"
Cons: "Nothing"
Pros: "The crew where very pleasant, The service on the plane was good you had a choice of what meal you would like to have you also had a choice of any movie or entertainment that you would like to see or play there was more leg space and much more comfortable seating"
Cons: "I can't fault anything on this flight."
Pros: "The friendliness and willingness to assist passengers when they notice one facing a challenge"
Cons: "The chairs in economy do not give sufficient leg room especially for tall persons, this would present a challenge on long haul"
Cons: "My phone was stolen on airport premises"
Pros: "the air craft was very good and the comfort is good no complain..."
Cons: "i did'n't like some of the cabin crew the way they are ....and am very disappointed from kinshasa to my check in i did ask a lady about my bag, she told me i will get my bag to cape straight, and i did ask her two times about the bag, she keep saying the same thing i will get my bag to cape town, so until now i haven't find my bag yet, the number they gave me from the airport no body pic up the phone, so i don't know what i can i do to get my bag......if you can hep me in this mater please contact me on my email or on my cell number 0027 78 470 6195. thank you your best regards."
Cons: "There was a deley of 3 and a half h"
Pros: "Great crew, decent food"
Pros: "NOTHING!"
Cons: "everything about it, from the random cancellation of my flight, to missing my connection, and their inability to get me another flight, spending over 24 hours in travel for a mere 6 hour flight. No customer service, would never recommend Ethiopian Airlines to anyone."
Pros: "Comfortable flight, pleasant airline attendants."
Cons: "Nothing."
Pros: "Very helpful, attentive and kind cabin staff."
Cons: "Somewhat dirty ( and smelly ) aircraft even though they are a very new fleet. Some seats had strange patches and stains. Overall cabin experience can be improved in terms of hygiene and food quality ( food was mediocre or slightly worse). Seat ahead reclines almost too much into personal space in the new 787 aircraft. The LCD displays don't pivot so it's virtually impossible to view the entertainment when the occupant of the seat in front fully reclines ( a somewhat irritating issue on a long flight )"
Pros: "Cheap"
Cons: "Delays, Delays, Delays, 2 hours late !!!!!!!!!"
Pros: "Great service! Friendly and on time!"
Cons: "A mother was put off the plane with her infant because she didn't carry a ticket. Was brought back on at some point we must have a heart no excuses"
Pros: "Comfort"
Cons: "Comfort"
Pros: "The crew were all very friendly and welcoming."
Cons: "The food options need to be more varied."
Cons: "Seats were dirty"
Cons: "Same as above"
Pros: "The crew very kind and made me feel comfortable"
Cons: "Old 767, with not comfortable set up and no individual TV set."
Pros: "Paid about 1000 round trip. Staff was attentive and respectful specially addis to LA. New aircraft was good and comfortable."
Cons: "Entertainment needs to have more recent blockbuster. Food variety should be expanded, need more choice"
Pros: "The best flight ever and the crew is super cool"
Pros: "Staff were pleasant"
Cons: "One segment of my flight did not have the gluten free meal I had requested ahead of time. Super crowded."
Pros: "Entertainment was good."
Cons: "There were tons of announcements in 3 or 4 languages which really was so annoying. Staff didn't seem friendly, lots of confusion there. Plane seemed every old and run down. Short stop in Paris took forever."
Pros: "It was a good flight, made only a little disappointing by all the children running through the plane, opening the washroom doors and leaving them open. A little strange, really."
Read more about Lufthansa
Safety measures for airlines flying from Banjul to Johannesburg
Airlines flying from Banjul to Johannesburg have enacted additional safety measures and adjusted policies to better accommodate travellers. Policies vary by airline.
Heightened sanitation
Daily cleaning, installation of cabin HEPA filters on flights from Banjul to Johannesburg
Mandatory masks
Masks required on board, masks provided on flights from Banjul to Johannesburg
Social distancing seating
Middle seats unavailable to book on flights from Banjul to Johannesburg
Pre-flight testing
Testing for antibodies, testing for symptoms for flights from Banjul to Johannesburg
Book cheap flights from Banjul to Johannesburg
Recent return flight deals
Search by stops
Search by airline
Search by price
Banjul - Johannesburg Flights