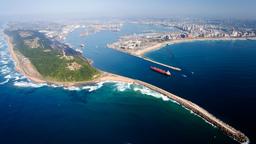 BWI - DUR
Find cheap flights from Baltimore to Durban
Search hundreds of travel sites at once for deals on flights to Durban
FAQs for booking flights from Baltimore to Durban
How long does a flight from Baltimore to Durban take?
Which airlines provide the cheapest flights from Baltimore to Durban?
Which airports will I be using when flying from Baltimore to Durban?
How does KAYAK find such low prices on flights from Baltimore to Durban?
How does KAYAK's flight Price Forecast tool help me choose the right time to buy my flight ticket from Baltimore to Durban?
What is the Hacker Fare option on flights from Baltimore to Durban?
What is KAYAK's "flexible dates" feature and why should I care when looking for a flight from Baltimore to Durban?
Top airlines flying Baltimore/Washington to Durban King Shaka Intl
Scores according to KAYAK customer reviews
8,3
Qatar Airways
Overall score based on 10 978 reviews
Pros: "Decent seats. Good amenities for a long flight - entertainment, pack with toothbrush/mask/earplugs/socks."
Pros: "The aircraft was comfortable and the electronic amenities were decent and needs improvement"
Cons: "Free WiFi and Dancing boys"
Cons: "Nothing"
Pros: "The flight was on time"
Cons: "When a very large man is placed next to someone else who is in a middle seat and cannot use the arm rests on either side, I would think the hostesses would make an effort to move one of the three considering there were multiple other open seats. He was also very old and could hardly stand up when needed. It was the most uncomfortable flight, if I had the money, I would definitely fly business class"
Cons: "Seats for its along way"
Pros: "The crew was polite and professional. The seat was as comfortable as it could be for economy."
Cons: "No complains. Qatar has always been my preferred airline."
Pros: "The crew was good. Good movie selection."
Cons: "The food. The vegetarian meals were both noodles. And the meals were not very healthy. Too high calorie. I couldn't figure out how to customize my meals On the Qatar app"
Pros: "Crew was OK."
Cons: "Seats in business class extremely uncomfortable, almost no recline. Very old entertainment equipment. Really disappointing flight given lack of comfort in business class."
Pros: "The Crew was only Alright this time, not has attentive jas the first Time, but still good"
Cons: "Overall IT was a great trip, but the Seat are still the best Selling point for business class, not vert confortable for a 7h et 12h flight"
Pros: "Short flight. Attentive crew"
Pros: "service attitude"
Pros: "Patricia (cabin crew member) was particularly nice to us, and encouraged us to move to a row of empty seats so we could lie down and sleep for the second leg of our 24-hour flight. Air ventilation on this plane is excellent. Food was good. my low-lactose meal found me even after I had moved seats. overall excellent flight."
Pros: "The leg room was huge, the food was excellent and a lot and the customer service was great not my first time to fly with Qatar and it won't be my last, the made my trip worthwhile. Thank you"
Cons: "No complaints great flight"
Pros: "Passengers with kids up To ten yrs should be boarded with passengers with infants...otherwise excellent service...i like flying with Qatar airways.."
Pros: "The crew was excellent"
Pros: "empty seat next to me!"
Cons: "more cramped than akld to doha"
Pros: "Boarding was smooth; Plane was clean; Flight departed on time;"
Cons: "Flight arrived late for no obvious reason; Crew was good but not as good as what I have experienced in the past with Qatar and other airlines"
Pros: "Spacious for economy, pleasant flight attendants"
Cons: "Nada!"
Pros: "Everything."
Cons: "No"
Cons: "The seat from Jakarta to Doha, especially the head/neck holder was uncomfortoble. Too big and stiff and wasn't on the right possition even though it is adjustable. One of the crew didn't say anything, not even smile after she opened the curtain between bussiness and economy class at row J K L. She just walked away."
Pros: "The leg space the reclining chair the personal tv the head rest The food"
Cons: "Nothing"
Pros: "Great services"
Cons: "Boarding slow"
Pros: "Staff was courteous. Food wasn't too bad. Plane was clean and modern. Ambiance was relaxing. This was a very pleasant flight compared to other airlines."
Pros: "We loved everything. From the moment we walked into the plane we were blown away. Food, air hostesses,flight, you name it was great."
Cons: "We didn't like that our return flight was changed to a different airline. Cathay Pacific. My wife didn't like the service at all and keep complaining and comparing it to Qatar."
Pros: "Ended up having spare seats beside me. Planes were new and in great condition. Staff were very good."
Pros: "Flight attendants very attentive and helpful, wheel chair provided at Doha airport by helpful and friendly staff, comfortable seating in business class. Overall I would give my flight an A rating."
Cons: "I do not have any complaints, except one bathroom I used was not as clean as I would have preferred."
Cons: "the returning flight from Doha to Chicago was absolutely old and small."
Pros: "Overall better than most of domestic US or Korean national airline in terms of food and service."
Cons: "Boarding took longer than other airports. Too many redundant checks for no apparent reason."
Cons: "Extremely small leg pitch"
Pros: "I like everything about the flight"
Cons: "Everything was ok"
Pros: "Very friendly crew. Plenty of food and options. Always coming by with snacks, or towels, or drinks."
Cons: "Seat width is always an issue in economy, but nothing unexpected."
Cons: "both flights had 2 hours delay... also lugages cames with next flight."
Pros: "all"
Pros: "Food was better than expected. Entertainment as good as any major airlines. Planes were new and modern."
Cons: "Flight attendants are not friendly and rude. Seat had a problem reclining."
Pros: "The food was very good, I liked vegetarian options and my stomach doesn't hurt after the plane food as usual. I like the bathrooms clean and nice smelling soap. The crew was very attentive and eager to please their guest but consistent and insisting on the safety rules (belts buckled up and seats in upright position)"
Cons: "There wasn't many good options for entertainment. Only a couple new movies although I liked the TED talks. Also I liked the plane but I wish there were some foot steps and more comfortable head support on the seats. I didn't like also strange option for Golden members in economy seats to be able to "order" food before regular people. There were only 3 options and everyone had the same choice. So basically all that crew does is just asking which course gold members want an hour before serving. It seemed silly with no actual benefit."
Pros: "Solid movie selection, good food"
Cons: "You have to go through security again at the Qatar Airlines gate, which takes extra time"
Pros: "Boarding was good and the flight was on time"
Cons: "The food is lowering in quality as time passes. It's very disappointing to see one of Qatar Airways advantages lowering in quality."
Pros: "'Low cal meal for you?' Sorry embarrassing. Nothing low cal really bread butter potato corn thing ... kinda gross, just ate rice which is not low cal. Still waiting for my luggage ... driver will now have waited over an hour... sorry ..."
Pros: "Much of your service is excellent!"
Cons: "Although the very well crafted advertisement for Qatar at beginning of watching each movie is partially beautiful, I personally find it a bit offensive as a woman the clear emphasis on "my son, this watch and all that is mine will be yours", my daughter, your highest moment will be to get married. My disturbance with what I experience as sexist, worsened each time I saw this. Luckily I learnt how to fast forward, but the sexism of this left me disturbed. so although in reality much of your service is excellent, this advertising of a sexist world view was too disturbing to ignore. I hope my comments are helpful to you in considering that many women in the world now expect their fathers to consider passing on a fair share of their resources to their daughters as well."
Pros: "Everything was great except Food and service comfort of the plane Cleanliness was superior"
Cons: "One crew member was a pain if you wanted ice you got 3 cubes ask for more he would ignore you. He was rud and nasty. I mentioned to other crew members they say just his way. If that is his way maybe he need find new job."
Pros: "The flight crew was great. They were very kind."
Cons: "The biggest problem with my flight was it was very crowded so it was hard to get comfortable for such a long flight. I wish I can afford first class but I can't."
Pros: "Considering how long it was, not much could have been better. It wasn't too crowded, so the seat next to me was free, which made getting some sleep easier."
Pros: "Good, newer wide body aircraft. Good service. No hassles, really. Would fly again. Overall good experience."
Cons: "Newest seating arrangement in 777 300 ER just too crammed. Used to be better. Nothing special about this flight, was expecting a little more space, a little less crowded, a bit better service. But my flight was short hop from BKK to HAN, last leg of flight originating in Doha."
Pros: "Nothing."
Cons: "Was denied boarding."
Pros: "The flight service was great. We had a slight delay on the way back to Doha from Heathrow but they made up for it by getting us through security faster so I didn't miss my flight to Tokyo. Overall the timing was excellent and I got home without having to fork out any extra money."
Cons: "Song selections"
Pros: "Newer aircraft, good crew"
Cons: "Food was average. Poor movie selection"
Pros: "I loved the kind and friendly staff of Qatar airline. They were very organized and helpful. We missed our flight due to delays but they took great car of us and guided us through the process."
Cons: "They seats were too close. The person in front had his seat back and was practically in my lap. Annoying."
Cons: "Layover in the middle of the night - no sleep! Also, crew kept waking us up for meals etc, versus letting us sleep."
Pros: "Crew.. single person was okay. Overall company operation plus late flight was poor"
Cons: "Luggage handling could be better. Flight on schedule will be good."
Pros: "Flight attendants"
Cons: "Free water please!"
Cons: "Die Wartezeit in Londonit 5,5 Stunden war viel zu lang, das sollte auch kürzer möglich sein"
Pros: "Crew was great"
Cons: "Nothing"
Pros: "Staff was friendly and responsive."
Cons: "USB slot that works and also headphone jack that works. Warm food will be appreciated"
Cons: "We left Baltimore an hour and a half late and missed our connecting flight to Paris."
Pros: "Check-in at BWI could not have been nice/more courteous. Great flight and crew!"
Cons: "We love this BA flight out of BWI."
Pros: "The crew was professional. Plenty of space to store my carry on bag overhead. I also like the safety video at the beginning, featuring actors and comedians."
Cons: "I have no complaints about this flight."
Pros: "Lovely wide windows!"
Cons: "Surprised at check in with a $60 fee for my one and only checked bag for a 2 week trip. Felt robbed. Seats very close together on flight. Sore knees."
Cons: "Dear Sir or Madam: My two colleagues and I bought our tickets from BWI to Geneva, via London Heathrow, through Kayak as I have many times in the past. However, the Kiwi.com travel agency did not flag that the ticket from BWI to London Heathrow allowed for one piece of checked luggage, but the ticket from London Heathrow onwards to Geneva did not allow for any checked luggage. Also astonishingly, we had to pass through Customs, reclaim our checked suitcases from the baggage carousel, and check in again through Customs to board the onward flight, both coming and going through London Heathrow. In addition to the extraordinary inconvenience that we could neither transit at London Heathrow to our connecting flight without going through Customs twice and that we could not check our luggage through to our final destination, we also had to foot a higher baggage charge to allow for checking in our suitcases, now that we had arrived in London Heathrow only to discover this that our onward ticket did not cover one piece of checked luggage. Had we known that the seemingly better price posted by Kiwi.com on Kayak's comparative offerings came at such a high price of inconvenience and additional expense for the luggage, we would have taken our business elsewhere. It was deceptive of Kiwi.com to engage in such practices, even if it disclosed these conditions in fine print (for no one would expect, nor have I ever seen previously in the hundreds of flights I have taken as a Million Miler on United), without flagging this. And similarly, it was irresponsible of Kayak.com to allow this "apples with oranges" comparison on its website. I'm making three more international trips in December, but I'm inclined not to use either Kayak.com and most certainly not Kiwi.com for future airline ticket purchases."
Pros: "Safe flight"
Cons: "Just wanted a glass of coca cola."
Pros: "The crew was great and made the flight comfortable and easy! They brought drinks as needed, free of charge, movies and headphones were provided, and the flight arrived ahead of schedule in London! A wonderful experience! Would absolutely fly again and was so pleased to find the deal on kayak!!!!"
Cons: "Absolutely no leg room despite paying additional fee"
Pros: "Nice staff, very accommodating to the fact that we were late and missing connections. The ground staff in baltimore were communicative and really nice about the delay. The ground staff in london were super on top of it, handing us a new boarding pass as soon as we landed given that we missed our connection."
Cons: "The back of the plane is just SO cramped. Seems humane to take out a seat in that back section. The food was pretty dry. Would have appreciated a bit more explanation of options. I didn't watch any movies - just tried to sleep. We took off three hours late. It's surprising to me that none of the BA staff spoke italian. Would have been helpful for the missed connections as I ended up stumbling through some spanish to help an older italian couple who didn't speak any english. it was surprising how little translation there was!"
Pros: "Staff were friendly."
Cons: "Check-in did not include my TSA-Pre or airline frequent flyer membership. Food was stale and inedible."
Cons: "First flight cancelled. Customer service hung up first time. Almost 2 hours on hold to reschedule"
Pros: "Price was reasonable"
Cons: "Seats not good for 5'10" and taller. Leg room cut short by box fixed under seat in front of me"
Pros: "The new Dreamliner made for the smoothest, quietest flight I've ever taken."
Pros: "It was efficient and on time"
Cons: "British air is not what ir used to be. It is no longer high caliber flying. The attendant were not impeccable a it once were. The plane was not grand as o expected. Just average like any other airline"
Cons: "Cramped seating with no leg room and dinner was barely edible."
Cons: "Seat space too cramped"
Pros: "Spacious. Great movies. Funny safety instructions."
Pros: "Sitting in exist row with leg room"
Cons: "Seats are small, not enough elbow space. Movie selection was bad."
Pros: "The crew was very polite and friendly, making this 7-hour flight enjoyable."
Cons: "There was nothing I disliked."
Pros: "Safe, comfort, reliable"
Cons: "Food was NOT good at all. Go with theBeef & Potatoes"
Pros: "Crew was hospitable"
Cons: "Headphone jack in seat arm was inoperable . Seats were so cramped a fellow passenger who was taller seated on the aisle was moved."
Pros: "The food was fine, and there was plenty of it. The movie selection was good."
Cons: "The crew turned the lights out when we took off, then when everyone was asleep they turned them on and served dinner, at like 10-1030 pm... Way too late to be eating. Then they turned the lights off, then on again for drinks, then off then on again for a breakfast snack, then off then on again for more drinks. Just pick one, on or off please."
Cons: "The British airline flight was operated by american airline and someone who handled her bag stole everything. We purchased prior to the flight. 2 pairs of sneakers a gift spoon for our grandson and other items not mentioned. Then they put her bag on another flight which made her wait for 1.5 hours in Madrid for her bag. Your handlers ruined our trip.How can you allow thieves to do this especially with TSA supposedly there monitoring it? I want a claim form sent to me ASAP so I can recover my goods. A notice was not placed inside, stating it was checked."
Pros: "I like everything the service provided by the crew and the airplane"
Cons: "For the second London trip in a row, my return flight to BWI was cancelled. Not weather, not equipment, just cancelled."
Pros: "Entertainment selection was above average, curried chicken dinner was good too!"
Cons: "They lost our suitcase full of outdoor gear (boots, coats, underwear, socks and thermals) days before we head to the inside of the arctic circle on an anniversary trip. Pretty upsetting to say the least"
Pros: "Crew was friendly and helpful."
Cons: "We learned the connecting flight from BWI TO PHL was canceled when we tried to pull boarding passes.This started a five hour panic for our party of four which was a leisure travel nail biter. We lost a day, flew into JFK and had to make other arrangements to avoid canceling our trip."
Pros: "Overall good experience for short flight - entertainment and breakfast not included."
Pros: "We were given a snack & drinks. You checked my 2nd bag free which was FABULOUS so I didn't have to deal with gate checking when you asked for us to do that."
Cons: "Was seated in bulkhead & the media screen wouldn't stay facing me. What a pain. Ended up unable to watch it without holding it in place. Seat cushion was very flat & uncomfortable; head rest of poor design did not allow sleep."
Pros: "Overall all was excellent. The only is the sear do not have enough leg room. Particularly if the person in front of you put the seat all the way back. Would prefer a flight from Baltimore to Madrid."
Cons: "Seating was to close"
Cons: "Flight from London to Baltimore attendant stood in the back talking and laughing ignoring my call button. Waited 20 min before someone came so I could get water for my daughter. Flight attendant who responded was very rude."
Pros: "The crew inside the plane was amazing"
Cons: "As soon as i got to the check in window i was informed my flight was delayed and I had planned everything to be on time and since my flight was one hour late it kind messed things up a little bit. It seems that british airlines had a delay on purpose just to have a full flight, i wanted to change seats im a skinny guy and i was seated between TWO BIG people my elbows had to be tucked in all the time"
Cons: "air stewardess was very rude unecessarily"
Cons: "My flight from BWI-JFK was cancelled due to weather related issues and was rebooked to BWI-MIA-MAD, 5 hours late from my original departure and without providing any meal voucher despite asking from the agent. BWI-MIA flight was delayed due to air traffic clearance from the thunderstorm and almost missed my connection MIA-MAD by few minutes. Upon arrival in MAD, my baggage didn't make the connection and had to wait for 3 days before my baggage arrived"
Pros: "Customer service."
Cons: "Embracardo plane is small."
Pros: "Good food. Beautiful plane. Great stuff. Free beverages of all kinds."
Cons: "There is not enough space to sit. It is insulting to be squeezed into such a small amount of space, particularly on such a long flight."
Pros: "I liked everything! Free drinks, movies on demand on the seat-back screen on the seat in front of you... comfortable seats. I would definitely fly BA again!! (The American Airlines return flight was a bit less desirable in all categories. Comparatively, BA was awesome!)."
Cons: "Not a thing!"
Pros: "Quiet and peaceful."
Pros: "On time, no issues, friendly staff"
Cons: "Freezing, air cond blowing cold air the whole time"
Pros: "Nothing in particularly"
Cons: "Disorganised boarding, people standing to find a seat, upgrades being handed out on a whim. Meal service poor."
Pros: "Food and entertainment were great"
Cons: "Crew started out way too smarmy. First half hour of flight was nearly continuous, repetitive stream of innocuous announcements. After that, the general mood from the crew was snotty. One male attendant in particular was grouchy and touchy, physically grabbing tables and seats and repositioning the passengers for landing. Another wider attendant seemed to make it a personal vendetta to barrel into anyone who dared extend a shoulder into "her" aisle. During last two hours of flight, the cabin temperature soared into the high 80s (I blame the grouchy attendant), which was made worse because that model of plane didn't have personal air vents."
Pros: "Not much"
Pros: "Staff was friendly and I liked that a meal was offered"
Cons: "My seat back entertainment didn't work, so that made for a boring flight. Flight staff would say things like "I will check on that "or "I will be right back to look into that "but they never returned. Also the food was pretty bad in my opinion. And the fact that they started at the front end of the flight was not optimal because we had to keep our chair backs up instead of being able to sleep. I personally would have preferred breakfast. Leaving at 8pm, most people had already eaten."
Read more about Qatar Airways
Safety measures for airlines flying from Baltimore to Durban
Airlines flying from Baltimore to Durban have enacted additional safety measures and adjusted policies to better accommodate travellers. Policies vary by airline.
Heightened sanitation
Daily cleaning, installation of cabin HEPA filters on flights from Baltimore to Durban
Mandatory masks
Masks required on board, masks provided on flights from Baltimore to Durban
Social distancing seating
Middle seats unavailable to book on flights from Baltimore to Durban
Pre-flight testing
Testing for antibodies, testing for symptoms for flights from Baltimore to Durban
Book cheap flights from Baltimore to Durban
Recent return flight deals
Search by stops
Search by airline
Search by price
Baltimore - Durban Flights