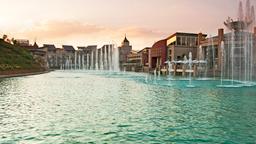 Find cheap flights from Tuscany to Johannesburg
Search hundreds of travel sites at once for deals on flights to Johannesburg
FAQs for booking Tuscany to Johannesburg flights
How does KAYAK find such low prices on flights from Tuscany to Johannesburg?
How does KAYAK's flight Price Forecast tool help me choose the right time to buy my flight ticket from Tuscany to Johannesburg?
What is the Hacker Fare option on flights from Tuscany to Johannesburg?
What is KAYAK's "flexible dates" feature and why should I care when looking for a flight from Tuscany to Johannesburg?
Top 4 airlines serving Tuscany to Johannesburg OR Tambo
Scores according to KAYAK customer reviews
8,0
SWISS
Overall score based on 9 044 reviews
Pros: "Never got on the plane due to weather restrictions in the connecting flight prior to this flight. Called SWISS customer service on a Russian line, were told to get a paper from another Russian airport that no flights were leaving the city. Did that. when arrived to Moscow no SWISS customer representatives were at the stations and had to end up buying a completely new ticket to get home."
Cons: "Have customer service representative available at the airport 24/7 knowing that some people arrive from all parts of the country."
Pros: "The crew was good, not amazing and the seats were adequate, not generous. The food was sppealing."
Cons: "The whole experience was positive."
Pros: "Crew was great, seating comfortable."
Pros: "Very friendly and cooperative crew. Entertainment is well upated with latest media."
Cons: "Nothing"
Cons: "On time"
Cons: "seat comfort"
Pros: "Both the flight crew and the flight attendants were great. It was the smoothest landing I have had it quite dome time"
Cons: "The flight was cancelled and Florence airport staff was extremely incompetent and unprofessional. I spent 12 hours in the airport before getting to Zurich. Won't get to Chicago until 24 hours after my planned arrival. If I something important then hell would've been raised."
Pros: "The crew was terrific and friendly as I expected."
Cons: "I have no other suggestions here since I'm pleased with the flight and services."
Pros: "The. Crew were amazing"
Cons: "Lpst my luggage"
Pros: "Enjoyed the surprisingly good vegetarian hot meal, wine, and chocolate! (And silverware) Said to us they cared for passengers and the environment. A much better overall experience than with United!"
Cons: "Plane did not have a place to switch to the other aisle without disturbing passengers or crew! You need to move a tad bit on such a long flight!"
Pros: "Nice crew, lot of space"
Pros: "Good, in-flight entertainment"
Cons: "There must be a way for crew to intervene and help parents with screaming infants or disruptive children. The flight noise/comfort was miserable"
Pros: "The crew and flight"
Cons: "No airconditioning while waiting on the shuttle bus to the plane"
Pros: "The crew was very attentive and friendly. For the price the seats where comfortable."
Pros: "The booking to a new flight was seamless."
Cons: "We had to take a different flight on Lufthansa which had a whole list of it's own problems."
Pros: "The food wasn't bad"
Cons: "Business seats suck"
Pros: "I was rerouted to another country so that I could still make it to Greece on the same day."
Cons: "The flight was delayed from Newark so I had to be rerouted to another country before going to Greece."
Cons: "Mackenzie Gray/ My flight was cancelled due to bad weather conditions unfortunately. I'm upset that I never received my initinerary for my substitute flight! I tried online and calling the # that was provided no results. I managed to get thru to someone and they told me they would send the info to my email but they never did."
Pros: "Air hostesses were very courteous, friendly and the cabin was clean and comfortable. My flight from jfk to Geneva (then Zurich) was cancelled due to weather in Geneva (Swiss 23) so I got upgraded to a delta flight to Brussels then to Zurich Comfort+ !!! Thank you!"
Cons: "Flight from Zurich to Johannesburg: Swiss 288 (airbus a340-300) Sat in the last row of the Swiss air flight, economy, which was okay but our whole row video enternatinment system didn't work. You'd pick a movie and it wouldn't play. The games, camera and flight status animation all worked but not the movies. Air hostess tried resetting , still nothing. But it was a great opportunity to have a lovely conversation with my new German Friend Barbara and read my book! More lactose intolerant alternatives for breakfast which had much (cheese, yogurt, croissant) Other than those two , excellent flight. Thank you Swiss!"
Pros: "Four economy short-hauls in two days: That extra tad legroom (A321, A320, CS100) Planes are very clean Good quality snacks Great staff"
Pros: "The flight left on time and arrived a bit early."
Cons: "Everything was fine"
Pros: "Very short flight so little to write about."
Cons: "We've got no complaints."
Pros: "The service was great, the staff was very friendly and helpful"
Cons: "The business seats that we booked were normal economy plus seats with no one in the middle seat. The whole idea of booking a business class ticket is the extra comfort that comes with the lay flat seat or at absolute minimum on smaller planes the wider more comfortable seat. Neither of those were present on this flight. Calling this a business class is a rip off."
Cons: "My seat did not recline and my tv did not work"
Pros: "Loved my experience with Swiss airlines. Comfortable and pleasant flight."
Pros: "Comfortable....customer-service oriented staff. Enjoyable food, and entertainment."
Cons: "Only thing that could have been easier is to offer more self check-in options at the airport. Very courteous staff, and wait wasn't extremely long."
Cons: "Only one agent to check in economy passengers two agents for first class and 2 or 3 for special needs. There were many more economy passengers and it took a lot longer to be serviced more agents for economy would have been more equitable"
Pros: "entertainment was fine"
Pros: "I did not take this flight. I had to change my itinerary to accommodate a change in my work commitments and tried to cancel this flight but was unable."
Cons: "I am never ordering a ticket through your services again. And I will certainly advise friends and colleagues against doing so. Your customer service is execrable. This is the second time in a year that I have had to spend hours of time in an attempt to cancel a flight and have lost the full ticket cost because of all your terms and conditions and fine (=unfindable, unreadable) print. The lack of transparency regarding baggage fees is outrageous. I have had to pay hundreds of dollars in such fees after having had no such notice - and no inkling - that that would be the case. We call this a "racket" in the United States."
Pros: "Attentive crew offwring water frequentlyflight"
Cons: "Flifght was far from full and I am small.so the very tight seat configuration was not a problem."
Pros: "The flight was very good what I didnt like in that when i booked the flight it never said that my ticket wouldnt be able to add lifemiles for star alliance. That was only the reason i chose this airline. When i ask about my lifemiles the answer was that my class of ticket didnt get any lifemile. I felt cheated. You should put it somewhere visibly so the person knows before booking. If i knew it before i never chose this airline."
Pros: "Crew handled it well"
Pros: "Great customer service."
Cons: "Breakfast was a strawberry yogurt, orange juice and a croissant. Sugar free options ie. Eggs, rye or whole grain bread are a few examples of sugar free breakfast items that could be provided."
Pros: "The Crew was wonderful."
Pros: "The food was great, the seats were thin and we had a lot of room and the staff was super!"
Cons: "Nothing, we would have stayed in this airplane longer...."
Pros: "Very little"
Cons: "I paid extra for seat selections and then they did not give me those seats."
Pros: "The crew on Swiss Air is very welcoming. The food was pretty good and there was frequent beverage service, so you don't get dehydrated like on other airlines."
Cons: "The seats decline fairly far back into the next seat. As a result, some of the passengers got agitated if they do not go with the flow and decline like dominoes. Both legs of the flight we had the people seated behind us kicking and shoving our seats. One gentleman was kicking my seat for a couple hours and made a scene on the outgoing flight. The stewardess addressed the gentleman and explained that I had to decline my seat because the seat in front of me was declined. My knees were jammed into the seat in front of me, so every time the gentleman kicked me, it not only hurt my back, but my knees. The couple behind us on the return flight jumped the line to get onto the flight, kept kicking our seats and then pretended they did not understand when we asked that they stop. I think the pilot should address the issue upfront so this toddler like behavior does not go on. I am not sure if it is common behavior, but not something I have experienced on an American carrier."
Pros: "Decent food (great chocolate), polite attendants and updated aircraft"
Cons: "Contrary to most experiences in Switzerland, the Swiss Air boarding process is a damn mess! Most airlines board by rows or boarding groups, but Swiss Air does none of that. As soon as first class is boarded, they open boarding to all seats, so it's like cattle boarding a train. With Swiss Air, don't wait to get in line - do it early to ensure you get carry-on storage near your seat."
Pros: "Food and entertainment"
Cons: "Mobile app wasnt working for me"
Pros: "Kind and efficient service. Help to board and disembark Good communication. Great customer service."
Cons: "It took some time to get our gate-checked wheel chair, but I have to say, they went out of their way to help us find it."
Pros: "The chocolates shaped like soccer balls. The fantastic icecream"
Cons: "While waiting for boarding I overheard a young woman, who was traveling with several companions, screaming to her mother on the phone that she and her friends had all gotten bedbugs and were in agony! She was making plans to leave all of her bags in the driveway when she got home. I discretely let boarding staff know and was told there is nothing they can do about it. They also cannot change my flight, or my seat, in the event that I am seated next to the person with the issue. They did give me a bag in which to place my carry on before storing it overhead. But once on the plane, I realized that my checked bag would be thrown in with everyone else's. In addition, I had forgotten to preorder gluten free food. The airline had nothing gluten free to offer me on a prolonged international flight and did not even offer to produce any gluten free snack (peanuts? cheese?) to tide me over. My luggage is still sitting in my car awaiting a process. However, in the unfortunate event that it has come into contact with bedbugs it may be too late :("
Pros: "Crew was excellent, and the food was both ample and appetizing."
Cons: "The boarding process is a little chaotic for the economy cabin since there is no distinctions by zone or seat row. The result is a bit of a surge when they first announce the boarding of the cabin."
Pros: "Nothing"
Cons: "The most racist and unfriendly and uncivilized people ever."
Pros: "The seats were actually more comfortable on this short leg than on the much longer flight back to Boston. And the Swiss chocolate was good."
Cons: "Having to pay for a second checked bag. And the refreshment (I think it was supposed to be ice cream) was awful. Also, I think it was the young pilots virgin flight. The jerky take off and bouncy initial flight was capped off with an approach to the runway for landing that was very scary, much too fast and wobbly. Thankfully the plane was pulled back up into the air, just before touch down, circled for ten minutes, and retried the landing. This time perfectly smooth and successful."
Cons: "No room and very hard to get t your seat"
Pros: "Quick flight, nice crew"
Cons: "Snack options"
Pros: "Swiss planes were clean and everything worked. Flight attendants very friendly. Food was superb. Plus, the connection in Zurich, as always, was seamless and painless. Will definitely give Swiss my preference when looking at trans Atlantic flights."
Cons: "Nothing."
Cons: "Had our luggage checked for connecting flight in Frankfurt"
Pros: "Smooth and easy flight"
Cons: "Food and drinks served late"
Pros: "Got to ride on a Boeing 747 Intercontinental!"
Cons: "It's hard to give a good review when the first of three flights is an hour late. Made me and my wife run through Frankfurt airport to make my connection. Only made it by 2 minutes. Frankfurt security was super slow and no one cares."
Cons: "Lufthansa left us stranded in Dublin"
Pros: "Lufthansa doesn't let the passenger choose their seat; it instead assigns their seat for them!"
Cons: "Too many last minute gate changes for boarding are confusing which costs extra time for the passenger, especially for connecting flights."
Cons: "The flight was cancelled and rescheduled for tomorrow same time due to bad weather. I had a child with me and it took 2.5 hours for us in the airport to get a hotel and taxi for night stay and I reached at 0030 at night. The lufthansa staff was not helpful at the start. I will missed a meeting for"
Pros: "Crew was super professional and friendly !"
Cons: "Little to no overhead cabin room to stow by my bag so had to place under my feet."
Cons: "I travelled economy and found the seats not very enabling for big and tall folks as myself ! Other than that I highly recommend flying Lufthansa"
Cons: "No complaints. Good vegan food."
Pros: "I booked with Lufthansa, but this was a United flight. I prefer United's boarding process with multiple groups to Lufthansa's single group. Lufthansa's leads to a very very long line 20 minutes before boarding starts."
Cons: "United had fewer movie options, fewer meals, and worse food than the Lufthansa flight we took when we traveled to Frankfurt. It was also delayed two hours due to mechanical issues. I will have to pay more attention when I book next time to avoid United flights."
Cons: "On our layover in Munich, we were at our gate, then noticed about 30 minutes prior to boarding that they'd moved us to another gate quite far away, so we hurried to the new gate, only to discover the change was an error, and we had to run back to our original gate. Made it, but annoyed."
Pros: "Flight attendants were excellent and very accommodating."
Pros: "The service was outstanding!"
Cons: "Someone stole my phone charger :("
Pros: "The lunch served on the Munich to O'Hare segment was well above average for plane food. Like how the seat reclined. Inside temp was good."
Cons: "What's to like about today's airport experience, irregardless of the airline?"
Pros: "That we made it alive."
Cons: "The 1 hr flight that turned into an 8 hour fiasco."
Pros: "Staff was very courteous. Food was pretty ok and drinks were available during whole flight. Lufthansa is a good airline"
Cons: "Horrible customer service"
Cons: "Had to take a United flight to a different destination. No compensation for something I had no control over. When I am at an airport and have the opportunity to catch an earlier flight you have room on, you charge me. When this kind of thing happens - I pay with my time. Sucks"
Pros: "Many bathrooms, crew constantly came around offering juice and water."
Pros: "everything was great"
Pros: "Nothing"
Cons: "Water was spilled on me by flight attendant. Luggage was left in Frankfort. Did not have clothes or medications, or daily necessities. Must wait 1 1/2 days to get luggage"
Pros: "Online check in worked well through app."
Cons: "If you leave something on the plane, don't expect for it to be handed in. My iPad disappeared on the flight. The woman at the boarding gate in Bham kept shouting at everyone, she was really rude, both flights were late taking off."
Pros: "Every thing except food. Could be better"
Cons: "B"
Cons: "Due to the weather and overbooking, they were not able to provide us with a flight for the same day. So we had to take a 4 hour train, which was also overbooked. We ended up standing up for 4 hours in a crowded train"
Pros: "Very courteous service, clearly a step above other airlines"
Pros: "Air Canada could learn a few things from you - ie, the incredible impact of providing free food and excellence customer service at the checkout and gates."
Cons: "Still didn't get to destination. Two hours delayed was enough to make me miss the connection flight which result in a extra 7 hours wait in Munich for a 9 hours total. But they compensate all that with a 10 euros voucher, well worth the trouble."
Pros: "Loved the crew, much, much better than any American airline. Food was better than any American airline. Pleasant flight."
Cons: "My flight arrived late, and I nearly missed my connecting flight."
Cons: "The on board entertainment sucks you need to upgrade"
Pros: "All round excellent services. Food is good, but I wish but I wished More chooses or selection."
Cons: "The cabin got a little hot during the night and made it hard to be comfortable. Also, the seats lean pretty far back so I had little room in front of me when the person sitting in front of me leaned their seat all the way back."
Pros: "Friendly crew"
Pros: "Everything"
Cons: "Not a thing"
Pros: "Smooth flight, attendants were attentive"
Cons: "Seats way too close when reclining You sh know the ingredients of meals served Why not serve real fruit? Apples bananas etc Unable to check in online ...thus had poor seats and no upgrade opportunities"
Cons: "Seats were not comfortable even in business"
Pros: "Nothing. Never was able to get on the flight"
Pros: "all was perfect and helping"
Cons: "nothing all are fantastic"
Pros: "On time and a safe flight."
Cons: "Flying ECONOMY appears to be getting worse as time goes on. I have flown Lufthansa before and was very pleased .... but lunches/dinners served with cold wet bread leaves a lot to be desired. Also, when the individual in font of you reclines their seat, it becomes almost impossible to eat your meal. Overall still better than other airlines ... but clear that economy seating is like sitting in the back of the boat with little regard for the passenger."
Cons: "It was delayed by 9.5 hours!!!!!"
Pros: "In flight entertainment"
Cons: "Seat pitch"
Pros: "The coach seats were much more comfortable than Air Canada's. The flight was without incident. Staff were great! Accommodating, friendly and efficient!"
Pros: "Munich airport is convenient and boarding went smoothly"
Cons: "This was an SAA plane, not Lufthansa. I have only had excellent service on Lufthansa. This flight again did not have a functioning entertainment system. I asked for this to be addressed and the SAA crew ignored the request and in the morning looked surprised to find out that several of the TV monitors had not worked at anytime on the flight. Not impressed."
Pros: "The movies, the nice flight attendants, the constant service."
Pros: "Fast the boarding process all in time good food"
Cons: "All was alright"
Pros: "The crew was friendlier. the plane was way cleaner than the previous one. The food was more decent."
Cons: "The crew wasn't too willing to help with the carry-on baggage, for example - I kept looking for a while for an available spot to deposit mine."
Cons: "I could not make it to flight due to health problems. I was refused to be given another date for the flight."
Cons: "Didn't take it"
Pros: "NOTHING!"
Cons: "Lufthansa's customer service is terrible. The service agent who rebooked my flight said flight was FULL when there were several seats open. The lady charged me an exorbitant amount saying that the "flight was overbooked". I am NEVER flying Lufthansa again. In addition, I am spreading the word to family and friends who use Lufthansa to use another air carrier."
Pros: "Plane was modern, entertainment was great. Food looked delicious, albeit not eatable comfortable seats"
Cons: "Some passenger kept FARTING the ENTIRE flight. I wasn't able to sleep, I wasn't able to eat, NOTHING. The flight was full so we were not able to switch seats. It was horrid. Also, airplane lacked air vents to blow air around. We were stuck. The person just kept unloading the most poisonous cloud every 15 minutes or so. When I say it was BAD, I really mean it."
Cons: "I was nauseous during the plane ride walked to back of plane and was told I wasn't allowed to be back there. When that is where the bathrooms were. I asked for an extra pillow when there were 10 free seats the crew never honored my request. Not once did they ask if I was ok. The food was inedible. And I was completely uncomfortable the entire flight."
Pros: "Friendly crew, great access to a variety refreshments, robust entertainment library."
Cons: "No suggestions."
Cons: "Allow business passenger to use front bathroom."
Cons: "Boarding at Florence is always chaotic but this isn't within the control of KLM or their crew."
Cons: "Still don't have my luggage yet"
Cons: "Delay due to strike"
Pros: "Flight arrived on time"
Cons: "No food provided "due to a strike the previous day". Not sure why this would impact on providing a sandwich or snack particularly when champagne was still available for first class passengers."
Cons: "Boarding was chaotic & therefore delayed take off a little Receiving luggage was slow -@ 35 minutes from landing to luggage claim, so actual arrival was considerably later for those meeting me"
Pros: "Seats were super comfortable, bigger than most planes with extra leg room. Food was excellent and fresh, amazing Dutch cheese sampler was divine. No nonsense staff who had all connecting flight info on hand when we arrived in Abu Dhabi. KLM staff were friendly and efficient. Fabulous airline."
Cons: "Fix the damn KIOSKS at Vienna!"
Pros: "Crew helpful. Food good."
Cons: "Better range of movies please"
Pros: "Seat was comfy and spacious for economy class"
Cons: "Vegetarian meal was okay but could be more enjoyable if served with bread at start of meal."
Pros: "Very friendly crew and on time with no problems."
Pros: "Great crew, comfortable seating with enough leg room."
Cons: "Provide dinner before getting to joburg, instead of a snack. Flight arrives late so dinner would be appreciated"
Cons: "There was no wifi on flight"
Pros: "Just the cabin crew being nice"
Cons: "Punctuality KLM is always late"
Cons: "We were changed from KLM to Airiltalia without any information sent so only because I tried to check in did I find out the flight on KLM was cancelled and we were changed to Airitalia. The Airitalia flight was very mediocre."
Pros: "All good"
Pros: "Crew's hospitality, good music, good destination material, terminal info, good system overall"
Cons: "Less legroom, storage space, bad food, few movie options."
Cons: "lost baggage"
Cons: "Flight canceled, poor communication from the airline to the passengers. Møre than 5 hrs delay"
Pros: "Nice people and good service"
Cons: "Not much"
Pros: "Efficient boarding system, clearly signposted. Professional staff"
Cons: "Flight was delayed, landing at vce took an additional 10 minutes due to no one at the jet way. Luggage service was very slow"
Pros: "Crew was very friendly. Nice that wine was served without charge."
Cons: "Announcements from the cockpit were hard to hear. Food has been better in past."
Cons: "Still waiting to board after missing this connection had to be booked on another airline"
Cons: "Services was pretty weird .. Perse or crew Leader was ok But the assistent Young one was Really bad.. aptitud and not friendly at all."
Pros: "Crew was great, very nice"
Cons: "Not enough legroom"
Pros: "Good flight, very attentive crew."
Cons: "KLM staff in the Prague airport were some of the rudest humans I have ever met. So incredibly uncaring and outright mean."
Pros: "Food and staff behaviour"
Cons: "Entertainment"
Cons: "Nothing good to say about this flight. The plane was old with no entertainment. The sits where very compact and not comfortable at all. The food was a sweet bread and water. The flight attendants were rushing and will take a while if you needed anything. I felt like I was taking a bus with graffiti all over the place."
Pros: "Decent meal (warm Pasta all'arrabbiata), nice little muffin for dessert and standard drinks (coffee & tea were a bonus, as they didn't serve any on a similar flight, from Barcelona to Amsterdam), friendly cabin crew."
Cons: "Poor timing - no reason for a 40 minute delay at take off (plane was fully boarded in time) Old aircraft, shabby, dirty and cramped seats. Coming from my connecting flight from Barcelona, I could clearly tell the different in the quality (and cleanliness) of the aircrafts."
Pros: "Norhing"
Cons: "They have mabaged to lost my luggage"
Pros: "Nice crew; clean plane; decent dinner"
Cons: "No entertainment system; insufficient knee space"
Pros: "Good information and helpfil boarding."
Cons: "Has to wait in confined area fir nearly 2 hrs before boarding. No restroom or refreshments within that area."
Pros: "The crew came to get me from the arrival gate to get to the departure gate since our plane was delayed. It helped to know that the airline was checking to make sure we made the flight."
Cons: "I did not get my luggage in Nairobi. The delayed flight that was the most likely reason it did not get to the connecting flight to Nairobi."
Pros: "Very friendly and helpful personnel."
Cons: "Amesterdam airport employee was really rude"
Cons: "They stole my money"
Cons: "Dutch sub titels would be nice."
Pros: "The flight was very good, specially considering it was a daylight one. Staff was friendly and servicial. Tue food was above the industry's average."
Pros: "Airline staff good and professional"
Cons: "Nothing one can do, for a 6.2" guy, the metal bar that forms the shape for the pouch for magazines and such digs into knees, ESP if person in front adjusts seat back. Fold out table barely accommodates laptop."
Pros: "great choice of entertainment content, friendly crew"
Pros: "Easy airport business"
Pros: "Flight was efficient enough and staff were friendly."
Cons: "It was delayed quite a bit and more on-time updates would have been appeciated."
Pros: "Night flight so no entertainment allowed sleeping"
Cons: "Kosher food could be improved"
Pros: "Food and drink service"
Cons: "Boarding pass facility"
Pros: "Having exit aisle made a huge difference in comfort Crew were EXCELLENT"
Cons: "Food was not very good Tasteless and rubbery"
Cons: "sardines!"
Pros: "Good food, good entertainment system, comfortable seating."
Cons: "Only one toilet working in business class. A crew member told me that it was a decision to fly with only one toilet to ensure no delay. There was a disgusting stench of sewerage for the complete flight from Amsterdam to Johannesburg. This was in all likelihood due to the broken toilet on the left side."
"Flight to Florence delayed. All passengers took a bus to Pisa (1.5 hours away) to fly Pisa to Paris. We missed our connection and flew next day. All information regarding the delay online was incorrect ("system not yet updated") . So calling Air France was useless as they could not assist. Not all flight delays can be avoided but many improvements are needed throughout this process."
Pros: "Nothing, the flight was delayed, the plane too small for passengers to store their carry-on luggage, the ground staff did not upload all the luggage and left some behind in Nairobi on the tarmac, the crew lied about the luggage being uploaded. Terrible experience! Kenya Airways is becoming worst and worst."
Cons: "Everything, the flight was delayed, the plane too small for passengers to store their carry-on luggage, the ground staff did not upload all the luggage and left some behind in Nairobi on the tarmac, the crew lied about the luggage being uploaded. Terrible experience! Kenya Airways is becoming worst and worst."
Cons: "Staff Curtsy and overall gestures!!"
Pros: "Exit row seat had much more space for legs, very much worth the upcharge for this seat."
Cons: "Cabin temperature was very cool for me. Never used a blanket on an international flight before, and used a blanke on this whole 9 hour flight. Maybe a function of the seat location? Not sure but I was cold."
Pros: "Despite being a short flight, they gave food"
Cons: "Nothing. All ok"
Cons: "Seats were too close together."
Pros: "Not much, seats are super uncomfortable"
Cons: "Better code sharing with KLM"
Cons: "Departure time was almost 2 hours late and the communication of the cabin crew regarding this issue was poor. Almost an hour went by without an update."
Pros: "Crew was good, seat was not, it was freezing cold and one little blanket was inadequate!"
Cons: "Provide another blanket when needed, was wearing shorts and a short sleeve shirt."
Pros: "The whole crew is so kind"
Cons: "Delta made my whole first flying experience the best."
Cons: "Plane is old and entertainment facilities are no longer appropriate"
Pros: "The flight departed on time and arrived early. The crew were all courteous and kind even to the man who was sitting next to me who seemed quite demanding."
Cons: "I am small but the seats seemed a bit too tight. The plane itself seemed a bit outdated."
Pros: "The crew was excellent."
Cons: "The snacks that were handed out prior to landing were not very good and it looked as though a lot of people in our section felt the same way. Also, there were a lot of empty seats in the comfort and premium sections, but non of our gold medallions were offered an upgrade."
Cons: "It was a great flight can't think of anything"
Cons: "Not really an Air France flight, AF not interested in taking care of their frequent fliers."
Pros: "The airplane"
Cons: "Nothing"
Pros: "Very efficient boarding. We actually departed earlier and then landed in Barcelona 15 minutes ahead of schedule. Overall a very smooth experience."
Cons: "Flight was delayed by at least an hour leaving Paris - a regular situation I experienced with AF."
Cons: "Arrived 5 hours late"
Pros: "No extra charge for simple refreshments."
Pros: "Liked the transfer"
Pros: "The only thing that I like about the flight was that it was easy to boarding"
Cons: "The food was not heat correctly it was cold and I felt that the crew rush to give out the food. The seats are terrible, if the person in front of you reclines you won't be able to see the screen if your watching a movie and you will see the top of the persons head."
Cons: "Separated me and my wife for the whole flight! Could not accommodate us together. This reservation was made over 6 weeks ago !!!"
Pros: "It was on time"
Cons: "Hard seats Boarding was 35 min delayed"
Pros: "Onboard crew was friendly. Dinner was good"
Cons: "Cabin was very cold. Not enough legroom compared to orher international carriers. Male flight attendant kept bumping into my husband sitting in aisle seat so he unable to get any sleep. We tried upgrading to business but Delta said we had to contact Air France in Detroit. When thrre, the gentleman on ground crew was actually rude when I asked about it. He could have just politely told me there was nothing available. Not looking forward to my return flight"
Cons: "Flight was delayed by 1h30min, so we arrived very late"
Cons: "I am not sure why this happened, but our daughter, travelling away from home for the first time, was targeted at every step of her journey. From the terminal in DCA to Cincinnati, to CDG. Delta/Air France clearly singled her out. i am outraged! I have traveled many, many times and have sent hundreds of students on nearly the same trip -- and none have had as rough a time as she had. They will be hearing from me."
Cons: "Security services at Manchester airport...too long and not friendly at all"
Cons: "I don't know why they keep making boarding with stairs and bus."
Pros: "Nithing"
Cons: "They were unfreindly and rude."
Cons: "CDG is a monster. The distances are long . The signage is poor and when I asked for directions the diirections I got were wrong."
Pros: "Free snack and drinks. Good service."
Pros: "I didn't actually liked the entertainment"
Cons: "I just didn't enjoy the entrainment."
Pros: "Service was great, flight was on time and I really enjoyed everything"
Cons: "Little turbulence but overall it comes as usual so it was worth the flight"
Pros: "Crew was nice and responsive"
Cons: "The overall experience is regular at best"
Pros: "Good boarding procedure."
Cons: "Nothing much to add for a short journey."
Cons: "the food is terrible."
Cons: "The food: asked for vegetarian but got incipit vegan... Mostly rice with coconut milk"
Pros: "1) USB charger and electric outlet 2) Availability of 2-across economy seats (for a price) 3) Vegetarian dinner option available and not too bad 4) Flight arrived on-time"
Cons: "1) Front seat pocket bulging with 2 extra-thick in-flight magazines 2) No on-board wifi 3) Not much seating room - very thin"
Pros: "The time of the flight was great as well as the arrival time and subsequent connections to Paris. Enjoyed the rather full line of in flight beverages!"
Cons: "Leaving late seemingly without reason from Paris - chaotic boarding line in Paris with difficult to hear PA. Seats were ok'ish but than again, it's a 45 minute flight. The sandwich was gross and I'm somewhat known as a person who eats everything!"
Pros: "Párizs Budapest kb 1 óra késés műszaki hiba miatt. egyébként minden rendbe volt."
Pros: "Nothing..worst experience ever. Simply apologising for delayed doesn't help"
Cons: "Flight into and out of indiapolis was delayed by 2 hours. Missed my connection flight to LHR because of the delay. never had such a flying experience. Flight was operated by Delta. I won't be flying them again."
Pros: "Good entertainment selection, and staff all very friendly. Food was pretty mediocre - main course was nice but the breakfast especially left a lot to be desired."
Pros: "Free drinks and snack!"
Cons: "Nothing"
Pros: "The food was good, the staff was very friendly and very nice,"
Cons: "The seat configuration in economy is unacceptable, the leg room is terrible and overall a very uncomfortable flight of more than 7 hours"
Pros: "Best flight I've ever flown. Blankets and pillows provided with many options for movies."
Cons: "Poor communication. Did not know was airfrance the booking was completed with Austria airline. In the ticket was not the information. Also, airfrance could not find me in their systems I was late to board the plane. Terrible messy and confusing time for me."
Pros: "It was as expected."
Cons: "Boarding was a bit tedious because we had to first board a bus to take us to the airplane."
Cons: "My entertainment system did not work for the whole 8 hours. Seats were uncomfortable. The lights above the seats broken."
Cons: "Boarding more than 15 minutes late. Departure on time, though"
Read more about SWISS
Safety measures for airlines flying from Tuscany to Johannesburg
Airlines flying from Tuscany to Johannesburg have enacted additional safety measures and adjusted policies to better accommodate travellers. Policies vary by airline.
Heightened sanitation
Daily cleaning, installation of cabin HEPA filters on flights from Tuscany to Johannesburg
Mandatory masks
Masks required on board, masks provided on flights from Tuscany to Johannesburg
Social distancing seating
Middle seats unavailable to book on flights from Tuscany to Johannesburg
Pre-flight testing
Testing for antibodies, testing for symptoms for flights from Tuscany to Johannesburg
Book cheap flights from Tuscany to Johannesburg
Recent return flight deals
Search by stops
Search by airline
Search by price
Recent one-way flight deals
Search by stops
Search by airline
Search by price