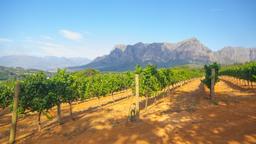 Find cheap flights from Spokane to South Africa
Search hundreds of travel sites at once for deals on flights to South Africa
Top tips for finding cheap flights to South Africa
Book at least 2 weeks before departure in order to get a below-average price.
High season is considered to be January, November and December. The cheapest month to fly to South Africa is March.
FAQs - booking South Africa flights
How does KAYAK find such low prices on flights to South Africa?
How does KAYAK's flight Price Forecast tool help me choose the right time to buy my flight ticket from Spokane to South Africa?
What is the Hacker Fare option on flights to South Africa?
What is KAYAK's "flexible dates" feature and why should I care when looking for a flight to South Africa?
Top 3 airlines serving Spokane to South Africa
Scores according to KAYAK customer reviews
7,9
Delta
Overall score based on 29 857 reviews
Pros: "The snacks"
Cons: "There was one flight attendant who was very rude."
Cons: "Slat Lake is not good for mobility challenged people."
Cons: "Cleanliness"
Pros: "Check in at the airport- Delta is so friendly and helpful!! Flight crew was wonderful"
Cons: "Seats are snug"
Pros: "Crew was awesome! Service was quick!"
Cons: "One flight the plane was quite warm and the air overhead was blowing warm air.. didn't cool down until we were preparing to land and then it blew warm air out again.."
Pros: "Seats too small"
Cons: "Crappie entertainment. Never figured out how to login on phone,"
Cons: "Flight into Seattle delayed, flight out of Seattle to Minneapolis delayed flights out of Minneapolis to Bismarck delayed. Ran from gate F to gate c24 arrived at 10:23 p.m. Slight to the park at 10:25 p.m. and they closed the door on me as I was running up there. Ran across the entire terminal to get there and they would not let me on. Last Flight of the night to Bismarck. Missed my uncle's 90th birthday party. Would not give me food voucher. Delta gate agent told me she would lose her job if she did not close the doors 8 minutes prior. However the Minneapolis flight waited for 15 minutes for people to board that plane. How does that compute? Why would they not wait 3 minutes for me rather than pay the money to put me up in a hotel?"
Pros: "It was a safe journey good rest and a very smooth operation"
Cons: "More vegan options"
Pros: "Not a lot"
Cons: "Customer service"
Pros: "Crew is always friendly"
Cons: "Aircraft broke, had to route me to an additional three stops just to get me home and through the night. Also, still unsure of where my checked baggage is."
Pros: "On time"
Cons: "Flight attendants not friendly"
Pros: "Nothing to like when 1. you are arriving at your destination after 24 hours plus delays. 2. you paid Comfort+ class (not cheap) and are constantly pushed back in the Main Cabin."
Cons: "Actual flights flying on time. What a mess!"
Pros: "The crew was amazing"
Cons: "Don't change my chosen seat that I paid for as I am entering the plane without my knowledge and acceptance"
Pros: "Great entertainment system."
Pros: "Free WiFi"
Cons: "Dirty bathroom on the plane."
Cons: "poor hospitality by cabin crews poor toilet smell, business class can smell the poor toilet if the door is opened"
Pros: "Great service"
Cons: "Look, if your kid is so young that he can't get in a plane without screaming for four hours, you shouldn't bring him on a plane and subject 200 people to that. It's rude and selfish."
Pros: "Friendly crew and on time flight"
Cons: "N/A"
Pros: "Take off on time, arrived early, pleasant flight attendant"
Cons: "Had to sit on tarmac after arriving early"
Cons: "Full flight. We weren't able to chose our seats and were put in middle seats in different rows."
Pros: "Food, service and entertainment"
Cons: "Entry into the aircraft was a bit chaotic"
Pros: "Everything."
Cons: "No food or drinks"
Pros: "Excellent attendants. Smooth boarding and on time flight."
Cons: "It was very hot in the cabin during the flight. Several passengers noticed."
Pros: "Crew was amazing , one patient was getting sick while flight and always to flight stewards where always outside bathroom to help her. And crew was still able to service whole plane of 200 passengers."
Cons: "My screen seat miniature work but headphone jack was messed up tried two cords and not working so could see movie could not hear so for 5hrs that's what I did which made me focus more on comfort. Plane interior was or looked brand new."
Pros: "Entertainment on first flight"
Cons: "Food, no smoking at Minneapolis airport"
Pros: "New airplanes.On time schedule .Very professional a"
Cons: "Aircraft seemed shabby despite refresh of Comfort Plus, food was really mediocre. Steer clear of the Asian Veg option."
Pros: "Nothing"
Cons: "It is the first time that I travel by this airline and I have a bad experience. The flight was delayed by 2 hours and before arriving at Los Angeles airport they informed us that they had not been provided with the migration forms."
Pros: "The service was impeccable as always"
Pros: "nice people"
Cons: "need more food and drinks"
Pros: "That i survived"
Cons: "Cramped no entertainment cofée was nasty"
Cons: "I dont like that we wasted 3 hours delay in the fiarst fly, makimg us waste more time at los angeles it was a really nightmare"
Pros: "Everything except food. I asked them for halal food when I bought tickets. But they didn't serve me halal food. Very very disappointed."
Cons: "Food and food."
Pros: "Service was fast and the inflight entertainment is free. Lots of movies to chose from, which is nice for the long flight."
Cons: "It was the most cramped I have ever felt in a plane and also the longest flight. Horrible combination. Some of the crew were snippy."
Pros: "Delta is the best airline by far."
Cons: "My bag did not make the connection even though there was almost 4 hours layover... :("
Cons: "Was not a wheelchair waiting for Wallace."
Cons: "requirement to wait for seat assignment until at the gate"
Pros: "On Time"
Pros: "Delta made sure my husband and I had seats together and my husband was thrilled to have a window seat. We took off and arrived earlier than scheduled so we didn't have to run to catch our connecting flight."
Cons: "Everything was perfect. Nothing negative to report."
Pros: "The crew was great, boarding and exit went smoothly."
Cons: "Seats are tight, not very roomy, I'm 6' tall and my knees were in the seat in front of me. The delta studio entertainment app didn't work, couldn't use the internet at all."
Cons: "Boarding area; boarding agent; boarding staffing; seating (comfort); flt. attendants: That's all... aww"
Cons: "The new boarding pillars with Priority, Sky, Zone 1, Zone 2, etc was a mess. In concept it should be a good process, but it was just a sea of people asking each other which boarding group they were in. Going back to asking those who are in a particular boarding zone to form a line and doing so each zone at a time seems like a smoother process."
Pros: "The crew & my seat"
Cons: "The movie offerings & the snack offerings."
Pros: "Great entertainment, good food, nice staff."
Cons: "You have to pay for the ckecked baggage ($25 per piece) and the airfare was not cheap."
Cons: "Flight was 7 hours delayed and every 2 hours of waiting they delayed the flight 2 more hours"
Pros: "GRU to ATL to LEX - all was fine. The plane from GRU to ATL was one of the nicer jets I have ridden in. The ratings above reflect my overall trip of going to Sao Paulo and returning to Lexington, even though the first part had to be re-booked on United."
Cons: "LEX to ATL to GRU did NOT happen because the LEX flights were delayed to the point of missing the ATL connection. While Delta re-booked me on United, my flight arrived 3 hours later than scheduled (so transportation plans had to change), my bag did not successfully move from the Delta flight to the United flight (and was thus delayed in getting to GRU) AND once the bag was received, 4 shirts had been stolen. While a delay/theft claim has been filed with United, this could all have been avoided if the Delta flights had been on time."
Pros: "On time Clean airplane Smooth ride Friendly staff"
Cons: "Nothing"
Pros: "They had aircraft flying to my destination. All other airlines were booked for the time and the destination I had in mind."
Cons: "Long Delays, Over Booked Flights, Customer Service is not helpful, Wrong info delivered by Customer Service, No boarding gate info, Luggage was damaged, and I was charged a large premium with no added value. Delta sold me a 1st class flight because of their delays and overbooking their flights. This was because they could not fulfill the ticket I had. This was Delta's solution to their problem caused by them. I still have no idea why the flights were delayed. On top of all this, I overheard a walk-on pilot ask if there was room for him to catch a lift home. The flight attendant responded with "absolutely this flight is not full at all, you can sit right here". Wait I had to pay 200 bucks extra for an overbooked flight and you are having your Delta representatives say different. This was my first and last trip with Delta. I spent 1000 dollars for round trip ticket from Seattle to Spokane WA. No way is that OK or acceptable under any circumstances to treat your customers like this. The best part about all of this is, I have sent feedback and called customer service to talk to a manager to hear the blame put on back on me. Perception is reality Delta. Awful service, awful prices, awful care, awful communication, and awful value for the money."
Pros: "Hard product in first was good for domestic first"
Cons: "Crew wasn't terribly friendly. Nothing to drink until 30+ minutes into flight. Allowed crash pax to use first class lav. I pay more so I don't have to share with so many ppl. Lav was gross 1.5 hrs I to flight."
Pros: "Nothing,really other than the fact that it Got us home."
Cons: "At least offer water. There was no service whatsoever"
Pros: "Flight was great"
Cons: "The AA crew at DFW are always rude"
Pros: "Entertainment and air hostess"
Cons: "American Airlines have to improve with their food. Spend more than 500 for ticket and they cannot provide lunch for > 5 hour flight? We had to buy that food as well. They also boarded us too soon and didn't have time to grab the food outside as our time between flight is only 50 mins."
Cons: "Your seats are too small, but we know the airline industry is not gonna do anything about it."
Pros: "Arrived safely."
Cons: "Bumped from business to coach and given a lousy $300 voucher."
Pros: "Boarding crew in Spokane was friendly and very efficient."
Cons: "There were no snacks - they told us they "ran out" on the previous flight and hadn't refilled yet."
Pros: "nothing"
Cons: "everything."
Pros: "Plane was newer than I expected. Had tv monitors on the back of seat headrests."
Cons: "The flight was delayed an hour because the flight crew was late."
Pros: "Crew was nice and helpful and flight was smooth. The movie made the trip even better."
Cons: "Nothing"
Pros: "Good flight"
Cons: "The aadvantage app kept crashing so we couldnt watch movies during our overall 8+ hrs travel, on both legs"
Pros: "Very nice crew."
Pros: "Nothing."
Cons: "First, an exterior light was broken so we were delayed so much that American recommended we reschedule our connection but we got to LGA and our original flight was still at the gate but they'd oversold it so we couldn't get back on. And then, getting on connecting flight, the door broke so we were"
Cons: "Checked baggage untimely, causing me to miss the train"
Pros: "Nothing"
Cons: "The service from the check in desk to the stewardess"
Pros: "The flight crew were friendly."
Cons: "The boarding staff member was extremely overwhelmed being the only person at the desk. She visibly looked frazzled & made it well known. It made me feel insecure about the flight. Then the maintenance crew didn't notice that there was a dead bird in one of the engines until after we were fully boarded and had to sit on the plane for an hour over our expected time. I appreciated the fact that they were being through for our safety, but catch that before you have people board."
Cons: "The flight was delayed. The food was not great. There is not a lot of space in these planes, and it was a long flight. There is no power supply."
Pros: "Decent legroom, good movies"
Cons: "Food was terrible quality and actually made my mom vomit. Crew was pushy and rude."
Pros: "Flight, crew, seats (although we paid extra for them) food were terrific."
Cons: "Nothing negative!"
Pros: "Crew"
Cons: "Tight seating"
Pros: "Awesome service"
Cons: ":)"
Pros: "Nice people"
Pros: "On this flight back to Arizona they arrayed mutt husband and I together, unlike on our way to Spokane. That was much better. We had more leg room this time."
Cons: "The seats are hard, fine for young people, but difficult for older people with arthritis and Auto immune diseases, such as fibromyalgia."
Cons: "The airline charged me $50 for my carry on even though they told me I could hate check it earlier. Apparently they changed their mind and I am $50 poorer. This is after being a loyal American card member for over 10 years. BS."
Cons: "The seats are very tight."
Pros: "The aircratf and on time operation"
Cons: "Gate agents not following AA.com policies to charge extra fees"
Pros: "Courteous professional staff!"
Cons: "I couldn't imagine a smaller space for traveling - rediculously small!"
Cons: "American changed our seats at the last minute, placing us in much worse locations than we had booked, and splitting my partner and I apart. We are platinum members, but that didn't seem to help us in any way."
Pros: "On time, food service"
Cons: "there was screens but no movies or anything"
Pros: "Very hard landing."
Cons: "Your pretzels are terrible"
Cons: "The plane was incredibly hot and humid while we were on the ground. The stewardess told us we had a broken APU but would not tell us what that is or if it was actually a problem. Someone pressed the call button during the flight but the stewardess couldn't be bothered to get up and the call light stayed on the whole flight. Eventually the plane cooled some once we were airborne but stayed too warm. It got very hot once again when we landed."
Pros: "Flight crew was friendly."
Cons: "We taxied on the runway for over an hour. The plane was uncomfortably hot while we taxied. They could have waited to board the flight or served drinks while we waited."
Cons: "It apparently was not noticed until the last minute that the plane parked at the designated gate was not the right plane. Just as we were ready to board, had to change gates. the announcement of new gate was not in clear English. Instead of saying 'C' as in Charlie, just C3, which sounded like a D, which would have been a concourse change. Little things, but they add up, when your previous flight was late on arrival."
Cons: "Flight was cancelled"
Pros: "The crew was great"
Cons: "American airline serviced the flight with an extremely undersized plane that was only suitable in seat size for children. Our family of 5, including 2 children were placed each in a different location. The 2 men, average size, 5'9" were placed in window seats that required your head to be bent to the side because the wall curves over and the seat was so narrow. Everyone was hanging over each other's seat. There was no leg room. Everyone on the plane was upset and in disbelief that for 7 hours we would have to fly like that. Spending thousands of dollars, I did not expect this extremely closterphobic conditions. I would have paid extra for better seats. Not a happy customer."
Pros: "All of the new release films were available for free which was fantastic and made the flight go so smoothly and quickly. Breakfast was really tasty. I liked the small snacks given with breakfast."
Cons: "The dinner was bland."
Pros: "Crew was really nice. Kept me hydrated. I liked the movies available to watch."
Cons: "This is something that the airline doesn't have control over: crying kids. It just comes with flying."
Pros: "I was one of the wheelchair passengers, obviously I was struggling and asked an attendant to help me with my carry on bag to be stowed in the bin above the seat. SHe said she can't because she will be greeting the passengers!!! Anotherattendant finally helped me but it is disconcerting to be received like that by one of the crew. I did get helped by Ms Gonzales getting off the plane , I am very grateful that despite the first unpleasant attendant, there was a nice one among the lot."
Cons: "I 'm not sure if this is the venue for my complaint. When we landed in DFW there were 13 passengers on wheelchairs but there were only 3pushers.. there were 2 of us that were left and abandoned for about 40 minutes, I finally had to leave my chair and push the other lady's chair through passport control. Finally one AirServ pusher helped us with our luggage through custom and then transfer. I got to my gate 3 and 1/2 hours after we landed."
Pros: "N/A"
Cons: "Our 10:40AM flight got cancelled. We had to wait in line until 1AM with regular check-ins to rebook for 8:40AM. When we made it to the airport again after limited sleep, that flight also got cancelled. We bought a ticket with LATAM which was a breeze. Throughout the following week, we tried calling them numerous times to have them tell us we had to loose yet more time by having to go to their Cusco office... but they couldn't resolve the issue either. We had to escalate this over the phone from their office so they would issue us a flight back to Lima at no charge to us. Now, I can only hope that they will honor this ticket but I'm not expecting much."
Pros: "Safe, smooth, on time flight."
Cons: "Older plane. This was my return trip and the pane I took to my destination was much nicer. I feel like I should get a discount for an older plane."
Pros: "- The boarding process went very fast and smooth for such a packed plane."
Cons: "- food was HORRIBLE. I asked for the chicken dinner and it was COLD and disgusting. There should always be a pasta option on a flight. Also, they ran out of red wine before dinner. - the staff skipped over me TWICE when handing out beverages. I had to remind them that I existed twice and they didn't apologize for skipping over me."
Pros: "Crew was excellent but it was literally the most uncomfortable plane ride I have ever been. There was even an empty seat in the middle and I couldn't sleep at all. The seats were super shOrr and the headrests sucked"
Pros: "Friendly staff, on time"
Cons: "No issues"
Pros: "I like the quite clam and smooth flight. The attendants were very helpful; and kind."
Cons: "I did not like that fact that I change me flight to the next day and had to pay $200.00 for a ticket change. I feel if there are opening we should not have to pay an additional charge of $200.00. $50 for a ticket change is understandable, but $200.00. Things do happen and changes must be made. Cynthia J. Black- Finch cynthiajfinch@gmail.com"
Cons: "The seat in front of ours had a box of some sort that took uo the already tiny space for stowing your bag or placcing your feet. In fact, sitting there would have been miserable and my husband had to move to another seat for ite 9 hour flight."
Pros: "Cheap. Easy. Got me to my destination"
Cons: "Ace was broke on plane, no wifi or entertainment options, lots and lots of being kept in the dark waiting and waiting after already boarding the plane or landing on the runway"
Pros: "Very nice crew. Full meal"
"Over 6 hours late. Rude flight attendant got into an argument with me about whether my mask was allowed to be worn. My mask is allowed by Federal law."
Pros: "I had to run to the gate and was really thirsty on the plane. I asked for a bottle of water or something, and the flight attendant that said "we don't have bottled water. Sit down and your drink will be with you shortly.""
Cons: "Be more responsive to customers. By being responsive you can help the flight become more enjoyable."
Cons: "A safe, quiet set of flights. Nothing really unusual, which is a good thing. US airlines suck badly in cuisine and this trip reinforcedji"
Pros: "Was able to get on another flight"
Cons: "If they could have held the flight for 15 minutes, I would have made it. My flight from Spokane was late. Now I had to pay another $250 just for a crappy room for the night."
Pros: "I watched a good movie."
Cons: "The plane seemed old. Food was pretty lousy. Hummus was dry, crackers were stale."
Cons: "No delays"
Pros: "Friendly crew, tasty meals. Comfortable seats"
Pros: "This was a horrible experience from the onsite until the landing."
Cons: "Better communication from the beginning and feedback about what was actually going on would have been helpful."
Pros: "Service was amazing!"
Cons: "A smile from the flight attendant and something other than pretzels in first class."
Pros: "Good flight, nice staff."
Cons: "Food not the greatest and flight over-crowded."
Pros: "The overnight flight made it easy to sleep most of the way."
Cons: "I didn't like getting woken up in the middle of the night to eat a sandwich. The bathroom was not stocked well with paper towels, so there was no way to dry my hands after washing them. I also don't know how to order gluten-free meals before the flight."
Pros: "Flight crew was professional and friendly."
Cons: "Tiny dirty old smelly plane. Freezing cold. No blankets. Flight was also an hour late. No food."
Cons: "When to Newark airport to check in, crew were very disorganized and very rude. Nobody was willing to help us and everybody tried to avoid people who looked like they needed help. Worst airport ever."
Cons: "We had to wait for a crew member but we weren't too late."
Pros: "The plane, crew and boarding was great, and the food and drinks were quite good. Legroom in standard economy class was passable for a 6'2" person."
Cons: "I booked through the United website as trip from US, have Silver status on United, and Lufthansa's policies of not allowing advance (1-2 mo before flight) seat selection (never on UA nor LH websites) are just horrible. Hard to get through on 800 number, and 1 day before trip answer was still to do it in Frankfurt. Economy plus was $1000 more/person, and even then no guarantee I could choose a seat far in advance. Then, at computer kiosk in Frankfurt, they had a wrong diagram of the plane,as we ended up on what turned out to be a no-recline row which I would never get. I'm 6'2", 230lbs, and wasn't able to sleep on that flight. Had I been able to reserve a seat behind a bulkhead or in exit row 2mos in advance, I would have been fine."
Cons: "Need addl gate capacity at sfo including non-jetway options when other better options are unavailable."
Pros: "The staff were fine, nothing really great, but nothing bad either."
Cons: "So, we'll start with boarding. Why airlines can't figure out to board the plane from back to front is beyond me. No, let's load front to back so everyone has to uncomfortably shove past the people who have already taken their seats at the front of the plane. Then you get back there and all the overhead bins are full because everyone takes as many bags as possible onto the plane. Then you have to sacrifice the already tiny amount of foot room, "to put the bag fully underneath the seat in front of you." At this point you should be fine, except if you're over five and a half feet tall (I don't know if that's true I'm 6'2" and 275 lbs,) because then your knees are going to be buried so deep in the chair in front of you that the person up there doesn't even need a seat they can just sit on your knees. Luckily for you tall people, they put a nice metal rod just about knee level to really dig in and cause pain . . . Yay! Being a big guy, you try to be considerate and fold your arms in to give the person next to you as much space as possible, but don't expect that back as they'll spread out and become as wide as possible. Then to distract yourself from the discomfort, you try to use the free in flight entertainment via the United app, but "it's not available right now." In summation either be short and small or be rich and buy the seats with extra legroom when you fly United."
Pros: "The flight left on time as scheduled."
Cons: "Prior to boarding United announced it would be a full flight so they offered to check our bags for free. The United employee seemed put off when we let her know my wife & I wanted to check out two carry on bags. After my wife had her bag checked the United Employee looked at me & said "let me have it" while pointing at my right side that was holding my back pack & ticket. I misunderstood because I replied "I am not checking my backpack, only my suitcase." The United employee said "no, your ticket" which caused an awkward silence of confusion & everyone surrounding us to look at me like I had said something wrong when in fact it was then United employee that was unclear with her words. I handed her my ticket & the other United employee proceeded to tag my wife's suitcase but not mine looking at me like I was crazy for offering mine up. Out of further embarrassment & frustration I ended up carrying my suitcase on the plane. The seats on the plane felt like I was sitting against a piece of plywood. If I could give comfort zero stars I would. Terrible customer service & terrible comfort."
Cons: "Seats space was very toght"
Cons: "Flight was late. Missed the connection even though it was the same airline. Offered no alternatives other than a flight for the following day."
Pros: "Was comfortable and attendant gave me a seat closer to exit door so I could get off the plane quicker."
Cons: "Was delayed 45 minutes and by the time we landed and taxiied I had only 10 minutes to make it to my other flight for boarding. Barely made it."
Cons: "Legroom on both flights was the least I've ever had on any plane."
Pros: "I liked the comfort of the eats, the roominess of the seats even when fully occupied (3) and the friendliness and efficiency of the staff in the cabin."
Cons: "the tiny restroom, water on the floor and size of the waste paper basket."
Pros: "NOTHING"
Cons: "We were forced to deplane in DC and instructed to go to the United customer service counter to arrange our missed connections in Frankfurt. After standing in line at the United counter for 2 hours, we were told to go to our gate to re-board our plane. we wasted all that time standing and all but 2 agents had left the counter to take a break. it was EXTREMELY STRESSFUL not knowing what would happen to our missed connections. when we reboarded WE still did not have connecting flights.Also, on the United flight to Frankfurt, I had a premium economy seat and it was HORRIFIC. the extra leg room did NOT make the seat more comfortable and I SUFFERED greatly because I am recovering from an injury. Upon arrival in Frankfurt, after a great deal of begging, I got a hotel room for the night and upgrad to economy premium for the flight from Frankfurt to Addis. that Lufthana flight was better because my seat reclined somewhat but still I had a great deal of pain throughout the flight and I would have preferred to have been upgraded to business so that I could lay flat to ease my physical pain. Overall, the experience was extremely STRESSFUL and painful and the only way, I feel that Lufthana can repair this situation is to give me a free upgrade to business on my flight home.to Miami"
Pros: "The price was right! For a one way ticket in the summer I can't complain."
Cons: "Flight was delayed which was fine because it wasn't their fault. However, they cram waaaaay too many seats into the planes. A small turboprop has more space!"
Pros: "The app, United airlines, the whole experience."
Cons: "Inspire of making it clear all through booking, check-in and seat assignment, I was assigned a seat in an emergency exit. I told crew before I boarded that I could not open the emergency exit at assigned seat, due to an injury. I had to board almost last waiting for them to find someone who would take that seat. Then they put me in a non-reclining seat. I was given the wrong free beverage and the crew never came back. So I had nothing to drink on a 4+ hour long flight."
Pros: "Got across country in a few hrs instead of driving for a few days."
Cons: "United' economy seats are terribly uncomfortable. Wouldn't even label the cracker and coke as "food". Having to pay an extra $8 to watch TV is ludicrous."
Pros: "The time getting there on time or early"
Pros: "Left early...arrived early"
Cons: "Not enough legroom for someone 6'5""
Cons: "Ended up sitting on the tarmac for 30-40 minutes. Many people almost missed or did miss flights."
Cons: "We were delayed almost 2 hours. Sick of it every time I fly. Get it together. I missed my ride and had a 6 hour wait for a bus. Ridiculous!"
Pros: "You will refund for missed flights, everything was good"
Pros: "We boarded timely, and quickly. All the staff were friendly."
Cons: "Overhead storage in back seats, area was full of flight attendants belonging. Hard to find room for our 1 carry on. (I realize they need room too, but thought they had their own space)promot"
Cons: "Well considering I am still in Houston, the plane left late and I was in the last row and I it took 10+ minutes to deplane, I missed my connection to Corpus Christie!!! The schedule between planes is way to tight!! I am very unhappy and too old to be running to catch my connecting flight. I will never make reservations that the airline or kayak do not consider time needed to change terminals etched"
Pros: "Flight was ontime and crew was very curtious and professional."
Cons: "One thing I would say that snacks was not good at all. Wasn't able to eat. Should change the snack item."
Pros: "Nothing because they didn't allow us to board the flight because there was 20mins left til the plane departed. Also the tickets were bought with 24hrs and they didn't refund or give us a flight credit."
Cons: "They didn't allow us tothe tickets were bought with 24hrs and they didn't refund or give us a flight credit."
Pros: "Meh"
Cons: "Our seats were Infront of the emergency exit, couldn't relax. I'm 6'6" , so the incline if the back isn't comfortable and we couldn't recline. We had asked switching seats on our flight to Spokane because we were given the same seats. The airline told us seats were chosen at random and they couldn't control them so we had 4 legs of our two flights stuck in no reveling seats. I was very disappointed."
Pros: "Wonderful experience the entire way! I did fly first class as I've decided if I have to fly all the way across country I want to be very comfortable, and I was! Thank you United!"
Pros: "The service was food"
Cons: "Lack of leg room!!! After my bicycle box was inspected they failed to secure my bike the way I had it in the box. Bike was flipping around in box. Bent rear brake calipers. Bent brake hoods. Rear skewers were uncoupled. No way to treat a $10,000 bike! Very upset!"
Pros: "On time. Boarded smoothly. Pleasant crew. Snacks and beverage included. No cost to check bag."
Cons: "Seat was uncomfortable."
Pros: "All of this trip went well, all on time, great service, no worries!"
Cons: "None"
Pros: "Boarded on time and landed on time."
Pros: "I will never fly with united again"
Cons: "One plane got delayed so I missed the other plane and have a 12-hour layover"
Cons: "My connection to YYZ was cancelled and I was not even rebooked to the next flight. I needed to buy a ticket on Air Canada in order to get there. Every time I fly United I find myself asking "why in the hell am I flying United?""
Pros: "In flight service was nice. Attendants on plane tried to be helpful"
Cons: "Traveled with small children, could not get seats together. Made the journey rough."
Pros: "Flight and United's new seats are fine."
Cons: "Houston airport closes up shop at 11pm, and they only have chairs with the fixed arms that prevent anyone from laying out on them. LISTEN UP AIRPORTS! the only people overnighting in your airports are people have to wait to a flight in the AM. It's not like we want to live there - we're tryig to ger somewhere else. Even the damn Club lounges close. No 24 hour clubs like at other major airports."
Pros: "Nice people. Glad the plane was repaired rather than flight cancelled."
Cons: "No airconditioning on ground. Long wait in hot Chicago. Plane returned to terminal because of faulty screen. Deplaned. Two hour wait for repair."
Read more about Delta
Safety measures for airlines flying from Spokane to South Africa
Airlines flying from Spokane have enacted additional safety measures and adjusted policies to better accommodate travellers. Policies vary by airline.
Heightened sanitation
Daily cleaning, installation of cabin HEPA filters on flights from Spokane
Mandatory masks
Masks required on board, masks provided on flights from Spokane
Social distancing seating
Middle seats unavailable to book on flights from Spokane
Pre-flight testing
Testing for antibodies, testing for symptoms for flights from Spokane
Book cheap flights from Spokane to South Africa
Recent return flight deals
Search by stops
Search by airline
Search by price
Spokane - South Africa Flights