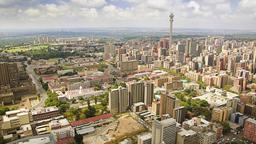 Find cheap flights from Oklahoma to Johannesburg
Search hundreds of travel sites at once for deals on flights to Johannesburg. Bundle your flight + hotel and save!
FAQs for booking Oklahoma to Johannesburg flights
How does KAYAK find such low prices on flights from Oklahoma to Johannesburg?
How does KAYAK's flight Price Forecast tool help me choose the right time to buy my flight ticket from Oklahoma to Johannesburg?
What is the Hacker Fare option on flights from Oklahoma to Johannesburg?
What is KAYAK's "flexible dates" feature and why should I care when looking for a flight from Oklahoma to Johannesburg?
Top 5 airlines serving Oklahoma to Johannesburg OR Tambo
Scores according to KAYAK customer reviews
7,9
Delta
Overall score based on 29 858 reviews
Pros: "Plenty of room and everything was on time!"
Pros: "Super comfortable and inflight entertainment was amazing"
Pros: "Seats were comfortable."
Cons: "We didn't get offered a snack or drink."
Pros: "Great crew!"
Cons: "Did not get upgraded :)"
Pros: "Not a lot"
Cons: "Customer service"
Pros: "Entertainment was good and there was a choice of food."
Cons: "The crew sucked."
Pros: "The crew was beautiful and very hospitable and friendly. Loved the movies on board and snacks."
Cons: "Nothing, Delta is the best!"
Pros: "We arrived eventually."
Cons: "Flight delayed three hours. Payed extra for an earlier flight. Very disappointing."
Pros: "Delta's crew is the best part about flying delta!"
Cons: "Notes were in the computer that our flight was delayed in someone at Delta told us we had to re book because we were not 2 hours prior to our flight after arriving in a cab. Delta error. Other lady told us to run to a security and get to the gate which we did and there were notes in the system and t"
Pros: "Crew very good"
Cons: "Breakfast sandwich was close to tasteless; all bread, very very little filling."
Pros: "Crew was amazing as always. Seats were comfortable."
Cons: "give passengers some healthy food--fruit, granola bars, etc."
Pros: "Crew was excellent. Friendly and always with a smile."
Cons: "The headphones distort the sound too much. You miss half the dialogue if you are using the Delta headphones."
Pros: "yes crew were very good"
Pros: "The boarding process was smooth ."
Cons: "The cleanliness of the seat and tray area."
Pros: "Smooth and comfortable flight."
Cons: "No entertainment options at all."
Cons: "Seats are to small and too close together."
Cons: "Ac not working properly. Hot."
Pros: "Nice ride, entertainment available and arriving a little early was a plus."
Pros: "Confort"
Cons: "N/A"
Pros: "Service, service, service!"
Pros: "Nothing."
Cons: "This is the second flight in a row in which Delta has either cancelled or rescheduled my flight at the last minute. Last time I was stranded in the Atlanta airport overnight waiting literally all night for them to return my luggage (which never came, and then was late even to my final destination). I will not be using Delta in the future."
Pros: "Super nice flight attendant. Really made all of us (business travelers, retired military folks, family with little kids heading to a wedding) feel welcomed and happy. Great experience."
Cons: "The boarding process is quite confusing with all the different categories of people prior to the actual listed "zone" boarding. As an example, if you have a "Zone 2" boarding pass, you think you will be second to board when in reality that means you are second to last to board. After those who need extra time, those with small children, active military, premier, whatever.... all that covers about 2/3 of the passengers. Then of course there's all the stepping over those who already boarded which seems to slow the process overall. It would be better to ask these questions when making your reservation. Then, the zones would be appropriate based on how you made your reservation to begin with."
Pros: "As usual"
Cons: "Landing was a bit rough"
Cons: "Aircraft seemed shabby despite refresh of Comfort Plus, food was really mediocre. Steer clear of the Asian Veg option."
Pros: "Nothing"
Cons: "My flight was delayed and after that they even lost my bags."
Pros: "Everything was smooth and great! Delta is really big on on time flights and I like that!"
Cons: "Nothing."
Pros: "A good basic no frills flight"
Cons: "Luggage missed the flight and was delivered later that say. It is the same as happened the last time we took this flight."
Pros: "had connecting flight ready"
Cons: "the plane was 5 hours late, we did not even get free internet of a coffee or a free drink in the waiting room after debarring or in the waiting room connecting was ok, they had boarding passes ready but suitcases took forever to cross customs...getting bags almost an hour"
Pros: "flight was canceled"
Pros: "Service was fast and the inflight entertainment is free. Lots of movies to chose from, which is nice for the long flight."
Cons: "It was the most cramped I have ever felt in a plane and also the longest flight. Horrible combination. Some of the crew were snippy."
Pros: "Nice smooth flight"
Pros: "free texting and entertainment!"
Cons: "our flight was delayed half an hour."
Pros: "Crew seemed nice enough and everything flew on time."
Cons: "The seats were so close together, my femur (upper leg bone) would not fit in the space provided. I am 6'3" and have been a very faithful Delta passenger, but I cannot see flying with them anymore if I have to upgrade just to get minimal comfort. It is indecent. I will investigate other airlines."
Pros: "Friendly service"
Pros: "The Gogo Inflight wifi and entertainment did not work for even a minute. I choose flights based on their amenities and this one had offered full WIFI service which swayed me to choose to fly with Delta. I'm not sure who is to blame about this issue but I'm pretty frustrated that it was completely dysfunctional."
Pros: "It's a nice, comfortable flight with plenty of entertainment options."
Cons: "The coffee on board is lousy, but I'm not sure that is much of a surprise."
Pros: "On time and courteous staff"
Cons: "According to the website and documentation a card holder is supposed to get the first bag free when using this card. I did not, so I will be cancelling the card."
Cons: "Ok. My wife and I are both disabled and use our own scooters to get around airports. My scooter broke down when I got off the plane. Toronto airport became a LOT longer pushing my scooter then. Fortunately CANADIANS GAVE ME A HAND TO GET THROUGH CUSTOMS, BAGGAGE CLAIM AND CAR RENTAL. Ok, what to do if something like this happens in America. Maybe to work with security staff cause I was in dire straights without the Canadians to help me. Thank them all. Alton Cason"
Pros: "Small cubicles are pretty comfortable but a little cramped . No they are upgrading their business class to larger "suites" and that will be good . The food is good but nothing to write home about . Your payment system works well but as usual there is a somewhat limited library."
Pros: "Food was Ok and the stees heled Out"
Pros: "Slight delay, hospitable crew"
Cons: "+25 extra bag charge"
Pros: "Attendants were cheerful and extremely courteous."
Cons: "Legroom but that's because we can't afford 1st class. Hahahaha"
Cons: "The original flight was canceled and a new one substituted - basically they wanted to fly a smaller aircraft (via a different regional carrier) so the flight number changed. PHL did not have the new flight info displayed at the Departures board or on the screen at the gate. Caused a little anxiety."
Pros: "They did give us the Dane snacks the first class passengers got."
Cons: "Zero additional leg room in this supposed comfort seat. The seat was very narrow and there was absolutely no additional leg room on the flight. I'm tall, so that's what I pay for when I book these flights and none was provided."
Pros: "Friendly staff, on-time flights"
Pros: "Booking, price"
Cons: "A little easier site navigation- understanding"
Pros: "Less hand bags, a lot of people trying to put their hand luggage ans there was no space"
Cons: "Controll the quantity of packages per person"
Pros: "Crew was friendly and attentive. Piloting was on time and precise."
Cons: "Space in economy seats is minimal and not comfortable for a 6' 190# guy like me."
Pros: "Smooth and easy flight"
Cons: "Food and drinks served late"
Pros: "It was canceled. And scheduled next day."
Pros: "Lufthansa is very good!"
Cons: "Now I will never buy anything from this site.It is very difficult and impossible to do last minute changes.Next time I will buy from the Airline strait."
Pros: "I paid to go with Lufthansa airways not with United Airways. And I came to know the day of the flight that I was to board United airways. Really disappointed."
Cons: "In the international flight United Airways charge for the Wiskey liquor. And that is ridiculous."
Cons: "No complaints. Good vegan food."
Pros: "Comfort and space"
Cons: "too many unruly kids"
Pros: "everything was great. Crew was very nice. good service. good food. Even bathrooms were located in the basement separately, nice and bigger than usual airline bathrooms."
Cons: "my TV screen didn't work. Long 9.5hr trip without entertainment."
Pros: "Crew were excellent!!!"
Cons: "Se headline"
Cons: "We were able to upgrade to a business class seat (row 1) just 2 days before the flight since we had put in a bid a month before to do so if it was accepted. Honestly, the seat DID NOT EVEN RECLINE, NOR DID IT FEEL VERY SPACIOUS! I felt very taken advantage of to only have access to that part of the plane giving us more leg room for $200 upgrade for each seat. When does a Business Class seat NOT recline??? At least my flight attendant was kind enough suggesting that I let the airline know about my unhappy experience."
Pros: "Crew, boarding, seat"
Cons: "Paris airport is extremely passenger unfriendly. Better to connect somewhere else"
Pros: "Flight was on time, and smooth. Food was OK. Very efficient crew."
Cons: "Wheel chair accommodation in Frankfurt is poor, doable but not to the US standards. Lufthansa gate staff member took us to the wrong elevator, ended up outside security and had to go through security screening all over again, now late for flight and not early boarded. Was told she was only on the job for 2 weeks, I don't blame her for her incompetence I blame her management! Plane was loaded on the tarmac via a bus for a large international flight...no gate?? Seats in economy class are equivalent to those on a domestic flight, fairly uncomfortable on a 12hr flight. Many of the entertainment choices were not available, you can select it but all it plays is a short commercial."
Pros: "The service was outstanding!"
Cons: "Someone stole my phone charger :("
Pros: "food was above average drinks were provided often entertainment selection was great staff was well mannered and smiling"
Pros: "Crew, food and entertainment were fine"
Cons: "Notoriously, on several flights I have recently taken, my economy seats do not recline at all. On long distance flights this is very uncomfortable! And on this flight from Frankfurt to NYC, my bag was lost, making a claim at the Lufthansa baggage dept took a very long time and the clerk said little, explained nothing and seemed annoyed with my questions."
Cons: "Having to go through a second security check line between flights in Frankfurt. Had already done it in cape town and no one could explain why we had to do it again. Side note: my flight from cape town to Frankfurt was earful... the guy seated next to me had excessive flatulence and their were dueling baby crying for 7/12hrs. IMO infants Should not be allowed on flights over 3hrs in length.... they can ruin a flight for a whole plane"
Pros: "Entertainment system"
Cons: "Always the same mess in Frankfurt to get into terminal Z, surely waited 30 minutes and almost lost connection. Food quality mediocre at best. Lost luggage, no Lufthansa representative around at baggage claim."
Pros: "Nice plane, airy. Lufthansa crew are always nice."
Cons: "Chaotic check-in. I'd checked in and selected seats in advance. But flight was overbooked and I got a standby ticket with no seat while my 4 family members, including 3 on the same reservation, were seated. I had to stand in line as a standby, and then was assigned a seat that didn't recline at all -- not the best for an overnight flight, and having planned, checked in and gotten a seat, IOW done what I was supposed to, it wasn't a nice way to be treated."
Pros: "Nothing"
Cons: "Water was spilled on me by flight attendant. Luggage was left in Frankfort. Did not have clothes or medications, or daily necessities. Must wait 1 1/2 days to get luggage"
Pros: "All"
Cons: "Nothing"
Pros: "Friendly crew, smooth flight, always offering water."
Cons: "I was hungry in this flight. I felt the choice of food was small and have never been on a 10 hr+ flight and felt hungry. I'm glad I brought my own snacks with me."
Pros: "Crew hospitality excellent"
Cons: "Nothing"
Pros: "Flight attendants friendly and professional. Like the use of warm towels. Most overseas airlines no longer do this"
Pros: "No vegetatarion food on return flight"
Cons: "No vegetarian food on return flight from Frankfurt"
Cons: "Not well organized and food is unhealthy"
Pros: "all on time"
Cons: "seating very cramped"
Cons: "The on board entertainment sucks you need to upgrade"
Cons: "The cabin got a little hot during the night and made it hard to be comfortable. Also, the seats lean pretty far back so I had little room in front of me when the person sitting in front of me leaned their seat all the way back."
Pros: "Everything"
Cons: "Not a thing"
Pros: "Boarding was okay, we still had the rush towards the beginning and the concern is always finding overhead space"
Cons: "Apparently if you're not awake when they ask you your choice, and it comes time to pass out food and you're awake... You don't get any. Really horrible. Food being handed out, you're hungry and not even an offer. They simply skip you."
Cons: "Great customer service!"
Pros: "Everything seemed to run smoothly."
Cons: "No issues this leg"
Pros: "Food was just OK. Crew was nice."
Cons: "The München terminal by the gate has two antic wending machine that work only with cash. Nothing around once you pass security in that part of the terminal. Internet wasn't working either. Poor Germans, they lack ideas and money.... Then the plane had issues, we left 2 hours late because some Computer on board malfunctioned. Many people lost the connecting flights. Overall, I will avoid this airport, and flight path in the future."
Pros: "I flew round-trip in Business Class from Munich to Kiev and then back to Germany via Frankfort and both flights were on time. The dedicated business class check-in line and advance boarding process was smooth - as were both flights. The cabin crew on both flights were very good and all spoke English well. My chief complaint is with the European Business Class seating model (3 across with center seat empty) - which does not afford much more leg room or seat pitch than in economy class. On the plus side you don't have to get in a fist-fight with anyone over the overhead bin storage problem since there are less people in business class and hence more storage space."
Cons: "The "European business class model" is not that great when you are paying a premium price to ride in Business Class. I think the prior 2 x 2 arrangement on each side with larger (and more comfortable) seats...plus more legroom and seat pitch...is preferable."
Cons: "It was delayed by 9.5 hours!!!!!"
Cons: "the hot meals were aweful"
Cons: "No boarding lines. Boarded late. I was not given enough time from my arriving flight. I had to spring the length of the airport and up and down stairs as the elevators had long lines. Maybe it was good it boarded late or I wouldn't have made it."
Pros: "Munich airport is convenient and boarding went smoothly"
Cons: "This was an SAA plane, not Lufthansa. I have only had excellent service on Lufthansa. This flight again did not have a functioning entertainment system. I asked for this to be addressed and the SAA crew ignored the request and in the morning looked surprised to find out that several of the TV monitors had not worked at anytime on the flight. Not impressed."
Pros: "Crew was very good on all flights. Packages, containing playing cards and some other items that were given to children during flights, were a nice touch. My husband changed his seat to accommodate a lady who was flying with her daughter, and was acknowledged by the crew and was offered a few extra snacks. Nice touch."
Cons: "Food on this destination was the best of other flight legs."
Pros: "The entertainment was terrific for a long flight. Staff was friendly and helpful."
Pros: "The Premium Economy seats were significantly better than Economy seats. The crew was very nice."
Cons: "The movie choices were not very good. Very few current movies."
Pros: "Entertainment options were incredible; great legroom in our seats."
Pros: "Service in general."
Cons: "I paid to choose my seat during the flight. However; they didn't respect the seat I paid for and they gave a different one, and the seat that they gave me wasn't a seat for the one I wouldn't had paid for. That same situation happened two times. During the flight from Panamá to Franckfurt and Franckfurt to Rome. That's why I felt they Robbed me."
Cons: "Needed a vegetarian option with each meal"
Cons: "Boarding was a complete mess. The flight was delayed by 2.45 hous leaving airport."
Pros: "The Crew was and professional and the flight was overall very comfy with great entertainment."
Cons: "The flight was delayed and due to this delay, my checked baggage did not make it onto my connecting flight to my final destination until 12 hours later. I know the airline can't control some of this but I had to go out and purchase clothing that I couldn't take in my carry on. Maybe they could've at least given me a little money towards this?"
Pros: "Everything about Lufthansa is amazing, and I wish all airlines could perform the same way Lufthansa does. The service is incredible, unlimited free drinks (including wine, beer), great movie choices, and plenty of room. Whenever I go to Europe I try to fly Lufthansa because they never disappoint. Wish American Airline companies were the same!"
Pros: "The plane condition."
Cons: "The flight attendants could have served some drinks in between the meals. They actually refused to serve something additionally when asked."
Pros: "Food was great, movie selection too. Everything was great except for I couldn't really get comfortable to sleep"
Cons: "Not sure how to make the seats more comfortable. I have some back issues though. However, some of my travel companions slept right through the flight."
Pros: "The plane ✈️ itself the attendants . The entertainment on board. Really great"
Cons: "Nothing dissatisfying about the flight nor the airline staff . Very polite, very professional. It was a Great flight. For long trips this airline is one of the best."
Pros: "The socks offered in business were comfortable and nice looking. The red wine was good."
Cons: "The food was just average and the seat not too comfortable"
Pros: "Good amount of space on the plane, lots of movies to watch, good food and drink."
Pros: "Crew helpful. Food good."
Cons: "Better range of movies please"
Pros: "KLM never disappoints, the cabin crew was extremely kind and helpful!. The food was great, nice leg room in regular economy class, thousands of movies and tv shows...it was great!"
Cons: "Well there was a LOT of turbulence but no one can control the weather and shout out to the pilot for giving us such a smooth landing a rough weather!"
Cons: "Flight got delayed 30 minutes"
Pros: "Great crew, comfortable seating with enough leg room."
Cons: "Provide dinner before getting to joburg, instead of a snack. Flight arrives late so dinner would be appreciated"
Pros: "the trip was excellent and comfortable. LOved the windows that shaded out rather than the having to pull down the plastic blind. entertainment on board top notch screen huge One hostess , Helen was absolutely fantastic and the best I ve had on my many trips. I will recommend KLM whenever I can"
Cons: "the headrest is hard. Apart from that- all was fine"
Pros: "Nice attention and good food. Plane and seats are confortable"
Pros: "Checkin 1a at Schiphol had long lines, and no seperate counters for just bag drop. My family and I had to wait for 50 mins, to do a bag drop which in,y lasted 1 min! Flight was delayed, without proper announcements."
Cons: "Seat pitch could've been more. At least let us know via Whatsapp that the plane is delayed, or at which belt the bags would come out. This basic info was lacking."
Pros: "Amazing services .. on time just exactly .. I feel really happy onboard KLM ❤️"
Pros: "Crew was fantastic."
Cons: "This was the most narrow airplane seat I've ever experienced. So uncomfortable."
Pros: "Crew was nice and friendly"
Cons: "Airplane so uncomfortable. Food horrible. Not even available for one of us what we ask for on what was offered. Bad taste and not what can be on a that length of time flight."
Pros: "KLM staff is great"
Pros: "Being fed was amazing and watching free TV was great!"
Cons: "I wish there were personal fans because it got uncomfortably hot sandwiched between people"
Pros: "quick/efficient boarding - good staff - good food - easy flight !"
Cons: "the connecting times for klm seem to be very close - if your running late to start - you may not make your next one -"
Pros: "Seat space a bit tight . I should have upgraded to more leg room . Next time!"
Pros: "My seat at the window was great and the staff really friendly and courteous!"
Pros: "The crew were very nice, food was tasty, seat comfortable and the entertainment great as well. Will be flying KLM again soon :)"
Pros: "Time was excellent even considering a connection delay they had. Very polite crew members. Good entertainment options."
Cons: "Cabin was crowded. Leg room was scarce, short seating space. Almost no room for sleeping if you're not a frequent economy traveler."
Cons: "No reading light in my seat..."
Pros: "Best airline in the business quick efficient and outstanding service What else can you say"
Cons: "I have ordered Wheelchair for my parents which one of my parent didn't get it on Mumbai Airport. When they arrived on Amsterdam Netherlands Airport they were dropped to the gate assigned first and once the gate changed on the fly no body came to help them moving to the new gate assigned which was far away to walk. Nobody even came to tell them that the gate has been changed. It was because of my father's alertness they didn't miss the connecting flight and when my father asked help to members on airport none of them helped my parents and other 4 co passengers which also were on wheel chairs. It was so scary experience for them that they asked me not to book any more flights with Jet Airways. I won't recommend Jet Airways to any of my friends for their parents to travel to USA. I strongly recommend you guys to take a strict action against this. This is so unacceptable."
Pros: "Last year I flew Lufthansa which was my worst experience flying ever. I thought the new standard was so low I would never fly to Europe again. I had heard KLM was good but I felt this was as good as could be expected actually much better. The food was even good."
Cons: "I would have to dream something up."
Cons: "Poor food, flight attend and finally baggage missing. Overall experience is extremely bad."
Cons: "Landlords gave an unpleasant service! Which continued with late of 50min of the flight, they didn't do anything to help/ to provide the passengers the answers. The food was cold It was comfort place to sit. Bad experience with KLM"
Pros: "NOTHING"
Cons: "Having to change my seat to accommodate a rude belligerent passenger, who had taken my seat, refused to move until spoken to by steward. She then made my flight a nightmare, until I let her sit in my aisle seat. Even then she was not satisfied, she abused me the whole flight damaged the screen so I could not use it until the steward fixed it. Demanded that I except any and all alcohol to give to her to drink. When I am tea total she then continued to abuse me. I asked the steward to move me he just shrugged his shoulders and said there was nowhere else. This is definitely my the worst flight I have experienced."
Cons: "The flight advertised meals..a small pastry was served an hour into the flight. I asked when the meal would be and was told a few hours...which turned out to be breakfast..i wated all night for food that only came an hour before landing. Now hungrey and tierd.I.will not be flying klm ever again !!"
Pros: "The staff tried to help me when it was evident we would not arrive on time"
Cons: "The connecting flight is too short of a time. We were late out of LAX and I missed my connection and had to sit in airport for 5 hours. Missed my grandson's third birthday party. Just made me sad as Travelled from far to try to make it."
Pros: "Fast boarding"
Cons: "The entertainment system wasn't working for the whole 10 hour flight."
Pros: "He missed it due to having a 32 minute layover, which he ran all the way to board."
Cons: "he had no choice but to look at the closed door of his flight, and wait an additional 7 hours and they didn't even give him a voucher for food. I'm his mother, I'm currently visiting family in Scotland, so couldn't help him much. I'm pretty disgusting and disappointed by the whole experience."
Pros: "Crew was very nice and helpful, entertainment system worked well and had good choices"
Cons: "Seats were not very comfortable, it was uncomfortably hot and there was not air conditioner vent above like most other airlines"
Pros: "Boarding was quick, Flight on time....just a regular service and plane"
Cons: "Terminal 3 Manchester is not worth staying longer then necessary, loud music, crowded....old"
Cons: "After more than two hours of delay... Initially the flight takes off was at 8:35... Then 21:20... Then 21:50... Then 22:10. Finally we took off at 22:40... Refund our money klm..."
Cons: "Food"
Cons: "Please Endeavour to put the expiration date on the food served in the flight."
Pros: "Very friendly crew"
Cons: "KLM crews look unhappy with their work. Everything they do is a favor not duty."
Pros: "The flight was very good, specially considering it was a daylight one. Staff was friendly and servicial. Tue food was above the industry's average."
Pros: "Professional, welcoming and very friendly crew, well-maintained aircraft, comfortable seat and good food. Keep up the good work, KLM."
Cons: "Not much to comment on here."
Pros: "The crew were just amazing, such lovely male stewards! They were helpful and friendly and generally wonderful."
Cons: "The entertainment was quite dated and didn't have new movies etc"
Pros: "Easy airport business"
Pros: "Fortunately, the plane was not full, so people could spread out a bit to create extra room. The food was really good! (surprisingly)."
Cons: "KLM's new configuration for this type of plane made the seats even narrower than before. While leg room was reasonable, the 3 abreast seating meant a lot of discomfort, especially in the row right in front of the restroom."
Pros: "Enough space good wine and on time"
Cons: "Nothing"
Pros: "Crew was excellent"
Cons: "Economy was very tight! Seats were uncomfortable"
Pros: "Good food, good entertainment system, comfortable seating."
Cons: "Only one toilet working in business class. A crew member told me that it was a decision to fly with only one toilet to ensure no delay. There was a disgusting stench of sewerage for the complete flight from Amsterdam to Johannesburg. This was in all likelihood due to the broken toilet on the left side."
Pros: "KLM Is an impressive flying experience. We enjoyed the comfortable seats, the in-flight entertainment, and the food. The flight attendants are top notch as well."
Cons: "The only complaint I have regarding my most recent flight was the incredibly rude service staff whom we experienced at the front counter at check-in. After a harrowing cab ride to the airport in which our driver continuously ignored my request to follow the GPS insisting that he knew faster shortcuts, we arrived 40 minutes later than intended. Additionally he dropped us off at the wrong terminal such that we finally arrived at the KLM gate an hour later than we had planned. This was especially frustrating as we are traveling with two small children and made every effort to be punctual and leave early to be sure we got there with time to spare. Not the case today. All of that I could deal with, but when we arrived at the KLM counter, and I apologized to the attendant staff member that we were late and explained that our cab driver got lost, she responded by chastising us first in Spanish and then in broken English. She made sure to make it clear to us that it was our fault and we should not blame the Argentinian cabdriver. The cabdriver was not actually Argentinian, but that is totally besides the point. I was totally taken aback to be treated so rudely as a greeting at the airline counter. My wife share the same sentiment. Nothing like this has ever happened to us before. Thank God, every single airport personnel and of course KLM staff member on board was incredibly kind and accommodating of our children subsequent to this. It saved what otherwise could've been a terrible experience."
Cons: "Stranded for 48 hours in Africa. Missed 3 flights due to complete incompetence, truly a horrible experience."
"Be wary very quick to cancel and no accommodating at all"
Pros: "Everything was great."
Cons: "I can't believe I'm saying this but I don't think anything else could have been improved"
Pros: "Seating was Ok"
Cons: "The plane was dirty. There was still trash from the previous flight everywhere. The onboard Stuart's were not up to par. There was no entertainment and the WiFi was horrible."
Cons: "Late 2 hours"
Cons: "uhhh social distancing!!!! We were packed in that plane...."
Cons: "The airlines need to board and deboard by group number."
Pros: "The stewardess that was serving refreshments threw my pretzels at me and refused to list off drinks. There was no menu in the seat in front of me, so I was curious of my choices. Extremely rude and unprofessional, there is no excuse for the way I was treated."
Cons: "Hire stewardess that are professional and polite."
Cons: "Only negative is that the American Eagle flights must take a shuttle from the remote terminal."
Pros: "The crew was courteous"
Cons: "The boarding crew and ticketing experience. Also we were detained on the plane when arriving early. We missed our connecting flight all due to boarding agent closing the gate too early. She literally closed the door Infront of us. We were actually 8 minutes early to the gate, before the 10 min"
Pros: "I was there on time .."
Cons: "Save seats for your mistakes and compensation for my time and missed reservation.."
Pros: "Crew didn't show up was horrible"
Cons: "Schedule your employees beeter"
Pros: "The crew was amazing on our American flight from DFW to PV"
Pros: "- entertainment - smooth boarding"
Cons: "- very small airplane for a 6 hour flight - no comfort seats"
Cons: "5 hour delay including multiple gate changes, being pulled off the runway and poor communication"
Pros: "Service and meals."
Cons: "Middle seat."
Pros: "Being prompt"
Cons: "Ran out of food I liked."
Pros: "Tulsa to Chicago was nice."
Cons: "First flight was delayed, reschedule for new flight 4 hours later, second flight delayed. Barely made connecting flight. Plane was almost empty, I'm 6'4 and asked mid flight to move to exit row because my knees was pressing into the forward seat. 1 person out of 6 seats were in the exit row and the gentleman attendant denied my request. I didn't flinch about my full day of delays and connection issues but on an empty flight it would have been nice to catch a break. I landed in Pittsburgh at 12:30 at night and got to my hotel at 1:30am with an 8 am presentation. AA delays really have created a discontent with my business trips. As I use AA as my primary airline I hope this doesn't continue or I'll switch to United for future business trips monthly."
Pros: "It was a great overall experience"
Cons: "Didn't have a meal but I still loved what they did serve"
Cons: "I was rebooked and the process between American and British Airways was very confusing. I was lucky to get a seat on the plane which I had to pay extra for even though I booked in January for an August flight. Also it was crazy that there was no inflight entertainment for such a long flight."
Pros: "Smooth flight, takeoff, and landing. Efficient boarding and unloading plane. Excellent timing of departure and arrival. Crew was efficient."
Cons: "No leg room. No food. No entertainment. Long taxi time to gate after landing at DFW. Crew all business not that friendly."
Cons: "Plane never arrived. Forced to rebook a day later"
Pros: "The comfort..the movies."
Cons: "No outlets. Poor options for vegetarians"
Pros: "Boarding was fast and easy. Able to leave early which really helped get me to my connection."
Pros: "I liked how quickly we boarded and the options for entertainment. It was nice when they gave us the whole soda instead of all ice and a few sips."
Cons: "Got a tad hot in the plane and had to gets gone looked at for an extra hour"
Cons: "For an obviously new aircraft the space between rows was horrendous. I am 5ft4in tall and when I sat down my knees touched the seat in front of me. When the passenger in front of me tilted his seat back I couldn't even cross my legs! I like Qantas but I have learned to abhor American Airlines (which operated this flight), next time I will probably use Air New Zealand purely because of the seat situation."
Pros: "Smooth flight with great service."
Pros: "one more bag"
Pros: "it was fine. flight left on time and the crew was nice."
Cons: "that you have to pay $100+ for economy plus to get the legroom you used to get for a regular ticket."
Pros: "Great customer service, very friendly and helpful. The whole experience went considerably better than we expected since we did not know how our son was going to handle it. All in all we were very happy thanks to the wonderful AA staff that helped us at each stop."
Cons: "Limited drink and food choices. It was a short flight, so I think it's understandable."
Cons: "The lady next to me was too large to fit in her seat. She clearly needed a second seat, but instead the stewardess just brought her a buckle extender. I was in an exit row and was smashed to the wall almost the entire trip. I was dissapointed that AA didn't require her to purchase a second seat on what was already an overbooked flight."
Pros: "The flight was delayed and there was a lot of confusion. My seat was uncomfortable and they didn't offer any food."
Pros: "unAnnounced gate change"
Cons: "Running in airport"
Pros: "Smooth and quick"
Pros: "Nothing"
Cons: "Sat on plane for over 3 hours waiting to take off. They didn't offer any drinks or snacks at all while we waited. They said if we get off we may not be able to get back on. Barely made any announcements Once we did take off all they gave us was a packet of so called pretzels that were stale and gross!!"
Pros: "expected rough ride due to weather, but flight was very smooth. Pilot was great, and made good time!"
Cons: "a bit of a delay to weather, but that is understandable"
Cons: "4:30 late departure from ORD due to broken plane."
Cons: "The chicken dinner was not good. Also the sound on seat computer was not working and on a 11 hour flight it is terrible."
Pros: "Fast check in, timely take off & arrival Excellent and friendly service"
Cons: "NA"
Pros: "Full meal service, friendly and helpful crew, checkin agent went above and beyond to get us checked in even though we were late in getting to the airport."
Cons: "Ancient plane with old, uncomfortable seats and no in-seat entertainment. AA should warn customers when booking these old planes."
Cons: "The plane was almost two hours late leaving. That being said, I think it was weather related and it would have been nice to know the reason for the delay."
Cons: "Baggage delay, flight delayed by 36 hours and no customer support"
Pros: "typical somewhat comfortable seating"
Cons: "VERY cramped."
Pros: "The staff was friendly and helped me reroute my flights."
Cons: "I took a 3 leg journey so I expected to be flying all day, but every flight was delayed going out and one flight was delayed coming in. Plus there are never any gluten free snack choices on the flight."
Cons: "The counter manager at PHX, Lanell Monarrez was a total witch and whispering to Lanya in front of me was very unprofessional. I paid a full fare 1-way ticket to get out of PHX as they were not willing to allow me to fly standby or make a change to my existing ticket. Crappy airline service at the counter. Good flight crew."
Pros: "Very nice crew. Full meal"
Pros: "Friendly Staff - on time"
Cons: "No leg room even though I paid to upgrade my seat !"
Pros: "I loved the new planes. Absolutely amazing"
Cons: "The boarding crew was extremely rude. But the flight crew was very nice. And the food was subpar."
Pros: "The curticity of the staff"
Cons: "Not enough leg room my seat was 7a not comfortable and an upgrade was to expensive. Also need more options when booking a flight online"
Pros: "Free Meal was a welcomed surprise. Very smooth flight."
Cons: "Except for one gentleman the rest were kind of surly flight attendants. No personal video system. Old plane."
Pros: "why change anything when all was excellent. leave excellent alone"
"The boarding process from Barcelona was a very long and arduous process as they have to check that everyone has a covid test. There were no explanations about what was happening. They didn't really even announce boarding. The flight itself wasn't bad. I got the cheapest ticket so there wasn't food included. So, I brought food onto the plane."
"We purchased 2 business class tickets in June for a trip in September. We were downgraded to economy when we were told there were no seats left in business class. Still trying to get refund. Not flying Iberia again."
"Exceptional from beginning to end.. thank you Kayak!"
"All over good flight but not better than my favorite"
"British Airways cancelled my flight just a few hours before my departure. Very upsetting."
Cons: "Lost luggage. Took one hour waiting for my luggage in vain, and file the report of missing luggage."
Cons: "Flight was delayed. Took a long time to board."
Cons: "Seats don't recline at all and wasn't even offered water on a close to 3 hour flight. Bare bones service to be sure."
Pros: "Nothing outstanding comes to mind. TAP Portugal was a million times more hospitable and accommodating."
Cons: "They allowed us to check a bag, without telling us that it definitely would not make it to our next stop on time. Almost all the passengers on our plane had to return the next day to collect our bags, at our own expense. This had happened to the flight before us too. There were no apologies to us"
Cons: "They had problem with plane and had to change it. Then we havd the proper allowed carry on and they had no space.... short thrip of a little over an hour but the getting to leave was the worse...."
Pros: "The entertainment was good and not laggy."
Cons: "The seats are too small, and close together. The back rests feel 90 deg when upright. The staff are dry and harsh (On both flights.) Boarding and unboarding through the runway, in a very crowded bus. The planes got uncommonly hot before the air conditioning started, with many passengers starting t"
Pros: "Nothing special."
Cons: "The seats are awful."
Cons: "Delayed by an hour due to inbound delay, causing a knock-on delay with plane maintenance. While fairly comfortably seated and offered water, this still was somewhat unpleasant especially after a long-haul from Havana"
Pros: "The food is very good in 1st class."
Cons: "Even though 1 of the 3 stewards was really excellent at everything (foremost his impecable attitude towards passengers), nothing is really standing out anymore in IBERIA 1st class. It used to be extremely good, but now everything is banal. No attention to detail or pleasantness. The one thing that really concerns me is that Spanish stewards, more the women than the men, are becoming more rude than before. I understand that some passengers must be a hassle from time to time, but this is their one and only job, so a nice attitude is of the utmost importance."
Cons: "Nothing"
Pros: "Crew arranged to change seats so my left leg had an aisle."
Cons: "Boarding by groups was not followed, no one to control them, just a rush to gate. No discipline by Iberia. Reserved a seat on aisle of 3 seats side section so my left leg could stretch out after surgery but they changed aircraft type w/ only 2 seats on side without notification, so my right leg had the aisle."
Cons: "There is not enough space for my legs and specially when the passenger in front move the seat"
Cons: "I had to call Kayak to get the confirmation code to check in online, as this was not provided by Kayak in their receipt for the eticket. Otherwise the flight was fine."
Pros: "Very nice crew members!"
Cons: "The food was So So. We had to take a bus to the plane out in the middle of the taxi area. Sat on the bus for several minutes be fore they would let us board."
Cons: "Tiny food. Late one hour."
Pros: "First flight ever where water or coffee we're not offered. Good cart came out. Nothing offered. 3 attendants? To do what??"
Cons: "No beverage or food offered"
Pros: "Turist class is now low cost class too"
Cons: "Overall a very uncomfortable journey"
Cons: "One of the shows I started watching on had one episode. Handmade tail?"
Pros: "Very bad organization Changed seats for everybody and no priority to board"
Pros: "Premium economy was very comfortable on Iberia. Their advertisements are true. We also got a great fare. Checkin at Madrid was pretty quick and security moved right along."
Cons: "Getting on the plane was an adventure. Note clear where they wanted groups to go. Food was ok; drinks limited in choice."
Cons: "I didn't have any video for over two hours. I had to speak to 4 different crew members to get them to reset my monitor. They were not very friendly."
Pros: "The flight has enough leg room considering I'm 6ft. The entertainment was world class. The flight was smooth."
Cons: "The flight attendant was slightly rude. The food was not so good. Every meal they had, had cheese in it."
Pros: "Nice crew and good selection of movies and music."
Cons: "Legroom is limited so it was hard to sleep."
Pros: "Excellent treatment"
Pros: "The terminal at the Madrid airport has good shopping and dining options, but it's rather far and took ~25-30min to get there (including a short wait at the custom control."
Cons: "The check in took an awfully long time, the agent took 25-30 min to finalize our boarding pass."
Pros: "Hay buen entretenimiento y hay espacio suficiente."
Cons: "En el vuelo no fueron tan amables, no dan suficiente comida ni es tan buena para un vuelo de 11 horas."
Pros: "Everything was fine but the tight seat 12D from Madrid to T Avivsee"
Cons: "See above"
Pros: "Extremely punctual Friendly staff Comfortable seat design Outstanding entertainment options"
Pros: "I was in seat 38L and was very pleased to see that it reclined fully. I hope that is always the case as I will endeavor to book that seat regularly."
Cons: "Delayed flight, no AC, no food service (even to purchase)"
Pros: "Missed flight as scheduled changed forward by half an hour and re-organising another flight was difficult. Had to fly from another airport in Spain and transfer was without assistance. Staff did a good job at sorting a solution. The return home on BA was excellent and very efficient."
Pros: "Hat it was a quick flight."
Cons: "No entertainment, no free beverages or snacks, crushing legroom."
Pros: "The entertainment was good when it was working"
Cons: "Service was horrible. Announcements were not being made adding to confusion in the cabin"
Pros: "Seating was very comfortable. Good food and beverages. Was offered beer and wine as well with our meal. Extensive selection of entertainment at seat."
Cons: "Boarding was a little confusing. No overhead signs to indicate boarding groups. Announcements were hard to hear. Stewards were hard to contact mid-flight to ask for water to drink. A long flight, and it would have been nice to have more available."
Pros: "New aircraft, comfortable seats, and the best of all a friendly and welcoming crew. Love Iberia!"
Pros: "I like the food and the fact that you provide us with a pillow and blanket"
Cons: "Everyone who was traveling with someone was separated and the Customes right before the bus were extremely rude."
Pros: "I had the next seat empty next to the window so I can sleep more comfortably. The entertainment selection was wonderful."
Cons: "The air conditioning was too cold. I was sneezing the whole trip."
Pros: "Fine for what you paid for"
Pros: "The flight delayed for 2hours. I required the blanket but it was used with lots of hairs not really hygienic. The crew was not friendly and kind of rude."
Pros: "Good Entertainment, ."
Cons: "Iberia Airlines The flight attendants on the Iberia section of the flight from Madrid to Chicago could have cared less. The plane was late and the crew could have cared less. They fasten seat belt sign was on way way too long with no turbulence so they did not have to open the bar. They would not serve vodka from the cart and you needed to go to the back of the aircraft for it. Will not fly Iberia again. ."
Pros: "Choice of entertainment: movies, tv shows, etc."
Cons: "Wifi was >$50!"
Pros: "Madrid airport is seriously beautiful Flight departed on time Seats was lie flat and comfortable Food was best of any European business class"
Cons: "Nothing"
Pros: "The flight was great. The crew was very attentive and helpful."
Cons: "We wasted 20 min. with the checkin machine. It should be written somewhere that if you fly to the US, you have to go to the traditional check in line. After entering all the info, the machine crashed. It was frustrating."
Pros: "My family (four of us) flew FinnAir (Iberia) to Madrid and back and found the service outstanding. The flight crews were top notch, the takeoff and landings were smooth and even, as were both flights, the food was fine, the entertainment was great, and the seats were roomy and comfortable. Overall, a superior experience to any U.S. airline I have ever flown. I would fly them again any time. Five stars."
Cons: "On the return flight from Madrid, we ended up having to board the plane from the tarmac, which was interesting. I can remember decades ago when that was done, but it was a first for us. We checked our luggage, so it was no problem for us, but some passengers had to lug big carry-on suitcases up those staircases. I'm not sure what passengers with disabilities had to do to board. I don't think it was the airline's fault, but it was a little out-of-the ordinary."
Pros: "nothing"
Cons: "had a booked flight from madrid to gatwick, london and connection the next day at 11 am to Tampa US. We were at the airport at 1500. Flight was supposed to board at 1820 and leave at 1850. When checking the board, the flight's boarding was anticipated to 1810. We were at the gate at 1815 and there was an electronic sign signaling "boarding". However there was no personal, no line of waiting passengers and no plane. Upon checking we were told that the plane had already left. (this was at 1828). The only way to make our connection in london was a flight to Heathrow later with BA. Then we had to get a taxi to get to gatwick. Will never fly Iberia again."
Read more about Delta
Safety measures for airlines flying from Oklahoma to Johannesburg
Airlines flying from Oklahoma to Johannesburg have enacted additional safety measures and adjusted policies to better accommodate travellers. Policies vary by airline.
Heightened sanitation
Daily cleaning, installation of cabin HEPA filters on flights from Oklahoma to Johannesburg
Mandatory masks
Masks required on board, masks provided on flights from Oklahoma to Johannesburg
Social distancing seating
Middle seats unavailable to book on flights from Oklahoma to Johannesburg
Pre-flight testing
Testing for antibodies, testing for symptoms for flights from Oklahoma to Johannesburg
Book cheap flights from Oklahoma to Johannesburg
Recent return flight deals
Search by stops
Search by airline
Search by price