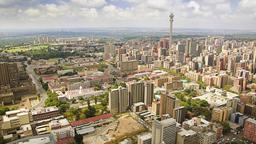 Find cheap flights from Northern Ireland to Johannesburg
Search hundreds of travel sites at once for deals on flights to Johannesburg
FAQs for booking Northern Ireland to Johannesburg flights
How does KAYAK find such low prices on flights from Northern Ireland to Johannesburg?
How does KAYAK's flight Price Forecast tool help me choose the right time to buy my flight ticket from Northern Ireland to Johannesburg?
What is the Hacker Fare option on flights from Northern Ireland to Johannesburg?
What is KAYAK's "flexible dates" feature and why should I care when looking for a flight from Northern Ireland to Johannesburg?
Top 3 airlines serving Northern Ireland to Johannesburg OR Tambo
Scores according to KAYAK customer reviews
7,7
KLM
Overall score based on 3 678 reviews
Pros: "Staff were polite"
Cons: "The seating space is horrendous, I am 5 ft 8 and felt like I was sitting with my knees at my chest, horrible horrible seating"
Pros: "Very nice airplane and pleasant crew"
Pros: "The crew was professional & friendly"
Cons: "Food was terrible honestly, entertainment system didn't work on 1st flight."
Cons: "Time"
Pros: "Fantastic gate agents!"
Cons: "The food was terrible."
Pros: "Crew helpful. Food good."
Cons: "Better range of movies please"
Pros: "Great plane and staff"
Cons: "Delayed"
Pros: "Great crew, comfortable seating with enough leg room."
Cons: "Provide dinner before getting to joburg, instead of a snack. Flight arrives late so dinner would be appreciated"
Pros: "Crew was helpful and food was very good"
Cons: "There was no entertainment on the flight from Vancouver to Amsterdam and this on top of a two hour delay in taking off which led us to have to literally run to our gate in Amsterdam to make the connection to Mumbai"
Pros: "Crew was very engaging and service was good."
Cons: "My seat was horrible. Right at the door, crammed, and no place to store my carry-on luggage."
Pros: "Everything was smooth and effortless."
Cons: "Can't think of anything."
Pros: "The crew was great! The food was also much better than other airlines. And passing out whole bottles of water was much appreciated."
Pros: "Seating is tight. The crew was great !"
Cons: "As we landed we had to wait on the plane for an hour and a half because another plane (Spirit) was in our "parking spot." This made it very difficult for people and connecting flights."
Pros: "Crew was good"
Cons: "Food"
Pros: "Economy comfort was very nice, food decent, plenty of toilets to avoid overcrowding, and good entertainment selection."
Pros: "Light snack and complementary wine"
Pros: "Very friendly and helpful crew."
Pros: "I am so grateful to have been provided delicious and filling vegan meals on this long flight. Thank you for offering a dietary option that is compassionate toward animals and contributes less to climate change! Now if only the planes were powered by clean, renewable energy... Hopefully that will become a reality someday very soon! Oh, and also the crew on this flight was exceptionally kind and helpful. Thank you so much!"
Cons: "I did not enjoy the turbulence, which I suppose is unavoidable. More importantly, I felt quite guilty about the greenhouse gas emissions of my flight. I have decided to cut down on my air travel as much as possible as a way of reducing my carbon footprint."
Pros: "Professional crew. Good boarding."
Cons: "No entertainment on board in business. Stale buns - staff unapologetic. Older 737 with uncomfortable seats."
Cons: "Nothing good to say about this flight. The plane was old with no entertainment. The sits where very compact and not comfortable at all. The food was a sweet bread and water. The flight attendants were rushing and will take a while if you needed anything. I felt like I was taking a bus with graffiti all over the place."
Pros: "Need better quality tvs for such a long flight and better movies There were only 4 Bollywood movies and not the latest ones either"
Cons: "Our total flight time was about 17 hours - MAD- AMS-LAX. My husband and I both have an internationally approved carry on luggages with us. When we checked in - they asked us to both check in our carry on luggage. The reason why is because they said they don't think they have enough space for our carry ons. I told the crew member checking us in that other people that was checking in with the same hand carry size luggage with us had no problems taking it with them. For being about to be on a 17 HOUR FLIGHT we should be ALLOWED to have our carry ons with us! We take carry ons for that reason! I had to argue and prove my case to the crew member to atleast keep 1 carry on with us. I thought that was an UNACCEPTABLE reason for us to check in a carry on luggage when we had a 17 hour travel time ahead of us. Not a happy costumer here."
Pros: "Fabulous trip with friendly, helpful staff"
Cons: "Nothing"
Pros: "Food was just fine, movie selection very good"
Cons: "Uncomfortable seat cushions, lights were truned on too early (1.5 hours before flight landed)"
Pros: "crew were absolutely delightful, full of smiles and doing everything to make you comfortable. seats were fine enough and got some work done and a bit of sleep. first lunch was fresh and tasty, but the second, a burger, was edible, but not much more."
Cons: "tv screens are dated so movies are not as crisp as you find in newer planes. you need a 2 prong audio adapter to use your own headphones."
Cons: "Crowded seating, wake-up for breakfast service two hours before arrival"
Cons: "Bag was lost"
Pros: "The crew came to get me from the arrival gate to get to the departure gate since our plane was delayed. It helped to know that the airline was checking to make sure we made the flight."
Cons: "I did not get my luggage in Nairobi. The delayed flight that was the most likely reason it did not get to the connecting flight to Nairobi."
Cons: "KLM crews look unhappy with their work. Everything they do is a favor not duty."
Cons: "Dutch sub titels would be nice."
Pros: "787 is a great airplane. The 3-3-3 seat configuration leaves enough seat width to be just comfortable in coach."
Cons: "Without any explanation the plane I was due to go to Istanbul on at 11.30 was not available. I had to wait for a small plane coming from Edinburgh then wait for it to be emptied of passengers and cleaned. This meant we were over 2 hours late into Istanbul. No explanation or apology. I then missed my next flight in Istanbul and had to purchase another ticket. I cannot believe that air passengers are treated in this way!!! I will follow this up with KLM when I go home from my holiday."
Pros: "The flight was very good, specially considering it was a daylight one. Staff was friendly and servicial. Tue food was above the industry's average."
Pros: "Timing & efficiency. Good food though only a sandwich."
Cons: "Nothing. Could say there was no entertainment but I didn't want entertainment on such a short flight"
Pros: "On time."
Cons: "No negative"
Cons: "There weren't too many options. The movie selection was very limited and the tv show were over 20 years old in some cases"
Pros: "Price"
Cons: "Klm flight has very congested seating Getting information about eticket was pain"
Pros: "."
Cons: "Flight delayed, had to take two more flights and was a four hour trip turned into a 12 hour, 4 countries trip"
Pros: "It was a short flight so it was O.K."
Cons: "Boarding was odd. Go to airport early and counters were not open, did on line check in so was able to avoid the self check in at airport. Also self check in luggage seems confusing with no ground crew to help. It didn't affect me but lots of confused passenger."
Cons: "I requested low fat meals. The first one, was OK. But they forgot my request for the second one."
Pros: "Special treat for King's Day Friendly crew"
Cons: "15 min late boarding 30 min delay leaving the gate Very little leg room"
Pros: "Nothing"
Cons: "Airlines had no record of our pets flying with. Missed our flight even though we were there over 3 hours prior. Ruined the last day of vacation. Now we are waiting for the promised help in Amsterdam. No one is here. No one knows anything. Feel like crying"
Pros: "Excellent service"
Cons: "Having to pay extra to pick a seat prior to check-in. I didn't, and got a decent seat anyway."
Pros: "Plane service"
Cons: "1h30min delay at airport"
Pros: "The flight crew were kind, polite, and attentive."
Cons: "Bussing to the plane was a bit odd, but the crew remained organized in doing so. When we arrived to the plane, they had both entrances open so that those sitting near the rear of the plane would enter from the back. Plane was a little chilly, but I have come to expect that one most flights."
Pros: "Good food, good entertainment system, comfortable seating."
Cons: "Only one toilet working in business class. A crew member told me that it was a decision to fly with only one toilet to ensure no delay. There was a disgusting stench of sewerage for the complete flight from Amsterdam to Johannesburg. This was in all likelihood due to the broken toilet on the left side."
Pros: "Great food and movies."
Cons: "Might have lost my bag. I was told not to claim my bag and that it would meet me at my final destination. That did not happen. I even paid extra because of the over weight. When they charge you 100 extra euro you expect your bag to make it to its final destination."
Pros: "Friendly crew. Good snacks. Timely updates about delays.cr"
Cons: "Crew forgot to serve several rows of seats including ours. Came around when reminded, but then said didn't have enough hands to carry trash away and told us to store cups, etc in back seat pocket when landing."
Pros: "Clean plane , good crew ,"
Cons: "they didn't load my baggage from flight 1 to 2"
Cons: "J'ai eu à payer un bagage supplémentaire sur internet à 160 euros. Mon compte a été débité et à l'aéroport de Dakar les agents au comptoir me disent qu'ils ne retrouvaient pas le payement du troisième bagage. J'ai été obligé de repayer le bagage comptant à 190€"
Pros: "I"
Cons: "Flight was delayed for 4+ hours"
Pros: "n/a"
Cons: "The entertainment system was very old with minimum selection. My entertainment system actually stopped working. The seating area was very cramped. I called for service a couple of times from my seat, but nobody came."
Pros: "rien"
Cons: "tout est à revoir !"
Pros: "The crew"
Cons: "The time. The flight was late for 1 hour. I miss everything and also I get very late to our Airbnb and I was with my family and child"
Cons: "Comfort plus seats need some work. Very thin padding on a hard seat. The leg rest needs to come up higher so you don't slide down while semi reclined. Nice compromise between business and coach though."
Pros: "Amasing crew"
Pros: "Not much, seats are super uncomfortable"
Cons: "Better code sharing with KLM"
Pros: "Everything! The service was exceptional!"
Cons: "Departure time was almost 2 hours late and the communication of the cabin crew regarding this issue was poor. Almost an hour went by without an update."
Cons: "More options for gluten free food. Always get the same dish"
Pros: "Crew very professional"
Cons: "Boarding was a little confusing"
Pros: "Food"
Cons: "Seat"
Pros: "Good crew, as usual with Air France."
Cons: "Old plane with very lousy seats for a super expensive business class. Super slow check in and overall process till boarding because of lack of ground staff compared to passenger volumes"
Cons: "Excelente aerolínea"
Pros: "Friendly attendants, entertainment variety"
Cons: "Comfort, food could have been better."
Cons: "More water provided during the flight. Also, the second meal was not very good."
Pros: "The crew was amazingly helpful. My son was having some anxiety and they went out their way to make him comfortable. They were the best!"
Pros: "Flight was delayed 4 hours with no explanation"
Cons: "Asked for wheel chair assistance and was not met in Paris. Had difficulty and barely made my flight. A gentleman who worked at airport assisted me"
Cons: "Air conditioning too cold. Wasn't offered an evening meal. My luggage went missing and I'm still waiting for it to be delivered."
Cons: "It was great trip thank you Air France"
Pros: "Good food and service"
Cons: "Flight was delayed by at least an hour leaving Paris - a regular situation I experienced with AF."
Pros: "Quick and efficient not lying more to say or critique."
Cons: "Coffee and a bread roll as a snack??"
Pros: "Nothing"
Cons: "The plane (Boeing 777) is packed like a sardines can, with 10 narrow uncomfortable seats across in Economy Class. The crew didn't even bring water for an 1,5 hr into the flight! The plane was very hot, with very little air flowing through the salon. Food was bland for dinner and inedible for breakfast. The crew was barely there, and borderline rude when asked something."
Pros: "Flight attendants were very nice"
Cons: "Didn't have the meal I ordered Got in 30 min early but no gate for us. We waited over 80min on tarmac to deplane I paid extra for an exit seat but there was no indication when I did that there would be walls for armrests and that made it very uncomfortable for me"
Pros: "On time."
Cons: "Did not seat together passengers, although booked and checked in at the same time."
Cons: "Flight was delayed, seated in the last row and non adjustable seating, so very little leg room. Dis-enbarkment was very slow."
Pros: "Absolutely everything perfect."
Cons: "Through my own fault I ordered a different seat instead of window seat. :)"
Cons: "No offer of snack with no egg in it."
Pros: "Courteous crew"
Pros: "The food, entertainment, and service. Waited for me after almost missing my flight."
Cons: "Nothing."
Pros: "Nothing particular"
Cons: "Nothing particular"
Pros: "Staff was nice"
Cons: "Very cramped. Poor leg room also with.metal bars under seats that further. Limited foot room. Terrible options in movies."
Pros: "None"
Cons: "The airlines didn't even notify the passengers with the connecting flight. As the arrival was little late, all the passengers have missed their connection flights in Toronto and there was no notification or communication made on the new flight. When I went to the Air France counter in the airport, the staff has gone for the day and trying to get a hold of telephone rep took 2-3 hours and I by the time I found about my new connection, I was already late. Somehow I managed to get to the Terminal 1 and when I spoke to the lady (indian) at the Check-In counter, she has refused me to Check-In because i slipped the line up. The people in the lineup didn't have any objection and they let me go first for Check-In as I'm already late to my flight. I wante to say something to her, but I've controlled my frustration. Luckily the other person in the Check-In counter offered to help me Check-In. Here is my word to the Indian lady staff "F**k You B***h" - learn some people skills."
Pros: "Friendly staff"
Cons: "Window pane was broken on my side and I couldn't shut it down. As it was a day flight the sun heated my skin badly"
Pros: "It was on time"
Cons: "Food was AWFUL! Better to serve nothing"
Pros: "Efficient on and off Staff polite and helpful"
Cons: "Had to check in our underweight small carry on because there was no space left. Left out hotel at 3.15am. A dry croissant did not satisfy three hungry children for breakfast, the coffee was terrible and the seats too close together. Not a good experience."
Cons: "Air France lost my luggage and they can't find it in the computer system."
Pros: "Nothing"
Cons: "My flight was cancelled, I was sent around to multiple desks and terminals and no one wanted to assist me, then my luggage was lost."
Pros: "Late, not enough legroom, smell from the toilet. Tiny TV screen, malfunctioning electronics, poorly maintained seats. Friendly crew! They looked tired, but they were still smiling while trying to keep passengers happy."
Pros: "All crew I interacted with was great, friendly, and helpful."
Cons: "Flight was late. Boarding very slow. Entertainment was ok by today's standards. Each seat had a display, but movie selection was not great. For a French airline I was looking forward to breakfast -- maybe some nice pastries or at least a decent croissant with jam. None such. It was disappointing. Meals were not impressive either, but the complimentary wine was good."
Cons: "The crew was not very polite."
Pros: "Párizs Budapest kb 1 óra késés műszaki hiba miatt. egyébként minden rendbe volt."
Cons: "It was all good, only in comparison with Turkish airlines and etihad it is not at par."
Pros: "The lounge is great, however the food is substandard to nearly every other lounge that I have used."
Cons: "The food on the plane is even worse, The staff were ok but not overly going out of their way to help with any issues, also they could at least pretend to smile."
Pros: "Space"
Cons: "Couldn't adjust the seat and the cushion wasn't comfortable neither seat or back. The bottom back was like a board across the bottom and hurts."
Pros: "Arriving on Time"
Cons: "Seating"
Pros: "Service was perfect"
Cons: "It was an old plane and it was completely full. In this old planes you don't have much space especially when you want to do some work in economic class."
Pros: "Really good aircraft ( Brazilian made Embrare )"
Cons: "Breakfast ! But it was "04:20 hrs ! So fair do's !"
Cons: "Flight was delayed for 2 hours. I missed my connection flight to Lilongwe and had to spend a night in nairobi. What n incovinienve!"
Pros: "I liked when there was turbulent, the pilot told us that we should be calm as the plan was going to experience turbulent in a few moment"
Cons: "I felt like the queen cake had a lot of sugar, think of those who do not eat sugar"
Pros: "Crew was amazing! Elvis smelled good!!!"
Pros: "The timely departure and arrival."
Cons: "The aircraft deployed is old no entertainment facility...you cannot charge your phone."
Cons: "The snacks were basic and tasteless"
Pros: "I had an entire row to myself so this greatly improved my experience, but if this had not been the case I don't think I would have rated my flight as high."
Cons: "It was way too hot. Our child was uncomfortable from the heat the entire trip."
Pros: "I liked the staff members in the plane. they were very nice"
Cons: "the food portions are too small"
Cons: "Nothing"
Pros: "Comfortable seats, smooth flight, good service on board"
Cons: "Did not care for insect spraying, limited entertainment / movie choices."
Pros: "Courteous crew."
Cons: "Too crowded from Bamako to Dakar."
Pros: "Clean plane, on-time departure"
Cons: "On this flight the meal trays stayed on the tables for over an hour (after the meal was served), should have been collected faster"
Cons: "Old planes and little entertainment"
Pros: "Entertainment system wasn't bad."
Cons: "Paid $200 extra for a direct flight and got bumped onto a layover flight. No explanation, no refund and what should have taken 2 hours, took 10."
Pros: "The flight attendants were the best! I fly a lot every year, but I found the flight attendants among the best I have ever had. In addition, the flight was early in arrival! I love Kenya Airways!"
Pros: "Once on the flight the flight crew were caring and accomodating."
Cons: "Kenya changed my flight to two hours later 18 hours before I was to leave. Making me have a 10 minute connection. Then after an hour in a airline office they promised to hold my connection. When my flight landed on time, they did not hold my connection. So they changed my flight and didn't follow through on the fix. We would now miss wedding activities and business meetings. Then my partner got sick and they refused to taxi us to hotel for the night but take a bus that leaves every three hours. Her sickness got worse and there was a Kenyan airlines doctor who evaluated her at the airport after waiting 40 minutes laying at check in with her crying due to pain. We had a medical release from the doctor saying she needed extra space to lay down but the check in manager refused to make room for her saying the flight is full and she would not upgrade her to accommodate the medical release because we had an economy ticket. My partner looked so bad that the flight crew considered kicking us off but eventually made the space for her to lay down and were helpful on the flight. This is this disgraceful and the worst experience I've had with any company."
Pros: "Timeous and polite crew"
Cons: "The food was mediocre and no choice for entertainment, common movie or 2 low quality music channels"
Pros: "PUNCTUALITY"
Cons: "hospitality"
Cons: "Staff on the airplane a bit miserable. Uncomfortable seats and no choice of food. Going downhill"
Pros: "I liked the alerts from crew about the journey.They kept time about the journey."
Cons: "The space between one row and another in economy class was too small as compared to other flights I have had. I did not like the lay over time."
Pros: "Kenya Air had a nice plane, nice snack, and good service on board the flight."
Cons: "Zanzibar's check in process was atrocious. The systems were slow, so it took forever to get through the queue. Then we were told we had to check our carry one because they were just over weight. They didn't tell us that upon arrival in Nairobi we would have to leave the secured area, go out, pay the visa fee (cash only), get the bags on the carousel, check in at the front, and go back through security again."
Cons: "Late take off, no concern for transfer at Nairobi - consequently we nearly missed our connection to London and our luggage did not!"
Cons: "After my transfer in nairobi, my luggage was lost and when my luggage tag was entered, there was no record of where my luggage is. Platinum on skyteam and no one can help...Kenya airways strikes again. Just glad they didn't last minute change the flight to go to Bujumbura first like they did with my outbound flight."
Cons: "Kenya Airways ground staff in Nairobi was late to open the desk, creating a large line"
Pros: "Convenient morning flight"
Cons: "Not enough leg room for tall passengers"
Cons: "Bullshit"
Cons: "Flight was delayed."
Pros: "Food and service"
Cons: "The food was so-so. The flight was delayed. The crew was friendly, but nothing outstanding."
Pros: "Friendly staff Good food"
Cons: "The movies were not working"
Cons: "They lost one piece of baggage. The check-in crew said we were required to have our vaccination cards although nobody asked for them. Then we waited an hour pulling off one piece of baggage and then they didn't load it on our flight."
Cons: "I didn't like the fact that i couldn't reach out to a representative at the airport at 1am thus missing my flight. When their offices opened trying to get them to book me on the next flight, i was told to pay full price. Their customer service is a complete joke. They should stay out of business."
Cons: "My flight was 36 hours delayed and Kenya Airlines did not tell us why. I then heard that the same flight had been delayed three nights in a row. This led me to book another flight to my destination, so that I did not miss anymore of my trip. I am going to pursue a refund of my original flight. It seemed to me that Kenya Airlines new the flight would be delayed and said nothing until two hours before. Also how they handled the situation was very poor. I will never fly with Kenya Airlines again."
Pros: "It was a great flight except for food"
Cons: "Choice of dish - fish ( was like rubber) or beef"
Pros: "Plane was a new Dreamliner and nice to fly in with excellent entertainment package."
Cons: "I had 3 hours in Johannesburg before catching a shuttle bus, so being an hour late wasn't a big problem. After rushing from Entebbe flight which was an hour late leaving and arriving, I got to the gate to be informed that this NBO to JNB flight was an hour late in departing. Pilot said it was due to "technical difficulties". My ticket had 4 legs : Nov 28 due to leave JNB at 1:20 finally left at 8:30 due to NBO runway closed from plane belly landing - the pilot was very apologetic - LATE. Dec 5 NBO to Entebbe was an hour late due to "passenger problem and luggage taken off" - LATE. Dec 10 Entebbe to NBO left an hour late due to "plane arriving late" - LATE. Dec 10 NBO to Johannesburg was an hour late due to "technical difficulties" - LATE. All 4 flights were at least an hour late leaving and arriving yet the pilots all said thanks for flying Kenya Airways - the Pride of Africa. This is what Africa should be proud of ?!? and Kenya Airways is proud of ?!? Passengers I talked to all were negative in their comments about Kenya Airways. All said there is ALWAYS something of a problem on a Kenya Airways flight. Lady on NBO to EBB flight next to me as we boarded plane and I said everything has gone smoothly so far, replied - the flight isn't over yet - and then we sat in the plane for an hour while they "removed passengers luggage". A man in NBO departure area as we waited to board JNB late flight said, the procedures and organisation are terrible with problems most of the time, which was why he was using up his reward miles because he didn't want to fly Kenya Airways again. This is the culture of this airline which is allowed to continue with seemingly no regard for the paying customers. If the powers that be such as the FAA, imposed a $100 credit to each passenger for late leaving or arriving, I would have received $400 back on a ticket that cost $750. Maybe the airlines would do something practical to remedy their problems and care for the paying customers rather than just saying "we are sorry for any inconvenience "."
Pros: "That we eventually left"
Cons: "Our flight was delayed because the airport shut down. When the airport opened again. They gave us a departure time 4 hours after our original departure time (1:20 am). 1:20 came and went without any more communication or information. 1:40 am arrived and someone from KQ showed up at our gate and said they do not have any additional information. We said there are children here and hungry, tired, frustrated people. We suggested they distribute waters or snacks, but that never happened. They just kept telling us they didnt know when the flight would take off (or if it would) nor when they would have any additional information. An hour later they made one announcement over the speaker at our gate that our flight was boarding at another gate. However, many people had fallen asleep on the floor as I had and I would have missed it if one of my fellow passengers hadnt woken me up to say that we were boarding. We then sat on the tarmac a while longer for reasons that were not explained and finally landed 7 hours later than scheduled. Very little effort was put into communicating to us, making our wait comfortable nor apologizing for the inconvenience. It was a very frustrating experience."
Cons: "so arrive on KQ flight from bangkok which had been delayed so missed connecting flight to arusha. Then due to a complete lack of communication within the kq staff they made me miss the next connectign flight too and then expected me to wait another 10hrs for the next available flight to arusha."
Pros: "KQ is one of the few I like among African airliners for its streamlined system and staff's friendliness. This time i took note of a young male CA called Tonny who was very smiley all along, demonstrated care towards all passengers, and seemed to enjoy his work genuinely - which is sadly hard to experience with other global airliners. The staff are well-trained, unlike ET, interacting with passengers on an Raul footing, and it was a pleasant journey this time as well."
Cons: "I am not quite sure if the staff checking passengers in for the flight in EBB were KQ employees, but with that reservation, I was quite disappointed to learn hat KQ does not provide accommodation for 11-hour transit in Nairobi and make its clients stay inside the airport. I almost assumed that the overnight accommodation is given for such a long layover, but nooo! Even when I asked the checkin lady at the alone counter desk at EBB return modestly, "Do you by any chance provide a hotel room for me for the long transit?" She had the guts to say a straight no without a smile or looking into my eyes. I eventually booked a hotel room on my own which cost me nearly $100. I thought that was ridiculous service modality for a major African airliner."
Cons: "The planes on this route are also very old with manual screens,unnecessary delays. I mean KQ needs to style up. Another airline will soon sweep them off business"
Pros: "Nothing ticket was too expensive"
Cons: "Food is awful"
Pros: "Crew Communications every. Inbound Captain Landings and Take off"
Cons: "Captains Landing outbound Fugi Airport Siera Leone and Landing in Accra. The Pilot caused Panic, he is inexperienced. Captain flight 5595 to Accra from Monrovia on Sep 2,2016. Disaster awaiting"
Pros: "The Lounge experience"
Cons: "The Entebbe stopover"
Pros: "very efficient processes and very friendly/capable flight crew."
Cons: "the food was not great (i don't have high expectations for airplane food)"
Pros: "It was on time, had friendly crew"
Cons: "Entertainment system is not great"
Pros: "the flight was clean, decent food, and good service."
Cons: "The Video capabilities did not work on the flights."
Read more about KLM
Safety measures for airlines flying from Northern Ireland to Johannesburg
Airlines flying from Northern Ireland to Johannesburg have enacted additional safety measures and adjusted policies to better accommodate travellers. Policies vary by airline.
Heightened sanitation
Daily cleaning, installation of cabin HEPA filters on flights from Northern Ireland to Johannesburg
Mandatory masks
Masks required on board, masks provided on flights from Northern Ireland to Johannesburg
Social distancing seating
Middle seats unavailable to book on flights from Northern Ireland to Johannesburg
Pre-flight testing
Testing for antibodies, testing for symptoms for flights from Northern Ireland to Johannesburg
Book cheap flights from Northern Ireland to Johannesburg
Recent return flight deals
Search by stops
Search by airline
Search by price