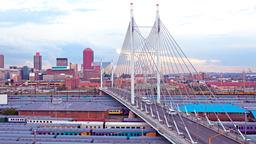 Find cheap flights from Missouri to Johannesburg
Search hundreds of travel sites at once for deals on flights to Johannesburg
FAQs for booking Missouri to Johannesburg flights
How does KAYAK find such low prices on flights from Missouri to Johannesburg?
How does KAYAK's flight Price Forecast tool help me choose the right time to buy my flight ticket from Missouri to Johannesburg?
What is the Hacker Fare option on flights from Missouri to Johannesburg?
What is KAYAK's "flexible dates" feature and why should I care when looking for a flight from Missouri to Johannesburg?
Top 5 airlines serving Missouri to Johannesburg OR Tambo
Scores according to KAYAK customer reviews
7,9
Delta
Overall score based on 29 840 reviews
Pros: "The flight from EWR to MSP was extremely quiet. No loud engine noises."
Cons: "We were vert disappointed at the Newark Airport - the Delta Club was closed and there had been no notification prior to arriving at the airport. I certainly missed that early morning coffee."
Pros: "The crew was nice."
Cons: "N/A"
Pros: "Covid safety protocols and people following was excellent."
Cons: "Serve alcohol :)"
Pros: "The crew was nice"
Pros: "Nothing, the flight was canceled without a refund. I highly recommend canceling all business with kiwi in the future."
Cons: "My flight could have occurred or I could have been refunded."
Pros: "Being on time with everything."
Cons: "Nothing"
Pros: "Amazing"
Cons: "Nothing"
Cons: "Really felt happy on time touch down nice journey with delta"
Pros: "Very friendly cabin attendants. Especially Irene."
Cons: "Food was poor. I would prefer a good piece of cheese or fruit."
Cons: "crj900 from BUF-MSP is a wreck. worn out, uncomfortable seats, cold air coming from floor toes were numb for about 20m after flight. Flight delayed, missed connecting flight, lost comfort+ upgrade I paid for. No excuse for pitch in main cabin on 737-900 ER."
Pros: "Friendly crew"
Pros: "Not a lot"
Cons: "Customer service"
Cons: "Left seven hours later than I anticipated Some passengers were rebooked on earlier flights while others told to go with same flight flying later Very very disorganized"
Pros: "The crew was amazing! The seat was comfortable."
Cons: "Used the self check in kiosk to begin! That was awesome! But after that I still had to stand in line to check in my bags. That part of the process took a bit longer than expected."
Pros: "Nothing special"
Cons: "That was the most uncomfortable and cramped seat I had ever had on a plane flight. Even sitting on the pillow did not help."
Pros: "I like that I arrived at my destination safely."
Cons: "My allergies were bothering me due to the airlines allowing animals to travel as passengers, in this case a rabbit. I am very allergic to animals. My breathing was compromised."
Pros: "This had one of the best attendants I have encountered. She was extra friendly and made us feel good."
Cons: "The flight was 2 hours delayed.. this cause a lot of inconvienece.."
Pros: "Everything was on time and efficient. I also liked that the captain came on and updated us on arrival, turbulence, weather, etc."
Cons: "The flight was delayed. It took longer than expected due to the hurricane. When we arrived, there was no gate so we had to sit on the runway forever. Then the gate checked bags took forever. I was supposed to have a 1.5 hour layover. I barely made my connection as I only had 20 minutes left until takeoff by the time we got off the plane."
Cons: "Flight was delayed out of St. Louis causing several of us to miss our connecting flight from Salt Lake City to Portland. Delta was of very little help in assisting us in making a connecting flight. They could have at least helped with travel arrangements and provided us with a little food, a pillow and a blanket as we waited in their terminal for the next flight on their airline which was a several hour wait. I understand these things happen but the passengers didn't cause the problem and Delta needs to take care of people better if they expect to earn repeat business."
Pros: "Service on tme"
Cons: "Small plan"
Cons: "Not enough entertainment. Movies and TV series are old. There was a crew member when I came on board that was a bit rude and sarcastic."
Cons: "Ac not working at last 30 minutes of flight."
Pros: "Nothing"
Cons: "We lost our whole vacation and had to pay for the plans fare twice because My last name was spelled wrong on our tickets and we were unable to use them because my passport didn't match the name on the ticket. We had to rebook everything pay almost twice as much for the plane fare, our Lodi g cost more and our trip was delayed for two weeks. Vyama is blaming us for spelling our name wrong and claimes that it's our fault this happened because everything is automated. There saying they don't touch anything that we enter into the booking but somehow everything they claim we entered is now in all capital letters and the space between our first name and middle name is now gone and all run together. The coustomer service number gets you to someone in India. I have tried to get this addressed four times now at first they tried to place the responsibility on the airlines now us and they have hung up on me twice. Kayak has been worthless, they also just pass the responsibility on to someone else. We will never use them again ant I intend to make sure that this mess is put out in social media to hopefully keep others from having their travel plans ruined by their flawed system."
Cons: "They changed my flight to a different one departing 2 hours earlier and did not notify me! The original flight was still available & they would not let me take it despite my reservation paper work. CRAZY! I have a two hour drive to the airport this gave me the option to leave home at 2:30am or go the night before and pay for a hotel. Flight was managed by DELTA who also did not care! All involved blamed each other. Beware"
Cons: "Aircraft seemed shabby despite refresh of Comfort Plus, food was really mediocre. Steer clear of the Asian Veg option."
Pros: "Nothing"
Cons: "Felt agents held me back at the check-in counter resulting in me missing my initial flight and voiding my complete routing. Had to fly on a flight 7hrs after my booked flight because Delta had no other option (very untrue as there were other airlines flying to my final destination. Delta just didn't bother providing good customer service"
Pros: "Service was fast and the inflight entertainment is free. Lots of movies to chose from, which is nice for the long flight."
Cons: "It was the most cramped I have ever felt in a plane and also the longest flight. Horrible combination. Some of the crew were snippy."
Pros: "In flight movies"
Cons: "The flight was 3 hours late taking off which made us miss our connection to chicago so we are stuck in Atlanta tonight with unplanned expenses we were not planning on!"
Pros: "Easy boarding, great service from the flight crew, and excellent food and drink service. Seats were comfortable and plenty of entertainment options for a long flight"
Pros: "Very friendly crew"
Cons: "Seatbelts very short given ample seat size"
Pros: "Everything from the check-in to the landing was great. We were well informed about what was going on with out luggage (we were on a regional flight) and the assortment of free snacks were superb! I guess I'll be a returning customer"
Cons: "I was expecting some form of entertainment (radio, overhead monitor, etc) on the CRJ700. But it really don't take away from the experience since T-Mobile partnered with the Wi-Fi service and I received a free hour of Wi-Fi!"
Cons: "Late flt"
Cons: "They had a 40 seat plane that had about 15 people and they herded everyone in the rear of the cabin. All the extra comfort seats went empty. I asked and was told I had an economy ticket so there couldnt do anything."
Cons: "My flight got to New York so late!!!! I missed my international flight."
Cons: "Not great communication from gate or staff on board. Failed to provide adequate water. No ice on super warm flight. Just bad experience overall."
Pros: "Everything about the flight was great. We boarded and took off on time. I have no complaints."
Cons: "My seat wouldn't recline at all. I think it was broken. Not the end of the world, but a bit of a bummer as it was an overnight flight."
Pros: "Spacious, clean, great host and hostesses. The flight arrived at our destination 30 minutes early."
Cons: "Nothing."
Pros: "Newer plane! Comfortable"
Cons: "Nothing just great"
Pros: "The flight was bumpy because of storm but the pilots were expert at making the best of flying around it."
Cons: "Not enough water on the flight and we landed in a parking lot and shuttled back to the airport."
Cons: "turbulance"
Pros: "Flight left on time and got in early. This allowed us to catch an earlier flight to Seattle."
Pros: "On time schedule"
Pros: "I was cleared for standby! Flight attendant at the stl gate is always friendly and willing to help! I love her!"
Cons: "I waited almost 6 hours on the phone the night before the flight to get on standby! Almost didn't get the flight! Was charged $50 only to not get on my next flight because it was over booked! Flight attendant was very rude!"
Pros: "I liked that I was able to get able to get an earlier flight!"
Cons: "I don't like that I had to pay $50 extra dollars for standby on both legs of my flight! I am a very loyal delta customer and these past times flying I feel like my favorite airline is turning into the bad airlines delay everytime, problems with the plane fare prices too high! I'm starting to think about taking my business elsewhere!"
Pros: "10 minutes early departure"
Cons: "There isn't enough seats in the gate area and sitting on the runway for 10 extra minutes we could have been early"
Pros: "It was great and very roomy I felt like a movie STAR!!!"
Cons: "N.A"
Pros: "We got to Chicago at least 45 minutes before the expected landing time. The dinner was pretty good and the crew came around many times offering drinks. The ground crew did a good job of evaluating luggage and tagging people's bags before the overhead bins got too full so it didn't delay our flight."
Cons: "The snack sandwich was freezing cold..."
Pros: "Smooth and easy flight"
Cons: "Food and drinks served late"
Pros: "Crew was great"
Cons: "So tight and tiny and cramped. I flew to Europe on a Lufthansa plane and it was spacious and comfortable, the United plane was tight and cramped. Was physically touching the stranger next to me for 11 hours....Food service used sooo much single use plastic."
Pros: "The confort and quality of Lufthansa is excellent!"
Cons: "Seat very short & im only 5'2" and it was short even for my legs. Too short for anyone average Otherwise ok"
Cons: "Departure arrangement at Budapest airport was total confusion; the plane and departure was approx. 2 hours late. The result: we missed our connecting flight from Munich to Washington DC, thus loosing a whole day to return home. Huge disappointment !!!"
Pros: "Boarding was great. There is priority boarding available for those booked on connecting long haul premium economy flights."
Cons: "The seat was very uncomfortable. For a 2 hour flight, it was okay. Any longer would have been difficult."
Cons: "No complaints. Good vegan food."
Cons: "Flight was delayed"
Cons: "The entertainment choices were poor and the connection not good. Seats too close together so difficult to get in and out of seats"
Pros: "Crew was good"
Cons: "No entertainment at all, food was bad"
Cons: "Flight was 45 minutes late arriving, causing me to miss my connection to Lufthansa and forcing reroute of whole trip."
Pros: "Great Experience."
Cons: "Great Experience"
Pros: "The crew was incredibly kind and welcoming! And it wasn't a packed flight which made it much more comfortable."
Cons: "No entertainment"
Pros: "My previous flights with Lufthansa have been in business class, which is fabulous. However, on this occasion flew economy because I got an exceptionally cheap ticket. I was pleasantly surprised. Obviously the seat was narrower, but had plenty of legroom. The food in economy in Lufthansa is better than most airlines' business class meals. The crew is very courteous and professional. You really can't go wrong with this airline."
Cons: "There was no downside."
Pros: "Everything was fine, the crew was excellent. We liked that Lufthansa did provide the special meals (that we requested on-line) for our family."
Cons: "The boarding was rather slow (but not extremely so). Calling boarding by row ranges, like some other airlines do, may speed it up or make it more comfortable. The seats were not too comfortable, but within what one can expect for an Economy class --- and not too bad, either."
Pros: "Still use silverware and provide blankets, pillows, headphones, nice clean plane"
Cons: "The tv monitor had very limited options and froze about every 5 minutes. The screen was either very unresponsive or would freeze"
Pros: "The service was outstanding!"
Cons: "Someone stole my phone charger :("
Pros: "The staff was friendly, the seats were comfortable, and the price was perfect."
Cons: "The breakfast was terrible and the dinner was barely better."
Pros: "The crews are excellent"
Cons: "Nothing"
Pros: "Went smoothly and without delays"
Cons: "Food was horrible. The buns and croissant were cold and not fresh"
Pros: "Nothing"
Cons: "Water was spilled on me by flight attendant. Luggage was left in Frankfort. Did not have clothes or medications, or daily necessities. Must wait 1 1/2 days to get luggage"
Pros: "Crew was warm and considerate."
Cons: "Flight was jam packed and a huge guy sat next to me and made my entire flight miserable. In economy, huge guys are a big inconvinience as they spill over your space (which is already cramped). The passenger in front pushes her seat back and when i do the same, someone from behind says it makes them uncomfortable. Wish crue can take care of these situations."
Pros: "Mid night snacks were treats!"
Cons: "Breakfast was not god at all. It was dry and tasteless. It didn't have much options for good movies."
Pros: "The app made it so easy. It is like your personal assistant with you telling you about your trip. No delays no major issues. I also liked the seats."
Pros: "Great service across the board! Wonderful, experienced staff!"
Cons: "Seat space was inadequate. My shoulders are 4 inches wider than the seat space including both shared arm rests."
Cons: "Everything was OK"
Pros: "Nice crew"
Cons: "Delay for 45 minutes; unfortunately, it's becoming a trend at Lufthansa"
Pros: "Food was good Flight was smooth Pilot described flight path"
Cons: "Schedule not ideal - left Munich at 9:45pm arrived Tbilisi 3:30am"
Pros: "The staff were really nice and professional"
Cons: "The seats we were in though lots of leg space the armrest were not reclining and after eight hours it got quite uncomfortable. Also my headphone jack was damaged but the staff made it right."
Cons: "Being put in a distanced place for boarding"
Cons: "The on board entertainment sucks you need to upgrade"
Pros: "Friendly. And efficirnt crew"
Pros: "Interesting the bathroom downstairs...then asking people to not form lines on the stairs makes the process a little more complicated...if a person has mobility problems, which restroom should they use?"
Cons: "The boarding process was confusing. Lack of clear signs and announcements didn't help to form lines. People just went to the gates after families, handicapped, vets, etc..passed the gates, business and first. Improving that process by forming ordered lines would help. Entertainment presented movies that are old and have been dysplayed on flights for years. Entertainment in general is poor. Seating not as expected! I chose my seat online and once on the plane I found out the organization of the seats was different than the one displlayed online. I chose an aisle sea on a 3 seat row and I ended up on a 4 seat row and squeezed in between two other passengers. The seats are "growing" smaller and smaller, and the shape and mobility of the chairs makes them uncomfortable. On my row there were 3 screens installed on the ahead seats, and my screen was by 3/4 in front of the passenger on my right. That made difficult controlling the screen function with me stretching my harm over the other passenger's face. I payed $2,000 for that flight in economy. $2,000 for an economy class is not cheap! And you don't offer a great experience. Either lower the price or improve the overall experience."
Pros: "Crew was great. Food was good."
Cons: "The cabin got a little hot during the night and made it hard to be comfortable. Also, the seats lean pretty far back so I had little room in front of me when the person sitting in front of me leaned their seat all the way back."
Pros: "Everything"
Cons: "Not a thing"
Pros: "You always have the best looking flight attendants. After a year in Egypt it was refreshing to see something other than black haired woman. The food was great as always. Keep doing what youre doing. Thank you Olivia."
Pros: "Meals and service"
Cons: "Cramped seats"
Cons: "It was delayed by 9.5 hours!!!!!"
Pros: "Clean large toilets. enough of them so you need not wait. toilet area large so you can walk around. Crew friendly and always anticipating our needs. I liked the hot towels handed out twice during flight. Also the 2 delicious hot meals and snack. The captain didn't turn on seat belt sign at all; others turn it on after 3 or 4 seconds of slight turbulence and leave it on for the next 30 minutes even when it is smooth after that."
Cons: "nothing"
Pros: "The food was good, and crew came around several times to offer drinks."
Cons: "All was good. They should keep up the good service"
Pros: "Munich airport is convenient and boarding went smoothly"
Cons: "This was an SAA plane, not Lufthansa. I have only had excellent service on Lufthansa. This flight again did not have a functioning entertainment system. I asked for this to be addressed and the SAA crew ignored the request and in the morning looked surprised to find out that several of the TV monitors had not worked at anytime on the flight. Not impressed."
Pros: "On time"
Cons: "Can they turn the heat up. So cold!"
Cons: "The buses to the planes had no ac. It was like a sauna. The plane was not ready for boarding so you were in the bus for 25 minutes. It was in the 90s in the bus before they opened the doors"
Pros: "Timeliness, clean cabin, professional service."
Cons: "Climbing latters to board."
Pros: "The service was good. The food was average. I liked the complimentary wine."
Cons: "They lost my bag. Huge problem."
Pros: "Just about everything was great. Left on time and arrived early. Nice light breakfast snack that you don't see on many other airlines. ."
Pros: "Crew are the best!"
Pros: "Crew asked us if we'd like to move to an empty row to be more comfortable without us even requesting it."
Cons: "Bigger coffee cups? Really nothing to complain about. Everything I would expect from a flight. A++"
Cons: "I dint like the way you guys sold me the tickets with only one bag to check in with when I went to the airport I've got to pay 58 pounds extra I was not happy with you guys so next time you have to tell your customers before they buy the tickets that' it's one bag check"
Pros: "The entire experience was amazing that gives me a broader scope to choose from when selecting flights to Europe. The most amazing part was the attentiveness of the staff. Exemplary!!!!!"
Cons: "For me this part is not applicable"
Pros: "Not much, seats are super uncomfortable"
Cons: "Better code sharing with KLM"
Pros: "I like the comfortable seats"
Cons: "Service lag a little"
Cons: "CDG airport in Paris is a very inefficient and by far the slowest airport. I recommend other passengers to get to the airport at least 4 hours before their departure."
Pros: "Late departure, dirty, staff not friendly."
Pros: "Great food and friendly crew."
Cons: "Seatback system was old and not very functional."
Pros: "Crew was very friendly. Food was excellent"
Pros: "Average crew. Average seat."
Cons: "They could have controlled screening babies better. They just let them scream....."
Cons: "boarding wasn't good."
Pros: "Flight was delayed 4 hours with no explanation"
Cons: "Asked for wheel chair assistance and was not met in Paris. Had difficulty and barely made my flight. A gentleman who worked at airport assisted me"
Cons: "I have never been in a situation were a flight has been delayed due to the co-pilot suffering a knee injury prior to take off. A request for a doctor on board after an hour or so and then having to leave the plane and then re-board after about 40 minutes was quite bizarre."
Pros: "FA kept bumping into my seat waking me up"
Cons: "Return the 777 to 9 across"
Pros: "The staff..the attentions..food."
Cons: "Flight was delayed by at least an hour leaving Paris - a regular situation I experienced with AF."
Cons: "I didn't get to board, ended up spending $2,400.00 over and above the $980.00 that I spent booking the initial ticket. I was not informed when I booked the ticket that when you transit through 2 schengen countries, you need a transit document. I was informed about it at then airport. Not only did I miss my flight, I had to book for the next day at a outrageous price. SUPER BAD CUSTOMER SERVICE...BOTH KAYAK and PRICELINE. Will never recommend you guys to anyone."
Cons: "10 minutes late to the airport....... No help, no refund, no nothing. Never using you again"
Pros: "Good selection of movies"
Pros: "Good selection of movies"
Cons: "My entire travel experience became extremely rushed and chaotic due to my flight being canceled and me being alerted -LESS THAN AN HOUR BEFORE IT TOOK OFF! This is unacceptable."
Cons: "Long delays to go through security screening and then further delays as the plane was still being fueled at departure time."
Pros: "25 min ahead schedule!!!"
Cons: "Cabin space, too narrow rows."
Pros: "Crew and boarding were very good. Very helpful to foreigners. Thank you Coffe was really good didn't eat food. Sleeping."
Cons: "Business class seats weren't comfortable and too narrow no entertainment."
Pros: "Fast and efficient boarding and friendly and efficient staff. Landed 15min ahead of schedule."
Cons: "Leg space."
Pros: "If the flight would have leave in time we would receive our luggage in time"
Pros: "The staff was very nice and friendly"
Cons: "One hour delay without any information on embarking and another hour in the plane before departure"
Pros: "Absolutely everything perfect."
Cons: "Through my own fault I ordered a different seat instead of window seat. :)"
Pros: "Sometimes you get surprised, with this specific flight, we had an excellent young and perfect cabin crew. Thanks, Joon!"
Pros: "Arriving safely."
Cons: "We didn't get boarding passes for the second flight at EDI so we had to exit the secure area, get boarding passes, and go through security a second time for the same trip."
Pros: "The food was pretty good and the staff were friendly. During our transfer in Paris, my mum had a medical emergency and had to go to the medical centre. As such wr couldnt go to our final destination in Morocco and had to get our luggage off the plane. The staff at the AF counter were very helpful in that aspect. And when one of the luggages was completely damaged, it was replaced it with a brand new one which was fantastic. On the way back, we had some issues with the ticket because we didnt go to Morocco as planned which resulted in some trouble checking in. But the staff at the counter were quite helpful."
Pros: "Food was excellent and crew was very nice."
Cons: "Could not check in online before my flight and no zones to board just line up and go apparently."
Pros: "Friendly staff"
Cons: "Window pane was broken on my side and I couldn't shut it down. As it was a day flight the sun heated my skin badly"
Pros: "It was on time"
Cons: "Food was AWFUL! Better to serve nothing"
Cons: "It was delayed"
Pros: "The seats are spacious. They give you great amenities such as a toothbrush, etc. The crew was very nice. The food was also superb for airplane food."
Cons: "The check in process was terrible at SFO. We all felt like cattle being herded on. It was such a mess. The seats are surprisingly uncomfortable in premium economy. The headrest is not conducive to sleeping."
Cons: "Air France lost my luggage and they can't find it in the computer system."
Pros: "1) USB charger and electric outlet 2) Availability of 2-across economy seats (for a price) 3) Vegetarian dinner option available and not too bad 4) Flight arrived on-time"
Cons: "1) Front seat pocket bulging with 2 extra-thick in-flight magazines 2) No on-board wifi 3) Not much seating room - very thin"
Cons: "The crew was not very polite."
Cons: "Freezing"
Cons: "Food was not good."
Pros: "Boarding sevece was very nice and helpful Thanks so much"
Pros: "I enjoyed the food, the crew's friendliness in First Class and the boarding process."
Cons: "The wi-fi did not work on our flight"
Cons: "It was all good, only in comparison with Turkish airlines and etihad it is not at par."
Pros: "It was as expected."
Cons: "Boarding was a bit tedious because we had to first board a bus to take us to the airplane."
Pros: "Not much"
Cons: "Ground service at check-in was very poor: Misinformation and failure to provide a level of service that other SkyMiles partners provide for Gold level traveler."
Pros: "Same as above, the crew was very friendly and the food was great."
Cons: "Seating was cramped and uncomfortable for a tall person."
Pros: "The attentiveness of the crew and the online check in."
Cons: "Missed the connecting flight and the luggage was on transferred on our next conncection :("
Cons: "Exiting passengers from the rear exposed the entire flight as people had to walk past those seated from the back to front. Great social distancing and we'll done British Airways"
Pros: "No and no."
Cons: "Very crowded in.club class. Way lower standard for business class as compared to the other airlines."
Pros: "Crew was friendly and everything was perfectly on time!"
Cons: "4 hs delay"
Pros: "The flight was on time and landed early"
Cons: "The bags could have come out earlier and the food could be better"
Cons: "I made a mistake in my daughter's surname while booking online, BA refused ro change it at check-in and forced me to buy a new ticket for her."
Pros: "Leg room fantastic"
Pros: "The crew were very attentive and there was a large variety of in-flight entertainment."
Cons: "I am not a heavy set guy but the seats were unreasonably close to each other, this meant that when you eat a meal your elbows push into your sides making it hard to bring food to your mouth."
Cons: "Direct flights to and from South Africa to USA not via Middle East"
Cons: "Very narrow seats"
Pros: "The crew, the food and the smooth journey."
Cons: "Seating is a big problem. I am only 192 cm tall and cannot really fit my legs into the space. Have them out in the corridor"
Pros: "That the flight was on time."
Cons: "not applicable."
Cons: "Seat was broken. Reclines without requesting. Tray also needs attention. Seat 15C"
Pros: "Quick boarding."
Cons: "Nothing. Pretty good for a short trip."
Cons: "Better business class seats"
Cons: "Delayed, twice!"
Pros: "New Years flight... very special. Great staff and grear entertainment on board"
Cons: "The flight data was not showing... could have been interesting especially on a New Years flight"
Pros: "This was a charter by BA. Airbus A320 with amazing legroom. Was slightly annoyed by them not having coffee ( to wake me up for the drive home) but I suppose I get why they weren't serving hot beverages."
Cons: "The beverages thing above."
Cons: "Don't like the business class seating configuration. The entertainment system played up and only worked in half the cabin. They tried to fix it without success"
Pros: "The A380 is roomy with large overhead bins. Its quiet and smooth. Flight was on time!!"
Cons: "It was impossible to select a seat in advance. I could not even get to seat selection at online checkin. It was very frustrating. When I went to BA in London and Los Angeles they said it was responsibility of AA and when I went to AA in London & Los Angeles they referred me back to BA. Why can I not choose seats like on other airlines????"
Pros: "BA in South Africa run a clean efficient airline. Planes are new crew well trained and food is good."
Cons: "Preseating totally random no matter your status. Booked state of my choice well in advance and was presented at the back of the plane on check-in"
Pros: "I liked that we landed 30 minutes in advance for both flights to and back, compared to the other parallel flight via SAA which was delayed 2 hours when we arrived back."
Cons: "I didn't like the cheese roll I asked for as the whole roll and cheese was literally stuck to the bottom and parts of the bottom of the roll were mushy. The staff were professional but lacked personality and seemed a little hollow."
Pros: "I liked the seats that I got. Staff were friendly and it was a comfortable flight overall."
Cons: "There wasn't enough drinks (water etc) coming around after meals."
Pros: "Food was tasty"
Cons: "Was delayed"
Pros: "Quick and efficient boarding."
Cons: "The way that the crew (both in economy on right of plane) spoke to, and handled sensitive situations with several of the passengers in a loud and rather rude manner. This is not the British way that I have been accustomed to on previous BA flights, and is rather upsetting. The crew were very abrupt in general, and did not have that seasoned and polite demeanor which I expect from BA."
Pros: "BA moved me on to the Kulula flight without any fuss and gave me a meal voucher."
Cons: "I got to the airport to find that my 19:15 flight had been delayed to 22:15. I hadn't received any notification from BA and still do not know the reason for the delay. The only other option available was for BA to put us on the 20:20 Kulula flight to Lanseria and then shuttle us from Lanseria to OR Tambo. It really is not pleasant to get back home so late on a week night and not even be given any warning or any reason for the huge delay."
Pros: "Crew were excellent. Very friendly and helpful."
Cons: "Boxes under the seat in front took up legroom (but it did ensure good entertainment options). Could have offered some more drinks."
Pros: "The staff was great, friendly, helpful and professional."
Cons: "I thought the food lacked imagination, was skimpy and too hot. I burned my mouth several times. I really do not like having to pay for a booked seat. I have special needs at my age and so booking early is how I typically make sure I can access the bathrooms easily without climbing over sleeping passengers. I picked flight for the price, but in the end I should have stuck with Delta, KLM and Air France and got the extra miles as with seat bookings and only one bag allowance, what I ended up paying did not make it worth it. Oh well, live and learn. Seats were tight, anyone bigger than me would have really struggled."
Pros: "Friendly and helpful crew"
Cons: "My wife and I having to sit in separate seats when there were seats available next to each other. Being charged excess baggage when one suitcase was weigh under weight"
Pros: "the meal, the aircraft, the friendliness of the flight crew, the on time departure and arrival."
Pros: "All the normal stuff of flying domestic."
Cons: "The way that my brand new suitcase was damaged on the flight and BA just said that handles are excluded from bag damage. Thus, they can do what ever they want with your bag's handles, manhandle it and not take any responsibility. My suitcase was clearly damaged by the way it was handled since i booked it in till i received it again and they just said sorry...there is nothing we can do for you!!! Now that is is poor customer service."
Pros: "What an amazing experience. Granted I flew first class (for the first time), but I had a friend flying in coach and the staff in both coach and 1st class were extremely helpful and accommodating."
Pros: "I have physical limitations and required assistance stowing overhead luggage and help getting out of seat. Crew were terrific. Wheelchair assistance also great. Travels on my own."
Pros: "Arrived alive"
Cons: "Indifferent inflight service is probably a compliment. The worst insult was to the 120 passengers whose flight to Heathrow was cancelled. They waited hours for the flight to Gatwick. On arrival BA announced that the buses that were promised by ground staff in Venice had not been arranged because BA didn't have the resources at hand. Useless as usual!"
Pros: "I liked arriving safely at my destination despite a delay due to atc strike. Thank you BA pilots for doing a great job. Not to mention politely letting passengers come view the flight deck during the delay to ease the boredom."
Cons: "When kindly asked a question by me, one of the staff didn't understand and instead kept insisting we didn't need a landing card (we did). Tried to rephrase the question and she persisted without trying to understand, rolling her eyes and swearing under her breath. Oh, and did I mention the part where we had to pay for our checked bags again? 75€ per bag. For me and my wife, that's the equivalent of a third ticket for our flight. May as well had our luggage fly next to us. So rude staff and exorbitant pricing for things that somehow weren't logged through third party. Cheers! (Sarcasm)"
Pros: "Made up for time due to a big tail wind"
Cons: "Took off late and had to wait 45 minutes for luggage"
Pros: "Flight was on time,actually ahead of time."
Cons: "Aircon was not efficient. Very hot in the plane."
Pros: "The space on the A380 is nice, comfortable seats, and the crew was very considerate"
Cons: "No between meals drinks (like water, etc.) or snacks left out on this 11 hour flight. The seats are still a bit close together... for the comfort of a long legged man behind me, I was not really able to recline my chair at all."
Pros: "Aside from the typically narrow seats, the service included all the hallmarks of higher-tier service, such as hot towels, cloth napkins, a good meal, and so on. The crew was attentive, as well."
Pros: "Timely."
Cons: "The airplane was really old. The screens wouldn't start for a really long time. Very, very few options for movies and the screen and sound had terrible quality. Food was not really good."
Pros: "Staff was extremely friendly"
Cons: "Seats were too close and comfort was hard for the long flights. I wish premium economy was better explained to one world partners prior to booking so there would be access to better seats."
Cons: "$100 just to choose a seat ? $100 for a 2nd bag? A Kellogg's bar for breakfast? Shame on them."
Pros: "Strong tailwind brought us in 30mins ahead of schedule."
Cons: "Nothing. Was a smooth and friendly flight. Cabin crew were courteous and efficient."
Cons: "Took forever to serve cold drinks and food. Said we were going to have a short flight due to tail wind so they would not serve hot drinks. Mean while we landed at the expected time of arrival."
Pros: "Great service!"
Pros: "Great food. Ground staff were very accommodating."
Cons: "Flight crew attitude. Cramped seating."
Pros: "Everything was good after we finally left."
Cons: "Due to mechanical issues, flight was canceled. Missed a day of our honeymoon as a result. Compensation offered as a result was unsatisfactory."
Cons: "Kayak/priceline re-booked my flight for my sister and I from SAA to BA, but failed to completely reissue us tickets. When we checked in for the flight, we had no ticket for the first leg of the flight, but we had tickets for the remaining flights. We immediately called to fix this problem, but due to slow customer service, we weren't issued tickets in time and the flight left without us. We missed all remaining connecting flights and were forced to buy New tickets. Now we have to work with kayak/priceline to get all my money back due to their error. We came back a day later than expected and missed going back to work."
Pros: "Gold muffin."
Cons: "Lots of turbulence so only business class got drinks does not make sense how is it that turbulence only stops economic people from getting drinks."
Pros: "The crew members are friendly and efficient in getting people on and taking off. Even with flights being full in all segments, it was smooth and fast to get people on and sit down."
Cons: "No alcohol was available"
Pros: "Delicious pretzels and sparkling water."
Cons: "Horrible at customer service and those travelers with no status."
Pros: "The crew was polite and friendly."
Cons: "Not canceling the flight with no reason given."
Pros: "Good service and great customer service"
Cons: "App functionality"
Pros: "The ground crew is helpful in fixing our seats. Boarding procedures are smooth and overall journey is comfortable"
Cons: "the airline can provide more options for us to selecting seat at self help counter. Provide options for food. There are 2 vegan meals out of 3"
Cons: "Better snacks"
Pros: "Nothing."
Cons: "Two hour delay including 20 minutes to get flight data because on board computer not functioning. Usual knee in chest seats on commuter jet."
Cons: "The wifi didn't work. No seatback everyone's screens, only a screen over there middle row of seats. Maybe update your 20 year old livery."
Pros: "Help with check-in"
Cons: "More friendly staff on airplane"
Pros: "On time, kind crew"
Cons: "Bigger seats"
Cons: "Thank reserved seats at time of purchase for a British airways plane and paid for extra legroom. When I checked in, I was routed to American Airlines and the seats were the same in the entire aircraft except for first class. Why did I pay and shouldn't I get a refund?"
Pros: "Trip was wonderful."
Cons: "My son and I had seats in different places and they asked him to move forward several rows because of weight and the seat beside him was empty so I asked if I could sit next to him and they said no without giving any explanation. That kind of upset me. Just a short explanation would be fine."
Pros: "The flight attendants were able to find a place for my carry-on luggage when the overhead bins were filling up. I got a seat with extra leg room by chance (without having to pay the extra fees)."
Cons: "There are no snacks served on the flight. The Philadelphia Airport was overcrowded. There was hardly any room to navigate and there was a long line at nearly every women's bathroom."
Pros: "I liked boarding first and the additional leg room that I purchased"
Cons: "My TSA Pre was not on my boarding pass even though I have had a KTN since this past May!!"
Pros: "The whole experience was stress free and comfortable."
Cons: "We booked our airline tickets at the same time and our seats were separate. This was the first time flying for my wife so she was very upset when we found out our seats were not together. We had to pay an extra $60 to have the seats moved to an exit seat."
Pros: "On time. No delays. Smooth landing"
Cons: "N/a"
Pros: "Love seat space in aisle 8f. I remember that is a perfect seat for persons 6'3" or better. I got a chance to nap for about 1 hour, not normal for me. Very comfortable."
Cons: "Everyone was really good"
Pros: "Taking the exit door makes a difference in having enough leg room. Everyone was nice an helpful."
Pros: "On time, non stop"
Cons: "New higher prices for less service."
Pros: "No complaints. A smooth flight. Met my expectations. Would fly American again."
Pros: "Finish currently use were the most courteous and caring I ever was serviced by."
Cons: "Not much to recall"
Pros: "The flight was equal to AA service I have had on a regular basis."
Cons: "Nothing"
Pros: "The speed of service"
Cons: "We had several rude flight attendants"
Pros: "Nothing"
Cons: "Delays when other airlines with same destination did not have them. The constant asking if is move seats. No means no."
Pros: "The American Airways gate agent was very helpful fixing the problem that British Airways created. She went out of her way to get me booked on AA flights to catch my BA flight from London to Riyadh."
Cons: "My original flight was cancelled and the first available flight was 3 days later. BA booked me on the flight but failed to change my ticket from the original flight causing me to miss the flight from Kansas City. At the airport BA agent told me on the phone that I would have to wait 3 more days after I had already waited 3 days because BA canceled my original flight. Because of the flight cancelation I missed two days of work and because of the failure to ticket my following flight I almost missed a full week of work. The BA booking person seemed content that there was no way I could make it to Saudi prior to the end of the week. Fortunately, the AA agent was able to find a way for me to continue my trip on a later flight."
Pros: "Seats were mildly more comfortable than DELTA seats."
Cons: "Passengers with small children weren't offered to board early like with every other airline I've traveled with... Delta, spirit, united, etc. So I ended up being humiliated because we held up the line trying to get situated with the baby."
Pros: "It was excellent!!! The service, the food, flight on time. Very friendly attendants!"
Pros: "Courteous crew"
Cons: "The plane was tiny and old"
Pros: "Everything was on time and great."
Cons: "Ever thing was fine."
Cons: "I sat at tha airport for over 9 hours before my flight left. Very poor communication and customer service."
Cons: "Flight was late. AA charged me for an exit row seat, but assigned me a non-emergency exit row window seat. Wi-if did not work."
Pros: "Haven't left yet don't leave until today the flight was behind due to maintenance"
Pros: "On time. Friendly."
Pros: "The estimated time for both my flight was over an hr, but we arrived in on my first flight at 45mins and my second flight 30mins."
Cons: "N/a"
Pros: "On time"
Cons: "Dirty plane. DIFFICULTY hearing which baggage kiosk to use. Should have a board with postings"
Cons: "- The entertainment system was not working - needed few restarts - on many seats - Food - horrible - Air hostess dropped water on me - not a problem by itself as accidents do happen. However her comment was more annoying - no sorries - not apologies - just said - "oh it's just water - it is refreshing" - Seats pushback was almost broken - it would break your thumb to push the button and then almost stand to push the seat back. - This was transatlantic flight and you charge for liquor? It is not free - you have to purchase - They ran out of red wine (which was free) by the end of the first meal. Do you keep just one bottle for this big 777 fight. - Overall experience was horrible."
Pros: "Our flight had a veteran who had received the Medal of Honor and the pilot and attendants took a moment to recognize him and it was sooo special and meaningful for American Airlines to take the time to thank this awesome individual!!! Thank you!!"
Pros: "Friendly service"
Pros: "No issues. The whole trip went well."
Cons: "The little lady sitting next to me took my seat but it just let her have the window seat because she could not speak english"
Pros: "It was on time, crew was very polite and attentive."
Cons: "Nothing to report."
Pros: "I like how they kept us updated on when the flight would leave"
Cons: "I didn't like that it took so long for us to actually get on the plane. My flight was supposed to leave around 4pm but it didn't actually leave till around 9pm so I had to sleep overnight when we landed in Dallas"
Pros: "Flight was ok"
Cons: "They lost my luggage and I haven't gotten it yet"
Pros: "Everything was smooth, even the getting through TSA process. I had minimal wait time."
Pros: "The plane we new and amazing, loved all the extra features."
Cons: "There was nothing that I did not like."
Cons: "This was my 5th American flight in 3 days, four of which were significantly delayed. I was supposed to meet relatives for dinner; instead I got there at bed time"
Cons: "That my earlier flight was cancelled."
Pros: "Excellent piloting (good driving) and communication during a torrential downpour. That's important. The two hours on the tarmac were unavoidable, so appreciated occasional comments about the storm and circumstances. Interesting parking. I didn't know a plane could pivot like that. Also, flying through cumulonimbus clouds was thrilling. Thank you."
Read more about Delta
Safety measures for airlines flying from Missouri to Johannesburg
Airlines flying from Missouri to Johannesburg have enacted additional safety measures and adjusted policies to better accommodate travellers. Policies vary by airline.
Heightened sanitation
Daily cleaning, installation of cabin HEPA filters on flights from Missouri to Johannesburg
Mandatory masks
Masks required on board, masks provided on flights from Missouri to Johannesburg
Social distancing seating
Middle seats unavailable to book on flights from Missouri to Johannesburg
Pre-flight testing
Testing for antibodies, testing for symptoms for flights from Missouri to Johannesburg
Book cheap flights from Missouri to Johannesburg
Recent return flight deals
Search by stops
Search by airline
Search by price