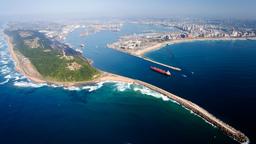 Find cheap flights from Missoula to South Africa
Search hundreds of travel sites at once for deals on flights to South Africa
Top tips for finding cheap flights to South Africa
High season is considered to be January, February and December. The cheapest month to fly to South Africa is January.
FAQs - booking South Africa flights
Can I fly to South Africa? Are there any travel restrictions when entering South Africa?
Can I fly to South Africa without having to quarantine on arrival?
Do I need to take a coronavirus (Covid-19) test before flying to South Africa?
Can vaccinated people travel to South Africa?
What documents do I need to fly to South Africa?
What other coronavirus (Covid-19) restrictions are there in South Africa?
How does KAYAK find such low prices on flights to South Africa?
How does KAYAK's flight Price Forecast tool help me choose the right time to buy my flight ticket from Missoula to South Africa?
What is the Hacker Fare option on flights to South Africa?
What is KAYAK's "flexible dates" feature and why should I care when looking for a flight to South Africa?
Top 3 airlines serving Missoula Johnson-Bell Field to South Africa
Scores according to KAYAK customer reviews
7,9
Delta
Overall score based on 29 821 reviews
Pros: "NA"
Cons: "Informing that the flight would delayed by three hours ahead of time would have been amazing. Instead of extending the delayed time every 45 min making us miss all the other opportunities to fly out"
Pros: "It was nice that the plane was not packed full."
Cons: "Box water instead of water bottles. The seat wasn't very comfortable since it wouldn't recline."
Pros: "No middle seats. Crew was nice. More space for people."
Cons: "The ceiling next to the spot lights or calling for help was dirty. I was expecting everything to be wiped. I turned my air fan on, and my there were some brown spots on my hands. And I looked up, it was dirty up there."
Pros: "The crew at Missoula airport was amazing, and most friendly"
Cons: "delay due to lack of deicing equipment"
Pros: "Not a lot"
Cons: "Customer service"
Pros: "pilot was great... made the landing at key west seem easy!"
Cons: "Flight attendants seemed to really like their jobs!"
Pros: "Nice short flight, crew was nice."
Pros: "Use my built up miles for the SEA-ANC leg of our trip, as to physically price it out as one ticket usually increases the fare by 300-600 u$d depending upon time of year. As it was the tail end of an already long journey (OKA-ICN/ICN-SEA), booked the First Class Cabin. Every mile was worth it."
Cons: "N/A"
Pros: "Internet access. Waiting area at JFK with charging stations for every seat and a tablet to order food & drink."
Cons: "When we booked this trip via Kayak, we thought that we were booking on Westjet. Westjet knew nothing about the flight when we tried to check in."
Cons: "First class seats were too close together. It was very difficult to get out of you seat into the aisle. Food was not what it should have been for 1st class There was no wall between 1st class and coach giving little privacy when I worked my laptop. it was in direct view of the middle seat in coach"
Pros: "The crew"
Cons: "One free beer"
Pros: "Good crew"
Cons: "The WiFi didn't work well"
Cons: "Ran 2 1/2 hours late, poor customer communication"
Pros: "Food was excellent. I had the pasta. Loved watching movies."
Pros: "I like flying Delta. Make you feel comfortable and at ease."
Cons: "Way crowded even in comfort plus Flight very late leaving Missoula Got to SLC just as flight was boarding for LA"
Pros: "jFk To DCA crew is fine and helpful."
Cons: "Crew and flight from DCA to JFK was terrible. We left over 30 minutes later with no explanation as to what was taking so long. There was no info given to passengers in regards to what gate or terminal you're landing and in- was only given 20min to get to gate c Terminal 2 from gate b terminal 4.0"
Cons: "Very slow plane turnover."
Pros: "Excellent hospitality I asked for a cup of coffee at an odd time, the attendant went out of his way to brew fresh pot and served me, instead of just saying "Sorry sir, we don't have any coffee at this time....""
Cons: "Boarding the plane was a hassle as well as delays to Clean up and fix seat belts. Very u coordinated crew as well no one paying attention to what one was doing."
Cons: "poor hospitality by cabin crews cabin crews are very stingy in providing drinks"
Pros: "Crew was amazing! Entertainment options were great"
Cons: "Need more than 1 option for breakfast"
Cons: "1,5 hours delay"
Pros: "Friendly"
Pros: "Boarding was quick Flight experience was good"
Cons: "Leg space was less Take off got delayed"
Pros: "Flight was great"
Cons: "The waiting area at gate 47 is a joke. Doesn't anyone care that it was filthy and had 10 seats for passenger waiting to board their flight?"
Pros: "Friendly"
Cons: "Wouldn't let us check in til right before so our family was split all over the plane"
Pros: "Staff very courteous and professional"
Cons: "None"
Cons: "Didnt fly from San Francisco to Atlanta"
Cons: "The bulkhead sears had no electrical outlet"
Pros: "Delta could not help FAA regulations, so it was not their fault our initial flight was delayed an hour and 50 minutes. The gate agents in Missoula were fantastic in trying to help us figure out connection options to Baltimore."
Pros: "Boarding was quick, gate agent upgraded my middle seat to an exit row window for free (or so I thought), decent movie options"
Cons: "Some of the crew seemed a bit grumpy, was not given the seat I was told I got, not much leg room in economy, was given wrong meal, first meal was taken away without being asked, second meal was stale (french toast), flight was a bit warm, bathrooms not stocked"
Cons: "Aircraft seemed shabby despite refresh of Comfort Plus, food was really mediocre. Steer clear of the Asian Veg option."
Pros: "flight was canceled"
Pros: "Service was fast and the inflight entertainment is free. Lots of movies to chose from, which is nice for the long flight."
Cons: "It was the most cramped I have ever felt in a plane and also the longest flight. Horrible combination. Some of the crew were snippy."
Pros: "Many thanks to Delta for changing our flight at an even exchange to get us out of Florida before the storm. I will fly delta again."
Cons: "Old plane to and from San Antonio. New planes make for a more comfortable ride"
Pros: "Great crew"
Cons: "Got stuck for two hours sitting in the plane because the computer systems went down."
Pros: "The flight being on time, friendly staff, clean aircraft.i"
Cons: "It was a morning flight from Toronto to Omaha via Minneapolis and unfortunately coffee wasn't served. Or maybe it got over."
Pros: "I didn't like anything because the fly leat 3 hours"
Pros: "Flight was comfortable and clean. I enjoyed the basics of drinks, snacks, carry-on, seat selection, and entertainment for the price of what other airlines charge for just a flight with nothing else included."
Pros: "Very friendly flight attendants and for the most part I could understand the pilot when he spoke."
Cons: "Wi-fi should be free. Put chocolate into the snack options."
Pros: "Cookies"
Cons: "Late"
Cons: "I had to take different flights due to the delays."
Pros: "The plane was new and comfortable, the flight attendants were friendly and wonderful and the meal was pretty good but the abundance of snacks and drinks made a 9-hour flight very tolerable. I'd definitely fly Delta to Italy again."
Pros: "The ramp agents and crew were excellent and they were professional."
Cons: "Flying in first class and watching all the economy passengers dragging multiple carry ons to save a baggage fee"
Pros: "Both the crew in the plane and the groundcrew were helpful. Particularly the people in Key West, in terms of finding our luggage and helping us get a taxi."
Cons: "Offer offer healthier food choices, and larger amounts for beverages, particularly water."
"Two meals were served in the First class during 9hr long flight! Great for domestic!!! Mai Tai drink was excellent!"
"I left my phone in seat 6C or B where I sat with my husband. The lady with the oxygen tank needed help coming back from the bathroom as we were ready to land. We stopped the movie we were watching on my phone to help her and I guess I forgot it. Please, please return my phone. Samsung note galaxy 20 ultra. It is on airplane mode. Thanks so much"
Cons: "The wifi was never turned on so we never had any entertainment available. This made the flight less enjoyable."
Pros: "Flight got in early. Boarding was easy"
Cons: "Bags could have been brought onto the plane instead of being checked in. There was space in the overhead bins. The space wasn't utilized efficiently. It would be nice if there were a few choices for the snacks."
Cons: "Had to clean my seat before seating."
Pros: "A bit more legroom than united airlines. Tvs were a plus. The service was excellent and they give you a full can of soda instead of just a dram."
Cons: "Nothing really it was a great value for the price."
Pros: "The crew were nice and accommodating."
Cons: "The seat was not comfortable, my back was hurting from a very short 2hr flight."
Pros: "Crew was very nice, and helpful."
Cons: "I remember you used to get to choose from some seats even if you didn't pay extra. Since the smaller airlines started charging to choose, now the big ones are doing it as well. I checked in for two tickets at the same time, but my wife and i were still separated. Frustrating"
Pros: "Nothing"
Cons: "Customer service. Not losing my bag"
Cons: "A small meal would've been appropriate on this flight considering it was first class. Only thing offered was a cookie"
Cons: "Thank you"
Pros: "Seat seemed smaller than previous flight BDL to MIA"
Cons: "On a short flight MIA to GCM AA has seat back screens. On longer flight BDL to MIA no seatback screens. Seems backwards logic!!"
Pros: "Healthy snacks, better quality food"
Pros: "Gate agents were timely."
Cons: "There was not a wheelchair at the arrival as previously agreed with American. No food on board - just drinks. Boarding took forever."
Pros: "Nothing"
Cons: "Everything"
Pros: "I enjoyed the on-air entertainment."
Cons: "My seat was in the back of the airplane, and I was in the middle seat."
Cons: "British Airways moved us to American Airlines. AA canceled the flight like two hours before the flight was scheduled to leave Baltimore to Philly. Never received any information from either British Airways or American Airlines.i was able to ctahc the second leg of the trip by driving to Philly Airport."
Pros: "Smooth flight, entertainment"
Cons: "The flight attendants just weren't friendly and rather moody Many just felt they didn't want to be here on the flight. No smiles, subpar service. Never saw attendances walking through except when serving us our meals or drinks"
Pros: "Flight on time."
Cons: "USB plug didn't work. Could not charge phone. Touch screen on TV didn't work well."
Cons: "A two-stop flight turned into a three-stop flight and lost connecting flights!"
Pros: "Flight was delayed so much that I would miss my connection so I never went and am on a new flight today on a different airline"
Pros: "Flight Attendants were excellent. Especially good was the senior FA who was seen training the junior ones who were on their maiden flight. The breakfast omelet with turkey sausage was about as good as they get."
Cons: "Nearly two hour delay due to fog in SFO. Recommend AA reroute into OAK where the fog is not so bad and the airport has a way better arrival on time rate than SFO. The drive into San Francisco is about the same time from OAK as it is from SFO."
Cons: "fly was delayed and we missed the conection"
Pros: "Very pleasant crew"
Cons: "Booked flight with my sister 6 months before departure, paid for both tickets at the same time to find out seat assignment not together.... that could be understable only if ticket is purchased at the last minute, but that was not applicable to our situation..... we could not switch seats during flight"
Pros: "Pilot made up time so we made it in early!"
Pros: "Nothing. It was a terrible flight with a very long delay."
Cons: "The flight was delayed well over 2 hours"
Pros: "My flights were booked through British Airways, but these segments were operated by American. Madrid to Dallas was on a 787 (a very nice ride). Entertainment options were very good (although not as diverse as on British Airways). Food was excellent. The crew was very pleasant."
Cons: "There is not enough waiting space at Madrid Terminal 4S for passengers on large aircraft. Boarding was not as fast and orderly as it should have been. Customs and passport control at DFW is very time consuming (much slower than at many other comparable airports). To change terminals, it is necessary to go back through security and then take a train. It took more than 1.5 hours for me to clear customs and get to another terminal for my connection."
Pros: "Good service . Timothy was excellent . Hostess ."
Cons: "Old plane No outlet No screen No USB Poor food quality"
Cons: "Outdated 757. No individual entertainment. Power restricted to premium seats and was intermittent when it worked."
Pros: "There's nothing better than a non-stop."
Cons: "Oy, they offered an $800 credit if I let them bump me. But they had no way to get me to my destination! I guess instead of asking for volunteers, they should have asked for people who really didn't want to go. Then the flight attendant announced, "we're really low on food". Really? This is a SEVEN hour flight!"
Cons: "My flight back home was cancelled without any notice and so we had to spend an extra night. The flight the next day went without a hitch, so it sort of made up for it."
Pros: "NA"
Cons: "NA"
Pros: "The crew was professional"
Pros: "Was able to change my seat"
Cons: "The tone of the flight attendant (male) who can through the cabin to check things before landing. He was brash and abrasive. Yes, safety first, but overall not a good look for someone in a customer service industry. you can accomplish the same goal with different delivery"
Pros: "The gate agents did a good job of making sure the boarding process was organized, despite confusion with two Chicago-bound flights departing from the same gate in a short window. Delay was communicated far enough in advance that I didn't travel to the airport until it was necessary."
Cons: "The flight was delayed 3 hours due to the incoming aircraft, but nobody at the gate or onboard offered any explanation or even acknowledged the delay. The aircraft did not handle turbulence well at all... one of roughest flights in recent memory despite avoiding weather. Wifi had weak signal (on a 70-person jet!) and the streaming entertainment did not work the entire time... it either did not load or I got an error message."
Pros: "The trip was on time and with no issues flying. I really enjoyed the ability to watch a movie...this was AWESOME!"
Cons: "Wow, the seating was VERY tight and I was happy for the TV screen in front of me to keep me busy. All the inflight interruptions on the movie I was watching."
Cons: "Horrible service and was never notified so I was not able to make either of these flights."
Cons: "COULDN'T GET ON THE SECOND LEG BECAUSE DIDN'T MAKE THE FIRST LEG"
Pros: "Employees were friendly and helpful"
Cons: "I think every CEO of a company should be forced to eat their food. It was horrible. A fresh sandwich would be so much better (with add your own may/mustard) The air freshener from the bathroom was so strong that I was nauseous the whole flight. We were at least 8-10 rows away from the restroom. It sprayed about every 20 minutes. My tv screen didn't work. Made it a long flight. No one else around me had that problem"
Pros: "Nothing"
Cons: "Delayed 1 hour because crew announced there was a discrepancy between # passengers boarding central records. Flight crew didn't do anything to comfort passengers during this. Captain made one announcement about turbulence once at the beginning but nothing else for 1/2 hour or longer long turbulence period. Crew took away tray without asking. Ran out of water. Doors did not open for quite awhile after docking but crew said nothing. Seats so small one had to keep elbows glued to body to eat without touching neighbors. Felt like cattle being driven to slaughter. Min"
Pros: "The entertainment and food was great, boarding was easy."
Cons: "A crew member was a little rude to me the entire duration of the flight."
Cons: "It was American Airlines. Not British which was a big difference. Seats where unbelievably uncomfortable Big disappointment compared to flight to Europe."
Pros: "On time"
Cons: "Seating"
Pros: "Boarding was seamless."
Cons: "Food choices were horrible as was the food quality. Especially for an international flight. AA should be embarrassed that this is the level by which they operate. Entertainment systems were faulty. Many around me had to be restarted. And crew seemed tired and irritated. Willing to overlook the chairs that barely reclined but with everything else operating at a poor level, it was just the icing on the cake."
Pros: "Same as above"
Cons: "Same as above"
Pros: "Very nice crew. Full meal"
Pros: "Short flight."
Cons: "3.5 hour delay because I believed they double booked a gate and there was no plane. Didn't offer beverage service( they did on the departure flight) on returning flight to miami"
Cons: "This flight did not offer any firm of entertainment. Very old plane ."
Pros: "No complaints"
Pros: "Snacks were delicious, flight attendant was very attentive, great conversation—I mean it might have been better because I was in first class, but it was definitely worth the upgrade."
Cons: "Seats weren't as comfortable as I have experienced before in first class on other airlines (Delta, American)"
Pros: "Flight delay because co captain didn't report to work"
Cons: "Everything"
Pros: "Boarding was very smooth"
Cons: "Crew was late arriving to what would have otherwise been an on-time flight"
Pros: "Seats were uncomfortable and badly maintained. Seatback stowage netting was detached and useless. There was an equipment change (new larger aircraft) I had a B (aisle seat) on the original aircraft and on the new plane my "B" seat became a middle seat. This was completely unsatisfactory."
Cons: "Lack of communication from flight deck or cabin crew as to engine shutdown and takeoff delay at MSO. Just plain irritating and completely unnecessary"
Cons: "Access to WiFi"
Cons: "Brussels Air ticketed the flight but apparently restricted the weight of bag to 50 pounds, couldn' Even pay extra for the 65 pound bag. Co-share United Airlines was completely unhelpful!!"
Pros: "Good flight, nice staff."
Cons: "Food not the greatest and flight over-crowded."
Pros: "Nothing at all."
Cons: "Could have had a polite crew, ran on time, or had internet that lasted more than 10 minutes after I paid for it. I'll never fly united again."
Pros: "These people have no idea who or what United Airlines is. They work for Delta, and make sure they tell everyone about it."
Cons: "See above. The flight itself was fantastic. Larger planes are the best! Thank you!"
Pros: "The flight from MSO to DEN on United always involves small planes. Almost always the crew and attendant() are efficient and friendly. Tonight though our attendant made us all feel like we were in 1st class. She called everyone by their names when serving (Mr. O'Connor could I get you a beverage?), checked on us multiple times and was so friendly that she stood way out!"
Cons: "Squealing brake pads need some attention"
Pros: "Flight attendants were exceptional. Loading was quick and easy. The flight left the gate on time and arrived on time."
Cons: "I am old enough that I still feel insulted getting a tiny bag of pretzels on a flight."
Pros: "The pilots explained why we were delayed and everything."
Cons: "I can't wait until LGA is done with it's renovations. It's kind of a dumpy airport"
Cons: "Lady sitting behind me lit a cigarette on the tarmac"
Pros: "The plane, crew and boarding was great, and the food and drinks were quite good. Legroom in standard economy class was passable for a 6'2" person."
Cons: "I booked through the United website as trip from US, have Silver status on United, and Lufthansa's policies of not allowing advance (1-2 mo before flight) seat selection (never on UA nor LH websites) are just horrible. Hard to get through on 800 number, and 1 day before trip answer was still to do it in Frankfurt. Economy plus was $1000 more/person, and even then no guarantee I could choose a seat far in advance. Then, at computer kiosk in Frankfurt, they had a wrong diagram of the plane,as we ended up on what turned out to be a no-recline row which I would never get. I'm 6'2", 230lbs, and wasn't able to sleep on that flight. Had I been able to reserve a seat behind a bulkhead or in exit row 2mos in advance, I would have been fine."
Pros: "*"
Pros: "The crew was friendly and helpful but not extraordinary. The food was better than average."
Cons: "On bigger jets, first class seems roomier and better entertainment options. Can "stretch out", but not on 737-900. Food was okay. While pleased that chicken on salad was moist, would have liked another option. There was none. While not associated with flight, had to race between Chicago concourses to make the connection. Hard landing in Chicago. Flight attendant (young) said it was the hardest she'd felt."
Pros: "Seats were quite comfortable. Service pretty great."
Cons: "The only issue was checking my bag at MHT. The guy at the desk had no idea what he was doing, and it made me really nervous."
Pros: "Helpful staff"
Cons: "Food"
Pros: "Crew was super friendly"
Cons: "Small plane, bumpy ride is to be expected. This one was a bit more than even I'm used to."
Pros: "Overall it was a fairly comfortable experience."
Cons: "The United WiFi was not working on my device. I could not connect."
Pros: "Service was outstanding"
Pros: "Nothing"
Cons: "They were not on schedule and I missed my connection. They said it was not their problem and can't compensate me. On top of all that they were rude!"
Pros: "SERVICE WAS VERY GOOD AND FRIENDLY STAFF"
Cons: "Was stuck in a middle seat on a full flight"
Pros: "We made it to Dublin..."
Cons: "Crew was terrible, grumpy and not welcoming. Boarding was terrible, 4 hours late. No compensation, little apology. Food was awful. Couldn't really tell what we were actually eating. Actually hated this flight."
Pros: "The flight was good and the crew was great the flight attendants were very professional and down to earth the gate agent helped me with my seat due to I did not have a assigned one confusing. Overall it was good"
Cons: "Did not like the way the entertainment had to be watched."
Pros: "The free movies and tv shows on flight back. The snacks and free beverages."
Cons: "My baggage was lost"
Cons: "Neither my fiancée nor I were particularly fond of the inflight sauna. I had try dry my sweat soaked shirt in the bathroom while waiting to make my connection. If the flight had been any longer I would have opened the door to let a breeze in."
Pros: "Comfortable seats. Easy connection to movies."
Cons: "Nothing"
Pros: "Anan hour delay!"
Pros: "Crew was really upbeat and helpful"
Cons: "The airline seats are a joke. Shared my middle "seat with two normal/thin guys and there was literally no room hot me to even put my arms down. The upright seat position isn't; it's pitched forward, and even when "reclined" perhaps 2 inches, it's no relief. Arrived in Chicago needing an ice pack for my neck and back pain. Also, LAX Terminal is visibly dirty."
Pros: "Nothing"
Cons: "That my flight got delayed in Denver over an hour and I missed my flight from LA to BJX because of that. I was suppose to land in BJX At 6am on Friday April 28th for a family emergency and now my next flight isn't till 1pm! This is the worst flight experience I have ever had in my life. Never in my life will I ever fly with united again. My plans got ruined, I was forced to sleep on the cold dirty floor of LAX. This cost me a lot of time and money, and I am upset about it. I will tell all my peers about this horrible experience and encourage them to never fly with united ever again. I do expect some sort of compensation over this horrible experience."
Pros: "The crew were polite and better than usual. We arrived safely."
Cons: "So many sick people everywhere. Violent and inappropriate movies kids could see on other people's screens. Bathrooms too small. Nowhere to throw away trash and no button to call flight attendant."
Pros: "The fly was excellent as always use to be. The best pilots united have. My favorite airline"
Pros: "Telephone support was very good. Gate crew did what they could but United keeps them overloaded with very little discretion to actually do anything."
Cons: "Flight delayed due to mechanical problems for four hours."
Pros: "Nothing."
Cons: "Original flight was rebooked, and I almost missed seeing my dying grandmother. Got no apology for this huge inconvenience and stress."
Pros: "The crew was polite"
Cons: "Anything but water was for extra. We weren't even offered a small snack for the price of the flight. My flight was changed three times and it was very cramped. They said there would be entertainment, but it cost as much as a movie ticket. They also managed to lose my bags for the third time in a row."
Cons: "Terrible delays and little to no communication."
Pros: "After I boarded the plane I discovered my seat had been assigned to another passenger as well as myself! A bit unnerving but nicely solved by an upgrade to business class!"
Cons: "I selected my seats day I purchase. I didn't get the seats I had selected. I prechek in online. I ended up the very back in a single row against the toilet which made me throw up 3 times. I don't get sick on flights. But the smell was so bad!,"
Pros: "Everything went smooth"
Pros: "My flight was long but the crew was nice, beverage service was prompt . It was a good flight."
Cons: "By no fault of really anyone... the gentleman next to me was very tall and big. He was touching me throughout the trip while he was working on some papers. He looked uncomfortable."
Pros: "Had a great seat on the plane Missed my next flight the service people were very helpful getting me connections to my destination"
Cons: "delayed because of weather in Denver"
Pros: "Super friendly and helpful"
Cons: "all pretty good"
Pros: "Everything went better than expected, no line, easy flights , short layovers. Everything just went smooth."
Pros: "Nothing terrible I've had better!"
Pros: "Boarding went well, Flight was smooth,"
Cons: "Not only the Gate, but the terminal was changed with out advance notice. I got to Terminal C- listed on my boarding pass, only to check the screen to find they switched to Terminal A, which meant exiting the terminal C and taking a bus to Terminal A. Only as I was boarding the plane did I receive a late text telling me there was a Terminal change. The flight attendants passed me by with the drink cart and never came back to service me"
Pros: "Not one thing"
Cons: "We were delayed due to computer issues, the two different mechanical issues, then it took over an hour to stand in line to get help. They had to hire a bus to take us to Houston, once I got there, I realized that San Antonio crew lied to me and had not booked me a ticket on the flight they told me, then they sent me to talk to Air Canada, then back to United. They had booked me for next day, but was able to fly as stand-by the same day."
Pros: "The layovers that I had in Denver were the perfect amount of time. Boarding and baggage was a breeze."
Cons: "It's flying so there isn't much room in the seats but that is to be expected."
Pros: "staff very professional"
Cons: "small seats"
Read more about Delta
Safety measures for airlines flying from Missoula to South Africa
Airlines flying from Missoula have enacted additional safety measures and adjusted policies to better accommodate travellers. Policies vary by airline.
Heightened sanitation
Daily cleaning, installation of cabin HEPA filters on flights from Missoula
Mandatory masks
Masks required on board, masks provided on flights from Missoula
Social distancing seating
Middle seats unavailable to book on flights from Missoula
Pre-flight testing
Testing for antibodies, testing for symptoms for flights from Missoula
Book cheap flights from Missoula to South Africa
Recent return flight deals
Search by stops
Search by airline
Search by price
Missoula - South Africa Flights