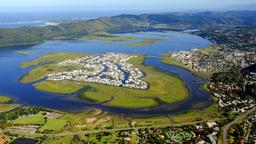 Find cheap flights from Ibiza Island to South Africa
Search hundreds of travel sites at once for deals on flights to South Africa
FAQs for booking flights from Ibiza Island to South Africa
How does KAYAK find such low prices on flights from Ibiza Island to South Africa?
How does KAYAK's flight Price Forecast tool help me choose the right time to buy my flight ticket from Ibiza Island to South Africa?
What is the Hacker Fare option on flights from Ibiza Island to South Africa?
What is KAYAK's "flexible dates" feature and why should I care when looking for a flight from Ibiza Island to South Africa?
Top airlines flying from Ibiza Island to South Africa
Scores according to KAYAK customer reviews
7,9
Lufthansa
Overall score based on 27 793 reviews
Cons: "There were a couple of flight delays. Other that that, I love Lufthansa."
Pros: "On time and the staff were very good. The food was not great, buy good."
Cons: "Tried and was unable to choose my seat in advance for flight and thus had to wait until I arrived at the gate. Thus I was unable to sit with my daughter. Was promised seats could be chosen 24 hours in advance, but was not allowed to either on line or via phone."
Pros: "Smooth and easy flight"
Cons: "Food and drinks served late"
Pros: "Everything went as expected, very smooth"
Cons: "Lower fare !!"
Pros: "Crew was great, plane was nice"
Cons: "delayed again, almost missed connection"
Pros: "Got an amazing pastry as a snack with tea, it was huge and really tasty!"
Cons: "Not much to say."
Pros: "Seat was comfortable and cool."
Cons: "Everything else"
Cons: "No complaints. Good vegan food."
Pros: "Non eventful flight."
Cons: "I get Emergency to be sick and be in hospital and the request company for exchange my fly back from Slovakia back to my country USA and they declined my refund or exchange tickets even if I have doctors statement being in the hospital they're rude and mean and decline make any changes for me"
Pros: "The service was outstanding!"
Cons: "Someone stole my phone charger :("
Cons: "Too uncomfortable for sleep, but that's every economy flight now."
Cons: "The forward economy cabin was too cold. When the passenger in front of me had his seatback all the way back, I could not get out of my seat, lean forward, nor see the entertainment screen or eat easily."
Pros: "Wasn't Lufthansa, was Singapore Airline from Ny to Frankfurt.Was excellent definitely."
Pros: "We had seats in last row 46 during flight to Munich .,it wasn't enough legroom for me ,mom was ok . Because we were the last people who received dinner we didn't get any choices , food was just poor for both for us but another passengers were satsifeted Crew was fantastic the best ever ,very pleasant, informative , happy to serve us . I love flighting Lufthansa , they have wonderful people working there ."
Cons: "Food was poor , but drinks were great."
Pros: "ground services"
Cons: "seats with little leg room"
Pros: "Great crew and service."
Cons: "The online check-in didn't let me select Green Card only Visa. I couldn't check in and when I called Lufthansa I was on wait for over 30 minutes. When I finally got to speak to someone, this person couldn't help me. I got terrible seats because of this, luckily they could switch me to a better seat right before the flight. Think Online check-in should be arranged better."
Pros: "Nothing"
Cons: "Water was spilled on me by flight attendant. Luggage was left in Frankfort. Did not have clothes or medications, or daily necessities. Must wait 1 1/2 days to get luggage"
Pros: "great crew"
Cons: "Stroller damaged by cargo people"
Pros: "The cabin crew on our Munich to Denver leg was absolutely the best ever!"
Pros: "Service was outstanding. Very polite and prompt."
Pros: "Stewardess enjoyed her work encouraged us to take better seats. A full hot meal."
Pros: "Individual screens for all seats with a varied selection of entertainment options. Plenty of room under the seat for my carry-on. (It helped that no one was in the seat next to me.) Beverages were offered frequently. Smooth flight, smooth landing."
Pros: "I liked the entertainment options, beverage service, and leg room."
Cons: "I paid to reserve an upgraded seat. I specifically asked for a window seat and even have a confirmation email saying that I got a window seat (27 A). However, when I checked in, I was assigned a middle seat and the representatives at the ticket counter tried to tell me that was my preference. They tilde me to take it up with customer relations. If I pay $100 for a particular seat, I should get that seat!"
Pros: "Service and entertainment"
Pros: "Very quiet flight, almost in time"
Cons: "I was ask to change seats twice so a family could sit together ( not a problem) but because of the change i was in row 41 and had no more selection on food (already by row 36 they only had pasta). Drinks were slow and we were almost done with lunch by the time the cart came."
Pros: "flight crew was nice"
Cons: "Flight was delayed over an hour and there was no bathroom service on board"
Pros: "Only slight turbulence. Flight was only 10 minutes late."
Cons: "The choice of games and movies. Space too cramped, and I am only 5' tall!!!"
Cons: "The on board entertainment sucks you need to upgrade"
Pros: "Air hostess J. Haupt was the friendliest of all. She made the flight definitely more enjoyable."
Cons: "Everything was good."
Cons: "The cabin got a little hot during the night and made it hard to be comfortable. Also, the seats lean pretty far back so I had little room in front of me when the person sitting in front of me leaned their seat all the way back."
Cons: "Crying children!"
Pros: "Everything"
Cons: "Not a thing"
Pros: "Staff was friendly"
Cons: "can't think of anything"
Pros: "The seats on the leg of this flight were much more comfortable and there was normal space for feet."
Cons: "The boarding here was completely unorganized. After people had just been in a crowd, they attempted to have people love up, which was futile. Some of the seats were dirty and/or unkempt. The snack option wasn't to my liking and may have been the cause of a stomachache later."
Pros: "Excellent steward."
Cons: "It was delayed by 9.5 hours!!!!!"
Pros: "Lufthansa makes you feel like you're flying first class...even when you're flying in an economy cabin seat!"
Pros: "The crew were very kind and helpful. The flight was prompt. The food was good and the entertainment kept me busy on a long flight."
Cons: "I couldn't use my personal headphones as the euro adapter did not work with theirs. The provided head phones worked but I missed the noise cancelling feature of mine."
Pros: "Munich airport is convenient and boarding went smoothly"
Cons: "This was an SAA plane, not Lufthansa. I have only had excellent service on Lufthansa. This flight again did not have a functioning entertainment system. I asked for this to be addressed and the SAA crew ignored the request and in the morning looked surprised to find out that several of the TV monitors had not worked at anytime on the flight. Not impressed."
Pros: "Good entertainment system for flight. Fairly good food served on transatlantic flights."
Pros: "Efficiency...I sat three rows behind the crying babies...but with ear phones...had a pleasant flight"
Cons: "Once again - the connecting flights through Frankfurt are difficult because of the size of the airport and the location of the gates. Make certain there is enough time between flights to get to new gate. Use extra time to purchase some of the excellent food items"
Cons: "was a long run from gate to gate, barely made it."
Pros: "New airplane, very nice and comfortable. Great service. Smooth flight.. 10 hours - no turbulence. :)"
Cons: "They lost Both of my laguages."
Pros: "The upgrade to business class"
Cons: "Not Applicable"
Cons: "I got a wrong flight from you, different than the one initially selected, upon my payment !...with 6 hours overlay instead of 50 minutes. For that I had to pay extra $300 !"
Pros: "Better than my other Lufthansa flight m, which was canceled, or the SA legs because those planes were old."
Cons: "Everything else about buying the ticket with Kayak. Canceled flights and lost luggage with Zero help from Kayak. Kayak didn't even answer customer service lines when I rang for 2 hours in one go."
Pros: "All went well. On time boarding n arrival. Smooth flight n landing"
Cons: "None"
Pros: "Due to business I travel allot so I deal with allot of airlines. This is by far the best airlines I have used. Excellent crew and airport staff. I don't think words can express how satisfied I am with this airlines and airport. The nicest people and great service. Clean and modern aircraft. Going to try flying only with KLM from now on."
Cons: "Nothing"
Pros: "Pumpkin soup instead of a heavy entree was welcome and tasty. Breakfast yogurt portion was generous, the granola less so. Accompaniments were good. Butter was not ice cold, thank goodness."
Cons: "Inbelievably chaotic boarding process for Kili to Dar leg. No boarding lanes so had to fight through the crowd. Was able to observe cleaning process at Dar stop, which was cursory and am sure there was no cleaning of seats of those who boarded at Kili."
Cons: "Boarding at Florence is always chaotic but this isn't within the control of KLM or their crew."
Cons: "Still don't have my luggage yet"
Cons: "I paid for the preferred seat .and i found that people beside me didnt pay anything when i asked them ,"
Cons: "Seats in economy section are very close together . There is not enough room for knees...especially for such a long trip."
Pros: "The crew was informative"
Cons: "Inflight sandwiches"
Cons: "Everything was OK"
Pros: "The crew was great. The soecial meal request was hadled well despite oversight."
Cons: "Soecial meal request was made in advance but overlooked. Did not mind it so much as eating less is not a bad idea! To err is human."
Cons: "Fix the damn KIOSKS at Vienna!"
Pros: "Crew helpful. Food good."
Cons: "Better range of movies please"
Pros: "Very friendly crew and on time with no problems."
Pros: "Great crew, comfortable seating with enough leg room."
Cons: "Provide dinner before getting to joburg, instead of a snack. Flight arrives late so dinner would be appreciated"
Pros: "No delay and nice staff"
Pros: "the drinks"
Cons: "seat reservation. having to pay for luggage...."
Cons: "I bought tickets thrue you for me two months ago Iit went well but on the last few days I also bought ticked for my brother and his wife and it was a disaster night mare for them bound for Montpellier too to attend a wedding the damn suitcase didn't get to final destination it was at Orlando but got"
Pros: "the crew was nice"
Cons: "Seat confort on long flights, leg rooms,"
Pros: "Seating is tight. The crew was great !"
Cons: "As we landed we had to wait on the plane for an hour and a half because another plane (Spirit) was in our "parking spot." This made it very difficult for people and connecting flights."
Pros: "Very pleased with KLM - efficiency all round and especially the baggage handling at Schipol swhere I had 20 minutes to transfer and my baggage came back with me to the UK which is no mean feat given the hustle and bustle of such a large airport"
Cons: "No downsides at all"
Pros: "Crew's hospitality, good music, good destination material, terminal info, good system overall"
Cons: "Less legroom, storage space, bad food, few movie options."
Pros: "We got to Amsterdam on time"
Cons: "1. Paying for the seats we chose...that will never happen again...I'll fly another airline first. 2. The food was terrible. I have flown KLM for years, this was not what I expected. 3. The plane was very dirty"
Cons: "My suitcase didn't come with the airline."
Pros: "Efficient boarding system, clearly signposted. Professional staff"
Pros: "Food was excellent, frequent and filling"
Cons: "The seat was not comfortable compared to my prior leg of the journey. Unfortunately the bathrooms were not clean, I understand that it's not the sole responsibility of the crew and passengers need to be mindful too."
Pros: "Able to fly direct to ansterdam"
Cons: "Have to lay over on the way back. More expensive than other airlines."
Pros: "Everything is top notch for an airline company."
Cons: "Nothing.... I enjoyed every moment of the flight."
Cons: "Boarding was very confusing. There was an area where they were checking people's bags or something near the gate and you didn't know if you needed to stop at it or continue. They didn't collect garbage before landing. Not only did we have to take our bags off the plane, we had to carry our garbage (drink cups/food served) to the front of the plane to throw out."
Pros: "We got a meal for a 1h flight only"
Cons: "No entertainment but normal for this type of flight"
Pros: "We are guessing they either overbooked or they didn't have sufficient passengers on a Tuesday afternoon who's final stop was Glasgow. They rebooked him for 1200 the next day. DFW to MN, St Paul to Schipole, Amsterdam to final destination, Glasgow. So he ends up having to pay for another Lyft back to our apartment in Dallas, then another additional one for the 12 noon flight the next morning. If he didn't have family living in Dallas, he would've incurred a hotel fee too."
Cons: "He was bumped to the next day due to his flight being cancelled. Then re-booked the next day, with an additional layover. Then due to a 32 minute layover that left 3 minutes sooner..."
Pros: "Cabin crew were very professional."
Cons: "Aircraft returned to gate due to fault and was delayed for 45 min."
Pros: "Great service"
Pros: "Short flight with good communication."
Cons: "Nil to complain."
Pros: "Absolutely nothing!"
Cons: "the connection flights was the worse! The gate was changed in Amsterdam 3 times! From D82 to C6 and then to C11. The distance between B82 and C was 20-30 minutes walk. No rushing was needed though, the flight was delayed for 1:30h and after we all boarded a further delay was announced. I will never fly with KLM."
Pros: "Helpful and smiling cabin crew."
Pros: "Clean airplane, friendly crew, no rush, nice snacks for a short one hour flight. Just generally a positive experience."
Pros: "Service provided by the staff"
Cons: "The navigation of the entertainment system is not very friendly"
Pros: "The flight was very good, specially considering it was a daylight one. Staff was friendly and servicial. Tue food was above the industry's average."
Pros: "Great crew service. Among the best ever."
Pros: "Everything - Checkin, crew, food, entertainment"
Cons: "Nothing"
Pros: "Easy airport business"
Pros: "The staff were friendly and all smiles. Seats were comfortable and we had a quick, smooth flight from Edinburgh to Amsterdam. The breakfast supplied was an egg and mayonnaise sandwich plus a drink, which seemed about right and very Dutch in character."
Cons: "It was rainy and necessary to walk outside to access the plane; the staff should give their customers a heads-up so that jackets can be donned. Additionally, the check-in queue seemed rather sluggish."
Pros: "Speed, crew, and reliablity."
Cons: "Food wasn't good, no entertainment or accessory plug ins, and seats were worn out! Not comfortable at all. Great leg room though."
Pros: "Food and staff were great"
Cons: "Entertainment system old and not as many options as other KLM flight. No power on aircraft for charging"
Pros: "delayed"
Pros: "Unexpected surprise--even on a 1 hour flight at noon, they gave us a sandwich!"
Pros: "Special treat for King's Day Friendly crew"
Cons: "15 min late boarding 30 min delay leaving the gate Very little leg room"
Cons: "Flight delayed ... Myself and three other colleagues didn't have our luggage show up from KLM flight from Amsterdam to Brussels...even though all of our luggage was labeled "priority". Once in customer service line, we looked and saw that many of the other passengers on our flight also never received their luggage. We estimated that 20-25% of the people on that flight did not receive their luggage as they were in line with us for the same problem. Hard to understand how so many pieces of luggage could have been overlooked and not loaded on our flight. Obviously there is a huge gap in their quality system to ensure mistakes like this are prevented."
Cons: "I missed my flight because of MU"
Pros: "Except for my negative comment, a good flight."
Cons: "I paid extra for a window seat, but due to the poor alignment of the seats with the actual windows, I actually sat next to a wall! Nol much to see out of a wall. If KLM are going to charge extra for a window seat, then they should make sure there is a window there! If the seat had actually had a window it would have been an excellent flight."
Pros: "Good food, good entertainment system, comfortable seating."
Cons: "Only one toilet working in business class. A crew member told me that it was a decision to fly with only one toilet to ensure no delay. There was a disgusting stench of sewerage for the complete flight from Amsterdam to Johannesburg. This was in all likelihood due to the broken toilet on the left side."
Read more about Lufthansa
Safety measures for airlines flying from Ibiza Island to South Africa
Airlines flying from Ibiza Island have enacted additional safety measures and adjusted policies to better accommodate travellers. Policies vary by airline.
Heightened sanitation
Daily cleaning, installation of cabin HEPA filters on flights from Ibiza Island
Mandatory masks
Masks required on board, masks provided on flights from Ibiza Island
Social distancing seating
Middle seats unavailable to book on flights from Ibiza Island
Pre-flight testing
Testing for antibodies, testing for symptoms for flights from Ibiza Island
Book cheap flights from Ibiza Island to South Africa
Recent return flight deals
Search by stops
Search by airline
Search by price