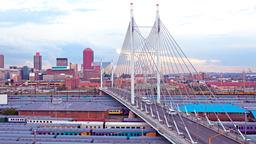 CAN - JNB
Find cheap flights from Guangzhou to Johannesburg
Search hundreds of travel sites at once for deals on flights to Johannesburg
When to book flights from Guangzhou to Johannesburg
Top tips for finding a cheap flight
High season is considered to be July, August and September. The cheapest month to fly is May.
FAQs for booking flights from Guangzhou to Johannesburg
How does KAYAK find such low prices on flights from Guangzhou to Johannesburg?
How does KAYAK's flight Price Forecast tool help me choose the right time to buy my flight ticket from Guangzhou to Johannesburg?
What is the Hacker Fare option on flights from Guangzhou to Johannesburg?
What is KAYAK's "flexible dates" feature and why should I care when looking for a flight from Guangzhou to Johannesburg?
Top airlines flying Guangzhou Baiyun to Johannesburg OR Tambo
Scores according to KAYAK customer reviews
7,0
Kenya Airways
Overall score based on 1 247 reviews
Cons: "Kenya Airways sears had less leg room than Qatar"
Cons: "KQ is always late! And never provide information to passengers about the delay"
Pros: "The journey from Yaoundé was great. The crew was excellent. Part of food needs improvement. The journey from Nairobi was good and we arrived earlier than expected."
Cons: "The flight for on Nairobi, had no entertainment, nowhere to charge cellphones."
Pros: "Yes the crew was amazing"
Cons: "Provide food for kids first before even the special meals people"
Pros: "The crew was great, and greeted passengers with a smile."
Pros: "Newer plane, clean"
Cons: "No air conditioning on the plane"
Cons: "Did not arrive for it"
Pros: "I had an entire row to myself so this greatly improved my experience, but if this had not been the case I don't think I would have rated my flight as high."
Cons: "It was way too hot. Our child was uncomfortable from the heat the entire trip."
Pros: "Service and flight tines"
Cons: "Asked for a non middle seat and got stuck both legs"
Pros: "This was a good flight; enjoyed everything"
Cons: "My only disappointment was that I hoped to buy Amarula on the flight, but apparently they were out of stock."
Cons: "Nothing"
Pros: "All good"
Pros: "The planes are clean, the attendants friendly but formal."
Cons: "The food selections was basic - the entertainment selection was mediocre"
Pros: "Friendly crew"
Cons: "At one time the flight got too cold"
Pros: "Clean plane, on-time departure"
Cons: "On this flight the meal trays stayed on the tables for over an hour (after the meal was served), should have been collected faster"
Pros: "Entertainment system wasn't bad."
Cons: "Paid $200 extra for a direct flight and got bumped onto a layover flight. No explanation, no refund and what should have taken 2 hours, took 10."
Pros: "We missed our flight from Nairobi to kigali by 2 min. They wouldn't hold the plane for us. We have to wait in yheairport for 7 hours. Got nothing. Very dissapointed. Bad customer care."
Pros: "No complains means i LOVED everything. From start to finish."
Cons: "No complains on this flight."
Pros: "Trip on the Dreamliner to/from Nairobi/Joburg went very smoothly. Entertainment was limited but worked and was fine for a 4 hour trip. Food was nothing great but nothing disastrous, booze was handed out willingly, staff were efficient, plane was on time - I rate it higher than SAA for the same leg and would choose KA again."
Cons: "Expensive at $800 but limited choice in Africa so what can you do?"
Pros: "Not much"
Cons: "35 minute departure delay with not even an attempt at an explanation. Broken seat. Cramped."
Pros: "Timeous and polite crew"
Cons: "The food was mediocre and no choice for entertainment, common movie or 2 low quality music channels"
Cons: "Bad attitude by the crew"
Pros: "Friendly crew, modern plane, good seats"
Pros: "Nothing"
Cons: "Made it to the airport 1hour and 15 min before the flight and was denied boarding. Airport would not allow me to see the ticket agent. Terrible experience."
Cons: "Staff on the airplane a bit miserable. Uncomfortable seats and no choice of food. Going downhill"
Cons: "Kenya Airways ground staff in Nairobi was late to open the desk, creating a large line"
Pros: "Convenient morning flight"
Cons: "Not enough leg room for tall passengers"
Cons: "Bullshit"
Pros: "The staff in Addis was pleasant."
Cons: "My original flight was cancelled and I was only given an hour notice before arrival time at the airport! I was rerouted from a one hour direct flight to a 7 hour delay through Nairobi then to Djibouti."
Pros: "All in all was good -"
Cons: "three of us were travelling together with 3 bags. Two bags didn't come - they were left in Nairobi. We were in Nairobi more than 3 hours so it should have been enough to get the bags on the plane. This is super frustrating - also can Kenya Airways not deliver bags in nairobi if they left them. I do understand when flight connections are tight etc, but this wasn't."
Pros: "Food and service"
Cons: "The food was so-so. The flight was delayed. The crew was friendly, but nothing outstanding."
Pros: "Friendly staff Good food"
Cons: "The movies were not working"
Cons: "They lost one piece of baggage. The check-in crew said we were required to have our vaccination cards although nobody asked for them. Then we waited an hour pulling off one piece of baggage and then they didn't load it on our flight."
Pros: "My travel itinerary was one with long layover times. Thank you Kenya, Airways for allowing the day use of your lounge areas for a fee. Got some sleep, a wonderful Turkey Lunch on Christmas Day, before my connecting flight to Guangzhou. Smooth Short field landing and take off in the 787-8. No rattling sounds during landing and take off so the Plane must have also been new. Kudos!!"
Cons: "Suffered with the unattended toilets. Food for thought, could the toliets on flights be designated according to gender? toilet seat was always covered in sprayed urine( which I wiped clean every time before sitting and using the toilets, made several trips during the 9 hour flight. Hand Soap run out at some point."
Pros: "It was a great flight except for food"
Cons: "Choice of dish - fish ( was like rubber) or beef"
Pros: "Plane was a new Dreamliner and nice to fly in with excellent entertainment package."
Cons: "I had 3 hours in Johannesburg before catching a shuttle bus, so being an hour late wasn't a big problem. After rushing from Entebbe flight which was an hour late leaving and arriving, I got to the gate to be informed that this NBO to JNB flight was an hour late in departing. Pilot said it was due to "technical difficulties". My ticket had 4 legs : Nov 28 due to leave JNB at 1:20 finally left at 8:30 due to NBO runway closed from plane belly landing - the pilot was very apologetic - LATE. Dec 5 NBO to Entebbe was an hour late due to "passenger problem and luggage taken off" - LATE. Dec 10 Entebbe to NBO left an hour late due to "plane arriving late" - LATE. Dec 10 NBO to Johannesburg was an hour late due to "technical difficulties" - LATE. All 4 flights were at least an hour late leaving and arriving yet the pilots all said thanks for flying Kenya Airways - the Pride of Africa. This is what Africa should be proud of ?!? and Kenya Airways is proud of ?!? Passengers I talked to all were negative in their comments about Kenya Airways. All said there is ALWAYS something of a problem on a Kenya Airways flight. Lady on NBO to EBB flight next to me as we boarded plane and I said everything has gone smoothly so far, replied - the flight isn't over yet - and then we sat in the plane for an hour while they "removed passengers luggage". A man in NBO departure area as we waited to board JNB late flight said, the procedures and organisation are terrible with problems most of the time, which was why he was using up his reward miles because he didn't want to fly Kenya Airways again. This is the culture of this airline which is allowed to continue with seemingly no regard for the paying customers. If the powers that be such as the FAA, imposed a $100 credit to each passenger for late leaving or arriving, I would have received $400 back on a ticket that cost $750. Maybe the airlines would do something practical to remedy their problems and care for the paying customers rather than just saying "we are sorry for any inconvenience "."
Pros: "Ground check-in, onboard staff, plane comfort were all fine and what normally happens. Nice leather seats and space on Embraer plane."
Cons: "At check-in we were told the departure time was an hour late - when I arrived at 2:00am. As I only had 1 hour and 55 minutes in Nairobi before flight to Johannesburg, I was a bit concerned and had to rush from plane to departure gate. Pilot said flight was late due to " plane arriving late", which I think meant - it isn't our fault."
Pros: "That we eventually left"
Cons: "Our flight was delayed because the airport shut down. When the airport opened again. They gave us a departure time 4 hours after our original departure time (1:20 am). 1:20 came and went without any more communication or information. 1:40 am arrived and someone from KQ showed up at our gate and said they do not have any additional information. We said there are children here and hungry, tired, frustrated people. We suggested they distribute waters or snacks, but that never happened. They just kept telling us they didnt know when the flight would take off (or if it would) nor when they would have any additional information. An hour later they made one announcement over the speaker at our gate that our flight was boarding at another gate. However, many people had fallen asleep on the floor as I had and I would have missed it if one of my fellow passengers hadnt woken me up to say that we were boarding. We then sat on the tarmac a while longer for reasons that were not explained and finally landed 7 hours later than scheduled. Very little effort was put into communicating to us, making our wait comfortable nor apologizing for the inconvenience. It was a very frustrating experience."
Cons: "The entire experience with Kenya air was terrible, from the very poor customer service and knowledge and honesty of the staff, to the flight itself."
Pros: "The service was great. From the time I boarded I was treated very well. The staff was friendly and it made traveling an ease."
Pros: "The in-flight crew were wonderful!"
Cons: "I was told to get my boarding pass at the counter, and when I did so, I was consistently told how wrong I was. They moved gates, and didn't update the screen or airport-wide monitors. A staff member didn't come get the 30+ passengers until 15 minutes before. One of my two bags didn't make it to the airport. After working with a very unfriendly airport worker, I was told it would be delivered to my hotel by 8 am. The receptionist told me tha they left a message, saying I could pick it up at the airport."
Pros: "very efficient processes and very friendly/capable flight crew."
Cons: "the food was not great (i don't have high expectations for airplane food)"
Pros: "It was on time, had friendly crew"
Cons: "Entertainment system is not great"
Cons: "No respect for business class customers for boarding; a separate line is not enforced. Very slow boarding generally."
Cons: "Boarding in Nairobi as we had a small child and it was a bit chaotic as those with children, and those in business class, were not given a chance to enter first."
Pros: "Extremely friendly and helpful hosts. Enough space. Overall a very rewarding way of travelling to East Africa. Will use them again. Very impressed on our flight from Johannesburg to Nairobi -- they booked our 87 year old father-in-law about 5 hours before flight time, took care of his luggage all the time, and helped him get on the flight after midnight on his own. He arrived safely with such good care!"
Pros: "The airline did not make further damage to my bag, they did not cut any more zippers like they did on outboard flight 2 weeks previous"
Cons: "Caused my airport transfer to not wait at airport for me because the flight was so late"
Cons: "Nothing"
Pros: "Good service"
Cons: "Serve Warm food"
Pros: "Yes"
Cons: "Nothing comes to mind"
Pros: "The crew was very nice and all flight details were available and constantly updated."
Cons: "Ethiopians App for self check-in."
Pros: "seat not comfortable"
Cons: "more drinks along the way"
Pros: "Super confortable"
Pros: "Very good,on time good service"
Cons: "Better seats on business in boing 737 800"
Pros: "Way more leg room than I expected. The crew was very nice, the announcements were made in 3 languages, which was nice for the non-Amharic speakers!"
Cons: "Boarding in Lomé took a long time, which I believe made us a little later at the airport. Not sure if that is something fixable or not"
Pros: "Crew was super nice. The woman at check-in gave us bulkhead seats so my friend and I could sit together. With this, we were able to board first to get plenty of space in the overhead bins. Food and flight entertainment were free and definitely better than average."
Pros: "Very conformable and quiet."
Cons: "Nothing very nice flight."
Pros: "the drinks"
Cons: "reduce on the spices in the food or provide different options."
Pros: "The short flight and pleased to get food."
Cons: "A very lengthy boarding process and the inevitable delay of an hour. Not good when it's already a late night flight. No entertainment console. Quite cramped"
Pros: "Not much, actually."
Cons: "None of the air stewardess has a smile on their face when talking to or serving passengers. I'm not sure they know how to engage with passengers in a friendly way. My entertainment screen wasn't working. After resetting, it took them an hour to inform me that I could move to another seat if I wanted to, as they couldn't resolve the problem with the screen. The food lacked in flavour and the sausage served for breakfast was undercooked."
Pros: "Same as above."
Cons: "Staff needs to be briefed on what an insulin pump is."
Pros: "luggage take time to receive , over 1 h"
Cons: "luggage tale long time to receive"
Pros: "Although we had abou an hour delay, we arrived only thirty minutes after the scheduled time. The flight crew was very nice and friendly."
Cons: "The touchscreen did not work very well; was only able I o see one movie but is was an overnight flight so it wasn't too much at a hassle."
Pros: "Attendants were courteous and the spacing is better than some airlines, but that's about it."
Cons: "Check in was a disaster: no logical control of 100s of people; delayed on the tarmac for 1:45 for a "minor technical reason" that apparently had nothing to do with the actual operation of the plane that prevented me from making my next flight. Food was terrible. Flight attendants could have been more helpful about my missed connection."
Pros: "Flight time changed without notice. Delays in Medinah caused us to miss our connecting flight to Johannesburg. Really poor communication. No agents would take calls in Jeddah. Really terrible service. Would avoid using this airline at all cost. Not the first time I've been delayed by them"
Cons: "Flight time changed without notice. Delays in Medinah caused us to miss our connecting flight to Johannesburg. Really poor communication. No agents would take calls in Jeddah. Really terrible service. Would avoid using this airline at all cost. Not the first time I've been delayed by them"
Cons: "Cabin crew quite distracted. Between rows 19-23, orders were totally mixed up People given wrong food or drinks"
Pros: "New plane but movies are old. Too sad"
Cons: "Toilets and hygiene"
Pros: "Having never even heard of Ethiopian Airline, our expectations weren't very high. We found the boarding process to work well. The staff was great and the meals were very good. The flights were on time and efficient."
Cons: "On many of the flights we had to use the roll up stairs. The water that they served tasted like tap water. The seats seem closer (less leg room) than other airlines."
Pros: "New plane fantastic cabin"
Cons: "There was a fight but nothibg to do with the flight crew just some passenger with mental issues"
Cons: "They didn't announce when boarding started/what zones were to go."
Cons: "The whole thing was a disaster. I lost my connection flight due to incompetence from the Ethiopian airlines representative"
Cons: "the layover in Dublin was too long--longer than scheduled"
Pros: "Good food for a such a short trip to Nairobi."
Cons: "Boarding very confusing, gates changing and could barely hear through the PA system."
Cons: "Did not provide special meal although I called ahead to request it. Connecting flight left before we arrived to Addis Ababa. Customer service tried to encourage the thought that putting us on a different flight was a courtesy..."
Pros: "The flight crew was pleasant and helpful"
Cons: "Being woken up throughout the night for food. The overhead screens were on all night which made it difficult to rest."
Pros: "Everything Kosher food was excellent"
Cons: "Nothing"
Pros: "The crew where very pleasant, The service on the plane was good you had a choice of what meal you would like to have you also had a choice of any movie or entertainment that you would like to see or play there was more leg space and much more comfortable seating"
Cons: "I can't fault anything on this flight."
Pros: "The friendliness and willingness to assist passengers when they notice one facing a challenge"
Cons: "The chairs in economy do not give sufficient leg room especially for tall persons, this would present a challenge on long haul"
Cons: "My phone was stolen on airport premises"
Pros: "the air craft was very good and the comfort is good no complain..."
Cons: "i did'n't like some of the cabin crew the way they are ....and am very disappointed from kinshasa to my check in i did ask a lady about my bag, she told me i will get my bag to cape straight, and i did ask her two times about the bag, she keep saying the same thing i will get my bag to cape town, so until now i haven't find my bag yet, the number they gave me from the airport no body pic up the phone, so i don't know what i can i do to get my bag......if you can hep me in this mater please contact me on my email or on my cell number 0027 78 470 6195. thank you your best regards."
Pros: "Spacious seats"
Cons: "80's airplane. Old. Seats not that comfortable, a bit dirty."
Pros: "Great crew, decent food"
Cons: "everything about it, from the random cancellation of my flight, to missing my connection, and their inability to get me another flight, spending over 24 hours in travel for a mere 6 hour flight. No customer service, would never recommend Ethiopian Airlines to anyone."
Pros: "Comfortable flight, pleasant airline attendants."
Cons: "Nothing."
Pros: "Very helpful, attentive and kind cabin staff."
Cons: "Somewhat dirty ( and smelly ) aircraft even though they are a very new fleet. Some seats had strange patches and stains. Overall cabin experience can be improved in terms of hygiene and food quality ( food was mediocre or slightly worse). Seat ahead reclines almost too much into personal space in the new 787 aircraft. The LCD displays don't pivot so it's virtually impossible to view the entertainment when the occupant of the seat in front fully reclines ( a somewhat irritating issue on a long flight )"
Cons: "I'm 1.89 and knees are jammed on this flight. Legroom is better on their long haul flights."
Cons: "It was a night flight (~4-5 hours), however, 80% the time the lights were on... people did not want to eat/drink... and get disturbed constantly by the crew. We just wanted to sleep. Without lights"
Cons: "Seats were dirty"
Cons: "Same as above"
Pros: "The crew very kind and made me feel comfortable"
Cons: "Old 767, with not comfortable set up and no individual TV set."
Pros: "Tried to cancel charged anyway bad service"
Pros: "The best flight ever and the crew is super cool"
Pros: "Smooth Flight."
Cons: "The food."
Pros: "Staff were pleasant"
Cons: "One segment of my flight did not have the gluten free meal I had requested ahead of time. Super crowded."
Pros: "Friendly staff. Plenty of food and drinks."
Cons: "Didn't like the music."
Pros: "Good customer service on time flight"
Pros: "It was a good flight, made only a little disappointing by all the children running through the plane, opening the washroom doors and leaving them open. A little strange, really."
Read more about Kenya Airways
Safety measures for airlines flying from Guangzhou to Johannesburg
Airlines flying from Guangzhou to Johannesburg have enacted additional safety measures and adjusted policies to better accommodate travellers. Policies vary by airline.
Heightened sanitation
Daily cleaning, installation of cabin HEPA filters on flights from Guangzhou to Johannesburg
Mandatory masks
Masks required on board, masks provided on flights from Guangzhou to Johannesburg
Social distancing seating
Middle seats unavailable to book on flights from Guangzhou to Johannesburg
Pre-flight testing
Testing for antibodies, testing for symptoms for flights from Guangzhou to Johannesburg
Book cheap flights from Guangzhou to Johannesburg
Recent one-way flight deals
Search by stops
Search by airline
Search by price
Guangzhou - Johannesburg Flights