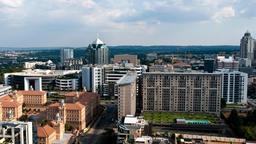 Find cheap flights from the Comoros to South Africa
Search hundreds of travel sites at once for deals on flights to South Africa
FAQs for booking flights from the Comoros to South Africa
How does KAYAK find such low prices on flights from the Comoros to South Africa?
How does KAYAK's flight Price Forecast tool help me choose the right time to buy my flight ticket from the Comoros to South Africa?
What is the Hacker Fare option on flights from the Comoros to South Africa?
What is KAYAK's "flexible dates" feature and why should I care when looking for a flight from the Comoros to South Africa?
Top airlines flying from the Comoros to South Africa
Scores according to KAYAK customer reviews
7,0
Kenya Airways
Overall score based on 1 247 reviews
Cons: "Seating"
Cons: "KQ has never not delayed. This time, it was delayed twice for a total of three and a half hours."
Cons: "Movie selection"
Cons: "The food, horrible, I would like to describe but not going to do it. Rather get something at the airport before boarding, no space on the plane enought, the seat distance has been squeeze, I guest to accomodate more sheeps ( not seats) on the plane."
Pros: "The crew was great, and greeted passengers with a smile."
Pros: "Good approachable crew. Very professional. Aircraft very modern and internal atmosphere very organized. Everything where it's meant to be."
Cons: "Difficult when you're tall to have better seating."
Pros: "yes"
Cons: "not really"
Cons: "Too many onboard announcements"
Pros: "I had an entire row to myself so this greatly improved my experience, but if this had not been the case I don't think I would have rated my flight as high."
Pros: "Airline and service"
Cons: "Asked for a window or aisle seat and wasnt given"
Pros: "Service and flight tines"
Cons: "Asked for a non middle seat and got stuck both legs"
Pros: "This was a good flight; enjoyed everything"
Cons: "My only disappointment was that I hoped to buy Amarula on the flight, but apparently they were out of stock."
Cons: "Nothing"
Pros: "Everything was great about my Kenyan Airways flight. Crew was super friendly and helpful."
Pros: "NA"
Cons: "NA"
Cons: "My flights were changed a lot the week before my flight even though I had booked months ahead."
Cons: "flight was cancelled"
Pros: "Nice staff"
Cons: "N/A"
Pros: "All fine..."
Cons: "uncomfortable as usual on this kind of planes"
Pros: "Clean plane, on-time departure"
Cons: "On this flight the meal trays stayed on the tables for over an hour (after the meal was served), should have been collected faster"
Pros: "On board movie selection is good, however could be a bit larger."
Pros: "The crew is laid back and not fake-polite while not dismissive."
Cons: "No major complaints except punctuality."
Pros: "The flight attendants were the best! I fly a lot every year, but I found the flight attendants among the best I have ever had. In addition, the flight was early in arrival! I love Kenya Airways!"
Pros: "The crew"
Cons: "None"
Cons: "The airlines changed the flight date last minute. They told us they'll take us to a hotel but by the time we reached the hotel after a long wait for visa we only had 3 hours left to go back to the airport. I missed my connection flight from Bangkok and I had to spend a hotel in Bangkok which I ended up paying extra for my hotel in Bangkok and connection flight from Bangkok. The airlines was not willing to do anything about my other flight I missed and me spending overnight in Bangkok."
Pros: "Boarding was early"
Cons: "Plane full and didnt have enough room for a number of hand luggage, mine invcluded"
Pros: "The flight itself was fine, no issues with that."
Cons: "Had a long layover in Addis, schedule should be better. But with more than 6 hr layover, they still lost my bag. No one contacted me when it made it to the airport. The site did not reflect it either. I left work on the second day to go check and there it was, under a few other bags, which gave the impression it had been there waiting a day already. Going to try and avoid Kenya airways in the future if possible."
Pros: "customer service was superb entertainment screens and selection was excellent seats were among the best on any airline. The plane was a seemingly fairly new Boeing Dreamliner, very nice"
Cons: "Food was good but not spectaular - not up to Singapore Airlines for example but better than most other long haul carriers"
Pros: "Timeous and polite crew"
Cons: "The food was mediocre and no choice for entertainment, common movie or 2 low quality music channels"
Cons: "Bad attitude by the crew"
Cons: "hospitality"
Pros: "I got moved to a different airline and was not notified so when I got there over 2 hours early for KENYA FLIGHT I was hustled and bustled and BUSSED TO A DIFERENT TERMINAL at Dubai airport, then chastise, harangued and insulted by new airline staff for being "Late" and they couldn't guarantee I would make the flight. I it on board and someone else was in my seat. HE. Got bumped to first class..."
Cons: "See above...the whole experince"
Pros: "Barely made it to boarding through Security as I was late being the only passenger delayed yet the staff were so understanding and patient enough to wait on me as before closing the boarding gate. great Customer service."
Cons: "Staff on the airplane a bit miserable. Uncomfortable seats and no choice of food. Going downhill"
Cons: "Kenya Airways ground staff in Nairobi was late to open the desk, creating a large line"
Pros: "Convenient morning flight"
Cons: "Not enough leg room for tall passengers"
Cons: "The food was so-so. The flight was delayed. The crew was friendly, but nothing outstanding."
Pros: "Friendly staff Good food"
Cons: "The movies were not working"
Cons: "They lost one piece of baggage. The check-in crew said we were required to have our vaccination cards although nobody asked for them. Then we waited an hour pulling off one piece of baggage and then they didn't load it on our flight."
Cons: "My flight was 36 hours delayed and Kenya Airlines did not tell us why. I then heard that the same flight had been delayed three nights in a row. This led me to book another flight to my destination, so that I did not miss anymore of my trip. I am going to pursue a refund of my original flight. It seemed to me that Kenya Airlines new the flight would be delayed and said nothing until two hours before. Also how they handled the situation was very poor. I will never fly with Kenya Airlines again."
Pros: "It was a great flight except for food"
Cons: "Choice of dish - fish ( was like rubber) or beef"
Pros: "Plane was a new Dreamliner and nice to fly in with excellent entertainment package."
Cons: "I had 3 hours in Johannesburg before catching a shuttle bus, so being an hour late wasn't a big problem. After rushing from Entebbe flight which was an hour late leaving and arriving, I got to the gate to be informed that this NBO to JNB flight was an hour late in departing. Pilot said it was due to "technical difficulties". My ticket had 4 legs : Nov 28 due to leave JNB at 1:20 finally left at 8:30 due to NBO runway closed from plane belly landing - the pilot was very apologetic - LATE. Dec 5 NBO to Entebbe was an hour late due to "passenger problem and luggage taken off" - LATE. Dec 10 Entebbe to NBO left an hour late due to "plane arriving late" - LATE. Dec 10 NBO to Johannesburg was an hour late due to "technical difficulties" - LATE. All 4 flights were at least an hour late leaving and arriving yet the pilots all said thanks for flying Kenya Airways - the Pride of Africa. This is what Africa should be proud of ?!? and Kenya Airways is proud of ?!? Passengers I talked to all were negative in their comments about Kenya Airways. All said there is ALWAYS something of a problem on a Kenya Airways flight. Lady on NBO to EBB flight next to me as we boarded plane and I said everything has gone smoothly so far, replied - the flight isn't over yet - and then we sat in the plane for an hour while they "removed passengers luggage". A man in NBO departure area as we waited to board JNB late flight said, the procedures and organisation are terrible with problems most of the time, which was why he was using up his reward miles because he didn't want to fly Kenya Airways again. This is the culture of this airline which is allowed to continue with seemingly no regard for the paying customers. If the powers that be such as the FAA, imposed a $100 credit to each passenger for late leaving or arriving, I would have received $400 back on a ticket that cost $750. Maybe the airlines would do something practical to remedy their problems and care for the paying customers rather than just saying "we are sorry for any inconvenience "."
Pros: "Business passengers still served snacks even with such a short flight. Great view of Mount Kilimanjaro"
Pros: "That we eventually left"
Cons: "Our flight was delayed because the airport shut down. When the airport opened again. They gave us a departure time 4 hours after our original departure time (1:20 am). 1:20 came and went without any more communication or information. 1:40 am arrived and someone from KQ showed up at our gate and said they do not have any additional information. We said there are children here and hungry, tired, frustrated people. We suggested they distribute waters or snacks, but that never happened. They just kept telling us they didnt know when the flight would take off (or if it would) nor when they would have any additional information. An hour later they made one announcement over the speaker at our gate that our flight was boarding at another gate. However, many people had fallen asleep on the floor as I had and I would have missed it if one of my fellow passengers hadnt woken me up to say that we were boarding. We then sat on the tarmac a while longer for reasons that were not explained and finally landed 7 hours later than scheduled. Very little effort was put into communicating to us, making our wait comfortable nor apologizing for the inconvenience. It was a very frustrating experience."
Pros: "Good connection"
Pros: "Flight from Entebbe left late, we arrived in Nairobi late but still could have missed our connection but the airline refused to let us board. We were told they were booking a hotel for us and would fly out in the morning, we were left for an hour to wait for the KQ employee to return. We ended up sleeping in the KQ lounge and my bag was left in Nairobi. A day later they called to tell me the bag arrived, when I asked for them to deliver it they were very apprehensive and upset because they were not sure how they would organize this. No voucher was provided for this inconvenience and the customer service was sub part. Will not fly KQ in the future unless the airline makes a gesture to rectify this."
Pros: "very efficient processes and very friendly/capable flight crew."
Cons: "the food was not great (i don't have high expectations for airplane food)"
Pros: "Service with smile"
Cons: "Food"
Pros: "Extremely friendly and helpful hosts. Enough space. Overall a very rewarding way of travelling to East Africa. Will use them again. Very impressed on our flight from Johannesburg to Nairobi -- they booked our 87 year old father-in-law about 5 hours before flight time, took care of his luggage all the time, and helped him get on the flight after midnight on his own. He arrived safely with such good care!"
Pros: "We got scammed out of the tickets from Justfly.com and Ethiopian Airlines turned us away without looking at our tickets. I am upset. Now I have to get more Covid Testing done and that will cost approx. $700 and new plane tickets. JustFly.com's customer service is misleading and deceiving. And they blocked my number."
Cons: "Background check your booking agencies and their agents."
Cons: "1 hr delay in departure from Lusaka. Plastic cutlery was difficult to eat with. More frequent water/drinks (or waterbottles instead of little cups) would have been appreciated. Movie options were not as good as other airlines."
Pros: "seat not comfortable"
Cons: "more drinks along the way"
Pros: "crew good. seat base was not soft nor comfortable."
Cons: "have crew offer drinks more often throughout the flight. every passenger gets dehydrated and needs more drinks. I had to go to the back and get drinks myself."
Pros: "Excellent crew, approachable and helpful. Seat was comfortable with legroom and headrest at the right height"
Cons: "Better selection of videos"
Pros: "I liked the fligth attendant"
Pros: "Very conformable and quiet."
Cons: "Nothing very nice flight."
Cons: "Bole airport in Addis no place to sit and wait befor you check in"
Pros: "nothing"
Cons: "stuck in the plane with no AC for 2h serve twice the same chicken hot hot hot plane arrived in the middle of the night travelling with a baby"
Pros: "Very average experience."
Cons: "Very average experience."
Pros: "Same as above."
Cons: "Staff needs to be briefed on what an insulin pump is."
Pros: "The general attitude of the crew was good"
Cons: "There should be improvement in the food"
Pros: "Thumbs up. Flight was smooth and on time!"
Pros: "The plane was spacious"
Cons: "-The flight entertainment wasn't working -There was a delay, but no one from the airline communicated; we were just waiting and the waiting area didn't have sits"
Pros: "Flight time changed without notice. Delays in Medinah caused us to miss our connecting flight to Johannesburg. Really poor communication. No agents would take calls in Jeddah. Really terrible service. Would avoid using this airline at all cost. Not the first time I've been delayed by them"
Cons: "Flight time changed without notice. Delays in Medinah caused us to miss our connecting flight to Johannesburg. Really poor communication. No agents would take calls in Jeddah. Really terrible service. Would avoid using this airline at all cost. Not the first time I've been delayed by them"
Cons: "Cabin crew quite distracted. Between rows 19-23, orders were totally mixed up People given wrong food or drinks"
Pros: "Good crew, service."
Cons: "I chose a seat with no one in my row (because I knew the flight would not be full) and yet somehow two others got assigned to my row after. There was no need to cram us all into one row when the whole plane was empty!"
Pros: "New plane fantastic cabin"
Cons: "There was a fight but nothibg to do with the flight crew just some passenger with mental issues"
Cons: "They didn't announce when boarding started/what zones were to go."
Cons: "The whole thing was a disaster. I lost my connection flight due to incompetence from the Ethiopian airlines representative"
Pros: "Flight attendants were helpful and attentive."
Cons: "Boarding was fairly chaotic, there were no outlets for charging in the business class, entertainment limited."
Pros: "Spacious seats, attentive flight attendants"
Cons: "Bathrooms were messy and ran out of soap in one."
Cons: "Besides that the flight was 4 hours delayed and the staff gave different information then the screen, customer service was non existant. There seems to be no structure or system. Gate change was not announced. Staff was not clear or direct about status of the flight. I have had several flights with EA and most have been completely disappointing and frustrating. Forget trying to call anyone, it took me 4 days of non stop calls to connect with someone to change my flight date. Then once connected the credit card system was apparently down and they could not charge my fee. I had to contact the US office while I was in Africa in order to get anything done, ridiculous. They over charged me and would not honor the fees that were quoted on the phone and via email but the head office. Dishonest and no concern for the inconvenience to their customers. This airline would be the last choice, highly not recommended."
Pros: "Boarding was smooth. Slept most of the flight. Windows were cool (tint control)"
Cons: "Food was sub par. Leg room limited."
Pros: "Everything Kosher food was excellent"
Cons: "Nothing"
Pros: "The crew where very pleasant, The service on the plane was good you had a choice of what meal you would like to have you also had a choice of any movie or entertainment that you would like to see or play there was more leg space and much more comfortable seating"
Cons: "I can't fault anything on this flight."
Pros: "Nothing"
Cons: "Everything, from Customer Service, flight, baggage handling"
Pros: "The friendliness and willingness to assist passengers when they notice one facing a challenge"
Cons: "The chairs in economy do not give sufficient leg room especially for tall persons, this would present a challenge on long haul"
Cons: "My phone was stolen on airport premises"
Pros: "the air craft was very good and the comfort is good no complain..."
Cons: "i did'n't like some of the cabin crew the way they are ....and am very disappointed from kinshasa to my check in i did ask a lady about my bag, she told me i will get my bag to cape straight, and i did ask her two times about the bag, she keep saying the same thing i will get my bag to cape town, so until now i haven't find my bag yet, the number they gave me from the airport no body pic up the phone, so i don't know what i can i do to get my bag......if you can hep me in this mater please contact me on my email or on my cell number 0027 78 470 6195. thank you your best regards."
Pros: "Great crew, decent food"
Pros: "Comfortable flight, pleasant airline attendants."
Cons: "Nothing."
Pros: "Very helpful, attentive and kind cabin staff."
Cons: "Somewhat dirty ( and smelly ) aircraft even though they are a very new fleet. Some seats had strange patches and stains. Overall cabin experience can be improved in terms of hygiene and food quality ( food was mediocre or slightly worse). Seat ahead reclines almost too much into personal space in the new 787 aircraft. The LCD displays don't pivot so it's virtually impossible to view the entertainment when the occupant of the seat in front fully reclines ( a somewhat irritating issue on a long flight )"
Pros: "Cabin crew were all charming."
Cons: "Unfortunately, I had to request earphones (which were not supplied in the seat pocket in front of me) five times from three different attendants over the course of an hour and a quarter before I was given them. This was not just so I could watch a movie but because the quality of the plane's public address system made it very difficult to listen to the announcements from the captain and the crew. Listening on earphones I was able to hear everything clearly. Why it had to take so long just to give me earphones I don't know."
Pros: "Like a third world flight, I could not purchase a wifi. Service is excellent."
Cons: "At Addis airport, they announced first that the trip got cancelled and postponed for another 7 hours. Then while lining up to change my ticket, I overheard people saying that the boarding is starting in 30 minutes and we have to rush to the gate. Then the gate number changed 3 times and the boarding time got delayed few times as well. It was a 5 stars chaos that trip!"
Cons: "The flight schedule was changed and despite contacting Ethiopian multiple times, they did not comprehend the problem. I was scheduled from Dar to Blantyre to Lilongwe then to Blantyre AGAIN, my obvious final destination. Luckily the crew at Malawian Airlines allowed me off the plane early and edited my booking for the return journey efficiently and easily."
Cons: "Seats were dirty"
Cons: "Same as above"
Pros: "New aircraft with automatic flushing toilets!"
Pros: "The crew very kind and made me feel comfortable"
Cons: "Old 767, with not comfortable set up and no individual TV set."
Pros: "Ok"
Cons: "My daughter's entertainment system crashed after 20 minutes. She ended up sleeping so I watched a movie. When she woke up, we were going to switch seats, but I tried to turn it back on and mine wasn't working. (By the end of the flight, only maybe 10-20% were using theirs as many others crashed as well.) The food was very boring. At one point I was looking for a flight attendant and couldn't find a single one anywhere in coach."
Pros: "Food and wine"
Cons: "Music"
Cons: "The food is terrible."
Pros: "The best flight ever and the crew is super cool"
Pros: "The friendliness of the crew and their spirit of hospitality make this company stand our from others. Also the new aircrafts and the amenities on board are a big plus."
Pros: "Staff were pleasant"
Cons: "One segment of my flight did not have the gluten free meal I had requested ahead of time. Super crowded."
Cons: "Food and entertainment is very poor."
Cons: "I wasn't able to use the in flight entertainment at all."
Read more about Kenya Airways
Safety measures for airlines flying from the Comoros to South Africa
Airlines flying from the Comoros have enacted additional safety measures and adjusted policies to better accommodate travellers. Policies vary by airline.
Heightened sanitation
Daily cleaning, installation of cabin HEPA filters on flights from the Comoros
Mandatory masks
Masks required on board, masks provided on flights from the Comoros
Social distancing seating
Middle seats unavailable to book on flights from the Comoros
Pre-flight testing
Testing for antibodies, testing for symptoms for flights from the Comoros
Book cheap flights from Comoros to South Africa
Recent return flight deals
Search by stops
Search by airline
Search by price