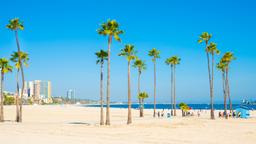 CPT - LGB
Find cheap flights from Cape Town to Long Beach
Search hundreds of travel sites at once for deals on flights to Long Beach
Stay informed and receive email updates for when travel restrictions ease for Long Beach.
FAQs for booking flights from Cape Town to Long Beach
Can I fly to Long Beach? Are there any travel restrictions when entering Long Beach?
Can I fly to Long Beach without having to quarantine on arrival?
Do I need to take a coronavirus (Covid-19) test before flying to Long Beach?
What documents do I need to fly to Long Beach?
What other coronavirus (Covid-19) restrictions are there in Long Beach?
How long does a flight from Cape Town to Long Beach take?
What's the cheapest day of the week to fly from Cape Town to Long Beach?
Which airports will I be using when flying from Cape Town to Long Beach?
How does KAYAK find such low prices on flights from Cape Town to Long Beach?
How does KAYAK's flight Price Forecast tool help me choose the right time to buy my flight ticket from Cape Town to Long Beach?
What is the Hacker Fare option on flights from Cape Town to Long Beach?
What is KAYAK's "flexible dates" feature and why should I care when looking for a flight from Cape Town to Long Beach?
Top airlines flying Cape Town Intl to Long Beach Municipal
Scores according to KAYAK customer reviews
7,9
Delta
Overall score based on 29 829 reviews
Pros: "Sanitized, open middle seats, comfortable"
Cons: "We were stuck on the tarmac for 40+ minutes due to our gate being blocked by another plane. We almost missed our connection and had to run through the airport with our luggage and the staff at our second gate yelling "hurry up" at us like it was our fault."
Cons: "Better space. Better service. Terrible directions"
Cons: "Great crew!"
Cons: "They ran out of food by the time they got to the back of the plane."
Cons: "They need to make more leg room in ALL planes"
Pros: "Missed it"
Cons: "Give back money"
Pros: "On time"
Cons: "Flight attendants not friendly"
Cons: "Food offered in first"
Pros: "The B757"
Cons: "The time to switch plane it was too short almost missed the plane"
Pros: "One crew member was especially amazing"
Cons: "The rest of the crew were meh. This time there was no food. I pillows. Water leaking from the ceiling."
Cons: "Wonderful"
Pros: "Flight attendant"
Cons: "Bathrooms were filthy"
Pros: "It wasn't delayed 3 hours like the first flight"
Cons: "Departing on time"
Pros: "The crew was totally understanding with the huge delay."
Cons: "The communication from Delta on the delay."
Pros: "The crew was amazing and the food was good - the only bummer was that since we were in the second to the last row of the plane we had no choices left for supper."
Pros: "Crew was amazing and friendly. Flight was on time."
Cons: "Na"
Pros: "The A/C worked, that's about all"
Cons: "Old plane, no entertainment in head rests, had to use iPad not the same movies to choose from. Seats were so uncomfortable."
Cons: "Sat in comfort+, bbut never offered any sort of snack. Not sure why it is considered an upgrade."
Pros: "Free drinks and snacks - great entertainment system (please read this Frontier)!"
Cons: "Boarding process was agonizingly slow and ineffective"
Cons: "The flight from. JFK to Barcelona was delayed as well. Their computers were down in Atlanta. So everyone had to have their name hand typed into a computer when boarding. Then the pilot said that our bags are usually weighed and computerized for even distribution on the plane. That system was also down, so we sat on the runway waiting for that problem to be fixed. When we arrived at Barcelona, I unpacked and discovered a jacket and pants in my luggage were wet. The only place that could have happened was at JfK during their rain storm and the luggage weight issue."
Pros: "I didn't realize there was a 20 hour transit time in Portland. Delta wanted $330 to change the tickets. I could buy a new Delta ticket for $179. Bought a new Alaska Air ticket for $107"
Cons: "Trying to get an answer to this problem"
Pros: "Although our flight was fully booked. The crewmembers on this flight was professional, friendly and efficient. We boarded quickly and took off on time. We even arrived ahead of schedule. Each passenger was given free headphones and complimentary beverages and snacks. I love Delta they are a cut above the rest. They are constantly striving to put the customers needs and wants top priority"
Cons: "The limited space in our seats"
Cons: "We shared beverages The bathroom was barely big enough for a small person There isn't enough room per passenger seat"
Pros: "Flying first class and the attendants were wonderful"
Pros: "Staff was friendly."
Cons: "During boarding, the sign wasn't updated after Zone 1. I was watching the board from a distance while on the phone, waiting for Zone 4 to come up. Fortunately, I heard them say "final boarding" over the intercom; otherwise I could have missed my flight."
Pros: "Staff was great!"
Cons: "No TV for movies."
Pros: "As poltronas estavam OK."
Cons: "No voo MEX-GRU o Sistema de Entretenimento nao funcionou por quase 3hs. A refeicao foi muito fraca, tamto no jantar quanto no café da manhã. Onde ja se viu comer feijão preto com onelete no cafe da manhã??? Deveriam pensar no tipo de passageiro q estao atendendo."
Pros: "It got me home, eventually."
Cons: "Poor communication, a 6 hour delay followed by a 7 hour layover (during which we had to sleep on an airport floor because Delta couldn't offer us any hotel vouchers). Gate agents disappeared after 7pm becuase they were due to be done with their shifts when our flight was originally supposed to leave at 6 pm. It felt like we were trapped in the movie The Terminal. Oh! And our bag was misrouted, because that was just how things went those 2 days. All in all a 6 hour trip turned into 18 hours. I could have driven home in that amount of time!"
Pros: "I got a good seat from LA to GTA on 1st jan. it was in the front and spacious and I was also served food."
Pros: "A good basic no frills flight"
Cons: "Luggage missed the flight and was delivered later that say. It is the same as happened the last time we took this flight."
Cons: "We waited 3 hours for the tarmac in Seattle On Christmas"
Pros: "Flight attendants were very helpful and gave us free headphones and adjusted our seats so we could sit together as a family. There were no delays to ATL just 48 hours after the power outage the regular scheduled flight schedule had resumed. Great Flight, Great Crew!"
Cons: "Everything was good."
Pros: "Friendly cabin crew"
Pros: "Kenyatta Cheatham, our flight attendant was absolutely delightful! She made my flight enjoyable with her beautiful smile. She clearly loves her job!"
Cons: "Hurricane Irma, I was lucky enough to get a refund do to the natural disaster."
Pros: "Great crew"
Cons: "No communication between different parts of the airport; early arrival, over 2 hours getting through baggage claim; good luck rechecking your bag; almost missed flight with a 2 1/2 hour layover. Workers on the ground don't care, or either don't know what's next on the transit through the airport."
Cons: "The tsa is worthless"
Pros: "WiFi wouldn't work. Dark skin Asian flight attended had a shitty attitude. Would tell me FOR SURE if they would be set I g alcohol and was rude about it."
Cons: "No delays."
Pros: "For a short-haul flight on a small CRJ, it was the most pleasing and comfortable flight. No delays and everyone was pleasant from ground staff to flight crew."
Pros: "Loved the new aircrafts, the flight attendants were friendly and attentive. We landed 40 mins earlier than expected, the captain really sped the whole way and I didn't feel a thing!! The landing didn't even feel as though we were speeding...one of the best flights I've ever had (Jessica England) thank you!"
Cons: "Food options, early morning flights I get you're not going to have real food, but can there be an option to purchase a bagel with cream cheese or croissant, something other than a snack box. I understand the flight is under 3 hours so certain foods aren't available but Delta you upgraded everything else. I enjoy the Tapas box for those that are vegan, kosher, gluten free, etc....PS-the bathrooms are smaller"
Pros: "Entertainment"
Cons: "Flight delayed"
Cons: "Delayed"
Pros: "New plane, nice comfort seat"
Cons: "The snack selection...pretzels or cookies!"
Pros: "I was comfortable in my seat, with the pilot and the stewardesses."
Cons: "I was charged for my carry-on bag. My first time flying I didn't know that I could have a carry-on and pocketbook to take with me."
Pros: "The flight was run through Delta out of Seattle, and the crew was friendly and very helpful, as it was initially somewhat confusing how to check in for the flight online via WestJet's site - but the check-in agents and gate agents quickly clarified! The flight also boarded and departed mostly on time, and the onboard wifi was great."
Cons: "It was a bit confusing to check in online, as the WestJet site doesn't list Seattle as a departure city and then it took several different input attempts before Delta's site found my WestJet flight info."
Pros: "Short flight time"
Cons: "Delayed for 2 hours due flat tire. They should've checked tires before we boarded. Cabinets were almost full. I had a hard time to put my skateboard and backpack in a cabinet. Attendant didn't help out at all! It took over a minute to figure out to fit my stuff in there like Tetris. One passenger was upset that I took his bag out. It was frustrating when attendant didn't help to store my bag."
Pros: "Delta has a good business product. The entertainment system was good. The food was good."
Cons: "The business class crew struck me as distracted and putout to be there."
Pros: "Friendly, hard working flight crew"
Cons: "Flight delayed 2.5 hours. Not necessarily their fault, but they rarely communicated why or what to expect. Despite signing up for SMS notifications, I'd find out from Kayak more than I did from Delta."
Pros: "It was a nightmare. The reps were confusing and giving different answers"
Cons: "Everything could have been better I spoke to 4-5 AA reps/staff, they were horrible. Need lots of training."
Pros: "comfortable first class seat"
Cons: "There was no wifi. No entertainment, no ability to work."
Cons: "Plane had to land in a different city due to inclement weather. Very disorganized process, huge traveling setback, never got my travel voucher."
Pros: "Most people were so relaxed and pretty easy going about the whole thing"
Pros: "stupid airline"
Cons: "respect"
Cons: "Americans lack of competence caused me to miss this floght"
Pros: "I had a great seat"
Cons: "Food. No food at all on board per the flight attendees"
Pros: "Friendly crew, smooth flight and comfortable seats."
Cons: "NA"
Pros: "Crew courteous, transfer personnel outstanding,nothing else to like."
Cons: "More leg room and a pillow for the head are essential. Completely uncomfortable on the long leg, LA to Philadelphia."
Pros: "There is nothing positive to say besides it got me where I needed to go, even though my first flight was cancelled and had to completely redirect to another airport an that took me 2 hours to get to."
Cons: "Everything, the staff was rude especially at the gate. I was forced to check my bag not because of size but because I was in Group 6 boarding and I got on there was plenty of room on the plane. I had even explained I needed to do work and would have to hold everything in my arms."
Pros: "the crew was amazing and the seats were awesome"
Cons: "on this trip nothing"
Pros: "Landing while raining the pilots did a great job"
Cons: "faster boarding, going out of the plane, the internet on plane was included but didn't work"
Pros: "The atención"
Pros: "It was on time"
Cons: "Make the chairs more comfortable. Also I would rather buy good food not eat cookies."
Cons: "No in flight service"
Pros: "Nothing"
Cons: "Delays. Unexplained."
Pros: "Starters, the flight was co coached with American airlines which is one of the worst airlines I've traveled so far. They lost my bad, and so far no one can help me locate it. Changed my flight without noticing me, made me run around the airport like crazy trying to catch the connecting flight just to find out that AA airlines already changed my itinerary."
Cons: "Everything. Poor service, rude flight attendants, unhelpful staff."
Pros: "Friendly crew"
Cons: "Having to pick up our luggage when getting off plane from Sydney, just to walk them around the corner to be put on flight to ATL. (I thought luggage handlers were paid for this). Luggage had already been put through security!! This put us in a TOTAL RUSH just to make it on the plane ourselves!"
Pros: "Gate agents and crew were patient and polite."
Cons: "The seats were still to small and my shoulders were in the aisle. Are they getting smaller?"
Pros: "Nothing"
Cons: "Flight delayed multiple times and then again upon landing at destination."
Cons: "The original booked flight was about 12 hours before the rebooked flight. We got up at about 2:00 am to leave for the airport at 3:30 am for a 6:30 am flight. We were all packed and booked our ride and shuttinlpg down the computer at the last minute when we noticed an mail after midnight telling us the flight was cancelled. We called and were told there was nothing they could do, due to connections and this was entirely their fault. Approximately 12 hours later we took a "red eye" thus arriving a day late for our hotel and car reservations. We were charged baggage fees and not sure if our priority boarding will be refunded."
Pros: "Quality and clean aircraft, and service. Arrived early. Apparently this is one of AA's highest-quality routes."
Cons: "The legroom in economy is the bare minimum-- you could not get the seats closer together."
Cons: "Aircraft at least in our section was very cold the whole flight. My young son was very cold even in a sweatshirt. I was very cold in a sweater, shirt, and jeans. I asked a crew member if they might have a blanket to cover my son, he brusquely replied "No blankets, no pillows!" So we just froze for 5.5 hours."
Cons: "Getting canned and moved to a flight that is five hours later"
Cons: "Today's flight was extremely cold. Almost everyone in the plan was under the covers at some point."
Pros: "Ability to upgrade to first class"
Cons: "Security taking forever"
Pros: "Not at all"
Cons: "I made the reservation without knowing that Americans airlines has a boarding number 9 where you are NOT allowed any carry on. Awful lesson. You are given the worst seat and you cannot store any thing in the overhead compartment. Or there make you pay $60.."
Pros: "The crew are always excellent."
Cons: "The comfort is horrible. Airline companies keep shrinking the seats and charging more. Also they keep serving less food. And flight changes."
Pros: "Crew was lovely. Attentive but not annoying."
Cons: "Not until the cabin doors closed did I realize the plane didn't have an individual entertainment system."
Pros: "Not much. Standard flight."
Cons: "Cramped seats, unintelligible announcements, battered by credit card promotions."
Cons: "Thanks for the cheap flight. Oh wait, still over $200 and they passed out iceless water. Why can't they give coffee as an option or heaven forbid, anything other than iceless water?"
Pros: "Flight attendants were nice trip was uneventful."
Pros: "S"
Pros: "the crew was pleasant and efficient The landing was really smooth compared to my trip in the opposite direction."
Cons: "paying extra for a small seat was really frustrating"
Cons: "it was an hour late"
Cons: "crew did not pick up the food tray for a long time crew borderline corteous"
Pros: "Online check in scanning my phone and having my seat already picked out. Informative while on the flight and great spacing. Also like to know that there still is free carry ons allowed."
Pros: "Fact we got there"
Cons: "Poor customer handling at Laguardia and no info why we were being delayed."
Pros: "Nice trip...no stress"
Pros: "Pleasant flight for the hour ride. Not bumpy at all."
Cons: "i didn't like my seat 8c with no room to put stuff under the seat in front because there was no seat in front and its like theres even less leg room than a normal seat bc crew going up and down the aisle i had to really squeeze in"
Pros: "Everything. In flight entertainment was great and service as shops."
Cons: "No issues."
Pros: "My wife and liked the food selection during both flights. We also liked how one of five flight attendants actually seemed to enjoy their job. And also how that one flight attendant made sure we were taken care of."
Cons: "Initially upon arriving in phili, my wife and I boarded the plane and I walked on the plane first than immediately my wife was asked by a flight attendant if she was supposed to be on the flight without any explanation at all, it was weird and disheartening. Also other than one flight attendant actually seemed to enjoy what they were doing, and I am a big customer service man, and some of the attendants didn't seem to care AT ALL at many points, very disappointed. Also he plane that we took out of the United States to go to Ireland was very small, and the plane to return us to the states was very small as well. The flight from our connection in phili to go to Charlotte was the biggest plane we had, just for a two hour ride.. really disaipointsd with American Airlines."
Pros: "Excellent crew, food and entertainment."
Cons: "Going through immigration in Dallas is a disaster. The wait is eternal. None-US passengers seemed to get processed faster."
Cons: "Flight from San Antonio to Dallas had an excellent entertainment selection and entertainment system, despite being an hour flight, but the flight to Madrid was far more lacking."
Pros: "Nothing unexpected happened"
Cons: "Nothing"
Pros: "Left on time arrived at destination early"
Cons: "Stewardess didn't smile was abrupt impatient"
Pros: "I liked a lot about our flight, especially that we didn't crash."
Cons: "For a 12 hour flight a little more leg room would have been nice."
Read more about Delta
Safety measures for airlines flying from Cape Town to Long Beach
Airlines flying from Cape Town to Long Beach have enacted additional safety measures and adjusted policies to better accommodate travellers. Policies vary by airline.
Heightened sanitation
Daily cleaning, installation of cabin HEPA filters on flights from Cape Town to Long Beach
Mandatory masks
Masks required on board, masks provided on flights from Cape Town to Long Beach
Social distancing seating
Middle seats unavailable to book on flights from Cape Town to Long Beach
Pre-flight testing
Testing for antibodies, testing for symptoms for flights from Cape Town to Long Beach
Book cheap flights from Cape Town to Long Beach
Recent return flight deals
Search by stops
Search by airline
Search by price
Cape Town - Long Beach Flights