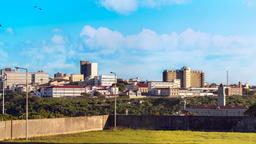 Find cheap flights from California to East London
Search hundreds of travel sites at once for deals on flights to East London
FAQs for booking flights from California to East London
How does KAYAK find such low prices on flights from California to East London?
How does KAYAK's flight Price Forecast tool help me choose the right time to buy my flight ticket from California to East London?
What is the Hacker Fare option on flights from California to East London?
What is KAYAK's "flexible dates" feature and why should I care when looking for a flight from California to East London?
Top airlines flying California to East London
Scores according to KAYAK customer reviews
8,3
Qatar Airways
Overall score based on 11 090 reviews
Pros: "Crew was great and food was nice!"
Cons: "Needs more improvement"
Pros: "yes. great travel and crew"
Pros: "Easy and efficient boarding process, great Tv episodes selection"
Cons: "Staff was slow to remove plates after eating"
Pros: "Crew was awesome"
Cons: "Food quality need to improved"
Pros: "Because I was in the bulkhead seat - it was good."
Cons: "My first flight arrived 30 min late which meant that my 50-minute layover was tight. But instead of holding the next plane for us, they forced us to re-book on a flight leaving 14 hours later! I was not ok with this so I pushed the issue and they put me on the flight leaving 6hrs later. :-((((("
Pros: "Journey to Helsinki to Doha was good. Plenty of empty seats."
Cons: "Full packed airline Doha to Dhaka as well as flight was delayed a bit."
Cons: "The lounge, they use the club lounge in Boston which was so so. Could we have use the one world BA lounge instead?"
Pros: "Great crew"
Cons: "The food didn't necessarily agree with me but it tasted good and there was plenty of it."
Pros: "Seat was very comfortable and the flight was on time."
Pros: "crew amazing,"
Cons: "The 14 hour flight lacked wifi access and there was no sense of importance to investigate by the crew. In an era when downtime is utilized to stay ahead of work, strong wifi is one of the most crucial requirements for me to elect an airline. Even if all else is good, poor wifi is a deal killer."
Pros: "The crew was very helpful and fast, at the gate of flight from Doha to Tbilisi they greeted and thanked me in Georgian, which was very nice of them. The seats were comfortable and the entertainement was good during almost ten hour flight from Manila to Doha."
Cons: "The food during the flight from Manila to Doha was poor. Last year I flew from Doha to Singapore in January and the year before that from Doha to Colombo, the food on both of the latter flights was very good. The food during flight from ManilaManila to Doha was poor."
Pros: "Too tired after almost 24 hours traveling. No complaints."
Cons: "the area I sat in smelled weird even though the crew helped spray a solution it didn't help the smell .. Vegetarian meal is not good"
Pros: "I am very pleased to travel with Qatar airways. Qatar airways and Singapore Airlines are the best companies."
Cons: "I was a little bit annoyed with the staff at the Doha airport at the boarding gate because she did not let me get in to boardin in priority even though with my privilege club card, I do have to insist after the call for zone 1 to proceed for boarding."
Pros: "The flights attendants were very helpful and polite. What I enjoyed the most was the level of comfort I had. I was able to sleep for almost the entire flight. That's why it felt like it wasn't even a long flight."
Cons: "We did leave a little late but it was out of the control of the pilots and flights attendants."
Pros: "Nothing was spectacular."
Cons: "No lounge in Philadelphia took my Priority Pass. On the flight, the woman in front of me threw her chair back without asking and almost had hot coffee all over me. When I asked her to put her chair up, she got mad. She went to staff to insist she could put her chair back. I showed them that I was indeed in a back brace for a health condition and that I needed opportunities to move and shift, cross legs to release tension, etc. Staff sided with the rude woman, who, given the chance to move to an equal seat on the opposite aisle where she could recline, refused to move. I was very frustrated and have never been treated with such discrimination regarding my health concerns."
Pros: "The check-in for my first flight was great in Philadelphia."
Cons: "There are no lounges in Philadelphia that accepted my Priority Pass. Your economy passengers deserve options, which I have paid for. Movie options were not as good as expected."
Pros: "The staff wad nice"
Cons: "I have requested sea food and I was told that no request was made and they do not serve it any more."
Pros: "good crew"
Cons: "plane hadn't been cleaned (trash/food garbage in the seat pockets), plane was very hot"
Pros: "The movies, snacks, the crew. They were very friendly and helpful on board not the crew in the airport!!!"
Cons: "Space of the seat and the ground crews(aiports) how come their less friendly than the crew on board!"
Pros: "I liked their customer service, food, and the flight attendants were friendly. They have a very nice shopping mall at Hamad International Airport in Doha, Qatar."
Cons: "They have less space to move your feet and after a while your left knee begins to hurt because you have been sitting in the plane for a long time. Whenever I asked to get a drink of water or soft drinks, it took the flight attendant 10-15 minutes to arrive with my drink. I understand she was occupied with other duties, but she should have made me her priority."
Cons: "Even though we landed in Doha before our connection left ( barely-20 min)on Qatar airways, they would not hold the connecting flight for the 7 of us who were connecting. This was extremely disappointing as we then lost a full 8 hours of our first day arrival. If they schedule you for a 45 minute connecting flight, I suggest you book a later one. Our flight from NYC left on time but was 20 min late landing. Their only compensation to us all was use of the airport lounge in Doha ( quite nice with free food wine and showers, but would rather have had the extra day in Bali."
Pros: "Service, crew, food"
Cons: "Seats are small"
Pros: "everything"
Cons: "nothing"
Pros: "Flight schedule in time."
Cons: "I'm a 6'3" in shape man. I selected the bulkhead seats for extra leg room. Great crew, but my shoulders stuck past the seat edge 3" on both sides."
Pros: "All good"
Cons: "The employees were not motivated to work. Food was scarce and I was left starving the whole flight. On a 16 hour flight, there should be more food and beverage service other than the 2 times the attendants served us. How can we stay hydrated if we aren't being given any liquids?"
Cons: "The seats were cramped"
Pros: "Excellent service. Flight on time."
Pros: "Everything"
Cons: "nothing"
Pros: "Food"
Cons: "Observed that one flight attendant from India is giving more attention to a person who is from Navy. He avoided asking what we want for drinks etc. He always ignored us and pushed his cart before we answer. We are very unhappy with his behavior, however, adjusted ourselves."
Pros: "Great service. Great food. Solid entertainment."
Cons: "But the onboarding was a bit disorganized. The zone method was confusing to non native speakers so everyone was confused. It then become chaotic. Also the 320 product was too different than the 350 flight"
Pros: "Good attitude from staff"
Pros: "Nothing. Despite booking Qatar Airways for both legs the transfer distance is incredibly far. Only just made connecting flight!"
Cons: "Why does it take 2 hours to get all passengers on board? Why only one exit/ entry point to board/ disembark for an Airbus 440? The mist inefficient organization of passenger logistics you can imagine Hopeless airports..useless Airlines"
Cons: "Long flight on a 777-200. Crowded aircraft, crew not very attentive to call light, and food mediocre at best. Entertainment service was horrible, old movies and typical Qatar Airline selection of Bollywood films (Expected when flying from Doha, but not New Zealand!) Seat would not recline, but no option to move to another isle seat."
Pros: "They make you feel like a person"
Cons: "Nothing"
Cons: "I planned a wonderful vacation for my birthday only to face a horrible experience. Not only was the flight uncomfortable, but my television did not work. There was a huge box underneath the seat in front of me which prevented me from stretching my legs outward. The television was on but the screen itself wasn't operating. I reached for the remote located in the armrest only to find the entire piece missing. Only the base was there. I asked the flight attendents three times if I can move to an empty seat and they said "give me a moment". The moment never came. I really expected more from this airline."
Pros: "Crew was exceptional and in-flight entertainment options superb. Meals were well apportioned and delicious."
Cons: "Seats were a little narrow, especially the middle ones but to be expected when flying economy."
Cons: "Boarding this flight consisted of minimal organization on the crews behalf, the Gate's security machines were off, people scattered everywhere with not enough seats to fit everyone. When entering the gate (with security machines turned off keeping in mind everyone has already passed general airport security and is only trying to enter the gate. Staff would direct passengers towards an attempt at creating a boarding queue. Once passing the gate doors and walking towards the queue directed by staff, it seemed to be a normal occurance to have another staff memeber shout at you and redirect you another way. Getting scolded by gate employees and requested to remove all electronics turn them on and being requested to remove most clothing items at the gate while everyone is watching with security machines off while only selecting a few passengers seems to be a regular occurnace in Doha & with Qatar Airways. People standing all around, no queues were initiated by staff, instead staff would push through passengers to get to the front instead of propretly annoucing the boarding through an intercom. No matter how loud staff was screaming their sounds were drowned out by the passengers which turned boarding a full translatlantic flight into a chaotic scene. Once on the flight I noticed the headphones provided were broken, I politely requested a new pair...from 3 different employees...which took over 20 mins to replaced. Qatar Airways prides itself on quality unfortunately as an economy passenger I have yet to experience any of that other than when it comes to good on flight entertainment."
Pros: "TImings"
Cons: "Price"
Pros: "Qatar airlines was awesome! Comfy seat, great headrest, lots of entertainment options and decent food all on a very short flight. Would definitely fly this airline again!"
Pros: "I like the new 350 plane. Comfortable seats, good entertainment and connections. I especially like that you can display cameras from outside the plane on your seat's screen."
Cons: "It was a confusing boarding procedure. We were sorted into zones, but boarded late. So, folks tried to get on all at once. We were in zone 1, and should have been the first economy on, but others just pushed past."
Cons: "Kayak/priceline re-booked my flight for my sister and I from SAA to BA, but failed to completely reissue us tickets. When we checked in for the flight, we had no ticket for the first leg of the flight, but we had tickets for the remaining flights. We immediately called to fix this problem, but due to slow customer service, we weren't issued tickets in time and the flight left without us. We missed all remaining connecting flights and were forced to buy New tickets. Now we have to work with kayak/priceline to get all my money back due to their error. We came back a day later than expected and missed going back to work."
Pros: "The entertainment selections and the comfort of my seat."
Cons: "The flight was delayed for two hours without any warning, despite being registered for the airline's flight notification system. Service was terrible. The flight crew did not offer any kind of apology or explanation for the delay. Food and beverage service was delayed and the staff was forgetful of guests' requests. Upon our arrival in Doha, checked bags did not arrive until 2 hours after we landed! How does an airport receive a 5-star rating, but takes 2 hours to return baggage to its guests? Overall, a poor experience from Qatar Airways."
Cons: "The customer service of your company is the worst."
Cons: "Seriously, the service of Qatar Airways was horrendous in Uganda. Ridiculous. Could NOT give a worse review. Would 100% NOY recommend this airline. EVER."
"All good"
Cons: "My backpack zipper got caught in another passenger luggage in the over head holdall. The crew member tried to separate it while the owner of the other bag complained about me like I'd done it rather than it being the bags moving themselves during the flight. The flight attendant ripped my bag zipper in order to separate the bags. The other passengers bag was not damaged. He tried to fix it but dropped the zip and then pretended it was okay putting it back in the holdall. Kind of unhappy that my new back pack was damaged"
Pros: "The crew were lovely, yet efficient."
Cons: "The seat pad in World Traveler Plus is very thin, making it uncomfortable after about 30 minutes, let alone 10+ hours. Dinner was good but breakfast was sub par."
Pros: "Seat was very comfortable, plenty of leg room."
Cons: "Food trays left for 45 mins. This was premium economy Check in took forever even though I checked in 3 hours before departure. Didn't seem to be any staff near self serve check in screens to advise passengers."
Pros: "the food was really good and the service was good."
Cons: "the entertainment system for the trip from lhr to acc was a bit outdated"
Cons: "Simply everything"
Pros: "Love the A380 it's smoothness quietness and spaciousness. The experienced mature crew were excellent."
Cons: "Food quality and selection. I"
Cons: "Missing one suitcase and it will be delivered a day late supposedly"
Pros: "The crew was so incredible, the safety video was funny, the food was DELICIOUS, the accommodations were above and beyond. Comfortable, great movies, relaxing. First international flight and now I'll always use British Air"
Cons: "Nothing. This has been the best flight experience I've ever had."
Cons: "BA is löst. This whole experience for a first class flight was a joke. SF no Lounge, food terrible, london lounge max BC level. LH 2x better, they need change"
Pros: "The free drinks."
Cons: "The stink of curry throughout the plane and the other choices of meal being gluten laden pasta and gluten laden crackers, muffins, and bread for breakfast. I am very glad I ate in SFO before leaving or I'd have been starving by the time e arrived in LHR."
Pros: "Boarding staff & crew were fine"
Cons: "The seats were the most uncomfortable I have ever travelled in - this plane definitely has the worst seat width, leg & reclining space that I have seen. I have been in long-range (16 hours) flights that were more comfortable than this. If anything fell on the floor, I couldn't retrieve, I couldn't sleep at all & had contorted joints & a body ache when we landed. To design such tiny seats is truly inhumane."
Pros: "That I got to London..."
Cons: "We were stuck on the plane for two hours because of engine issues, and there is no air in coach in their planes. It was 90 degrees in there! For two hours! The other classes had air and we had none, it was a health violation for sure."
Pros: "Crew very helpful"
Cons: "New booking system where you cannot select seats without paying more money is outrageous. Will fly Virgin next time. Seats did not recline Flight left three hours late. Nearly missed connection. Very stressful experience"
Pros: "Getting our bags through on a tight connection - great job Staff were helpful in finding a safe place for my bassoon."
Cons: "inability to select seats without having to pay vast extra amounts of money is totally unacceptable. Ended up initially separated from my daughter and then on seats that did not recline. Flight left three hours late, nearly missed connection Next tine will fly Virgin. They look after their passengers!"
Pros: "The crew was very nice"
Cons: "The food"
Pros: "The size of the plane"
Cons: "Leg space."
Pros: "Nothing"
Cons: "We waited in the plane for 5 hours and ended with a cancelled flight. We were rebooked out of Oakland the next day. Missed an entire day in Rome for our honeymoon, lost a night at a hotel, and lost money on a tour."
Pros: "Waitied.. in the okanevdir 40 minutes! Because couldn't get the jolly to work for the steps Had to walk steps with my elderly mother with our carry on in the pouring rain.. then miss our flight to Milan had to wait 3 hours for the next flight ... which was also delayed."
Pros: "The crew was great"
Cons: "I had to throw away some very expensive facial creams/cosmetics on my connecting British Airway flight from London to MAdrid. I suddenly had to fit everything I had into a very small bag. They said it was policy, but I had been on a British Airway flight the whole time! Why was it allowed when I boarded?"
Pros: "I like that we didn't crash"
Cons: "They lost my and 5 other persons luggage! British Airways sucks!"
Pros: "Crew was nice. SFO-LHR was great entertainment."
Cons: "They lost my bag! I was waiting for this ski trip for a year, and they lost my snowboard bag. It is still in London and I'm at Avoriaz, waiting for a driver that god knows when will come."
Pros: "Only one layover in London"
Cons: "Emirates, Etihad flights I thought were a bit newer and better in terms of comfort and entertainment with more charging ports etc"
Pros: "The crew was very nice. The entertainment wasn't bad there was a pretty good option of movies and shows."
Cons: "The food was gross. The curry chicken I got looked like paste over disgusting rubber rice. The breakfast didn't taste great either. It gave me stomach pain."
Pros: "Crew were good , food was ok."
Cons: "Flight delayed again so both flights to USA and return were delayed... not a great experience . Entertainment took a cou0le of hours to sort, they had to keep resetting it"
Cons: "Fresh food"
Pros: "Everything"
Cons: "The screen was pretty big but quality pretty bad. Looked like 80s CRT. Also bad selection. Luckily it was a red eye flight."
Pros: "Liked that my wife and I could have a two seat row to ourselves."
Pros: "I love the bins by the side of the Airbus, and for an economy seat there was a good amount of leg room."
Cons: "After taking off in San Francisco flight got re-routed to Minneapolis because of a sick passenger on board. Caused me to miss my connection in London and the subsequent flight I was put on because of the delay. Spent 10 hours overnihht at Heathrow in London because British Airways wasn't giving out hotel vouchers just £15 in meal vouchers. Disappointing."
Pros: "Aisle seat"
Cons: "No leg room"
Pros: "Storage bins next to seat in world traveller plus"
Cons: "Lack of seinking water and no toilet in the world traveller plus cabin - curtains divided off the area blocking access to any toilets!"
Cons: "Paid for seat upgrade for "twin" seats on the side. Armrest did not move up, seats were tiny, and the side storage cabin that was one of the perks of the upgraded seating was dirty. For that matter the entire plane was dirty. Food was disgusting. The entire plane was understaffed; multiple people had their call lights on at one time. It was a miserable flight."
Pros: "Checking in online 24 hours prior to departure I received up-dates thrice regarding the delay of the flight which was very convenient. I had also learned about the protections that I enjoy as a passenger checking in online. The flight caught up in terms of timing as I had to catch a connecting flight to the continent from London. I was very pleased, also with the courteous flight attendents, the food, the entertainment selection and sufficient leg room in economy class. Overall a lovely experience, indeed!"
Cons: "It has been a week and British airways still hasn't delivered my suitcase."
Pros: "Easy online Check in. Nice crew."
Cons: "Very tight space on flights."
Pros: "I like the fact that was San Francisco to London just one chunk of the flight."
Cons: "I did not like the fact that I did not have enough room for my legs. We were crump like sardines. The food was discusting, unedible. The quality of the air was very bad. It was hard to breath inside."
Pros: "Food was good."
Cons: "Offer more water throughout the flight"
Cons: "Could not do online checkin due to some sort of problem with their booking system, and as a result couldn't choose our seats on the long haul flight."
Cons: "My bike was checked luggage and was late coming from London. It made me miss my alitali flight and had to spend the night in room."
Pros: "Everything no complaints"
Cons: "No copmplaints"
Pros: "Across to entertainment helped pass the time"
Cons: "On an 11 + hour flight it's extremely difficult if not impossible to get any sleep when you can barely move your seat back. Try removing some seats ...yes, I know impossible"
Pros: "The seates were nice and plush. The journey wasn't bumpy at all, and the pilot was funny. He made a fun comment saying 'he had someplace to be in New York so he will get us there as quickly as possible.' :P The crew was friendly and sweet."
Cons: "There was no food ! I assumed a flight from the west coast to the east coast would atleast provide with some food ! But nada. It bugged me more because I had to catch a another flight from new York to London. Other than that, guess it was pretty okay."
Cons: "Spent $2000 on a flight SFO to London / Toulouse, expected a better seat and experience. Plane was old, seats uncomfortable, food horrible. No snacks available in between two horrible meals."
Pros: "The overall experience was very good from the angle of clean toilets, food and good leg space even in economy class."
Pros: "BA's customer service was excellent and they helped us out by getting on the next plane with minimal delay ... By 4 hours."
Cons: "I was told a 2 hour transit time would be sufficient but when we arrived in London, we had to go through several gates with long lines at Terminal 5. I was leary that this was achievable without the long lines but on this day, we couldn't even get past the first gate before they told us that we will miss our connecting flight."
Pros: "The new A380 seats are absolutely awful."
Cons: "The try tables are small and already falling apart. The seats fell like they're already 20 years old, yet it's a new aircraft."
Pros: "The sound levels were way low resulting in much lower stress on this aircraft. The beast flew extremely well and was amazingly huge. The BA food was the best I had ever had on an airplane, (in economy) and generous, fresh and varied. The flight crew was very professional and the landings and take-offs were for my wife who is very sensitive to such events, very nice. Fantastic assortment of entertainment."
Cons: "There was not enough water available, and I made the mistake of not buying in the terminal. There is no public area to move around in, which I kind of thought there would be for such a huge airplane. The seats and room were even less than other airplanes (in "World Traveler"--economy) which is a drag because I am a bit shy of 6'. The seat in front of me was about 10" from my face during the flight with mine reclined all the way (and the person in front of me) Pretty much impossible to sleep--ugh."
Pros: "Arrived at my destination"
Cons: "Bought British Air tickets, got their partner airline American Air flight instead and didn't know of this switch until after purchase. Very rude! Crappy old plane, departed late, crappy food, mediocre service. I wanted British Air specifically as they are good in these areas."
Read more about Qatar Airways
Safety measures for airlines flying from California to East London
Airlines flying from California to East London have enacted additional safety measures and adjusted policies to better accommodate travellers. Policies vary by airline.
Heightened sanitation
Daily cleaning, installation of cabin HEPA filters on flights from California to East London
Mandatory masks
Masks required on board, masks provided on flights from California to East London
Social distancing seating
Middle seats unavailable to book on flights from California to East London
Pre-flight testing
Testing for antibodies, testing for symptoms for flights from California to East London
Book cheap flights from California to East London