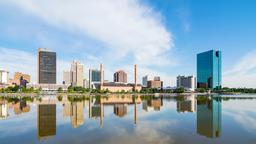 Toledo car hire
Search hundreds of travel sites at once for car rental deals in Toledo
Toledo, OH, United States
Toledo car hire information
| | |
| --- | --- |
| Pick-up location | Toledo |
| Hire locations | 5 |
| Airport locations | 2 |
Toledo car hire reviews and directory
Enterprise

8,5 Excellent (12 825 reviews)
╳
Enterprise reviews
Car hire locations
Enterprise
Locations in Toledo
14 13th St
+1 419 691 5555
| | |
| --- | --- |
| Monday | 08:00 - 18:00 |
| Tuesday | 08:00 - 18:00 |
| Wednesday | 08:00 - 18:00 |
| Thursday | 08:00 - 18:00 |
| Friday | 08:00 - 18:00 |
| Saturday | 09:00 - 12:00 |
| Sunday | 00:00 - 00:00 |
1651 W Alexis Rd
+1 419 476 6616
| | |
| --- | --- |
| Monday | 08:00 - 18:00 |
| Tuesday | 08:00 - 18:00 |
| Wednesday | 08:00 - 18:00 |
| Thursday | 08:00 - 18:00 |
| Friday | 08:00 - 18:00 |
| Saturday | 09:00 - 14:00 |
| Sunday | 00:00 - 00:00 |
All Enterprise reviews
Enterprise reviews in Toledo
Avis

9,2 Excellent (2 reviews)
╳
Avis reviews
Car hire locations
11013 Airport Highway
+1 419 865 5541
| | |
| --- | --- |
| Monday | 10:00 - 18:00 |
| Tuesday | 10:00 - 18:00 |
| Wednesday | 10:00 - 18:00 |
| Thursday | 10:00 - 18:00 |
| Friday | 10:00 - 18:00 |
| Saturday | 10:00 - 16:00 |
| Sunday | 10:00 - 14:00 |
Well Done!
Pros:
Desk service was terrific in Swanton. Trip good and easy return.?
Cons:
Thought insurance was over priced.
9,6 Excellent
Jul 23 2018
Pros:
Excellent service. Car ran well.
╳
Hertz reviews
Car hire locations
Hertz
Locations in Toledo
11013 Airport Highway
+1 419 866 3400
| | |
| --- | --- |
| Monday | 08:00 - 17:00 |
| Tuesday | 08:00 - 19:00 |
| Wednesday | 08:00 - 19:00 |
| Thursday | 08:00 - 19:00 |
| Friday | 08:00 - 19:00 |
| Saturday | |
| Sunday | |
2544 N Reynolds Rd
+1 419 216 9198
| | |
| --- | --- |
| Monday | 08:00 - 16:00 |
| Tuesday | 08:00 - 16:00 |
| Wednesday | 08:00 - 16:00 |
| Thursday | 08:00 - 16:00 |
| Friday | 08:00 - 16:00 |
| Saturday | |
| Sunday | |
There was no rental. They did not have any cars, i
Cons:
I got a taxi for a 30 min ride to the airport, after booking the rental. While I arrived at the airport I received a call that was Hertz telling me there were no vehicles to rent.
condition of vehicle
Pros:
The friendliness of the representating. I had unlimited mileage and I was offered a fill up before leaving that was much cheaper than a gas station.
Cons:
There were debts and scratches not noted on the condition of the car. I had to go back in to the hertz location and have the representative make a note of other damage that was not noted. I was also not made aware that I would have a $227 deposit due at the time of my prepaid pickup. Leaving me with less money for my trip than intended. The inside of the vehicle had some broken parts that also made me nervous that I would be held responsible.
Cons:
Seats are awful- legs cramped up no matter what adjustments I made.
It was great
Pros:
The car was clean and I got a banging deal on the rental.
Cons:
Did not realize that the place I was at did not take debit which is something I loath because I have a debit/credit card in one and the front desk would not accept it. Lucky enough I was with someone who had a credit card.
Car Class
Cons:
The car I rented should not be considered a full-size vehicle
Cons:
Wouldn't rent me the car without major credit card, but that was never mentioned when they took the money off my debit card right away.
10,0 Excellent
Jul 3 2017
No Ka Oi!! (The Best!)
Pros:
LOVED EVERYTHING!!! The car, the service, the ease of making the reservation, picking up the car, adding additional time and the drop-off
Unhelpful staff
Cons:
Didn't take debit cards. I didn't have my credit card with me. My wife did, but they said we needed to change the reservation to her name. They couldn't do it at the counter. They said we had to call the reservation help line. Then they couldn't tell us the number for that. Wound up getting frustrated and renting from another company. Couldn't get a refund of the prepaid rental. Will never rent from Hertz again.
8,4 Excellent
Nov 26 2017
Didn't have the size I reserved but tried hard to compensate
Pros:
Employees very polite and apologetic at check in, explained situation and options.
Cons:
Reserved an intermediate, only two cars available on lot when I arrived and both were smaller. Learned lesson that reservations don't mean much. Was able to cram myself and luggage in but the driving experience would efinitely have been better if I'd gotten what I reserved.
Customer Service Issues
Pros:
The car itself was excellent. I received a Toyota Camry and it was great to drive. I had a seven hour drive each way and was very pleased with the car.
Cons:
The customer service was poor. There was an issue picking up the vehicle. The representative at the desk offered no assistance and recommended that I just get a refund. She did not offer to change my reservation to another location or any other assistance. When I left - without a car - I called the toll free number and the rep on the phone was able to secure a reservation at another location - for an additional $20. I entered the second location and the rep at that desk promptly told me they had no cars to give me. She said, "They don't call to check." After I persisted, she sighed, highlighted some lines on a paper, looked in the computer, and finally gave me a car. As I needed to drive 7 hours out of town that day, spent an extra hour to pick up the vehicle, and almost did not get one, my rating is lower. I feel that if I had not been adamant at the second location, I would have walked away without a car. Neither of the reps offered to help me. They just said, "No," and were ready to move on. No other customers were waiting, by the way. The first location could have called for me. The second one could have attempted to verify the situation before flatly telling me they had nothing - because they obviously did in the end. The return was simple. I did an after hours return, filling out their form and putting it in the box with the key. I received an appropriate receipt by email.
16 travellers who hired a car in Toledo gave the car agency they used an average rating of 6,9
Car hire locations in or near Toledo
When to book a car hire in Toledo
Average daily price per month
Car hire prices as pick-up date approaches
Top tips for renting a car in Toledo
Book your car hire in Toledo at least 1 day before your trip in order to get a below-average price
FAQs about hiring a car in Toledo
How can I find a car hire near me in Toledo?