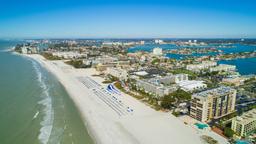 Saint Pete Beach car hire
Search hundreds of travel sites at once for car rental deals in Saint Pete Beach
Saint Pete Beach, FL, United States
Saint Pete Beach car hire information
| | |
| --- | --- |
| Pick-up location | Saint Pete Beach |
| Hire locations | 5 |
Saint Pete Beach car hire reviews and directory
Enterprise

8,1 Excellent (3 reviews)
╳
Enterprise reviews
Car hire locations
Enterprise
Locations in Saint Pete Beach
297 75th Ave
+1 727 399 0065
| | |
| --- | --- |
| Monday | 08:00 - 17:00 |
| Tuesday | 08:00 - 17:00 |
| Wednesday | 08:00 - 17:00 |
| Thursday | 08:00 - 17:00 |
| Friday | 08:00 - 17:00 |
| Saturday | 09:00 - 12:00 |
| Sunday | 00:00 - 00:00 |
10,0 Excellent
Dec 18 2016
Customer service
Pros:
Rob was outstanding courteous and professional.
10,0 Excellent
Mar 2 2019
Pros:
Service from staff was outstanding.
Cons:
Was rented a damaged vehicle. Created problems upon drop-off at a different location.
╳
Avis reviews
Car hire locations
Avis
Locations in Saint Pete Beach
5300 Gulf Boulevard
+1 727 367 2847
| | |
| --- | --- |
| Monday | 09:00 - 13:00 |
| Tuesday | 09:00 - 13:00 |
| Wednesday | 09:00 - 13:00 |
| Thursday | 09:00 - 13:00 |
| Friday | 09:00 - 13:00 |
| Saturday | |
| Sunday | 09:00 - 12:00 |
Cons:
I booked a Full size car. when i arrived, they said i didn't have one, so charged me more for another vehicle!
10,0 Excellent
Jan 15 2017
Pros:
Perfect service checking in and out -efficient and friendly staff
10,0 Excellent
Jan 24 2018
No Hassle!
Pros:
No hassle. Great car and engaged counter support!
Cons:
The Address is confusing as it is not correct. They are in the Sirata parking lot and the address is not exact.
Cons:
I arrived for 9 am reservation for compact car, was told no car for me until 10:30 unless I wanted to upgrade cars and if so, I would have to PAY an upgrade free,
╳
Dollar reviews
Car hire locations
Dollar
Locations in Saint Pete Beach
5005 Gulf Blvd
+1 727 367 3779
| | |
| --- | --- |
| Monday | 08:00 - 18:00 |
| Tuesday | 08:00 - 18:00 |
| Wednesday | 08:00 - 18:00 |
| Thursday | 08:00 - 18:00 |
| Friday | 08:00 - 18:00 |
| Saturday | 08:00 - 14:00 |
| Sunday | 08:00 - 14:00 |
Worst experience possible
Cons:
The booking was apparently made with a location that was nowhere near the airport we had said we were landing at ( St. Petersburg Clearwater airport) that we discovered when we landed did not have evening office hours and was closed and even had it been open, did not have shuttle pick up at this airport. So we were stranded with no car. We had to rent from another company at the airport during the most expensive week of the year for car rentals in Florida. If our credit card was charged for this reservation ahead of time, I want the full amount refunded immediately and if I were your company, I would reimburse me for the increased cost of renting the car I did at the last minute when we arrived at the airport...Edward P. Allen Jr.
10,0 Excellent
Dec 24 2017
Very friendly, efficient service
Pros:
No lines, clean car no hard sales for insurance
10,0 Excellent
Jan 29 2018
Balllliiiiiin!!!! Got a car for $20 no limit on miles whaaaa!?!?
Pros:
I'm pretty sure this is the best deal I've ever gotten with a rental car. I needed to drive the kids around so they could get mooon pies and other dollar snacks, so I decided to get the cheapest most uncomfortable car I could so they wouldn't want a ride- but lone behold...they still did. It helped my pocket out majorly- thanks dollar rental I'll be back!
Cons:
The cars engine seemed finicky. BUT! It was fine and I drove 400 miles with no problems.
They don't know what the words customer service mean.
Cons:
When I made a reservation online I asked for a small economy size car. I am 5' tall. I can drive most cars as long there is tilt wheel and the the seat can be pulled forward and theback can come forward far enough. I have never been to a car rental location that had only 2 cars to rent. This is in St. Pete Beach in March. Yes it is a busy time of year but that is why I made a reservation. They gave me a Nissan Pathfinder which is a Mid size SUV which seats 7 people. I was the only one that would be using the car.The car was very nice and since they said that was all they had, I took it. When I got home I called them and said I am going to need a different car as it was too big. I needed 2 pillows to drive it. They said they didn't have any other cars but may have more in a couple of days. When I called back, they said once again that they had no cars but that I could drive to the Tampa airport 45+ minutes away to exchange it. I did go the airport and got another car but there was no apology, no what can we do to make it up to you, nothing. I say go to Enterprise. They know what customer service means!
Good rates
Pros:
Great value although a little bit out-of-the-way
Cons:
Rental car parking lot is extremely extremely small tough to move around.
10,0 Excellent
Apr 3 2018
Excellent value
Pros:
Great value and service. Seamless process.
Cons:
Contracted for a 5 passenger compact car, got flim flamed into a 4 passenger sub compact car which was useless for our purposes. Parked the sub compact car in my drive and ended up using our personal car for a short vacation. Didn't use the too small rental car at all for our trip.
Worse service in my life
Cons:
The way I was treated. My flight was a little late and I arrived 7 minutes after they closed and the employee was extremely rude and would not rent me my car. She was very unprofessional.
Hertz

╳
Hertz reviews
Car hire locations
Hertz
Locations in Saint Pete Beach
5400 Gulf Boulevard
+1 727 360 1631
Monday
08:00 - 13:30
14:30 - 17:00
Tuesday
08:00 - 13:30
14:30 - 17:00
Wednesday
08:00 - 13:30
14:30 - 17:00
Thursday
08:00 - 13:30
14:30 - 17:00
Friday
08:00 - 13:30
14:30 - 17:00
Saturday
09:00 - 13:00
Sunday
8,0 Excellent
May 15 2018
No Receipt Emailed
Pros:
Price was so much better than airport. Ease of picking up and dropping off car. Location of rental facility. I was told that fuel would be $1.99 per gallon when I returned the vehicle.
Cons:
I haven't received an invoice for the rental showing the fuel cost. The car wasn't clean. I took it to a car wash and had them clean it.
Terrible
Pros:
They didn't have the car. It was awful. Reservations was pointless.
╳
Budget reviews
Car hire locations
Budget
Locations in Saint Pete Beach
5300 Gulf Boulevard
+1 727 367 1651
| | |
| --- | --- |
| Monday | 09:00 - 13:00 |
| Tuesday | 09:00 - 13:00 |
| Wednesday | 09:00 - 13:00 |
| Thursday | 09:00 - 13:00 |
| Friday | 09:00 - 13:00 |
| Saturday | 09:00 - 12:00 |
| Sunday | |
Pros:
Nice car! Good price!
Cons:
We had trouble picking up the car in St. Pete Beach, FL at the Budget/Avis. The manager of the location was not able to keep his computer working long enough to see our reservation, and thus we were unable to pick up our car at the scheduled time, 11AM. After waiting for about 30 min., we decided to come back as we did not actually need the car until close. We were finally able to get our car a little after 1PM. The manager also pushed car insurance a little too hard for comfort. :/ But, overall, the car was nice and the price was right!!!
No car and no service
Cons:
Called Budget to pick up car next morning, told I must get it today because there would be no cars. Rushed over to Budget 15 minutes prior to closing and it was closed. Called Budget and they could not explain why it was closed and wanted me to drive 40 minutes to another location. When I informed them that was impossible, they could not guarantee a car tomorrow morning when they opened. Talked to a service representative and same story. No help, no explanation, no customer service, and no compensation. I will never use Budget/AVIS again. It really upset me that they closed early, their information was incorrect (car now but no car when they opened) and no help whatever due to their mistake. Don't use Budget, they don't care about customer service.
CLOSED with NO notification
Pros:
The office was closed when we got there at 5:30 though the signage clearly stated that they were supposed to be open until 6 pm! No help from customer service and was forced to make other transportation arrangements. I believe others have had problems with this particular office
10,0 Excellent
May 16 2018
Pros:
Very easy drop off at the beach not far from where I was staying.
Pros:
Only thing good was a vehicle was available.
Cons:
Not the class reserved & was over $130 more than promised. Outside of the vehicle was covered in dirt, dings & missing body panels. Inside was not cleaned properly & smelt like cigarettes! The representative at St. Petersburg was very rude to me. Mark the vehicle full of fuel when it only was half. Having to waste my time going back inside to correct & go fill up when I had an appointment to make.
Pros:
Nothing. I canceled due to no cars
Cons:
Everything. They had no cars at my time of pick up and no idea when they would have them. They suck at there job.
Pros:
Drop off very quick and easy.
Cons:
Once we arrived to pick up our reserved car, the employee informed us there were no cars to rent. It would have been nice if we received a call prior to walking all the way there.
25 travellers who hired a car in Saint Pete Beach gave the car agency they used an average rating of 5,9
Car hire locations in or near Saint Pete Beach
When to book a car hire in Saint Pete Beach
Average daily price per month
Car hire prices as pick-up date approaches
Top tips for renting a car in Saint Pete Beach
Book your car hire in Saint Pete Beach at least 2 weeks before your trip in order to get a below-average price
FAQs about hiring a car in Saint Pete Beach
How can I find a car hire near me in Saint Pete Beach?