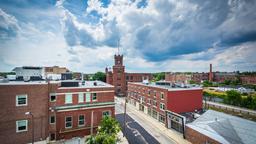 Nashua car hire
Search hundreds of travel sites at once for car rental deals in Nashua
Nashua, NH, United States
Nashua car hire information
| | |
| --- | --- |
| Pick-up location | Nashua |
| Hire locations | 4 |
| Airport locations | 1 |
Nashua car hire reviews and directory
Hertz
9,6 Excellent (3 reviews)
╳
Hertz reviews
Car hire locations
Hertz
Locations in Nashua
333 Amherst
+1 603 598 6800
| | |
| --- | --- |
| Monday | 10:00 - 15:00 |
| Tuesday | 10:00 - 15:00 |
| Wednesday | 10:00 - 15:00 |
| Thursday | 10:00 - 15:00 |
| Friday | 10:00 - 15:00 |
| Saturday | |
| Sunday | |
8,8 Excellent
Jan 26 2017
Cons:
I called to extend my reservation. They gave me an estimate and decided not to because it costed more than I thought. However, they charged me $11 just for doing that
10,0 Excellent
Mar 20 2017
Hertz Nashua NH
Pros:
Great Service clean car
10,0 Excellent
May 3 2017
Cons:
Extra charge to drop off different location
╳
Enterprise reviews
Car hire locations
Enterprise
Locations in Nashua
340 Main Street
+1 603 821 7414
| | |
| --- | --- |
| Monday | 08:00 - 18:00 |
| Tuesday | 08:00 - 18:00 |
| Wednesday | 08:00 - 18:00 |
| Thursday | 08:00 - 18:00 |
| Friday | 08:00 - 18:00 |
| Saturday | 09:00 - 12:00 |
| Sunday | 09:00 - 12:00 |
10,0 Excellent
Oct 10 2016
Pros:
All of the people who I dealt with were very helpful and considerate. An associate actually helped me with my Kayak rental application.
Cons:
There wasn't anything that I did not like.
Pros:
The van was comfortable, the pick-up and drop-off uneventful (which is good). Staff was very nice.
Cons:
The mini-van was not 100% clean, some food under the seats when they were moved around.
10,0 Excellent
Apr 29 2018
Staff was very friendly, and car was exactly as expected.
Pros:
The car was exactly what I asked for, and the staff were all very friendly and quickly got me on my way.
Cons:
I rented a minivan to visit several colleges. I have given up credit cards, and expected to be able to use my debit card at pick-up. But I was informed that since I didn't have a round trip ticket, credit card-only was required...my debit card would not be accepted. We go to Orlando once a year, and I never had a problem using my debit card before, but I guess that was because I had a round trip ticket. I was lucky to have a credit card to use...but I would have been left high and dry if I didn't. So I would suggest a checkbox to acknowledge credit vs debit card requirement be added to the reservation page.
Scam
Cons:
The customer service. The manager checked us out and accused us of "multiple" dents in the roof. We went to North Carolina and used the trunk and two front seats, never touched the roof. They were so minor and the car was white anyone could've missed that. It's clearly from previous renters and now we are responsible for the damage. This was my 5th time using enterprise and I will NEVER go through them again.
╳
Budget reviews
Car hire locations
Budget
Locations in Nashua
94 East Hollis Street
+1 603 883 5650
| | |
| --- | --- |
| Monday | 07:30 - 18:00 |
| Tuesday | 07:30 - 18:00 |
| Wednesday | 07:30 - 18:00 |
| Thursday | 07:30 - 18:00 |
| Friday | 07:30 - 18:00 |
| Saturday | 08:00 - 16:00 |
| Sunday | 09:00 - 17:00 |
Rogue subbed for minivan
Pros:
The Rogue was a really nice vehicle, drove well.
Cons:
Though my wife reserved a minivan a month in advance, none was available when I came to pick up the vehicle, and the Nissan Rogue substitute was overpriced, even with the 10% discount the manager supposedly gave me on it. No unlimited mileage was available at the Nashua location so it turned out to be a very expensive trip, far more than we expected with a vehicle that was undersized for our purposes. The manager and his staff were not personable, not in person and not over the phone, and came across as a bit shady.
Con Artists
Cons:
This budget concession is defrauding their customers. They added three bogus charges to my bill upon return. The contract from Budget and Kayak was ignored. They said "Oh yah...those internet reservations don't include all the costs.
Bait-and-switch?
Pros:
Not an excessive wait at pick up and turn in.
Cons:
As a professional traveler I've rented a lot and this was perhaps my worst experience. Despite having arranged by phone to pick up first thing in the AM following the day before's PM reservation, my reserved compact car (Ford Focus or equivalent) was not available. The agent, who was stating that I had reserved a sub-compact, offered an upgrade to an intermediate size and produced a wreck of an Impala with a cracked windshield and an out-of-balance wheel. The wheel produced excessive noise and vibration on the highway, so we exchanged vehicles at another Budget location. This Budget licensee appeared to be doing a classic bait-and-switch.
Pros:
The cashier lady was very nice
Cons:
Hidden costs. extremely low mileage allowance, hidden costs, the kayak quoted price was not the price I paid, hidden costs, $9.50 per gallon if not returned full; hidden costs, if you are in an accident you will pay the daily rental fee until the car comes back out of the shop and is place back in service. Are you kidding me? Note: I expected to pay $33/day but was then quoted $38 plus .50/mile. Yes...$.5/mile. So do not plan out going anywhere with your newly rented car. I have not received the invoice yet, so I do not know if more hidden fees have been tacked on. AVOID THIS COMPANY AT ALL COSTS>
Review for Budget Rental East Hollis Nashua, NH
Cons:
Car was dirty, smelled, stained, was charged more than expected due to additional driver, paid $250 for a rental from Wed evening to Sunday evening economy class. Never again.
ripped off by Budget in Nashua NH
Cons:
The standard for most rental cars now is unlimitied miles and EVERY rental car company makes clear notice notice for all fees. VERY OTHER rental agency tells you the fees then circles the clearly outlined fees and has you intial them. Budget,ina CLEAR EFFORT TO DECEIVE CUSTOMERS, did neither. They did not say anything about a per mile charge, they did not print it in large clear lettering on the form, and they did not circle it. I was charged twice the daily rate for milage fees (going to the airport twice). In small print was a reference to extra milage fees filled in with smaller print than the daily rate. a large indistinct circle was scrawled that did not dra my attention to any content other than the daily rate. I scanned the form- not expecting to being deceived- though I should have read the fine print. When Kayak listed Budget as the cheapest choice I thought I was in good shape- WRONG. I encourage everyone to avoid Budget and ESPECILLY AVOID BUDGET RENT A CAR in NASHUA, NH
8,4 Excellent
May 27 2017
Cheapest price around
Pros:
Cost was fantastic.
Cons:
The car had a cigarette burn in the seat and a warning light of some sort was on. For the price I paid and for what I needed it for, it was fine, but it kind of felt low class.
The worst car rental place ever!!!
Cons:
They are scam artists! Having to take them to court for trying to pocket 100$
Good daily rate but high fees
Pros:
We rented a 7 person minivan. Site said " grand caravan or similar". We got a ford transit connect. Good rate, car fit the bill. If you are going to rent it know the connect does not have the luggage space of the caravan which may be a negative, but that also makes the vehicle shorter, which in our case was a positive. The deal was not as good as it looked. $78 + 100 mi/day is a good rate, but we ended up with $116.00 dollars in fees for a 4 day rental. I understand fees, but this seems excessive. NH Rental 35.44. (Included tax on fees charged) Vehicle license fee: 28.58. (Should be $5 - $10) Concession fee: $42.93. ( this was not rented at an airport so I do not know where this fee comes in)
Cons:
Fees seemed excessive.
Renter Beware
Pros:
Car was available on time. Easy to get to and get out.
Cons:
Aside from the rental smelling like cigarette smoke and the car driving poorly (lot of road noise and a slipping transmission), I had a nightmare of a drop-off experience. When I returned the rental the final cost was more than 3x the original booking amount. They added a $28 / day insurance policy and made no mention of it to me during the pick-up. They claim this must have been added on as an option when booking through Kayak, but when I reviewed (and showed them) my booking, there was no mention of the added insurance. I spoke with the manager and the owner of this branch and they made 0 effort of remedying the situation. I will not be using this branch again and will be contacting Budget directly.
Easirent

Easirent
Locations in Nashua
Boire Field
| | |
| --- | --- |
| Monday | 00:01 - 23:59 |
| Tuesday | 00:01 - 23:59 |
| Wednesday | 00:01 - 23:59 |
| Thursday | 00:01 - 23:59 |
| Friday | 00:01 - 23:59 |
| Saturday | 00:01 - 23:59 |
| Sunday | |
25 travellers who hired a car in Nashua gave the car agency they used an average rating of 5,8
Car hire locations in or near Nashua
When to book a car hire in Nashua
Average daily price per month
Car hire prices as pick-up date approaches
Top tips for renting a car in Nashua
Book your car hire in Nashua at least 1 day before your trip in order to get a below-average price
FAQs about hiring a car in Nashua
How can I find a car hire near me in Nashua?