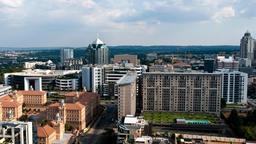 Find cheap flights from South Korea to South Africa
Search hundreds of travel sites at once for deals on flights to South Africa. Bundle your flight + hotel and save!
FAQs for booking flights from South Korea to South Africa
How does KAYAK find such low prices on flights from South Korea to South Africa?
How does KAYAK's flight Price Forecast tool help me choose the right time to buy my flight ticket from South Korea to South Africa?
What is the Hacker Fare option on flights from South Korea to South Africa?
What is KAYAK's "flexible dates" feature and why should I care when looking for a flight from South Korea to South Africa?
Top 5 airlines serving from South Korea to South Africa
Scores according to KAYAK customer reviews
8,6
ANA
Overall score based on 4 651 reviews
Cons: "Chair isn't comfortable."
Pros: "New plane or so it seemed. Crew very attentive to needs. Nice entertainment system with large screen."
Cons: "the seats are not reclined, not comfortable at all"
Pros: "Great experience all together"
Pros: "Crew was amazing, food was filling & plentiful."
Cons: "Overall no complaints but the landing in Tokyo was a little rough. Pilot seemed to descend quickly which hurt my ears but otherwise, smooth flight."
Pros: "Entire crew members, food, drink, hospitality & aircraft."
Cons: "I am diabetic & would have been better if I could get a aisle seat as I requested otherwise I didn't have to wake up too often my both side passengers!! We were few Indian passengers missing our Hindi movies..."
Pros: "I was surprise that even it was a short 2/3 hour ride there was still food being served. A very nice Japanese breakfast. - smaller plane, bus that picked us up and dropped us off in front of the airport. As we were doing a 12 hour layover, all our check in luggage was taken care of and sent to van"
Cons: "At our first checkin from Korea Ana, seems we have to look at a screen for our luggage just to double check that they made it past customs (never had to do that before) - check in was a bit longer compare to yvr their scanner was much smaller so definitely can't have big carry on"
Cons: "if the seat can be reclined a little more"
Pros: "The crew was excellent & seats were comfortable"
Cons: "Better boarding procedures. JAL is better."
Pros: "Very friendly and caring"
Cons: "i can not think of anything. Great crew Great experience"
Pros: "everything."
Cons: "can not think of anything. Everything was more than i expected.Thank you for my experiance"
Pros: "Perhaps the most courteous airline I've experienced."
Pros: "Perhaps the most courteous airline I've experienced."
Cons: "The food wasn't very good and the quantity of the snack meager. Worse, the crew refused to give a second roll to our 12 year old even which means that either they only have one for each passenger (and every passenger had theirs) or the crew are parsimonious."
Pros: "Nice comfortable flight at convenient times. Great cabin crew and service."
Pros: "I got a great value for money ticket from KAYAK, TQ!! ANA is an excellent airline, better service, better leg rooms and cuter crew members than than SQ!!"
Cons: "In flight meal could be improved"
Pros: "Service, Cleanliness and Overall Quality"
Cons: "Seats could be better"
Pros: "Staff is awesome"
Pros: "The entertainment touch screen didn't work at first, but mentioned it to a crew, it was rebooted right away and worked fine after all. Thank you."
Cons: "Lack of airline professional staff at lax airport. There's no set person in charge. We had an emergency return and no one can explain or give us answers for rebooking our flights."
Pros: "The crew is so polite and attentive. Snacks are free, generous, and tasty. Food is pretty good for airplane food. Interior was very clean and kept clean during the flight."
Cons: "I suppose the food could be better."
Pros: "short flight ready to get home"
Cons: "n/a"
Pros: "Loved everything about the flight - food was good plenty of drinks throughout the flight unlimited movies smooth take off and landing."
Cons: "Flight was delayed by 30+ minutes which made me/many others late for any connecting flights."
Pros: "on time"
Pros: "Crews' performance was good."
Cons: "Full capacity ! Because of CODE SHARING ? = One Airplane for 2-Airline's Customers."
Pros: "I like the nice and warm service from the crew"
Cons: "Food can be more variable but overall its oke"
Pros: "Crew are nice, helpful and polite"
Cons: "Airport problems turned it into a very long flight. We circled around Fukuoka for and hour. We ended up landing in Nagasaki and used taxi to Fukuoka. Over all time to final destination is 6 hours late."
Cons: "Good food, clean toilet rooms. Good seating space with foot rest.goo"
Pros: "Incredible service"
Cons: "Missed my flight over a misscommunication on getting to the airport. Thete was not sufficient time to arrive more than an hour early due to the fact Gimpo airport opens at 6am and the flight was at 7:45. When I arrived I was not allowed to check in or board and no one wanted to help me find out what to do. They suggested I call my ticketing agent. Thankfully they were helpful but they mentioned the ANA SHOULD have helped me find the next available flight but the representative kept repeating it was not her job. Finally she looked and said there were no available flights and tried to push me to buy another ticket through another company. My ticketing agent helped after she heard what happened and rebooked my flight for the next day. Hopefully everything goes smoothly but ANA staff at Gimpo were a bit of a nightmare to deal with"
Cons: "Flight was moved to6 am, 4 hours earlier than scheduled. Found out less than 24 hours before flight. ANA refused to rebook on an available flight leaving at the original time. Disappointed (and tired)."
Pros: "Ample legroom and there is a good selection of food."
Cons: "Was on overnight transit and I was surprised to find out that the airport closes at 11pm and there was no transit lounge inside the airport. It was too late to book for a hotel outside the airport so had to stay at the meeting point area with other passengers."
Pros: "Everything"
Cons: "Nothing"
Pros: "Service was nice way more room than American Delta or United for economy"
Cons: "None"
Pros: "Great service with professional staff. I would definitely fly with ANA again in the future and recommend them to others."
Pros: "very comfy, great ground handling crew"
Cons: "none"
Pros: "One of the best inflight meals. They serve snacks on top of main meal."
Cons: "The shuttle bus to the plane was crowded. Limited movie options."
Cons: "We didn't hear the announcement that the gate for our flight had changed. I just happened to look at the flight info and noticed our flight was not listed. I went to the desk then I was informed of the change. Poor service."
Pros: "I slept most of the way home so didn`t use the entertainment."
Cons: "They refused to board because the united dis not allocate the flight date and ANA check in counter did not help to coordinate."
Pros: "Service was amazing."
Cons: "Nothing."
Pros: "staff was great in business"
Pros: "I fly around often, at least 10 times a year, and ANA has always had the best service, cleanest planes, and the best entertainment. I recommend flying with ANA anytime you travel."
Pros: "Flight attendant Lee-san is amazing and kind. I was feeling really stressed and having a panic attack. She brought me tea and comforted me. I am so thankful for her kindness."
Cons: "Internet is way too expensive and barely works."
Pros: "The icecream"
Cons: "There was only one choice of meal left when they gave it to me:("
Pros: "Excellent service and flight experience!! Thank you."
Cons: "NA"
Pros: "I really like the technology in the plain and all of service , crew are so nice everyone had a real smile"
Cons: "Space of the seat are too tiny also a place to have some food"
Pros: "The crew was courteous and helpful. The food was good. The seat and bed comfortable."
Cons: "There was really nothing to dislike. The video choices could be more imaginative."
Pros: "ANA has always done a fantastic job, mfrom customer service to the food to checking you in."
Cons: "Nothing"
Pros: "Clean cabin and good service"
Cons: "Not every body is doing extra miles to make customer happy"
Pros: "Overall, the staff was amazing, so as the food and cleanliness"
Cons: "The space between the seats in economic seat"
Pros: "Crew is attentive to our needs"
Cons: "NA"
Cons: "Luggages did not arrive with the flight as it should be. It got lost in Sydney from Queenstown on flight SQ 6683 operated by Virgin Australia (VA 162)."
Pros: "Good boarding, good arrival gate"
Cons: "Old plane, entertainment system is very old and screen bad"
Pros: "Entertainment system ok"
Cons: "Change if gate 30 minutes before departure and no info at old gate. New gate very far away, terrible for old people."
Pros: "Crew amazing. Seat super comfortable"
Cons: "Nothing!"
Cons: "Transit time is good for way too tight"
Pros: "On time Smooth landing and take off Airport was beautiful, nice clean toilets Lovely and polite staff on board Food was okay Nice range of in-flight entertainment"
Cons: "Air port does not have automatic internet connection We were there for 8 hours with no internet because we had no international roaming to receive the PIN via SMS. The four PINS generated by the counter staff did not work. We all took turn to try to no avail. by then we have walked too far from the counter we could not be bother going back. No airport that I've been to had poor internet service connection like this airport, yet it is supposed to be THE WORLD'S NUMBER ONE AIRLINE. We boarded at 11.30pm, last time we flew with them they gave us supper. Last night they gave us only water. We went to sleep hungry till the morning. Since when they started to operate like those cheap airlines that you have to pay for your food? And the night package did not have eye mask.... how could we sleep... ? Singapore airline could learn from Qtar. Very very disappointed."
Cons: "Old plane. Technology didn't work"
Pros: "Wow they did not disappoint flight attendants Overdid themselves with amazing service planes are super clean and entertainment systems are state of the art great job Singapore Airlines can't wait to fly with you again you definitely earned your #1 ranking"
Pros: "Cabin crew was excellent and the premium economy seat was very comfortable and accommodating. The choice of food from the variety menu was also delicious."
Pros: "The seats were comfortable and the staff was very attendant!"
Cons: "No complaints"
Pros: "Comfortable seat, variety of entertainment (sceen) , good food options and friendly and courteous service."
Pros: "Very comfortable. best airline I flew on overall and was first time ."
Cons: "Charges for extra bag was steep- $150. Location at LAX airport is far. While nice to have many options for meal but did not low-carb so I only ate half my food"
Cons: "1 hour delay of departure"
Pros: "Friendly Staff. Very nice Meet and Greet Comfortable travel. Meals were tasty."
Cons: "Flight was late due to the eternal airtraffic mess at suvanabhumi whenever it rains"
Pros: "Entertainment"
Cons: "Way too cold"
Pros: "I will only use Singapore Air for anywhere they fly. They really care about their passangers, 2 checked bags 1 carryon no charge, no airline does that. They constantly feed u & alcoholic beverages all at no extra charge. Flight attendants always have a smile on their flight. In flight entertainment was great, touch screen and remote controller. They supply earbuds, socks, toothbrush and paste."
Cons: "Absolutely no complaints"
Pros: "everything good"
Cons: "need new toilet"
Pros: "nothing"
Cons: "Seats were uncomfortable, derive very ordinary staff unhelpful seat allocation system requires improving ! Extra cost from economy was not worth it !"
Pros: "All of services, food, Language, clean air even so beautiful ~~"
Cons: "So nice and beautiful wearing also food is very good"
Pros: "Menu cuisine is customized for country of travel and food was hogh quality. Staff was very courteous and responsive."
Cons: "None"
Pros: "The staff were so friendly and helpful."
Pros: "First class service with economy prices via Kayak! Blankets, pillows, full meals, snacks, entertainment, hot towels before take off and landing. The crew is always spot on! I love Singapore airlines!"
Pros: "The crew on this flight we amazing had a great flight Thank You"
Pros: "SQ did a great job again. I plan to fly them in the future."
Cons: "My only criticism is that the flight attendants didn't pass through the cabin with water during the 9 hour flight."
Pros: "It was good"
Cons: "Nothing"
Pros: "Crew members were very friendly n helpful."
Pros: "Food was ok"
Cons: "Entertainment system are old age and poor quality TFT screen"
Pros: "The plane had decent leg room, the food was great, service was excellent. I have no complaints. Snacks were handed out pretty regularly which was great. In flight entertainment was good too. I'll definitely fly Singapore again, I liked it better than other Asian airlines."
Pros: "The A380 is an amazing plane. The flight was smooth and the engine sounds were fairly low."
Cons: "Waiting on line to check in was more than a half hour although there were probably only 10 people ahead of me. Got a hard time on the weight of my carry-on being more than 7kg although I had to point out that my ticket allowed me two bags that were 23kg each - I had nothing to check. Eventually, when I pointed out that I could wear enough of the clothes from the carry on, they agreed to let me take it on. On board, the service was cold, bland and infrequent. The entertainment system lost sound perhaps 20 minutes into the flight."
Pros: "friendly staff top Service top Inflight"
Cons: "new aircraft, 2 x usb charging ports, 50+ movies, very quiet aircraft."
Pros: "My wife and I flew from Los Angeles to Seoul. The entire experience was incredible. From check in to disembarking, we were well taken care of. Gracious service and complimentary drinks throughout the flight with a full spectrum entertainment system!"
Pros: "Everything great personnel"
Cons: "The crew was rude when asking me to window shed."
Pros: "Friendly, attentive crew. Clean plane."
Cons: "Cramp set space. Lack of movie choices, not all had closed caption."
Pros: "Delayed flight from Shanghai due to air traffic issues, so I had a 10 minute window to make my connection in Singapore. Ground staff was waiting for me with a small car after I disembarked to drive me to the gate. And I somehow made my connection. Excellent service. Obviously my checked bag didn't make it, but I was told in advance and was kept updated before boarding and immediate after I disembarked at my final destination. When I went to the baggage service counter, they were already ready for me, had filled out my paperwork, and just needed an address to confirm the delivery of my suitcase. I'm super impressed to this attention to detail."
Pros: "Some of the Korean food was tasty The flight wasn't full so we had a spare seat between us, That made economy barely tolerable."
Cons: "The seats in economy are now Way TOO SMALL! You better start calling Economy - "Stearage"! Food was not as good as on past flights with SA. Movie selection not as good as past SA flights. Earphones supplied are horrible!!!"
Pros: "The hot towels. The meals were good. The entertainment screen was great, and a great selection of movies and TV."
Cons: "Don't change anything!"
Pros: "Not much turbulence"
Pros: "Overall just a really great experience."
Cons: "Nothing negative to report."
Pros: "Personal TV"
Pros: "Both ways I had a whole row to myself, great attendants, in flight screens and charging stations at your seat, frequent meals"
Cons: "Clean bathroom trash more often"
Pros: "Ice cream for snack? Heck YES. Variety of meals to choose from (i got hindu meal)"
Cons: "On the way to Korea, a stewardess keep taking my water away thinking i was done with it. It was very nice of her she tries to take trashes away, but it wasn't trash for me."
Pros: "Excellent service, food, in-flight entertainment (what choices!!), and the plane was very up to date as well. Made for a very very pleasant flight experience. Especially for how long the flight was (18 hours or so)"
Cons: "The get out and get back in halt at Hong Kong. Practically the entire flight had to do this, quite wasteful. Bad customer experience. Find a better way please! If Hong Kong makes you do that switch over to another airport, better yet make no halt. I have flown direct from SF to Singapore before so not sure why this halt."
Pros: "None"
Cons: "All"
Pros: "Great food!!"
Pros: "Airline was great"
Cons: "The customer service at Airfair.com is abysmal. I will NEVER do business with them again."
Pros: "Great crew! Excellent business class suite"
Cons: "Qatar airways didn't let me board the plane despite of all the requirements. Never flying again with them"
Pros: "Everything about the trip was great excellent customer experience"
Cons: "If I got to sit in first class coz the plane was so empty haha"
Pros: "Perfect"
Cons: "Perfect"
Cons: "They do not understand the word priority at Doha airport. Business class passengers boarded last."
Pros: "N/A"
Cons: "We were told to board, but then kept in another area close on 1 hour before we could get on the plane and this area had no bathroom facilities. The spread of seating on the plane made no sense with many open seats but also many squashed rows of people. The crew was visibly tired and irritated, they also ran out of a few catering items. It seemed as if last minute, a few different flights were combined into this one which lowered the quality."
Pros: "Qatar Airways is the best first class airline in the world hands down"
Cons: "Nothing they do a great job!!!"
Pros: "Food and leg room"
Cons: "All was fine"
Cons: "The vegetarian option for breakfast was a stale waffle with apple compote. Inedible."
Pros: "Food selection. However, the snacks need to be readily available on long flights."
Cons: "Entertainment is lacking behind other international carriers"
Pros: "Entertainment"
Cons: "Food"
Cons: "Bad service for wheel chair. No wheel chair at Doha Airport! Need to walk."
Pros: "i like the service of qa. its amazing."
Cons: "none at all"
Pros: "Ambiance"
Pros: "The crew were very friendly and helpful."
Cons: "It seems the major airlines use older aircraft when the destination of the flight is a third world country(or Africa). The seats aren't as comfortable and the entertainment system (screens) are not as good as a Qatar and Europe bound flights."
Pros: "The flights attendants were very helpful and polite. What I enjoyed the most was the level of comfort I had. I was able to sleep for almost the entire flight. That's why it felt like it wasn't even a long flight."
Cons: "We did leave a little late but it was out of the control of the pilots and flights attendants."
Pros: "There was adequate seat room. The device was good."
Cons: "There was nothing I didn't like."
Pros: "Staff was great"
Pros: "Thank you for a very good flight experience both from Philadelphia to Doha and Doha to Johannesburg."
Cons: "The breakfast options could have been better, but I was fed and happy, and the flight attendant was kind enough to bring me green tea when it wasn't readily available on the cart."
Pros: "Flight crew was very helpful. I didn't have any special requests, but I noticed them being extremely helpful to other passengers. Much better than US based airlines, as most others are."
Cons: "Extra security going to USA is a nuisance. Food was ok, not as good as previous trips. Lamb was only selection left when they got to my seat. Not my favorite also very fatty."
Cons: "I didn't like that my original return flight selection was changed one month after confirming. The new flight details which were automatically chosen for me had me coming back home a full day later. This forced me to have to select a new return flight with an 8 hour layover."
Cons: "All entertainment units were off."
Cons: "Seat to LA was broken"
Pros: "I was surprised with the quality of gluten free meals served for me, it was well organised and taken care of where I never had to wait. My flight schedules were changed few days before departure by Qatar Airways, but only thing I had to do was to confirm that I have noted, my seats and all the rest of details intact, excellent."
Cons: "When the flight is changed by airline for their convenience, they would have given preferential treatment to the passengers involved. We had to bare the cost of food and make us comfortable on our own due to the delay in transit."
Pros: "It was comfortable flight with a friendly crew."
Pros: "The crew aboard the flight were kind and thoughtful and definitely oriented toward service."
Cons: "The security process at the gate was really disorderly. Perhaps it is because it is a new and extra step required by the US but it was definitely not efficiently handled."
Pros: "Not much except the on board crew are nice."
Cons: "The first flight from KTM the TV didn't work and I didn't fit into the seat. The most uncomfortable seat in a long time. The second flight from Doh to JFK was not good. I was put through 3 security checks when I already went through security in KTM. On the 3rd check my Dutyfree whiskey was taken from me because they would not let me take it in my carry on. They said I could take it if I checked my carry on bag (one backpack). My carry on has everything I need for a 16 hour flight. Plus, I had my very expensive camera gear in there too so I could not do this. This was unfair and Qatar needs to step up and return my Dutyfree whiskey and reimburse for the flight without TV. I will never suggest Qatar to anyone."
Cons: "Same as above"
Pros: "The friendliness of the staff from check in to arrival!"
Pros: "I freceuntly fly between the US and South Africa and only fly via Qatar Airways, and every experience thus far has been great. The food is good quality, friendly crew and I would recommend it to anyone."
Cons: "The sandwiches are a little dry and movie selection a little limited."
Pros: "all"
Pros: "Crew were extremely helpful and kind. Very responsible and polite."
Cons: "LCD was not touch screen and was extremely difficult to work with . I couldn't scape from an accidental menu which I was dropped in games and missed whole flight to enjoy something in LCD ."
Cons: "they pot me in another flight"
Pros: "We enjoyed the comfort, food , staff and entertainment."
Cons: "The queuing for check-in, luggage control and plane boarding was much too long, 1 1/2 hrs +. The online check-in couldn't be used."
Pros: "Unfortunately..."
Cons: "...as mentioned, I don't have the pleasure of rating this flight because of the boarding delays and missing the flight. Very disappointing."
Pros: "Great selection of movies and tv shows"
Cons: "Entertainment screen is too dim even on highest brightness setting"
Pros: "Service of air stewards very friendly and polite"
Cons: "This goes for Qatarfigjta from harare to Doha and Doha to Washington DC and back. I am not going to give individual report on each one. Food - my daughter could barely eat anything and the vegetarian meals were stone cold most of time. It was hard to eat at Qatar airport because not only is the food terrible (Burger King and bad Asian food) but outrageously expensive. Our media system did not work for one leg. ** way to many ads on your media system. Every time you watch a new TV episode, you have to sit through 5-6 ads for stuff that is not interesting and the same each time. ** plane info on media system keeps reverting to Arabic even when English is indicated as preferred la gauge. We had to place our iPads in checked luggage for flights from harare to USA as we went through Qatar. *** I asked for quiet seats and was given seats near kitchen and toilet even though I booked in hours in advance. One leg had my ten year old daughter and I in different rows even though I checked in 4-5 hours in advance Of flight . ** staff moved my hand luggage without my permission and without informing me - it was stressful trying to find it."
Pros: "Excellent experience overall, the food was decent, the seats were comfortable and had enough space for me at 6ft tall, the staff were very friendly and helpful, entertainment selection was good with plenty of new movies out. I had no problems with my layover. The baggage allowance was great as I had extra luggage from my trip. I'm very happy with their customer service, the day before my first flight I received a phone call from Qatar's customer service saying that due to delays I wouldn't be able to make my connecting flight to Edinburgh so they would like to book me on another flight instead of me having to wait 24 hours in Doha. I was thoroughly impressed with this service."
Cons: "I did not have wifi available from Doha-Johannesburg"
Pros: "Staffs were helpful!"
Cons: "Food portion can be improved."
Cons: "We had to wait for about 5 years, more than 3 hours unscheduled wait. During this time we were provided with a very poor breakfast."
Pros: "Everything is good"
Cons: "Everything fine"
Pros: "My trip from Beijing to Doha was fine."
Cons: "I didn't like my trip from Dar to Doha nor from Doha to Dar. The plane is too small. The food wasn't good and they ran out of Mango juice both ways. I sat next to someone who had the smelliest feet on earth. Just wasn't pleasant."
Pros: "Great crews, excellent airplanes, wonderful in transit experince."
Cons: "In flight coach meals were average."
Pros: "On time departure, friendly crew. Comfortable seats for economy class, plenty of entertainment options. A pleasant experience"
Cons: "The food was okay. The hot wrap/calzone served first was not very tasteful. The breakfast/brunch was better. Not much to dislike overall."
Pros: "Again on time and effortless boarding made the overall experience a good one."
Cons: "Our suitcase was damaged...still in the process of trying to get it fixed. Hopefully it will be done soon. I will then update this report. Could maybe clean the toilets as it did become a bit messy."
Pros: "Very kind and helping crew.. professional and helpfull"
Cons: "I dont have anything to complain about"
Pros: "About the same vegetarian food was served at almost every meal of the 13 hour flight."
Cons: "Need to provide more variety in food for long-haul flights. The food was not at all appetizing. ---- Entertainment should have more choices."
Pros: "The service from the crew was amazing"
Cons: "The food was not bad compared to some air lines"
Pros: "Entertainment"
Cons: "The crew has no control over passengers. Specifically, it is the cabin supervisors responsibility to maintain order on the flight. Everyone before boarding, during boarding and during the flight kept sitting in incorrect seats, no boarding passes checked. Felt like a zoo on the airline. Very disappointed."
Pros: "ok"
Cons: "Although website says you can pay online, there is no info to pay for extra baggage online. This is very misleading."
Cons: "Horrible food snd mostly chicken or beef choice no seafood of veggie choice"
Cons: "I wish the 777 had slightly wider seats like the A380"
Pros: "Crew was amazing"
Pros: "Service was good. Staff was efficient."
Cons: "Cabin was overly warm. Sweatie hot."
Cons: "WiFi down the entire flight, made worse by the crew continuously promising it was "about" to work. Wouldn't recommend Emirates to any professionals traveling who rely on staying connected on such a long flight!"
Pros: "Onboard wifi"
Pros: "flight was very empty, so crew very accommodating. boarding simple with so few"
Pros: "All good."
Cons: "None"
Pros: "entertainment was great!"
Cons: "Not much to eat for a vegan."
Pros: "Friendly cabin crew, new movies"
Cons: "Long wait after boarding before takeoff"
Pros: "ICE is amazing, excellent food also in economy, comfortable seats."
Cons: "If you sit on the double seats in the back you have to wait a lot to get off the plane."
Pros: "Crew and entertainment"
Cons: "Food and legroom"
Pros: "Service"
Cons: "Nothing"
Pros: "The size of seats , the food and the service"
Cons: "The entertainment system had few glitches but workable ( flickering banners of the channel or sound, volume"
Pros: "The flight was very comfortable"
Cons: "Operating remote control wasn't working well ! It was frustrating !!"
Pros: "The entertainment options were very good"
Cons: "Bathrooms were dirty. People running over each other to board at TRV airport. Clear and helpful announcements may be needed but the ground staff is mediocre at best"
Pros: "Crew is friendly, flight was smooth and timely."
Cons: "Why doesn't economy class have a passenger lounge for passengers with really long layovers? I had a 15 hour layover and nothing to tide me over during that time. Ridiculous. Every half decent airline out there caters to all classes of passengers. This is an extremely elitist airline. Will definitely try to avoid"
Pros: "Smooth flight. Attentive crew. Good entertainment options"
Cons: "The toilet had no toilet paper so I used the paper hand towel and prayed it did not block when I flushed. The beef option was not that great. I should've chosen the chicken."
Pros: "Liked The service and the spacious airplanes"
Cons: "No choice left for dinner and would have loved a snack"
Cons: "My husband showed up at the airport but they didn't let him go to flight because it's one way ticket. We called but no any help."
Pros: "Great crew. Not so good food. flat bed is a blessing. sleep throughout the flight."
Cons: "Very good"
Pros: "Everything from food to seating was quite comfortable."
Cons: "Boarding was a bit more difficult since they did not call boarding zones"
Pros: "Almost everything !"
Cons: "Had to go and find a steward at one point to find out where my coffee had gone to."
Pros: "Everything from the plane, crew service and timing. Excellent"
Pros: "Service and entertainment options made the 13 hour flight go very smoothly. Emirates crew is the best, always smiling and helpful."
Pros: "None was satisfying"
Cons: "Every thing was bad"
Pros: "The inflight movie selection and entertainment was very good."
Cons: "The food was a bit disappointing."
Cons: "IAD-->DXB--?AMM; Airlines took my stroller from me before boarding the first flight to Dubai(at gate), and they gave it to me in Amman. WHen landed in DXB, There was a long walk form the plane to the gate where you can find a stroller in the airport( which is only a single stroller) and having 3 kids which does not help. Why not give strollers at gate just like all other airlines! I was prepared and had the double stroller with me! Never again on Emirates with kids!"
Pros: "Better food Meals were bland"
Cons: "My bag was left in Newark and did not make it to Greece. Absolutely unacceptable"
Cons: "Entertainment program could be more structured; remote control did not work as it should;"
Pros: "Entertainment & food options, onboard service, seat width & leg room (I'm just under 6 foot)"
Cons: "N/A"
Pros: "Very good service I love it"
Pros: "Emirates offers good food, decent flight entertainment options and a friendly staff to cater to passenger needs."
Cons: "The timing of the flight could be changed to a little later, I had to leave home at midnight to make it to this flight."
Pros: "I love that I got a cute little bag filled with things like socks, eyemask, and ear plugs. Its just the little extra things that made it better"
Pros: "As expected"
Pros: "The crew were friendly."
Cons: "wifi wasn't good - I couldn't connect. Wine choice wasn't good (white). Would have preferred a sav blanc"
Pros: "The entertainment and staff were unsurpassed. The food was better than industry standards."
Cons: "The seat was terribly uncomfortable. The seat bottom has a ridge that digs into your rear. This was on both 380 flights and I tried three seats in total. After a couple of hours is when the pain starts. If the seat back was moved forward, you would not sit on this edge. Please fix. Not sure I could fly on a 380 again for this duration."
Pros: "Everything was terrible"
Pros: "None"
Cons: "I missed the first segment of my flight due to an accident and traffic on the way to the airport. I was asked to pay $1200 to get on to the next flight (without any warning that my subsequent segments will be suspended) so I bought an one way to Dubai from NYC. Then my subsequent flights were all suspended and I had to buy a new set of flights for the remaining of the trip. I didn't get to take any of the flights I purchased through Kayak."
Pros: "i like the food."
Pros: "same as above"
Pros: "Crew v good"
Cons: "Food .. Fish undercooked ... Aircraft bit dated"
Pros: "Overall the service and the food provided made for a good flight"
Cons: "My flight seat assignment was changed without my knowledge"
Cons: "The plane was very messy and not well kept throughout the flight. The fight attendants expressed levels of frustration with passengers as if we were bothering them. Me and the the passenger next to me lost picture during a movie that were watching and had to have our monitors reset."
Pros: "The way they receive and the way they take care of passangers"
Cons: "The water served is not sufficient I felt that it would be more better to serve water bottles."
Cons: "Baggage took close to 2 hours to get to baggage claim on return trip"
Cons: "Tough to get a drink"
Pros: "Entertainment"
Cons: "Small seat and leg room. I'm taller."
Pros: "Food"
Cons: "Person being me wouldn't allow me To recline my chair and flight attendant didn't do anyThing about it."
Pros: "Seats were confortable, new plane, the crew was attentive, food was great."
Cons: "Need to update the movie library, the category with the new movies is probably a year or morw old."
Pros: "Nothing was good"
Cons: "Everything can be improved"
Pros: "The # of movies."
Cons: "I sat next to 2 children. It smelled like baby poo off and on for the whole flight. There are no individual AC so the entire plane was on one temp which was stuffy and smelly at times. If some one passed gas, you could for sure smell it. I told the flight attendant and they agreed before I could describe so it wasn't just me."
Pros: "Everything...the food was delicious, the staff was gracious and always went the extra mile."
Cons: "Delayed flight 1 hour"
Pros: "Food"
Cons: "Rear bathroom cleanness."
Pros: "Sleeping accommodations, storage, crew attentiveness in business class was outstanding. 5he business lounge in Istanbul was the best ever. Great airline."
Pros: "The puntuality funny information video."
Cons: "-"
Pros: "Attendants were very nice."
Cons: "The seats were so close. It was like riding on a transit bus. An 11 hour flight would be nice with just a few more inches between seats.. I don't expect real comfort in economy class but just two more inches would have been nice."
Pros: "Food"
Cons: "After bus arrived at steps kept on it 20 mins. 2 more buses arrived in this time. Still wait. Then let out all at once. Massive queues to board. Poeple not dressed for this. Poor babies crying Maybe 15 mins waiting in 2am cold on tarmac."
Pros: "Flight was on time, relatively clean and the food was quite nice"
Cons: "For a flight leaving at almost 1 am, it's quite annoying to be force fed dinner and prevented to sleep for the first two hours of the flight. Dim the lights and do "on demand" dinner please."
Cons: "Delaying without notice and luggage lost"
Pros: "Flight time Prices Service"
Pros: "The food was great and the onboard amenities were fantastic!! Would definitely recommend to anyone!"
Pros: "I liked the food and the staff were very friendly"
Pros: "Food was good , enertainment and comfort was fine"
Cons: "The hostess was not friendly at all. Seemed to be inconvenienced by every request Also requested a veggie meal but was not avaible"
Pros: "Great food, great plane, shortest flight."
Cons: "The restroom is too narrow on this plane, at least the one I tried. They ran out of one entree since everyone wanted chicken and not the fish. They should know this and make more chicken available and less fish. But I tasted both and both entrees were good. The "sour cherry juice" is great."
Cons: "No entertainment at all"
Cons: "Damaged luggage. My fist time traveling without my parents and didn't know what to do. Tried looking for someone to contact on the Turkish airlines site, no luck. My mother will help me when she gets back from her holiday."
Pros: "Setting, speed, arrival"
Cons: "Long queue at passport control"
Cons: "Food was dried out and tasteless"
Pros: "Everything"
Pros: "As above"
Cons: "As above"
Pros: "the food was very good & unexpected on these short flights"
Cons: "they let people take extra overhead space"
Pros: "I used the prime lounge in Istanbul and when it was time to go, I was able to practically walk on the plane without any wait. The seats were comfy and didn't have a ton of legroom but it wasn't bad. The staff we're friendly and helpful. The in-flight entertainment had a pretty impressive selection and had one of the best-designed interfaces I've seen so far (and I've ridden a variety of airlines). Last and most important, the food was hands down the BEST I've had on a plane. Turkish is killing it, they're my new go-to airline!"
Cons: "I really can't complain about anything, even if I try! Maybe the touch screen sensitivity on the entertainment console seemed a little off, but that's just nitpicking"
Cons: "Economy isn't supposed to be amazing but those seats need help"
Pros: "Great service, polite."
Cons: "A bit slow serving food."
Pros: "Quick in Check In."
Cons: "Horrible customer service."
Pros: "Efficient transfer aside.from long security process. Beautiful plane."
Cons: "Long security process. Limited leg room."
Pros: "It was s safe flight."
Cons: "We were forced to go through numerous security checks. The last check was at the gate and our carry-ons were searched yet again and our laptops, cameras and iPads were taken. Apparently we cannot bring these items on the plane and no one told us, the customers who paid to board this flight. Plus the wifi was not free. And when we tried to use the wifi code we were given from the crew as a "perk" from our camera Ana iPads being taken, that still did not work. So that was a 13 hr flight with no wifi. Plus on my flight from Istanbul to Atlanta my Tv did not work and the crew didn't speak English and could not understand my complaint. Overall the worst flight ever, close to a Delta flight which everyone knows is the bottom of the barrel of airlines. When we finally arrived in Atlanta it took 3 HOURS to get our baggage. We landed at 7:45 PM and did not get our bags until 11 pm. We were not told what the delay was and to just be patient. I will a NEVER take this airline agin."
Pros: "The seat"
Cons: "My light for an attendant was on for 20+ min, unanswered, while they were laughing loud behind thecurtain. 2) they announced that there will be a second round of food toward end of 11+ hrs fliht. It NEVER happened (::"
Cons: "It was not comfortable at all No space the cherries no nice"
Pros: "The food was decent, as well as the movie selection."
Cons: "The crew were incredibly rude, it was badly organised, there we delays on our flights, the boarding process was a nightmare. After booking both mine and my boyfriend's tickets we were later warned that there will be an 8 hour lay over instead of the expected 3 hour (as booked). I will try my very best to avoid Turkish Airlines in the future. After taking many long haul flights in my life, I can safely say that this was my worst and most disorganised travel."
Pros: "Turkish airlines are the best when it comes to long flights."
Cons: "Too many seats. Very uncomfortable on a long trip."
Pros: "Good Food, Comfortable Seats & Good Entertainment Options"
Cons: "N/A"
Pros: "Timing, schedule is well arranged. Staffs are helpful"
Cons: "Every time, the breakfast are omelette??? Its taste was terrible. I flew a two-way flight and got 4 omelettes. And once it messed my stomach."
Pros: "The steward was very nice. He let me store my special salad and pudding."
Cons: "The temperature was a little bit low."
Cons: "Leg space a nighrmare!! Was uncomfortable for all the 13 hrs of the flight. Terrible experience"
Pros: "It was a 12 or 13 hour flight and except for sitting too much we were never uncomfortable. The service level made me think we were back in the 80's. Hot towels, attentive service, tons of food and free drinks. There was actually one meal that we would have eaten even if it wasn't on a plane. They gave out full size blankets and pretty fluffy pillows. (I bring our own anymore, because you never know if you will get one on most airlines, and if you do they're usually useless). Their entertainment system was amazing. We caught up on all the recently released movies that we've wanted to see for FREE! If only Netflix had this quality of movie offerings. They had fresh flowers in the huge bathrooms. It's that type of attention to detail you just really don't see anymore."
Cons: "Can't think of a thing that could actually be changed."
Pros: "The speed in which the aircraft was boarded and the refreshments given quickly"
Cons: "The lack of order and last minute information not being given"
Pros: "Service when it was done"
Cons: "Infrequent service Crowded Entertainment system bad"
Pros: "I liked the friendliness of the ticket person and all the flight attendants on both flights. The cabin was clean, the climate was not too hot or cold. The pilots were very good at their jobs. The food was good."
Cons: "Did not like boarding the plane on the Tarmac."
Pros: "It was a non-stop flight from Istanbul to Atlanta!"
Cons: "The plane was diverted to IAD right before landing to ATL. The crew told us that the plane was diverted because of "weather conditions." Once we landed to ATL we were told that there were no storms in the area!Who knows why the plane was diverted to IAD?"
Pros: "The movie"
Cons: "Boarding in Istanbul. We did not know the gate number until one hour before departure, because there were only 3 monitors in the area that we sat in and there are so many flights, so the flight did not appear on those monitors. Only the one main monitor in in the center of the airport is large enough and there are not seats in that area."
Pros: "three seats for myself no security check between flights"
Cons: "interruption of sleep because of meals -serving earlier dinner and later snack would have been more restful"
Pros: "great movie selection."
Cons: "was asked to show up 1 hour before boarding to a "secure area" with 5 different ID checks... however, once in, no restrooms available and boarding took a long time and was delayed."
Cons: "Similar issues as described above"
Read more about ANA
Safety measures for airlines flying from South Korea to South Africa
Airlines flying from South Korea have enacted additional safety measures and adjusted policies to better accommodate travellers. Policies vary by airline.
Heightened sanitation
Daily cleaning, installation of cabin HEPA filters on flights from South Korea
Mandatory masks
Masks required on board, masks provided on flights from South Korea
Social distancing seating
Middle seats unavailable to book on flights from South Korea
Pre-flight testing
Testing for antibodies, testing for symptoms for flights from South Korea
Book cheap flights from South Korea to South Africa
Recent return flight deals
Search by stops
Search by airline
Search by price
Recent one-way flight deals
Search by stops
Search by airline
Search by price
Flights to South Africa
Browse origins:
R15 540
R11 507
R46 368
R25 846
Browse destinations:
R14 443
R13 909
R11 507
R54 494