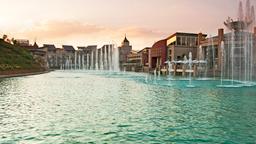 Find deals on international flights from George
Search hundreds of travel sites at once for cheap international flights from George
FAQs for booking George to Worldwide flights
Which airlines have a flexible cancellation policy for flights from George to Worldwide due to COVID-19?
Which airlines apply social distancing measures on flights from George to Worldwide due to COVID-19?
How does KAYAK find such low prices on flights from George?
How does KAYAK's flight Price Forecast tool help me choose the right time to buy my flight ticket from George?
What is the Hacker Fare option on flights from George?
What is KAYAK's "flexible dates" feature and why should I care when looking for a flight from George?
Top 5 airlines serving George to Worldwide
Scores according to KAYAK customer reviews
7,9
Cemair
Overall score based on 5 reviews
Pros: "The crew was mazing and the seats are so comfortable."
Cons: "To me everything was excellent from the captain to the flight attendants i was impressed i have been to all domestic flights but Airlink is the best and after yesterday flight i decided that Airlink is the one for me onwards. The only thing i can suggest is the points program then the sky will be the limit for you. Keep up the good work guys BIG UP."
Pros: "Flight was on time and crew was great"
Cons: "good short flight"
Pros: "Time keeping, plane was well sized and okay"
Cons: "Didn't get a single sensible meal!"
Pros: "Attendant was professional"
Cons: "It was okay"
Pros: "Everything was good!"
Cons: "For a short flight on a small aircraft nothing could have been better."
Pros: "It's a shorter flight so, no IFE. The front row of the business section was nice. I'm glad that reserving those seats worked out for this flight, although it didn't on all the other flights."
Cons: "No entertainment available, and the BUQ departure lounge could be improved"
Pros: "I was forced to give my carry on bag to be put in the hold. They said that it would not fit in the plane. When we got to our destination, i found that a large sum of money from my bag was stolen,"
Cons: "Security of our baggage should be better. And if you cannot fit the standard carry on bags, then please say so when people make their booking so that they can pack accordingly and do not bring carry on bags that they have to give up at the last minute. it is impossible to remove items last minute."
Pros: "Excellent service"
Cons: "Luggage was riffled through and item stolen"
Cons: "Delayed flight with close connecting flight and none of the flight or ground crew were able to communicate with the connecting flight gate agents. No priority for deplaning and tarmac shuttle was given to those with close connecting flight. Had to sprint through airport and barely made connection."
Pros: "Amazing crew, wonderful short flight and delicious snack. Could not be any better."
Cons: "Just continue the wonderful service."
Pros: "Everything was good"
Pros: "There was hardly anyone on the flight so I got a row to myself! Also the flight was fast and smooth and landed on time despite boarding about 45 minutes late"
Cons: "At the beginning they needed 8 people to move up front for take off which was weird but obviously not anyone's fault, and if the flight was full wouldn't have happened, so it's probably not something that could be done differently but was just weird."
Pros: "Seats were noticeably more spacious than comparable airlines. Good entertainment system and selection of films."
Cons: "Location of plug sockets, very difficult to use."
Cons: "Johannesburg Airport was terrible and every where we turned in the airport we got misinformation and people tried to scam us for tips including airport employees."
Pros: "Flight was on time. Efficient crew"
Pros: "Airport check in went quickly and smoothly! Waiting lounge was excellent!"
Cons: "Nothing to report."
Cons: "Lazy agent said we were too late but bags not booked through on connection which helped cause delay"
Pros: "Pilot effectively communicated about the fueling delay and the imminent storm."
Cons: "Refueling issue : After boarding we had to sit on the aircraft to wait for the refueling driver to arrive and fuel the aircraft. This resulted in a delay of some 20 minutes. ssue"
Pros: "The crew was nice, overall a good flight."
Cons: "Had to pay extra baggage on a long layover, because we couldn't check our bags all the way. My husband amd I had seats next to each other and then when we got to the gate, they had switched his seat... not ideal traveling with a 4 month old."
Pros: "Economy seats are comfortable"
Cons: "The entertainment system works very poorly, it need to be upgraded! The quality of the image is very poor, the touchscreen does not respond easily and the stream is often interrupted by clips of ither movies or programs. This is unacceptable for a 14+ hours-long journey!"
Pros: "We were on a small cramped plane. The food was horrible."
Cons: "Rude employees at the counter in the airport."
Cons: "We were very upset as we missed our flight to Maseru due to circumstances beyond our control. As a result we had to pay for another set of tickets and pay for s hotel room as no other fflights that day. We arrived to airport in plenty of time however there was a backup at immigration. We waited 10-15 minutes than an employee had everyone in line move to a different line. By the time he slowly walked us over our plane had already boarded. The bus was still there but we were not allowed on. Also, the representative said the boarding was delayed 3 minutes. Actually they boarded early. All along way we were assured there was no problem making flight."
Pros: "The crew were great."
Cons: "The flight was delayed by 2 hours. We barely made our connection flight in Johannesburg, which resulted in us having to run through the airport. We did not have time to get dinner."
Cons: "With over 1.5 hrs to check in, guards allowed others to cut in front and my son was told no problem, he would not miss his flight. He did miss his flight and couldn't apply his ticket to another flight. Had to pay in full to buy another ticket for a flight 5.5 hrs later. Not good!!"
Pros: "Easy process to get to Joberg. Flight was on time and comfortable."
Cons: "Similar to some other reviewers we had to completely exit the terminal at JNB and then check in for our international flight sequence on Qatar, this was easy but caused a little anxiety, especially after learning that the total checked baggage for one person on the air link is 30kgs (66lbs) which is less than standard international weights. We had to pay extra for the "overweight" bags but the cost was reasonable. I would use the airline again."
Pros: "Quick cool spacious"
Cons: "They left us in a hot hot bus for a long time at terminal and on the run way."
Pros: "The plane from Antanarivo as on time - quite an accomplishment for Madagascar!"
Pros: "Stewardess was very professional, spoke clearly, was very helpful. On time and affordable rates!"
Pros: "the seats"
Cons: "Food was cold"
Pros: "Comfortable transfer to Skukuza from Johannesburg"
Cons: "The flight was not listed on the departure monitors in the hall where we arrived. We had a hard time finding the terminal and then the check-in counters and the departure gate. If the flight would have been listed it would have been easier, no asking around required."
Cons: "Staff not so friendly"
Cons: "The flights were not operated by South African Airways, so when we arrived to Johannesburg we had to take our luggage and register it again and make a second check-in. Because both flights were operated by airlines different from South African Airways we were not able to accumulate our One World miles."
Cons: "Spraying a very potent chemical in an already crowded small plane that send people home sick is not the best way to treat passengers. We do recognize there is probably a reason for doing it. Has the airline consider the impact on those with respiratory issue? Some passenger could not stop coughing until their final destination. Hope they find a better way."
Pros: "Everything was good - timely, service, check in, etc."
Pros: "The flight attendant was really friendly and accommodating. Flight was on time."
Cons: "Can add a few more options for snacks. The chips and candy are pretty crappy."
Pros: "Seats wider (or seemed to be so) than most economy flights. Flight crew courteous."
Cons: "Have lived in Madagascar for almost two decades and have never seen such disorganized boarding. No signage, staff all the same uniforms (thus no visual clues), no gate noted on boarding pass. Very frustrating. Two Airlink flights were leaving at the same time due to a delay for one flight, so better communication needed. Plane toilet disgusting and would not flush."
Pros: "Flight was on time."
Cons: "I do not understand why the staff wait for all passengers to be on board and close the door to spray this unbreathable air spray. I was suffocating during a few minutes and coughed during the whole flight. My throat still hurts. The cheese sandwich was terrible."
Pros: "Efficient on time no hassle"
Cons: "Cold food. SAA used to serve hot meals. What happened to that?"
Pros: "short, easy flight"
Pros: "Pilot and Stewardess were good and airport was nice. I appreciated the flights from Cape Town to Skukuza and from Skukuza to Johanesberg."
Cons: "Airport crew not able to answer questions outside of their scope of responsibility. I asked a question several times and reply was "good afternoon". finally another person helped and directed me to another part of the airport where I asked the same question and received blank faces until supervisor showed up."
Pros: "It all went as expected. Today, that is excellent"
Pros: "I enjoyed looking out the window as we flew. Interesting countryside compared to what we have where I live in the U.S."
Cons: "Maun airport is small but it gets the job done. The people at the SAA counter were not well versed with checking bags to your final destination when you continued on from Johannesburg."
Pros: "South African Airlines is like flying years ago when you were given respect and special treatment. It's my favorite airline, by far. Actually, it's the only airline I like to fly. I've flown Delta, Lufthansa, KLM and United to South Africa - big mistake. SAA is what I wish all other airlines are. They are first rate."
Pros: "Pleasant experience. Gate personnel and crew were friendly and helpful; plane and seating were comfortable."
Cons: "No flight information signage at gate, and gate boarding public announcements were distorted. Besides being distorted, it was hard to understand the 'English' translated announcement."
Cons: "Delayed flight due to airplane malfunction and caused late arrival and could not make our connecting flight. Had to argue for support to stay in Johannesburg due to the inconvenience"
Pros: "Stewardess was very professional, spoke clearly, was very helpful. On time and affordable rates!"
Cons: "THe check in lady on the flight from Cape Town, was surly, rude, unhelpful, arrogant...just awful"
Pros: "crew insisting everyone covers mouth and nose with the mask"
Cons: "surprised to see no separation between people,"
Pros: "Excellent COVID protocol"
Cons: "More worried about profit than covid"
Pros: "Value for money."
Cons: "Boarding was interminable. Standing around waiting in the jetway"
Pros: "Seat could be wider or a business class option would be welcome"
Pros: "Boarding was efficient"
Cons: "Improve leg room"
Cons: "service and punctuality all good"
Cons: "FlySafair forced me to pay for my second bag - even though my ticket was clearly marked "2 bags" all the way to Cape Town. Totally disgusted with this airline, not honoring the ticket. And they way they treated me about it makes me never want to fly with them again. Warning: Seats don't recline!!!"
Pros: "Great staff"
Cons: "No entertainment, but then you are a budget airline"
Pros: "Timely service is their main priority. Excellent"
Pros: "Professional staff from airport right through to the aircraft staff. Great service with a smile!"
Cons: "None"
Pros: "The planes seem fresh and new. The staff were efficient and professional. Although a budget airline, we thought they offered value for money."
Cons: "Can't think of anything. Although expectations weren't high, they surpassed them."
Pros: "It's alright, safe flight and pilot good landing skills. I particularly liked their crew's sense of humour."
Cons: "If only we were served drinks, but that's asking too much."
Pros: "Take off and landing was smooth"
Cons: "I was in the row next to the toilets which meant a constant stream of people using the toilet and queuing outside of it that makes sleeping impossible. The noise of the toilet flushing every two minutes is disturbing and the smell from the toilet really is rather unpleasant. Having paid for economy plus I expect a reasonable comfortable seat. Which is the point of paying the premium, otherwise I'd have just bought an economy seat. It's poor design that creates an unpleasant experience for your customers."
Cons: "Delay in collecting baggage. Probably due to different parking bay further away"
Cons: "Baggage control very bad. Waited an hour for the carousel to deliver the bag"
Cons: "Baggage control very bad. Waited an hour for the carousel to deliver the bag"
Cons: "Proper communication and oversight of the boarding process. Tell us to stand in 2 queues a third one develops and we need to sort out unhappiness. Almost like the taxis! And as usual departed late"
Pros: "Crew helpful. Reasonable amount of leg room"
Cons: "Good value for money"
Pros: "Easy to check in - yummy sandwich and friendly crew"
Cons: "Comfort - paid food by card only available"
Cons: "When buying my ticket departure time was 19h25. When getting to the airport departure time on display was 19h35. No indication of delay. So why the difference in times?"
Cons: "No window at seat row 11, no warning about this at check-in"
Cons: "My ticket was cancelled because Kiwi did not pay the airline. It cost me tons of extra money, and seriously delayed my trip!"
Pros: "Crew was terrible. Only 2 beverage services in 10 hour flight, and 2 in 8 hr flight. Crew did not respond to call button. Seats smaller than previous flights."
Cons: "Iberia messed up my flight from Windhoek to Johannesburg so I could not check in ahead of time or at airport. Stood at British Airways/Iberia desk for 2 hrs until my gate was closing. So I was told only way to get on plane was to purchase another ticket, and then contact Iberia for a refund."
Pros: "The airport staff went to great length to try and assist me but couldn't due to things not in their control."
Cons: "Checking in was a huge hassle as they checked by bags in all the way to Dublin but could only give me a boarding pass for one flight."
Pros: "Comfortable plane, excellent feedback from pilots regarding route, changes in altitude etc We had to drop a couple of 1000m to avoid bad turbulence. We were kept in the loop reg what was going on"
Cons: "Budget travel - so no food, entertainment or the like"
Cons: "Flight was 1h 20 min late and everyone in the George area immediately commented that this was entirely normal. Thank goodness I did not have urgent meetings to go to as I would have had to reschedule or miss them altogether."
Pros: "Hospitality"
Cons: "All is awesome"
Pros: "Cost and quickness."
Cons: "Tiny cramped plane."
Pros: "Cost, speed of boarding and un-boarding."
Cons: "No baggage on arrival and no warning from the pilot who would of known since no one on the flight got their luggage because they were never loaded."
Pros: "The frenlynes"
Pros: "Attendants are professional in their approach. Flight is typically not on time at arrival (origin) but the Kulula teams are usually able to turn the plane around and be flying back in time to meet their take off times."
Pros: "Hot meal a pleasant surprise."
Cons: "One hour delay. One piece of baggage lost, which arrived the next day."
Cons: "Limited legspace. I'm tall. Flysafair is better in that regard. They no longer take cash for payment, which could be a pain for some people."
Pros: "Quick boarding"
Cons: "Crying babies"
Pros: "Lots of leg room"
Cons: "No complementary food"
Pros: "Color green is nice."
Cons: "Flight delayed multiple times. Nothing complemtry even with long delays. Forced to pay for water. Online extra bag purchase was not working. After calling in, their system was also down. Forced me to pay extra price at the airport."
Pros: "The way to do any flight is to close your eyes and dream of better days. I did just that. I was left alone. That's all I need."
Cons: "Kulula flights have a tendency to run late as the day goes on. And being barked at by ground staff whilst waiting to board is getting too common with Kulula. There's a way to do things professionally so we don't feel like we're cattle being crammed into a pen. The boarding process was cumbersome. Waiting 15 min on an air bridge is not the norm."
Pros: "Boarded on time and for a very full flight without a hitch"
Cons: "No complaints"
Cons: "Missed connection by 3 min due to not booking bags through as they do not have an agreement with SAA. Absolutly no sympathy for $400USD rebooking of flights!"
Pros: "Caring and courteous crew."
Cons: "Crampped more than 90mins late -- made me miss the last train and cost me a large taxi fare to get home! Terribly disappointing experience. The morning flight to East London was also over an hour late because (according to the Captain) the aircraft was late in coming out of its weekly service! Hope never having to resort to Kulula ever again!"
Pros: "Almost only flight of the day on time."
Pros: "They can actually be on time. The best way of winning me over. Do as you say."
Cons: "Pathetic. 2 hour delay"
Pros: "Made a plan to have a BA plane ready iso of us having to be delayed. Well done"
Cons: "Why not have the ladders ready when we arrive from Cape Town?"
Cons: "They give my seats to other passengers and the move me and my girlfriend to different plac, although I have been charged for the seats."
Cons: "Except for nuts and regular drinks no food was available that was complimentary."
Pros: "Drink Service and lunch"
Cons: "No air!"
Cons: "It was pathetic. Our flight was delayed and we had a connecting flight in Jhb. We were promised we will get priority disembarkment and there will be someone to escourt us through customs. We flight was supposed to land at 6 30 and we had to have boarded our next flight by 7:05pm. To my horrow we landed in Jhb at 7 10. Only got off the plane at 7:15 because the stairs took forever to come. There was no priority disembarkment and there was nobody waiting to escort us through customs and passport control. It was a complete nightmare having to jump queues and running to catch the next flight. Will never fly kulula again ."
Cons: "Flight was extremely late. Food was pretty mediocre."
Cons: "knew 24 hours in advance and still no resolve"
Pros: "excellent service"
Cons: "nothing"
Pros: "With a little tail wind, this flight can be as short as 1.5 hours! Crew was positive and quick with great service. Baggage collected within 20 minutes of landing."
Pros: "On time. At long last"
Pros: "Flight itself was not bad"
Cons: "The lead up was poor. Lies were told about delays. Should have departed at 14h35 and eventually only left at 17h24. Due to technical issues and not systems as originally stated. Really!"
Pros: "E very thing, the Super friendly cabin crew,the outstanding friendliness of our wheel chair attendants, the friendly reception at check-in"
Cons: "Zero,"
Cons: "Shuttle to plane stood stationary for 15mins."
Pros: "Easy check in"
Cons: "I checked in for a flight and chose my seat, which was no issue until i got to the gate. I was summarily moved 11 rows back without any explanation. normally not an issue, but when i had 1c and wanted needed to get out quickly, you can see the issue. neither the ground staff nor crew were interested in the issues and gave no reason for the move"
Cons: "Very sticky, hot inside. Why are SAA passengers flying on Kulula? Baggage collection at carousel was for a SAA flight and a Kulula flight."
Cons: "Because we missed the flight from Johannesburg to port Elizabeth BA cancelled our flight to Durban and we did not find out until we arrived at the airport. We had to book new tickets at the going rate to get on the same flight. BA also told us our other 3 flights had also been canceled. Fortunately Emirates was able to fix those 3 later"
Cons: "The delay"
Pros: "N/A"
Cons: "N/A"
Cons: "Nothing"
Pros: "Flight was delayed due to plane issues and then again due to weather. While safer to postpones flight, the communication and the like surrounding it could have been better."
Pros: "Nothing"
Cons: "Everything"
Cons: "Delay of 3 hours unacceptable"
Cons: "Flight delayed almost 2 hours"
Pros: "Very comfortable seat, great crew"
Cons: "Offering card payment for food and drinks"
Pros: "Good flight once in air and made up lost time."
Cons: "Long wait to.check in at Zanzibar"
Pros: "The crew was friendly and helpful."
Cons: "Boarding times were totally messed up. Boarded an hour later than the scheduled time."
Cons: "Flight from KZN to Cape Town International. Most unprofessional ladies. Couldn't stop chatting about private business. Extremely loud. Had a friend who was off duty come to the front where they were working. She couldn't stop chatting. Also ,these ladies are a bit overweight ( some of them standards"
Pros: "Friendly staff"
Cons: "There was a Last minute boarding gate swap that resulted in lots of confusion between Durban and Cape Town passengers"
Pros: "Very happily surprised by the quality of the food on the flight. It was flesh and delicious. Crew was very friendly, professional."
Cons: "Nice flight all around."
Pros: "I didn't miss my connection"
Cons: "The crew was very rude, the plane was delayed, uncomfortable, and dirty."
Pros: "Unsympathetic, imcompetent, lazy and overall just reluctant to do ANYTHING"
Pros: "Nothing"
Cons: "Delayed flight, constantly changing gates, poor aircraft management, they charged for water on the flight, they didn't turn on A/C until people complained."
Cons: "The flight was delayed a bit, so I had to rush to get to my connecting flight. The process of boarding was a bit of a free for all."
Pros: "The plane was newer"
Cons: "The borparding crew tried to pull a fraud scam on several tourists trying to get on plane The is really criminal - I mean it Never will I fly this airline knowingly!!!!! I am done with Kayak also Disgusted Lion Lady"
Pros: "Nothing! They stole $140 from us!"
Cons: "They changed our flight to one 5 hours more inconvenient and we were stranded in the airport AND we weren't refunded the difference in prices between our originally paid flight and the one we were changed to. We were scammed by South African Air."
Pros: "Pay for everything, abd lots of choices NA."
Cons: "See above"
Pros: "Crew were all helpful but flight left late"
Cons: "Late departure"
Pros: "Flight was very punctual and staff efficient"
Cons: "Bagged reclaim took ages"
Cons: "Delay after delay with a lack of timeous communication. Pathetic."
Cons: "Excellent service"
Cons: "Flght departed late."
Pros: "Cheap flight."
Cons: "Terrible landing."
Pros: "Crew seemed to be well trained."
Cons: "4th flight out of 7 that was delayed and pilots are on strike."
Pros: "Good Boarding. On time arrival and departure"
Cons: "Extremely little leg room. VERY UNCOMFORTABLE"
Pros: "Very efficient and friendly cabin and ground crew, quick delivery of checked in bags, Placed my family together which was appreciated on a full flight"
Pros: "Flight was good."
Cons: "Did have a few small children on board. So on approach they obviously had problems with their ears.."
Pros: "Friendly and satisfactory service"
Cons: "I was booked on an SAA flight, did not know it was MANGO flight. At JHB airport, my SAA flight was not listed, nor was there any indication that it was actually on a MANGO flight. A helpful airport information person found the flight and agreed it was not visible anywhere."
Pros: "Staff and comfort of this airline was great."
Cons: "Lost luggage"
Cons: "I had a terrible experience,I complained to the supervisor and to guest care,they replied but still not happy the way they handed the matter.I will never fly with mango again"
Cons: "Ineffective ground staff at guest services"
Cons: "Flight was delayed by 2 and a half hours which is very inconvenient"
Pros: "Punctuality, comfort"
Cons: "Check in made us queue for 15minutes before actually checking people in."
Cons: "how do you do that? Split my son who is a minor and myself? I checked in online and I received my boarding passes. Why does the system not received 'Bought' seats? this is extremely frustrating. I get to the airport early and need to waste time while you sort out your issue. This is unacceptable service. Tracy Pawson - JE164 on saturday at 15h10"
Read more about Cemair
Safety measures for airlines flying from George
Airlines flying from George have enacted additional safety measures and adjusted policies to better accommodate travellers. Policies vary by airline.
Heightened sanitation
Daily cleaning, installation of cabin HEPA filters on flights from George
Mandatory masks
Masks required on board, masks provided on flights from George
Social distancing seating
Middle seats unavailable to book on flights from George
Pre-flight testing
Testing for antibodies, testing for symptoms for flights from George
Book cheap flights from George to Anywhere
Recent return flight deals
Search by stops
Search by airline
Search by price
Recent one-way flight deals
Search by stops
Search by airline
Search by price
George - Anywhere Flights