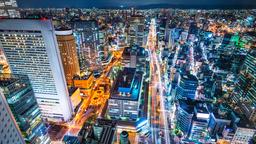 CPT - ITM
Find cheap flights from Cape Town to Osaka Itami
Search hundreds of travel sites at once for deals on flights to Osaka Itami
FAQs for booking Cape Town to Osaka Itami flights
How long does a flight from Cape Town to Osaka Itami take?
Which airlines provide the cheapest flights from Cape Town to Osaka Itami?
How does KAYAK find such low prices on flights from Cape Town to Osaka Itami?
How does KAYAK's flight Price Forecast tool help me choose the right time to buy my flight ticket from Cape Town to Osaka Itami?
What is the Hacker Fare option on flights from Cape Town to Osaka Itami?
What is KAYAK's "flexible dates" feature and why should I care when looking for a flight from Cape Town to Osaka Itami?
Top airlines flying Cape Town Intl to Osaka Itami
Scores according to KAYAK customer reviews
7,9
Lufthansa
Overall score based on 27 793 reviews
Cons: "Beef main course overcooked and dry."
Cons: "Istanbul to frankfurt flight had no entertainment, no charging usb ports n a small ham sandwitch for breakfast - this was a 4 hour early mirning international flight!!!"
Cons: "Entertainment and food"
Pros: "Planes were comfortable and well maintained."
Pros: "No delays."
Cons: "The entertainment monitors were SUPER laggy with response. Image quality wasn't great."
Pros: "Entertainmet"
Cons: "Food and rounds for drinks"
Cons: "Flight from Berlin to Frankfurt was late, but I made my connecting flight to Amsterdam."
Pros: "Seats were good, flight attendants cordial."
Cons: "It took forever for the passengers to get on the plane and seated for us to take off so we left late. We arrived late in Munich so I had to practically run to my next flight. Thankfully was in the same terminal."
Cons: "We missed our connection due to the delay and they could only rebook us on flights that made us miss an entire day or our vacation."
Pros: "The crew was nice."
Cons: "The infotainment system could have been better. My system was not working for the first 3 hours and the sound went out after 2 hours of use. Also my blanket was not clean."
Pros: "You can charge your phone on the flight. Got snacks on each flights"
Cons: "the food options"
Pros: "The crew was excellent and the seats are v comfortable"
Cons: "I cant really think of anything"
Pros: "The crew was great. Food was good for the most part."
Cons: "Touch screens were not working well. Required multiple hard taps which disturbed the passenger in front."
Pros: "What more can you expect for economy travel?"
Cons: "Cramped seats"
Pros: "Direct from SJC, not crowded"
Cons: "Guy in front of me was reclined whole time and very little room like that."
Pros: "great over all experiance. Don't let the other negative reviews put you off"
Pros: "Nothing"
Cons: "The flight left 19 minutes early, stranding 7 people who were connecting from New Orleans. We ran across the entire airport and made it to the gate before departure time. The employee at Lufthansa Senator lounge was nice enough to tell us that the crew must have felt like leaving early. She was very nonchalant about the whole issue. She also refused to assist us, and told us we needed to exit the airport and reenter through the ticketing counter. I upheld my end of the deal by reaching the gate in time. This situation needs to be rectified."
Pros: "Crew and flight and service were fine"
Cons: "Economy seats are cramped"
Pros: "Nothing"
Cons: "Not making my connection due to plane delay, poor boarding processes, long Lufthansa lines, and slow customer service. Couldn't make my connecting flight or the flight after that because they were over booked. Then was sent to Brussels with a 4 hour layover, and missed my Saturday interview at 4 pm. Then the Brussels Airlines flight was delayed. Never again."
Cons: "We were advised upon check in online that we could check in but if we needed additional carry on items (1 was free) we had to pay a secondary fee. When attempting to do that online we were unable to, even though it showed the price to do so online was cheaper than the price at the gate. They made us fully check these bags once we got there and we had to pay $40 instead of the 15 or so it stated online. We had to be shuttled to the aircraft and had to wait because the first bus was closed by the operator. We had to wait until the second round for the bus to come back. During the flight the pilot did not mention any turbulence however during the entirety of the flight, including leading up to the landing of the plane, we experienced extreme rocking of the plane back and forth ( I'm aware that this does occur during landings while loosing elevation but this was an extreme case of that) and caused my colleague to get motion sickness which neither of us ever get on flights. I am very dissatisfied with this flight and operations of the airline company."
Pros: "Everything"
Cons: "It was great experience with them"
Pros: "Boarding process and email updates."
Cons: "Business class on European domestic flights is nothing more than coach seats with no one seated in the middle. Better than coach, but not by much and not worth the extra money."
Pros: "Staff was very polite, helpful, and attentive. Our flight left late due to a delay with the plane, and the flight attendants were very proactive about informing passengers about making connections and doing all they could to help."
Cons: "All good."
Pros: "Flying premier economy. Flight was on time...no crying babies. Very friendly crew"
Cons: "Long lines to get through boarding"
Pros: "Fast boarding."
Cons: "The usual flight discomfort, but the seat in front of me was broke. The person in it struggled to stay out of my lap, which I appreciated. The connecting flight had a non-functional screen and the reading light broke and flew across the cabin."
Cons: "It was completely out of the airline's control but we were very delayed due to bed weather in Frankfurt"
Pros: "Nice big plane, good/frequent beverage service."
Cons: "Didn't arrive on time. Breakfast was weird and flavorless."
Pros: "Crew was nice."
Cons: "Late departure. No entertament .poor duty free on board , no tabaco / alcohol as promised on the web / on board magazine Slow service."
Pros: "All good - flight, service all great!!!"
Cons: "A lot to improve on the seat size for comfort."
Pros: "One of the crew members, a male, was very nice."
Cons: "•We boarded and consequently landed late, which caused my cousin to miss his connecting flight, coupled with the long customs process upon landing. There was no accommodation given to my cousin so I have to take him back home with me and then drive 2 hours tomorrow morning to bring him back for his new flight. •The charger ports for our seats were not working, which means we were 8 hours + without a phone. •One female flight attendant had a bad attitude and dropped pretzels in my lap after I turned to quickly ask my cousin a question regarding what drink he wanted. •The plane landing was one of the most reckless I'd ever witnessed."
Cons: "waited before takeoff, didn't go to right terminal, waited on tarmac for 40 minutes for steps, bags still no on carousel , lost bags....almost missed connection. overall poor experience."
Pros: "A340 was not the A380 but very nice. Had isle seat and seat next to me was open making for a very comfortable flight."
Cons: "The boarding process is a bit messy. While the lines went fairly fast, the "line" to board by section was all over the place. Would be better to simplify the process and board by groups or at least have a better way to line up"
Pros: "I just love flaying with Lufthansa Airline, absolutely love it! Everything starting from customer service to blankets is great quality."
Cons: "The food could be better tobut I was pleased with the service"
Pros: "Seats were comfortable and crew super friendly"
Cons: "Choice of food and entertainment could have been better"
Pros: "Efficient and well-run operation. Professional and attentive flight crew."
Cons: "Extremely loud engine noise in Economy Cabin. Concern on impact on hearing during transatlatic flight. Crampt seating."
Pros: "Crew was very friendly and eager to help, as I was traveling alone with a baby"
Pros: "Staff was friendly"
Cons: "can't think of anything"
Pros: "Great service!"
Cons: "The company denied any responsibility for the passenger and for the full fill the trip"
Pros: "The movies, the nice flight attendants, the constant service."
Pros: "Short trip, but nice crew."
Cons: "I never took this flight."
Pros: "Boarding was quick, staff was kind and helpful."
Cons: "N/A"
Pros: "The cabin crew were well trained, hospitable and efficient. The young lady assigned to our section of the aircraft worked endlessly to address the needs of passengers, and remained extremely pleasant and often humorous, throughout the passage."
Cons: "The boarding process unnecessarily was long and hot. We stood in the jet ramp line for nearly 15 minutes before entering the aircraft. There was no ventilation and the air was tepid. The seats were smaller in Economy Class than on competitor carriers. The lavs were unattended to during the 7 hour flight and, consequently, were filthy during the last hour or two. The food was mediocre, at best, but at least the cocktails were not an upcharge. Enough alcohol can make just about any food palatable."
Pros: "First Time on Lufthansa and came away extremely impressed. I'm a million miler on Delta so I know a little about flying a mainline carrier. Lufthansa blew me away with the level of service and friendliness. It was a short (90 minute) flight but they still offered a free breakfast sandwich along with the beverages. Flight Attendants can switch from German to English without hesitation and were very professional. Look forward to flying with them again."
Cons: "Can't think of anything"
Pros: "direct flight"
Cons: "only one type of food offered. presented in a rude way."
Pros: "Free entertainment to compensate for the delays."
Cons: "Mechanical issues grounded the plane, had to wait 3 hours for new plane."
Pros: "The premium economy- it was the most uncomfortable - tight seats. The back of the seats are not reclining It's not worth the money you pay for premium services"
Cons: "The premium economy should be eliminated and should be labeled for what it is: couch class with some perks"
Cons: "J'ai eu à payer un bagage supplémentaire sur internet à 160 euros. Mon compte a été débité et à l'aéroport de Dakar les agents au comptoir me disent qu'ils ne retrouvaient pas le payement du troisième bagage. J'ai été obligé de repayer le bagage comptant à 190€"
Pros: "It was a decent train ride."
Cons: "Stating it's a train from the beginning and not having to go from one train station to another."
Cons: "Comfort plus seats need some work. Very thin padding on a hard seat. The leg rest needs to come up higher so you don't slide down while semi reclined. Nice compromise between business and coach though."
Pros: "Entertainment programs"
Cons: "New variety of food"
Pros: "Quick boarding, comfortable seating. Great food!"
Cons: "The seats and IFE were a bit outdated. Comfortable, but outdated. My family had issues with their screens and one had to use the remote as the touch screen was no longer functional."
Pros: "Crew was attentive. Timings were spot on."
Cons: "Virtually no information at boarding which made everybody just make a huge line. Boarding they a bus, it was raining and we got wet."
Cons: "the tray was broken and the water felt all over. the flight was 1 hr delayed. All of us stood the 1 hr waiting to know what's next. We could sit."
Pros: "Crew great."
Pros: "Food and drinks very good"
Cons: "In economy class the movies unable to listen to with ear buds. Bring my own next time."
Pros: "Crew and food were great."
Cons: "Old plane. Seats were super tiny and uncomfortable. Couldn't sit in the same spot for longer than 15 min without getting sore."
Pros: "Nice staff. Flight on time."
Cons: "Bus to plane. Long walk to terminal upon arrival. Long Liong customs line?!!??"
Pros: "Air france crew at Mumbai Airport very rude and not supportive during checkin"
Pros: "Food was ok."
Cons: "Very little room in economy class. For a 6'1" person, it's impossible to get comfortable."
Pros: "The crew were polite and friendly"
Cons: "Everything was incredibly poor. Flight was delayed, entertainment was outdated and the airport staff were rude."
Pros: "It was only 2 hours"
Cons: "Small plane, no movies"
Cons: "they lost our luggage very inconvenient"
Pros: "I was given a great seat and the food was OK- not the Air France food of 5 years ago but still good"
Cons: "I didn't really use the in flight entertainment - the usual movies, tv etc"
Cons: "10 minutes late to the airport....... No help, no refund, no nothing. Never using you again"
Pros: "No extra charge for simple refreshments."
Pros: "Quick and efficient not lying more to say or critique."
Cons: "Coffee and a bread roll as a snack??"
Pros: "Liked the transfer"
Pros: "Friendly crew, good meal and entertainment"
Cons: "Boarding agent forced me to check in my carry-on even though the carry-on fit in the cage and fullfilled all the requirements. I specifically called Air France prior to the flight to make sure I won't have any issues as my 1st flight was operated by Delta and I wanted to confirm the luggage requirements were the same. My carry-on weighted only 5 kilos. I was extremely upset the way I was treated w/ the boarding agent behind the counter in Prague. On the top of that, her and the supervisor were very rude to my mom as they told her she had an extra carry-on which wasn't the case. She traveled w/ a small briefcase where her mask for sleep apnea was. This is not considered an additional carry-on. The boarding agent (Czech lady and her supervisor) were not only rude but obviously lacked knowledge as well. My carry-on suitcase would easily fit in the overhead bin plus there was plenty of space inside the plane as it the flight wasn't completely full."
Pros: "Modern aircraft with power, big screens etc"
Cons: "Teenage crew, poor service (not even water brought on request, all "self service" at back of flight, and not being allowed a second drink with dinner), poor language skills (crew not very helpful when 2 hour delay meant I could miss connecting flight, suggesting I "walk fast")."
Cons: "Entertainment screen did not work; in neighboring seat it could not be switched off when we wanted to sleep; sourly employees everywhere (re-booking counter an exception); food close not being edible and cold; I forgot my watch on when going through security in the Air France terminal; when I started to say "sorry" I was yelled at by the screener who said that she will do the talking; she sent me back through the scanner twice without my watch, then once more with the carry-on and made sure that I went to the end of a very long line to wait for another screening rather than having me just go through the scanner without my watch. Needless to say, there was nothing else suspicious about me once the watch was removed. Eager to exercise her power, the security person did not seem to consider that she slowed down a long line of people waiting to be screened. I should add that I am 73 yrs old grey haired female who has traveled a lot both for pleasure and business during my entire life, often to some difficult places and that I do not argue with or provoke those in power in a situation like this. The yelling and the sending me repeatedly through the scanner, which did not beep once the watch was removed, was beyond anything I had experienced anywhere else. The sending me to the very end of the line seemed outright spiteful. (I did miss the plane connection.)"
Cons: "I will not use o recommend to anyone to buy a ticket with the agency, at the airport in China we were treated like criminals because as they said we were not register in the system as passengers it was really a nightmare"
Cons: "The food was the worst airline food I have ever been served. I could not eat it. This is very disappointing for an airline like AirFrance which usually serves very good meals."
Pros: "Great hospitality. Champagne as apero, cognac as digestif. Excellent on board entertainment. Comfy pillow and blanket."
Cons: "Took very long from landing/ arrival until baggage could be collected. Priority luggage came out last!"
Pros: "Nothing."
Cons: "They loosed our reserved seats, our luggage, food was awful, ground staff was disrespectful."
Cons: "Movies were dated. Crew spoke limited and broken English, not good enough for international flights."
Cons: "My baggage was broken"
Pros: "The crew is great, with their typical slightly humourous and casual French attitude. Great collection of international quality movies."
Cons: "Average and disappointing sitting space. The vegan lacto-ovo meal is disappointing."
Pros: "You can't go wrong with delta when it comes to customer satisfation. It's the primary reason I'm okay with paying extra money for delta flights"
Pros: "That it was a night flight"
Cons: "No airconditioning, no food choice, no space."
Pros: "leg space in plane"
Cons: "Freezing"
Pros: "Crew was great"
Cons: "Not enough food"
Pros: "Cheap aircraft, not even headsets"
Cons: "Dirty aircraft, I expect more when I pay a lot"
Pros: "The boarding process was smooth and the crew friendly. Flight ran on time."
Cons: "Unloading the baggage took over 90 minutes, and there was no explanation for the delay and nobody from Air France in sight on the ground in Boston."
Pros: "Efficient check-in."
Cons: "It was raining in Prague so I can understand that luggage is going to get wet. But when we opened our luggage at least half of our clothes were wet. It would seem that the luggage sat out for quite a while prior to departure for that much soaking of clothes. Fortunately we are staying in Paris for a few days and can get our clothes dried out."
Cons: "The food is awful The entertainment, i.e. movie selection, is not very good and doesn't change very much. The seats are not comfortable and my chair did not recline."
Pros: "The service provided by Jet and Air France was excellent. The wheelchair service did help very much"
Cons: "Very warm and stiffy air on board. Need change light. Very sad neon. Probably Boing style."
Pros: "nice crew; excellent check in experience!"
Cons: "boarding in Riyadh is always a nightmare. and as many have noted, the seats are too close for the average size of many boarding in Riyadh"
Pros: "The crew was friendly."
Cons: "One of the engine was smoking just as we took off. This should have been checked beforehand that it was working correctly. The pilot missed the first landing, was going too fast and had to turn around. We circled the London eye 3 times. When we were actually landing it was extremely bumpy and on the way down the plane was tilting back and forth a lot. They were going too fast when we landed as well, I have never been in a plane that has landed so poorly, and I have travelled a lot and used many different airlines. It was worse than any budget airline I've been on. As we were driving back to the terminal, the pilot stopped short for some reason. Things were not explained clearly. I will not be flying with airfrance again and will be sure to spread the word of this awful experience."
Pros: "Not much"
Cons: "Ground service at check-in was very poor: Misinformation and failure to provide a level of service that other SkyMiles partners provide for Gold level traveler."
Pros: "Ticket price"
Cons: "Long check in wait in Dubai. Food was shocking - inedible!"
Pros: "Crew was very nice and helpful"
Cons: "Old airplane with very low amenities. Plane still had ashtrays"
Pros: "The attentiveness of the crew and the online check in."
Cons: "Missed the connecting flight and the luggage was on transferred on our next conncection :("
Read more about Lufthansa
Safety measures for airlines flying from Cape Town to Osaka Itami
Airlines flying from Cape Town to Osaka Itami have enacted additional safety measures and adjusted policies to better accommodate travellers. Policies vary by airline.
Heightened sanitation
Daily cleaning, installation of cabin HEPA filters on flights from Cape Town to Osaka Itami
Mandatory masks
Masks required on board, masks provided on flights from Cape Town to Osaka Itami
Social distancing seating
Middle seats unavailable to book on flights from Cape Town to Osaka Itami
Pre-flight testing
Testing for antibodies, testing for symptoms for flights from Cape Town to Osaka Itami
Book cheap flights from Cape Town to Osaka Itami
Cape Town - Osaka Itami Flights