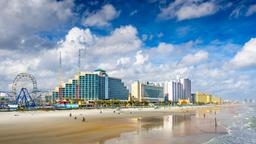 CPT - DAB
Find cheap flights from Cape Town to Daytona Beach
Search hundreds of travel sites at once for deals on flights to Daytona Beach
Stay informed and receive email updates for when travel restrictions ease for Daytona Beach.
FAQs for booking flights from Cape Town to Daytona Beach
Can I fly to Daytona Beach? Are there any travel restrictions when entering Daytona Beach?
Can I fly to Daytona Beach without having to quarantine on arrival?
Do I need to take a coronavirus (Covid-19) test before flying to Daytona Beach?
What documents do I need to fly to Daytona Beach?
What other coronavirus (Covid-19) restrictions are there in Daytona Beach?
How long does a flight from Cape Town to Daytona Beach take?
Which airports will I be using when flying from Cape Town to Daytona Beach?
How does KAYAK find such low prices on flights from Cape Town to Daytona Beach?
How does KAYAK's flight Price Forecast tool help me choose the right time to buy my flight ticket from Cape Town to Daytona Beach?
What is the Hacker Fare option on flights from Cape Town to Daytona Beach?
What is KAYAK's "flexible dates" feature and why should I care when looking for a flight from Cape Town to Daytona Beach?
Top airlines flying Cape Town Intl to Daytona Beach
Scores according to KAYAK customer reviews
8,3
Qatar Airways
Overall score based on 11 088 reviews
Pros: "Everything about the trip was great excellent customer experience"
Cons: "If I got to sit in first class coz the plane was so empty haha"
Cons: "No gate for departure or arrival. No business class longe in Cape Town."
Pros: "Best crew we've ever had."
Cons: "Qatar website needs work"
Pros: "Very nice and accommodating crew!"
Pros: "Attentive and friendly crew, leg room"
Cons: "Need to serve better food in economy. There is a little more legroom in economy compared to other airlines, however, the seats are tight. They are not wide enough. Need better movie selection."
Pros: "Absolutely nothing."
Cons: "Everything. Firstly the flight was delayed, these things happen but nevertheless I end up missing my connecting Qatar flight to Belgrade, put into a horrible little hotel for 24hrs without my bag, no clothes or toiletries. At one point during the flight once everyone had their chairs reclined one hostess told me to not put mine so far back?!?! Then when asked well then person in front of me has to move theirs forward and her response no they don't. Absolutely shocking. To think I wanted to upgrade to business class. I'm traveling the globe over the next year and thought let me try Qatar but never again with this type of service and how they treat their customers."
Pros: "Crew was great, seating was cramped."
Cons: "Seating."
Pros: "Tripulación muy atenta"
Cons: "Check-in service at Ahmedabad was very bad. The staff there seems to be very disorganized. Took an hour to check-in may be 10-12 passengers ahead of me."
Pros: "Crew was nice. Seat was broken for recliner."
Cons: "Having parents with infants board with or after those needing assistance. It was an inconvenience having a fussy infant wait in a long line. We had bassinet seats so boarding first would not have slowed the seating process."
Pros: "Crew was awesome"
Cons: "Food quality need to improved"
Cons: "Have air fresheners in toilets. Make it smell better."
Pros: "Clean, modern planes, on time, good service amd team."
Cons: "If they bump me up to First or Business class.... :p"
Pros: "Friendly crew and easy boarding"
Cons: "None"
Pros: "The plane was new and spotless, the crew did everything possible to make the flight great. Food service, and Wine and Cocktails were always served with a smiling face and it made you think of flying many years ago. Service cleanliness of the restrooms and staff were top notch"
Cons: "Nothing really."
Pros: "The customer service and food were excellent."
Cons: "Next time I will fly business class for more space and comfort."
Pros: "Crew and food."
Pros: "The food and crew were great"
Cons: "Older plane the tv panels were faded"
Pros: "Attentive crew. Good selection of meals excellent wines"
Pros: "Great crew and food served was nice for airline food."
Cons: "You need to bring a snack with you. This is a 16 hour flight and there is a long time between their food services. 2 meals and one snach"
Pros: "I got an aisle seat. Bathrooms were not bad in terms of cleanliness."
Cons: "Service was ok. I was forgotten to be served items that other passengers were given. Seating ended up being kind of cramped as passenger in front was relaxing a bit too much. Entertainment was ok."
Pros: "Ground crew was especially helpful to my mother who could not speak English or Arabic, and had never flown before. She also had difficulty walking, so everyone assisted her in the airport and during her long connection in Doha."
Pros: "The service and food."
Pros: "I loved the service. All of the attendants were really nice and helpful."
Cons: "My tv on both 12 hr and 8 hr flights didn't work well and the food wasn't the best. Also they ran out of food options when they got to me twice."
Pros: "Dreamliner"
Cons: "carry-on did not fit on center overhead compartment unless I put it side ways (Same carry-on suitcase fit nicely on Emirates airplanes, so the carry-on overhead compartments have been made smaller on Qatar on purpose or by engineering error, and I will not fly Qatar airlines again. Less food options. I went to the Gally and they only had kitkat bars for food. Emirates offer fruit, sandwiches, and many choices at ALL TIMES of the flight for economy class passengers. Entertainment computer (Android based system) ran slow and out of memory at times. Seats were not comfortable for 12hrs flight. My butt was starting to hurt. I did not have this issues on Emirates flights."
Cons: "Chairs a little too small for long flights...."
Pros: "Excellent service. Flight on time."
Cons: "Service is great and the plane flew so smooth"
Pros: "Service was on point. The crew was very helpful."
Pros: "childrens meals and play packages. service was good, and bathrooms were kept clean. The meals were tastey and fresh."
Pros: "Crew were friendly"
Cons: "The flight was cancelled had to wait over a day for another flight, communication was poor,"
Pros: "Food"
Cons: "Observed that one flight attendant from India is giving more attention to a person who is from Navy. He avoided asking what we want for drinks etc. He always ignored us and pushed his cart before we answer. We are very unhappy with his behavior, however, adjusted ourselves."
Pros: "Staff very friendly. Loved the adjustable headrest as I am shorter and this is the first time flying that my neck was so comfortable I didn't need my travel pillow! Food was excellent!"
Cons: "Nothing!"
Pros: "Food"
Cons: "Seat"
Pros: "The crew on my side of the cabin was very good."
Cons: "Not having available air for the center seats made our flight a truly awful experience. The older style seats are actually more comfortable for taller and larger people. My wife was virtually ignored by the male crew on her side of the aircraft."
Pros: "If we had arrived on time everything would have been perfect. However I did not arrive in Johannesburg because a flight delay (even though our flight was set to let ontime) caused probably 40 people to miss their connections. To their credit, Qatar Airways did find accommodations for us and gave us food vouchers. Otherwise it'd be a zero rating."
Cons: "Boarding took far too long and caused us to be an hour late. Because of this, I am missing out on events scheduled in South Africa. This is very upsetting and it appears that Qatar Airways is too slow with boarding, there was no explanation given for why it took so incredibly long to board."
Pros: "The food was amazing. Thank you!"
Pros: "The food was the best airline food out there. Also, the regular economy seats recline more than other airlines."
Cons: "The boarding process was chaotic. There was. O system to the boarding and it made for a lot of pushing to get in line."
Cons: "It was all good"
Cons: "Norhing really"
Cons: "Plane configuration; seats were a bit cramped, knee space."
Cons: "I checked in a couple of hours after checkin open but unfortunately I could not get my preferred window seat, got a middle instead. But still the leg room would have been ok but the middle seat (second row behind the bilkhead row) had the front passenger's entertainment system arranged across the footwell, not sideways, so it completely blocked the footwell and prevented any stretching of the legs. I am a tall passenger and this caused much discomfort on the flight, I had to keep getting up to walk around. I also found the seat bottom quite uncomfortable (not enough padding I think), butnghis could have been made worse by the footwell issue. Regards Neil"
Cons: "A little crowded but still great service."
Pros: "I have never had such an easy long distance flight. Hope to fly with Qatar again!"
Pros: "The best service"
Cons: "Nothing bad to say"
Pros: "Clean plane, esp. the bathrooms. Sufficient bathroom amenities. Attendants always checking bathrooms for cleanliness. Very friendly attendants yet not overpowering. This flight, the films are a bit better but still not the most recently films are on offer. Nobu's seafood soup noodles was the best!"
Cons: "Not interested in the menu's main courses. Fruits were not sweet at all. Must improve on your cappuccino. Nobu's seafood soup noodle did not come with chopsticks."
Cons: "is it true that Qatar treats the passengers coming to US differently than the passengers going out of US. I noticed that the crew was giving menu cards for dinner when coming back to US. Food quality is very ad, quantity is small also. same story with snacks. they don't offer enough food overall. The crew should be trained better for int'l passengers."
Pros: "Crew was friendly. Flight left on time!!!!!! :)"
Cons: "Food was served too late. Unable to get a bottle of water as I was dehydrated."
Cons: "Very good"
Pros: "Decent entertainment options and snack offerings."
Cons: "Last 6-8 rows were vacant and for some reason Someone was still seated directly next to me. Why on earth the flight attendants (otherwise great) didn't make an announcement that there was no need to share a row and encourage people to spread out is beyond me. I mean this is the only flight I can remember in a decade that wasn't nearly or fully booked, you'd think they'd emphasize that. Instead I got to be trapped like it was a full flight next to a guy with no concept of personal space."
Pros: "The crew was very courteous and friendly"
Cons: "Delays Why is it always a surprise for the crew that the plane needs to be de iced in the winter"
Pros: "Free snacks!!!"
Pros: "The crew was amazing and polite."
Cons: "Nothing needed to be done"
Pros: "The crew was amazing. I've got the exit seat: very comfortable."
Cons: "Entertainment choice could improve, very few choices."
Pros: "Seat was comfortable and I got extra Biscoff Cookies"
Cons: "Great trip"
Pros: "Matt was great. I had an exit row so it was comfortable."
Cons: "Deplaning takes FOREVER"
Pros: "The crew was fantastic."
Cons: "Seats, leg space, noise. The seats in coach were too close together and the entertainment system was slow and seemed outdated."
Pros: "Clean leather seats. Good screen for movies."
Cons: "Less announcements/movie interruptions"
Pros: "I like being able to charge my devices"
Cons: "Better movies"
Cons: "Missed my connecting flight due to previous flight being delayed."
Cons: "Crew at the gate made us return to get our immigration forms without our boarding passes. This forced us to miss the connecting flight to detroit and delay our arrival by 7 hours. Awful experience."
Pros: "Comfortable"
Cons: "The crew"
Cons: "No video screen"
Cons: "Not enough seating at the airport gate in KC. No coffee on the flight."
Pros: "Courteous flight attendants"
Cons: "Nothing"
Cons: "The aircraft is too old, MD-88. I don't know how Delta is flying that type of aircraft. Is very risky"
Cons: "I understand Mother Nature causes issues tkayakhat no one can control but when I'm receiving updates from the 3rd party travel app that isn't the airline before receiving any information directly from the airline via the gate agent or Deltas travel app and the gate agent not being able to verify the 3rd party travel app something is wrong."
Pros: "I loved flying delta comfort. I'm going to do it more often."
Pros: "Meal was provided at no additional charge. Pilots were informative on weather conditions. Good crew service."
Cons: "Cramped seating for premium Econ"
Cons: "Crew wasn't very friendly"
Pros: "I like that I had a window seat with enough space to stretch my legs and look at the view."
Cons: "I was shy about 45 min of boarding my flight. I didn't want to do self check out because I wanted to make sure my Itinerary was right so I went to a clerk. She did my boarding pass by verifying who I was and by my Id and printed out. I then go to security they asked for my Id and boarding pass. I gave it to them and she was like Ingrad is not your name doesn't match your ID. I said no it doesn't your going to have to go back up and get my boarding pass redone again. I was Furious and frustrated because I didn't want to miss my flight over a mix up from one of your Clerks and at the time she never asked me if I wanted a window seat or not . This made for a bad experience going to Atlanta but I was grateful that I didn't miss my flight."
Pros: "Everyone very friendly and courteous."
Cons: "Snacks are very small quantity and often stale"
Pros: "Nothing"
Cons: "The customer service and the strict nonsense rules"
Cons: "Aircraft seemed shabby despite refresh of Comfort Plus, food was really mediocre. Steer clear of the Asian Veg option."
Pros: "Good clean aircraft. Fairly comfortable seats. Even had a power outlet in my row. Not too bad for an aircraft from the late 70s."
Cons: "for some reason, i had to pay to gate check a bag. It didnt seem like anyone else did while boarding my flight."
Pros: "Delta in general but , they let me stranded, i had to find a eay to fly home, they did Not help finding a next flight.. i missed my flight because of WX"
Cons: "Lack of interest towards the passenger and client, i had to do it my self"
Cons: "Ice in the morning in Atlanta and Delta cancels my 6pm flight to Atlanta leaving me no flight home that night."
Cons: "Customs officials are incredibly un-helpful and slow. I almost missed the next flight because of how slow was that part. I hope Delta can speak up for the passengers, because we cannot express that to these rude people."
Pros: "Quiet, friendly, fast and efficient. What you'd want for a flight at 6am"
Pros: "Cabin crew was good."
Cons: "This flight had at least 5 gate changes in three different terminals. We had serious jet lag and did not need to go roaming all over the Atlanta airport."
Pros: "Short and nice flight"
Pros: "Staff were friendly and worked hard."
Cons: "Seats were very basic and not as good as the low cost carrier I normally fly out of the UK. Very old and noisy aircraft. Seemed little control over how much hand luggage passengers were bringing onto the aircraft."
Cons: "In flight staff were rude and had poor attitudes. Very unexpected!"
Pros: "Quick flight"
Cons: "Paid $30 for wifi and it never worked. Would like a refund"
Pros: "I was on a 3 seat side at the window. I was lucky to get seatmates who were friendly and helpful. The crew was great, and very friendly."
Cons: "I love that the flight was cold, but if you get easily, you might want a light jacket or blanket!"
Pros: "The plane was not very full and I was selected to move be from row 30 to row 16. All seats in that row were empty. That was very nice."
Pros: "Crew smiling at the end of the flight."
Cons: "Cheap coffee (although it says Starbucks, I have tried better)."
Pros: "Everything"
Pros: "Wonderful flight attendants"
Cons: "nothing"
Pros: "Short comfortable flight.. good entertainment to choose from."
Cons: "Everything was good with this flight.."
Pros: "plane had individual movies for free with each seat!"
Pros: "Nice smooth, quick flight"
Pros: "Great service, a lot of food, good entertainment"
Cons: "I don't understand why people take babies on red eyes. It makes the flight so unpleasant. I wish airlines would discourage this."
Pros: "Overall flight was nice, but almost miss my flight!"
Cons: "Almost miss my flight due to Delta being short staffed at the ticket counter in the early am. Had a small issue to validate my passport in the automated cheek-in botths and waited over an hour to get them to personally validate. terrible experience. There were several of us with the same problem. I chose Delta given their prestige for great customer service, but they definitely need to do something about some of the folks at Logan's terminal."
Pros: "Always have great experience with Delta flight attendants and staff. The entertainment on mobile phone was a really nice add-on, I had never seen before."
Cons: "Flight was delayed in taking off, waiting for connecting passengers. Plane was old, which is most Delta planes, but this one showed it. The tray table looked like it was from the 70s or 80s. Flying into Midway instead of O'hare was anticlimactic."
Pros: "Everything went well"
Cons: "I was late from first flight"
Cons: "The flight overall was not bad, but fifteen of the passengers including me had a baggage delay due to military baggage filling the space. I understand that there would be more bags for them, but none of us were notified that this would occur or even updated us that we would not have our luggage when arriving to Alexandria. I understand that these types of things do happen, but an effort inform would of helped."
Read more about Qatar Airways
Safety measures for airlines flying from Cape Town to Daytona Beach
Airlines flying from Cape Town to Daytona Beach have enacted additional safety measures and adjusted policies to better accommodate travellers. Policies vary by airline.
Heightened sanitation
Daily cleaning, installation of cabin HEPA filters on flights from Cape Town to Daytona Beach
Mandatory masks
Masks required on board, masks provided on flights from Cape Town to Daytona Beach
Social distancing seating
Middle seats unavailable to book on flights from Cape Town to Daytona Beach
Pre-flight testing
Testing for antibodies, testing for symptoms for flights from Cape Town to Daytona Beach
Book cheap flights from Cape Town to Daytona Beach
Cape Town - Daytona Beach Flights