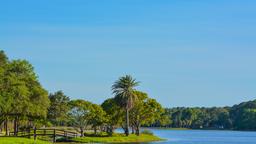 Largo car hire
Search hundreds of travel sites at once for car hire deals in Largo
Largo car hire information
| | |
| --- | --- |
| Pick-up location | Largo |
| Hire locations | 4 |
Largo car hire reviews and directory
Enterprise
8,6 Excellent (13 reviews)
╳
Enterprise reviews
Car hire locations
Enterprise
Locations in Largo
3030 East Bay Drive
+1 727 530 4586
| | |
| --- | --- |
| Monday | 08:00 - 17:00 |
| Tuesday | 08:00 - 17:00 |
| Wednesday | 08:00 - 17:00 |
| Thursday | 08:00 - 17:00 |
| Friday | 08:00 - 17:00 |
| Saturday | 09:00 - 12:00 |
| Sunday | 09:00 - 12:00 |
8,4 Excellent
Oct 14 2015
Pros:
Great customer service both on pick up and drop off
10,0 Excellent
Oct 18 2015
Pros:
Guys at enterprise were super friendly n was in n out quickly ! Great price n no problems at all...
10,0 Excellent
Jan 10 2016
excellent
Pros:
the employees was very nice and considerate.it was an all over good experience
8,4 Excellent
Jan 30 2016
Pros:
The vehicle was very nice, smooth ride and clean.
Cons:
Went to to drop vehicle off at 4pm on Saturday but business was closed. Why would you till someone to drop off vehicle at 4pm if you're closed at 4pm.
10,0 Excellent
Feb 9 2016
Pros:
Quick, fast and great upgrade and excellent price
10,0 Excellent
Feb 26 2016
Pros:
Everything was great
Cons:
Maybe hire some more help for the weekend
10,0 Excellent
Apr 10 2017
Pros:
Free upgrade to a truck. Fast friendly service.
Cons:
Would not provide ride to/from airport.
10,0 Excellent
Sep 28 2017
Best service I've ever had
Pros:
The service couldn't be better. They did everything they could to make me happy--a completely new experience when renting a car. It was also quick in and out. Alexa and the manager (didn't get his name) were great--thank you!
10,0 Excellent
Nov 20 2018
Great service
Pros:
Loved How the staff handled themselves under pressure never lost their cool just remained calm and got everyone situated
╳
Budget reviews
Car hire locations
Budget
Locations in Largo
6805 Ulmerton Road
+1 727 535 1062
| | |
| --- | --- |
| Monday | 09:00 - 14:00 |
| Tuesday | 09:00 - 14:00 |
| Wednesday | 09:00 - 14:00 |
| Thursday | 09:00 - 14:00 |
| Friday | 09:00 - 14:00 |
| Saturday | 09:00 - 14:00 |
| Sunday | |
10,0 Excellent
Feb 11 2016
Great Value
Pros:
Great customer service, clean cars
Cons:
The service from Bruce! Perfect
Cons:
Pick up was sketchy. Dirt lot, given little direction. I had to find the car myself.
10,0 Excellent
Feb 14 2016
Pros:
I liked the condition of the car, courtesy of employees, efficiency
Cons:
Everything was good
Liked the Mazda 3
Cons:
Exterior of car was dirty. Trunk was dirty. Attendant in Largo said I would be charged $30 if I was a minute over the requested drop off time. Crazy since that never happened in 25 years of renting cars for business. So I drove way over the speed limit to get there on time and was 10 mins late and no charge. Fact is the drive could barely be done in the alloyed time since it was a one way from largo to west palm.
Pros:
The return was hassle free, no problems. ....
Once I got There, They charged me more than double the price!
Cons:
The guy at Budget gave me a song and dance about how he ran out of cars and I had to pay more than double the price!!!
Confused by "customer" service?
Pros:
The value deal for the vehicle was great. My fiancé and I enjoyed the infinity Q50 very much. The drop off location at Tampa airport was easy to find, easy to navigate to as well as through. The drop off was very smooth and user friendly.
Cons:
They didn't have the vehicle at the pick up location. We made the reservation approximately 35 days ahead of the travel date. Because the price was incredibly lower at an off site location (not at Tampa airport) we decided to pick up from a location close to our destination. We arrived and the vehicle was NOT there. The rep from budget stated that they had already called and that the vehicle might arrive later in the afternoon. It was already 2:00 pm and the office closed at 6;00. The rep put us in an SUV (4 runner) and stated that they would call when the vehicle arrived. We didn't hear anything from the company. The next day several phone calls were placed to the largo budget location and the owner of that location stated that he had called several times and several people (district GM, coorporatre people, even the airport office) to get the vehicle to his location for us. He was unsuccessful in his attempts. I called customer service and the only answer that they gave me was that they would call the largo location and put pressure on the owner. I explained that this had been going on all day and that the owner didn't have the car and that the owner of that location has made several attempts to get a vehicle for us; all of the attempts were unsuccessful and to be honest, the customer services reps (Edward and Robert were useless). At 7:30 that night My fiancé and I drop the 35 miles to Tampa airport to get the vehicle. We had to wait due to traffic going into Tampa. Once there we were told that they might not have the luxury vehicle on site. Amazingly, they pulled the vehicle from the Avis side and we left with the vehicle that we had requested. Bottom line- nice car, easy convenient drop off, customer service was POOR, having to travel 38 miles to get the vehicle was an unexpected hassle and quite frankly obsurd. We would have rented it from the airport but it would have cost an additional $300.00 -$500.00 dollars. Sorry budget, you won't get us as a returning customer.
10,0 Excellent
Dec 27 2017
8,4 Excellent
Mar 18 2018
Rental
Pros:
Adam was super professional and friendly.
Cons:
Car smelled like smoke.
10,0 Excellent
Mar 29 2020
Pros:
It was easy and less expensive
Avis

╳
Avis reviews
Car hire locations
6805 Ulmerton Road
+1 727 531 2042
| | |
| --- | --- |
| Monday | 09:00 - 14:00 |
| Tuesday | 09:00 - 14:00 |
| Wednesday | 09:00 - 14:00 |
| Thursday | 09:00 - 14:00 |
| Friday | 09:00 - 14:00 |
| Saturday | |
| Sunday | 09:00 - 14:00 |
Saved HUNDREDS by renting off-site from the airpor
Pros:
Did a little research before making our car rental reservations for a 10 day trip in Florida and saved HUNDREDS of dollars. The Avis (and most other car rental companies) rate for the 10 days with a pick up and drop off at the airport was just over $700 for the full size sedan we needed. However, we reserved a full size sedan at the Avis rental center that was about 3/4 of a mile away from the airport and paid around $360 for the entire 10 days. The $15 (including tip) cab ride over to get the car and then again to return it was worth the savings. The cab was right there when we arrived to return the car and caused us no delays in making our flight. The staff at the "remote" rental site was delightful, helpful and professional. We would definitely do this again. One huge benefit to using KAYAK is that KAYAK showed ALL rentals, not just those available at the airport.
Cons:
It was only a slight inconvenience to take a cab to and from the car rental location. We had four people in our party so we were able to drop off some of our party at the airport to check baggage while the other two off us returned the car. Really, we had no complaints and will do this again when the savings are so substantial.
Cons:
Made reservation the day before, on line. Got a call from local company 15 min. before scheduled pick up to tell me they had no cars to rent. Lady apologizes and said she had a few others to notify. Caused a lot of inconvenience.
╳
Hertz reviews
Car hire locations
15176 Us Hwy 19 North
+1 727 538 9122
| | |
| --- | --- |
| Monday | 08:00 - 17:00 |
| Tuesday | 08:00 - 15:00 |
| Wednesday | 08:00 - 15:00 |
| Thursday | 08:00 - 15:00 |
| Friday | 08:00 - 17:00 |
| Saturday | |
| Sunday | |
Pros:
Gas mileage AC worked
Cons:
Funny smell Couldn't drop off at airport
Car was filthy
Pros:
Pick and drop off okay
Cons:
Windshield was dirty. Looked like it hadn't been washed in a month. Interior dash was disgusting. Luckily I went home to pick up some things so I could clean it before our trip. Trunk was full of sand.
10,0 Excellent
Nov 20 2016
Pros:
The pick up and drop off was an easy cab ride from the airport. The value made this extra expense worth while. The service at the office as very good.
Hertz had the car as promised no bs
Pros:
The car was clean and ran good, very good gas mileage.
Cons:
Had to get a taxi from the airport to Hertz.
Unsatisfied
Pros:
The car was very good on gas
Cons:
We had to go back twice because my husband didn't Have my Visa card and that's the one I had used to book online. Also no one did a walk around the car with me and when I got home there was a dent and a scratch on the passenger door. The car was dirty and only had only a quarter of a tank of gas. We picked it up in st pete's and dropped it off in Seminole. There was no one there when we arrived to drop it off and we had to wait for half an hour. We expected better service from Hertz
Cons:
Arrived 30 minutes before closing... ask for a cab so our 3 kids ( 5 months old) would not have to wait outside.....employe called last minute.....employe kicked us out with our baby on a 98degre day around noon... so it could close and go to his friend s party.........
Cons:
We didn't even get to pick up the rental car and were left scrounging for a car to fit 7 at the last minute. We visited the location on the Tuesday before pick up to insure it'll be a smooth pickup because the vehicle was paid with my credit card but was registered under my boyfriends name. They guy working at Hertz at that time said it would be no problem, I did not need to be present, my boyfriend just needed to fill out a couple of papers on the day of pick up and all set to go. Well Saturday comes around and my boyfriend goes to pick up the car with my credit card in hand just in case they ask for it, and they wouldn't allow him to pick up the car without me present. The guy who was there Tuesday was denying the fact we were ever there or ever even spoke to him. They wanted me to meet my boyfriend at Hertz, meanwhile I was at work for a 12 hr shift as a cardiac stroke nurse, hence the reason my boyfriend was registered to pick it up. Because I couldn't make it there, the only option was for my boyfriend to redo the reservation under his name and pay with his card, however, Hertz wouldn't price match and it would've been $250 more than we were paying. Overall terrible experience. If there policy is that the payment and the registration need to be under the same name, then they shouldn't allow people to book it otherwise. And they definitely shouldn't have there employees say it would be no issue when we checked ahead of time that it would be a smooth process.
32 travellers who hired a car in Largo gave the car agency they used an average rating of 7,4
Car hire locations in or near Largo
When to book a car hire in Largo
Average daily price per month
Car hire prices as pick-up date approaches
Top tips for renting a car in Largo
Book your car hire in Largo at least 1 day before your trip in order to get a below-average price
FAQs about hiring a car in Largo
How can I find a car hire near me in Largo?