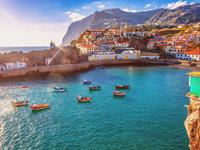 How much does a hotel in Câmara de Lobos cost?
Where to stay in Câmara de Lobos?
Our Heatmaps tool will help you find the perfect place to stay in Câmara de Lobos by showing you how close hotel options are to major activities
Best rooms in Câmara de Lobos
1
8,9 Excellent (382 reviews)
When you stay at Village Cabo Girao in Camara de Lobos, you'll be in the mountains, within a 15-minute drive of Lido and CR7 Museum. Featured amenities include multilingual staff, laundry facilities, and a library. A roundtrip airport shuttle is provided for a surcharge (available on request), and free self parking is available onsite.
8,0 Excellent
Pros: The facilities were very good and every where was very clean and tidy. The food at breakfast was good and the one meal we had in the restaurant in the evening was good. We also enjopyd the bbq night. I am not sure about the singer though !!
Cons: The one thing that really annoyed us was the fact that at breakfast there was a machine which dispensed coffee that was INSTANT COFFEE !!! I am sorry to say that is totally unacceptable in this day and age. If you wanted `proper` coffee you had to pay extra . I think that is a mistake and very short sighted .
8,8 Excellent
Pros: Location is great, 5 min uphill to the view point. However, you need to either use the hotel's transport or have your own car to get to Funchal or Camara de Lobos. It's a quiet place with a very helpful team
Cons: Local restaurant rather on a more expensive side, compared to restaurants in Camara - or some you could find in Funchal. Food is good though. Be prepared for some chilly moments anytime - you can find yourself in clouds several times during the day.
10,0 Excellent
Pros: It's a wonderful place, location excellent.
Cons: Having to leave
9,2 Excellent
Pros: The apartment was huge, staff friendly and welcoming across all areas, facilities were perfect for us and the kids. Overall a beautiful place.
Cons: The beds were a little soft resulting in a bit of backache by the end of the stay but appreciate that is a preference thing. I am an out for dinner kind of person, none of the local restaurants appealed. A shuttle into funchal ar night would have been great as my confidence driving in the dark was low.
7,1 Good
Pros: Excellent staff, beautiful view, nice big apartment, nice view, nice tennis courts and charming swimming pool
Cons: Apartment needs refurbishment, the location is on a hill, which gives a much higher chance of clouded weather (actually, a couple of times we were in the clouds...) and the wifi is very poor. The bar has a limited offer of food and the Spa is very small.
10,0 Excellent
Pros: Idyllic place for a quite holiday with nearby restaurants
Cons: Nothing
9,2 Excellent
Pros: The location was fantastic, located right next to the skywalk. The roads were steep, but the views were good.
8,8 Excellent
Pros: The view. Friendly reception.
Cons: The road there.
10,0 Excellent
Pros: The perfect place for families, couples, groups. Perfect for a relaxed holidays with great amenities and an amazing view.
2
9,0 Excellent (577 reviews)
Located in Camara de Lobos, Hotel Quinta da Serra is within a 15-minute drive of Cabo Girao and Formosa Beach. Featured amenities include complimentary wired Internet access, a business center, and express check-in. Event facilities at this hotel consist of conference space and a meeting room. Guests may use a roundtrip airport shuttle for a surcharge, and free self parking is available onsite.
5,8 Okay
Pros: The best part of the hotel is its garden, which is totally gorgeous. I have never seen garden like this. Other than that the only good things in this hotel are pool and food.
Cons: The staff is bad, some of the staff is super rude. They try to avoid contact with customer at any costs. They were always preparing some tables during breakfast. The rest of the staff is okay, but still I can't imagine that anyone from the staff would be hired in any ordinary 5 star hotel chain. The management of the hotel is bad too because the staff is not educated. They pour red wine into white wine glasses, the pour water in red wine glasses, candles on the tables look like from cemetery and so on. This hotel is definitely not a 5 star hotel it is 4 star hotel at best but the service makes it 3 star hotel (I have definitely been in 3 star hotels with better service than this 5 star hotel). This hotel could be one of the best on Madeira thanks to its location, concept, garden and history but the staff ruins it.
10,0 Excellent
Pros: Amazing breakfast and dinner Wonderful swimming pool Pretty room Very pretty building Nice staff
Cons: Nothing :)
6,7 Good
Pros: Lovely place in the mountains. Large bed and clean room. Breakfast was excellent, a lot of fresh and good food with a big choice.
Cons: Because of a wedding, the access to the pool was conditioned. We check-in at 15.15, the swimming pool closed at 16.00 (instead of 21.00, as they close the pool normally). Unfortunately, this information wasn't provided when I book the room. It has greatly affected my stay here and the staff didn't offer anything to compensate this problem.
10,0 Excellent
Pros: An exceptionally beautiful, relaxing and beautiful hotel. The rooms are comfortable but could be a bit larger as well as the balconies. But the surrounding gardens, the pool and the magnificent trees are more than a compensation. The breakfast was a very positive surprise and both restaurants serve excellent organic food. Of course the staff was friendly andhelpful. One of my best hotel experiences, and I am traveling quite a lot.
Cons: Nothing
10,0 Excellent
Pros: Very attentive staff - clean, organised, calm, professional. A real gem hidden up high on the mountain - 5 mins from Boca de Corrida for great views or hiking. Public bus stops by hotel but rental car very much recommended!
9,6 Excellent
Pros: Superb breakfast and beautiful gardens.
9,2 Excellent
Pros: Breakfast, pool, sauna, halfboard, tennis court, massage and the overall relaxing atmosphere were amazing - will come back!
Cons: It'd be great if the pool staff would come every once in a while to check (without calling) if we'd like any (more) drink/food, but this is such a minor detail that it didn't make our stay any less enjoyable, but would have simply added to the relaxation :)
10,0 Excellent
Pros: Great breakfast, very quiet surrounding. Large rooms. Large pool, not crowded at all. Although the hotel is uphills even the driving is not that bad after some practice.
3
8,4 Excellent (224 reviews)
Located in Camara de Lobos, Quinta do Estreito Vintage House is within a 15-minute drive of Madeira Botanical Garden and Monte Palace Gardens. Featured amenities include limo/town car service, a computer station, and dry cleaning/laundry services. A roundtrip airport shuttle is provided for a surcharge (available 24 hours), and free self parking is available onsite.
7,1 Good
Pros: Excellent breakfasts, For evening meals, the service and ambience for both Bacchus and Adiga was good but the food for the buffet at Bacchus was ordinary and not very warm, and the price was high. The food at Adiga was very poor, sometimes almost uneatable
Cons: Quality of evening meals (as above); It would be helpful if the courtesy bus could drop residents in the centre of Funchal and not at Quinta Sai Tiago.
10,0 Excellent
Pros: Wonderful position and property
Cons: Hotel starting to need makeover
7,9 Good
Pros: The breakfast was outstanding! Very good food and juice!
Cons: I could hear the man ( or woman?) in the next room snoring the walls were thinner than I would like.. or maybe a very loud snorer and it wasn't the hotels fault