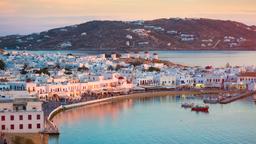 Galissas hotels
Search hundreds of travel sites at once for hotels in Galissas
How much does a hotel in Galissas cost?
Where to stay in Galissas?
Our Heatmaps tool will help you find the perfect place to stay in Galissas by showing you how close hotel options are to major activities
Best rooms in Galissas
2
8,6 Excellent (636 reviews)
A stay at Dolphin Bay Hotel places you in the heart of Syros, a 4-minute drive from Finikas Beach and 6 minutes from Agathopes Beach. Featured amenities include complimentary wired Internet access, a computer station, and dry cleaning/laundry services. Free self parking is available onsite.
10,0 Excellent
Pros: Staff was pleasant and very responsive to questions. Pool was very fun for kids. Nearby beach relaxing. Enjoyed the breakfast.
10,0 Excellent
Pros: Breakfast was very comprehensive. Cooked and continental options.
10,0 Excellent
Pros: Renovated, close to the beach, has pool and water entertainment.
8,3 Excellent
Pros: Location is excellent, at the beachfront of the Galissas bay
Cons: Breakfast was of very poor quality.
9,2 Excellent
Pros: The location was great, magnificent view, lovely people and great choice for a couple and a family.
Cons: The bed was a bit too soft for my back and the WiFi was not as strong.
7,5 Good
Pros: Polite staff, convenient location near the beach, Galissas beach is very beautiful with sand and shallow water. Breakfast was rich and tasty. It is quiet during the night. Overall a good 3 nights stay.
Cons: Hotel car parking space was very limited even outside the hotel on the side road and the alleys near the hotel. Quite noisy during the breakfast (family hotel - many children). There was some sand on the bed the first day we checked in.
5,4 Okay
Pros: As always the location is great and there are a few people who work very hard to make this place a good holiday destination. However having experienced it as it was the previous years we felt that the safety of children, the food hygiene and the overal quality of the services offered is not what it used to be.
Cons: This was the fourth time we came to this hotel. The previous times we loved it however we found this year that the quality and variety of the food and the provision of services has slipped. Experienced staff have left and been replaced by inexperienced staff both in the kitchen and dining area but also in the bar. Specifically, in the dining and breakfast area customers were allowed to pick up food with their hands, on many occasions we saw children and some adults pick up and put back on the trays the food and staff did not supervise or intervene. We witnessed on a couple of occasions customers sneezing on top of the food. The hygiene and supervision seemed to lack this year and we made an effort to go as early as possible so as to avoid this situation. On one occasion we saw a boy pick up a dessert, licked it and put it back on the tray. We complained and a member of staff eventually picked up one of the tartlets and removed it from the tray, however we were not certain he removed the right one and we were put off from having any. Also, the swimming pool use to be filtered and cleaned every night. Throughout our two week stay we could tell there was mostly if not solely use of the net to catch visible things but not filtering of the water on a daily basis as it used to be in previous years. Finally we felt the hotel does not take seriously children's safety whilst in the soft play area. This is an area where you are supposed to drop of your child. It is normally only allowed for the soft play child minder to supervise. Parents are only allowed to come in to pick up and drop off their children. Although the child minder is absolutely great and experienced teacher when we went to drop off my son we found another woman in the room sitting. I questiomed this as we know parents can only pick up and drop off their children but are not allowed to stay.
6,7 Good
Pros: Excellent Location
Cons: Needs a face lift
3
8,8 Excellent (223 reviews)
Located in Syros, Hotel Francoise is by the sea, within a 15-minute drive of Finikas Beach and Agathopes Beach. Featured amenities include dry cleaning/laundry services, a 24-hour front desk, and luggage storage. Free self parking is available onsite.
9,6 Excellent
Pros: The receptionist was very helpful and welcome. He explained everything around. Also, breakfast were good.
10,0 Excellent
Pros: Good location, only a few minutes walk to the centre and bus stop. Owners very friendly. Facilities in room were all good. Would recommend.
Cons: Nothing
7,9 Good
Pros: -pick up at Ermoupolis -friendly staff, helpful -bus stop 30s away -cheap breakfast (although nothing fancy is proposed) -beach 5mn away -excellent WiFi
Cons: -no power when not in the room -lack of plugs -small pools Overall I thought the booking.com description was very much overselling the actual place (especially the pictures)
7,1 Good
Pros: Very close to the beach
Cons: Not good noise insulation
10,0 Excellent
Pros: Great value for money hotel, the towels & linen were changed daily. The hosts were very pleasant and helpful, the pool area was well kept and the room was clean and modern.
Cons: No coffee facilities in room
10,0 Excellent
Pros: The best place in the world, the best people , food , very clean . It was the best holiday in my life becouse most friendly staff
10,0 Excellent
Pros: What a beautiful family run hotel. Upon arrival at the port we were picked up by grandad (and I think his grandson). The rooms were exactly as shown on photos and cleaned every day, but the shower cubicles were a little on the small side (not a complaint more of an observation). The breakfast was great with a huge variety of food: eggs, tomatoes, cucumber, ham, cheese, fruit, yoghurt and honey, bacon, sausage, lovely cheesy flan type delicacies, home made cakes, bread and cereals. The pool area was also lovely and they served snacks and drinks all day, but the food was so much than snacks (the Greek salad was gorgeous). The town is less than a 5 minute walk away with several restaurants (our favourite was Savvas), and a great taverna where you can have a drink (or three) and watch the world go by! There is also a superb bus service round the island and the bus stop is directly outside the hotel, we went to the port town of Ermopoulis on several occasions and got the last bus back, I think it was 10.30pm. I would definitely recommend this lovely little hotel and would like to thank the family for making our time there an enjoyable one!
Cons: Nothing!
6,7 Good
Pros: Good breakfast. Location a bit far from the port.
Cons: Every time you quit the room all the wall sockets are disabled except for the one powering the fridge. Not so practical when you're on holidays and want to charge devices at the room.
9,2 Excellent
Pros: Nice hotel in very handy location. Bus stop right outside and short walk to the beach/shops/restaurants. Small but comfortable room with nice little balcony. Beautiful little pool area.
Cons: Aircon wasn't working correctly for most of my stay.
7,0 Good
Pros: Friendliness of owners and their excellent service.
Cons: The shower was too small. No flat TV.