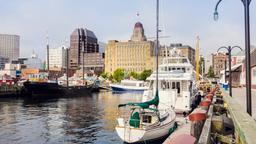 Hotels near Halifax Intl airport
Search hundreds of travel sites at once for Halifax Intl airport hotels
Best hotels near Halifax Intl airport
Based on 109 reviews
Cleanliness
9,0
Comfort
8,9
Location
8,9
Services
8,6
Staff
8,8
---
Pros:
They called and asked if I needed anything. The staff was very sincere and actually took the little extra time to make is feel comfortable
Pros:
Upgraded to suite because they did not have rooms left with two beds, outstanding value.
Cons:
A little farther out from downtown than desired.
Cons:
It was noisy, both from vehicle traffic and noise from nearby rooms.
Pros:
Nice and spacious room, comfy beds, and helpful staff. Beautiful scenery is easily imaginable ( currently snow covered) Also due to health condition- requested a scent free room. A huge thank you to the staff at the Inn on the Lake; the room was scent free ( best job I've ever encountered)and caused me absolutely no distress.
Cons:
Great hotel, nice and comfortable rooms and very quiet although hotel was quite busy. The only possible negative would be the driveway- very steep and was slippery due to weather
Cons:
Staff were rude, not a lot of water pressure to fill Tub
Cons:
They processed a charge on my card incorrectly and it should have been reversed. Still hasn't been done.
Pros:
Very cosy and the interior is like going back in time, colonial style!! Very quiet spot
Pros:
Small boutique hotel. Staff super helpful and friendly. Not your typical chain.
Cons:
Would be nice to have capability to charge devices at nightstand
Pros:
Excellent meals at supper time. Attentive and helpful staff.
Pros:
It was a good stay , good location, on the water and there was a snow storm
Cons:
Nothing but want to back in the summer
Pros:
My finance and I were looking for a relaxing night away and that's what we got at our stay here. It was lovely!
Based on 146 reviews
Cleanliness
8,8
Comfort
8,8
Location
8,5
Services
8,2
Staff
9,3
---
Pros:
The staff were very fantastic! The bed and pillows were very comfortable!
Cons:
The pictures of the rooms dont match the actual room. The pictures are nicer.
Pros:
The front desk staff were amazing! Very helpful with ideas of attractions to visit and restraunts
Cons:
The pool was cold, advertised as heated but was cold. Couldn't spend much time in it.
Pros:
We liked the hotel except we were misinformed about it not having a hot tub and the pool area was very unsafe. The Breakfast was excellent, and the staff was wonderful!
Cons:
We did not get any sleep the first night at all - I contacted the front desk and they said they felt bad then the second night there was continuous yelling and cursing 2 doors down and banging on that door into the wee hours of the nigh. Not a kid friendly environment thankfully we were able to get our child to sleep through most of it by having the spa music on to buffer what we were aware of.
Pros:
The breakfast was great! Staff were very friendly.
Cons:
Because it's a pet friendly hotel, beware of wet spots on the fooor, also there was no way to get a room with 2 beds.
Pros:
Such friendly staff and willing to help with reasonable request.
Pros:
friendly staff, lots of parking, and quiet.
Cons:
not enough gluten free choices for breakfast
Pros:
It was clean and the staff were very helpful.
Pros:
Clean and nice rooms
Cons:
Pool located next to lobby
Pros:
No hot breakfast served due to Covid. Grab and go bag breakfast offered.
Cons:
Specifically requested a room near an enterance as I was travelling with a senior with mobility issues. Was directed to park near the rear entrance, fairly close to elevator. Room on the second floor at the end of a fairly long hallway. Not very convenient at all.
Pros:
Loved the location and water view!
Cons:
The desk clerk failed to mention to me about their rewards program.
Based on 248 reviews
Cleanliness
7,8
Comfort
7,6
Location
7,9
Services
7,2
Staff
8,0
---
Pros:
Staff were lovely!!
Cons:
Room was full of flies upon arrival and smelt like old cigarettes.
Pros:
Good location, easy check in, good for pets
Cons:
The air-conditioning in the room was not working well.
Cons:
This is pretty much the worst of the worst. Not worth it to save $20 or so. Dungy old style motel rooms. Creepy feeling, strong deodorizer smell. Protective glass devider at check-in for security reasons. I didn't stay.
Pros:
The staff is really friendly and the location is really great. The price range is really good. This is one of the best option if you are travelling and or if you want to stay for couple of days within the budget.
Pros:
It was reasonable compared to others available and clean/comfortable.
Pros:
Firsti mpression before entering not so good, but once in the hotel and knowing better the lication it was a good, clean hotel good location close ro shops and city center no noise from roads nearby.The receptionist was very friendly and very helpfull.
Cons:
The room was correct and clean but the first impression not possitive and the staircases need to be painted.
FAQs when booking a hotel near Halifax Intl airport
How much is a cheap hotel near Halifax Intl airport?
How much is a cheap hotel near Halifax Intl airport for tonight?
How can I find hotels near Halifax Intl airport?
Where to stay in Halifax?
Our map will help you find the perfect place to stay close to Halifax Intl airport by showing you the exact location of each hotel.
Popular in Halifax
Accommodations
Airports in Halifax