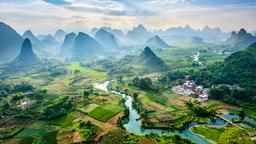 Hotels near Guilin airport
Search hundreds of travel sites at once for Guilin airport hotels
Best hotels near Guilin airport
Based on 2 576 reviews
All reviews
Families
Couples
Business
Solo
Vibe
9,6
Amenities
8,8
Room
8,3
Location
8,1
Breakfast
7,5
Vibe
9,5
Amenities
8,4
Location
7,4
Room
7,3
Breakfast
6,7
Vibe
9,5
Amenities
9,0
Comfort
8,4
Location
8,4
Room
8,3
Vibe
9,5
Amenities
9,0
Room
7,8
Location
7,6
Breakfast
7,6
Vibe
9,6
Amenities
9,0
Location
8,3
Comfort
8,2
Room
8,1
---
Cons:
Taxi driver in front of hotel, they will cheat and bring you to join expensive local tour.
Cons:
Key cards given by front desk did not work on 3 separate occasions. We had to keep calling for someone to come up and unlock our door and it took forever. Then the manager said she would comp our breakfast and when we poked at our bill it was charged to us.
Pros:
This is a very nice hotel , close to every attractions ,taxi around $15 can get to you almost everywhere, room is large and nice
Pros:
Luxury and clean with polite staff
Pros:
Rooms are clean and nicely decorated, food at main restaurants is quite nice, swimming pool is a bonus Tourist agency in the hall is helpful in providing tickets to the city main attractions Hotel generally is clean and looks good (not counting some kitschy corners)
Cons:
Well, this is the worst hotel i've visited so far, if you are attracted to the hotel style and decoration, beware, it is the only positive thing about that place, Most of the staff (with some exceptions of course) is ignorant of how hotel should treat his customers and behaves with the epic arrogance, imposing untold rules, do's and do notes without minimum of respect Be ready to continually demand all and everything otherwise they will default to absolute minimum provide you with the worst option they have (Just one example: Paid mountain view - got parking view, demanded the room change but mountain wasn't even close to one on the photo of the room they sold) Probably due to hotel management and quite strangely for china, most of the staff have angry faces and demeanor Aircon in the rooms is so inefficient that it took days to make room acceptably cool and i'm not really exigent person Cheap plastic carpets stink a bit in too hot rooms until it cools Overall it is not an relaxing and pleasurable experience you would expect from your holidays
Pros:
Great rooms and lots of variety at breakfast.
Cons:
Swimming pool was dirty and is an extra charge. Very little English spoken
Based on 434 reviews
All reviews
Families
Couples
Solo
Business
Vibe
9,3
Location
8,8
Service
8,2
Room
8,2
Amenities
7,3
Vibe
9,5
Location
9,0
Service
8,2
Room
8,1
Breakfast
5,8
Vibe
9,2
Location
8,7
Cleanliness
8,5
Service
8,4
Room
7,7
Location
9,1
Vibe
9,1
Service
8,5
Room
7,8
Amenities
7,7
Location
9,0
Vibe
8,6
Service
7,9
Room
7,8
Comfort
7,8
---
Pros:
It is situated in a botanical garden and also easy to walk to restaurants and shops.
Cons:
Quite tired and run down. Really in need of a makeover
Pros:
Location of the hotel.
Pros:
The Hotel was very nicely located in the middle of a park. It looks very good, the houses are very nice and fishes swim between the houses in pools.
Cons:
The golf cart pickup didn't work out when we arrived. Nobody picked the phone. For departing it was there and that was when it rained heavily, so all good. Appearantly it's an expensive hotel in comparison to others. We didn't mind and liked it anyways.
Pros:
The staff were very helpful especially in quickly bringing me to their lobby via the shuttle car. The design of the hotel area is really suitable for making anyone feel they are in the midst of a Chinese traditional village. The hotel is in the midst of a large garden park as well. The Tea House is a enjoyable room for friends, couples and others to experience a relaxing and enjoyable tea time. The location is suitable as well. There is a Mall within minutes of walking distance and the various attractions of Guilin are easily traveled to --- especially the awesome Reed Flute Cave!
Cons:
The breakfast is usually cold and not very fresh
Pros:
The hotel Manager was very helpful in taking us to Qintan bus station, and provided a translation service, to ensure that the tickets met our requirements. The hotel was beautiful, the rooms were very comfortable, it was a shame that we were just passing through, but we couldn't extend our stay.
Pros:
Very quiet location, in middle of park
Pros:
The location is spectacular, since the entire structure is located in the botanical garden and it is really a magic place. The rooms are very clean. Unfortunately everything is destroyed by the bad service.
Cons:
Despite the wonderful structure of the Hotel, Everything is destroyed by the bad service. No single person speaks a single world in English. Very poor quality of service, with employees polite, but not professional. The restaurant and his breakfast is very bad. It's a pity, since the hotel is very very nice.
Pros:
The traditional architecture and gardening of this hotel are outstanding! We felt immersed in traditional Chinese culture. Easy taxi to the river district. Being in the middle of large botanical gardens made it even better, observing locals engaged in Tai chi and yoga in groups, each time we shuttled through the park. The buffet breakfast is superb with unlimited coffee
Cons:
The dinner menu was impossible for an English speaker to figure out
Pros:
Quiet location Big room Nice shower
Cons:
Lack of info from staff Wifi NOT working... at all Bad coffee and breakfast
Based on 313 reviews
WiFi
10,0
Service
9,8
Food
9,0
Location
8,5
Breakfast
7,0
---
Where to stay in Guilin?
Our Heatmaps tool will help you find the perfect place to stay in Guilin by showing you how close hotel options are to major activities
Popular in Guilin
Accommodations
Airports in Guilin