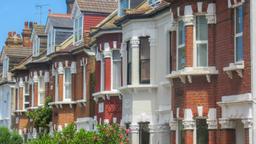 Hounslow car hire
Search hundreds of travel sites at once for car rental deals in Hounslow
Hounslow, ENG, United Kingdom
Hounslow car hire information
| | |
| --- | --- |
| Pick-up location | Hounslow |
| Hire locations | 11 |
| Airport locations | 8 |
Hounslow car hire reviews and directory
Enterprise

8,6 Excellent (22 reviews)
╳
Enterprise reviews
Car hire locations
Enterprise
Locations in Hounslow
11 Bath Road
+44 208 897 0463
| | |
| --- | --- |
| Monday | 08:00 - 18:00 |
| Tuesday | 08:00 - 18:00 |
| Wednesday | 08:00 - 18:00 |
| Thursday | 08:00 - 18:00 |
| Friday | 08:00 - 18:00 |
| Saturday | 09:00 - 12:00 |
| Sunday | 00:00 - 00:00 |
Northern Perimeter Road
+44 208 897 2100
| | |
| --- | --- |
| Monday | 05:00 - 23:59 |
| Tuesday | 05:00 - 23:59 |
| Wednesday | 05:00 - 23:59 |
| Thursday | 05:00 - 23:59 |
| Friday | 05:00 - 23:59 |
| Saturday | 05:00 - 23:59 |
| Sunday | 05:00 - 23:59 |
9,6 Excellent
Oct 25 2015
Best LHR car rental service of the lot
Pros:
The service counter was ready for me and quick and efficient. I've had to pick a number and line up for an hour or more at some other car rental agencies at the airport. So, Enterprise was such a pleasure. Dill at the counter was very helpful and patient. Great selection of available cars, also.
Cons:
I liked everything about my experience.
Worst hire.
Cons:
I booked a 4 X 4. Twice before the hire I rang into Enterprise hire station at Heathrow asking them what I needed to bring with me. They said bring 2 forms of id and driving licence. After 2 hour train journey when I arrived. I was told I couldn't hire the 4 X 4 without a credit card. They don't accept debit card for 4x4 hire. I asked when I wasn't informed when I called in on the day of the hire and few weeks before. I had to settle for a mpv which I wasn't keen on. Very disappointed. Plus they didn't bother checking the 2 forms of ID.
10,0 Excellent
Jul 16 2016
Pros:
Seamless from start to finish, with helpful and friendly staff. I would thoroughly recommend Enterprise!
10,0 Excellent
Aug 1 2016
Great service - great car
Pros:
The staff were fantastically helpful - I'd made a mistake regarding the booking and they went above and beyond to make sure my needs were still met. Twelve out of ten ! Car was in great condition.
Cons:
Slight confusion over scuffed alloys which were scuffed prior to rental but they swiftly sorted this out and did not charge me for it. I would love to see Enterprise lease the way re digitally driven rental docs - why can't the car and it's damage be captured electronically with attached pics etc vs the paper/carbon-copy process that currently exists? :-)
10,0 Excellent
Sep 13 2016
10,0 Excellent
Sep 20 2016
One of the best car rental experience
Pros:
Overall experience was great, from quick pick up at the terminal to driving out from the rental place, also the returning the car back to Enterprise was quick and easy, no waiting time at all.
9,6 Excellent
Sep 29 2016
Hyundai
Pros:
Comfortable seats in front- basic features. More than adequate storage. Good price, good value. Enterprise staff is wonderful- great customer service!
Cons:
Latch on trunk wouldn't work- having to remove key and unlock doors in order to open trunk( boot?), no power in accelleration
10,0 Excellent
May 8 2017
Friendly and helpful!
Pros:
The staff were perfect. Our shuttle bus driver, pickup and drop off agents were all really friendly and extremely helpful in every way! The car was exactly what we needed, and there was no attempt to aggressively sell us an upgrade. Top points all round!!
10,0 Excellent
Jun 26 2019
Pros:
Pick up was easy. Customer service was impeccable. Value for money was excellent. And the drop off was simple and quick. Will DEFINITELY use Enterprise again whenever we travel overseas.
10,0 Excellent
Aug 25 2016
Great customer service
Pros:
Very attentive reps. Good pickup service at the terminal. Cars conveniently located.
Alamo

8,0 Excellent (4 reviews)
╳
Alamo reviews
Car hire locations
Alamo
Locations in Hounslow
Enterprise Rent A Car
+44 208 897 2100
| | |
| --- | --- |
| Monday | 05:00 - 23:59 |
| Tuesday | 05:00 - 23:59 |
| Wednesday | 05:00 - 23:59 |
| Thursday | 05:00 - 23:59 |
| Friday | 05:00 - 23:59 |
| Saturday | 05:00 - 23:59 |
| Sunday | 05:00 - 23:59 |
All Alamo reviews
Alamo reviews in Hounslow
Recent reviews
All reviews
Positive
Neutral
Negative
Find reviews that mention:
INTERRENT

╳
INTERRENT reviews
Car hire locations
INTERRENT
Locations in Hounslow
79, New Road, Harlington, Hayes, Middlesex
+44 208 759 0185
| | |
| --- | --- |
| Monday | |
| Tuesday | |
| Wednesday | |
| Thursday | |
| Friday | |
| Saturday | 08:00 - 20:00 |
| Sunday | 09:00 - 21:00 |
Rude, frustrating, slow, unorganised.
Pros:
A totally awful experience. I arrived promptly at the arranged pick-up time. In the reception there were three positions at the reception desk, all manned with staff. I was the only person in line to be seen behind a couple who were already being dealt with - leaving two available desks/ staff. The two available staff members were eagerly attempting to look busy in an almost empty office, sitting a mere two meters away from me. They didn't have the courtesy to look up or acknowledge that I was quite clearly waiting to be seen. I took my place in the "queue" and waited. I eventually waited 20 minutes before being acknowledged; "you'll be seen soon", no apology or reassurance. During my lengthy wait I overheard the way in which the staff member was talking to the couple who were collecting a vehicle. Extremely rude, very blunt with an attitude suggesting that the they really didn't care for their custom. There was absolutely no care, just rudeness. In this time someone had walked in to drop back a car. I then overhead that conversation. The customer took the car some days before and had queried some existing damage, not detailed on report. He reported it before taking the car and was told by the staff that it was fine and no one needed to sign or add it to his document (I later had the same conversation). Now when he's returned the car they were denying all record of the conversation, saying it's new damage. When he asked about getting the deposit back the staff member said something like "you have no proof, it's our word against yours so I will decide on if you get your deposit back". I was in complete shock at how two different members of staff had dealt with two different customers. That's just not how you speak to people here in 2018. Before even dealing with someone I had already had a very uncomfortable experience, genuinely feeling bad for the customers. At this stage I felt regret and I was seriously considering walking out, losing my money and finding another company who I trusted. I just had an awful feeling about the business. Now almost half an hour after walking in to this environment I was prompted forward by an uninviting "yes?" by an employee who claimed to be named "B". This was the same staff member who had just been rude to the customer returning their car. (I still find it difficult to believe that this is her real name, but she insisted it was). She looked at my documents before telling me I had to get back in the line and wait for her colleague as he is using the system that is needed for my rental. So I waited another 10/15 minutes before the male staff member was available. As it was now 45 minutes since walking in i was running late for my plans. Conscious of this I had everything in my hand ready to go; booking voucher, passport, driving licence, DVLA check code, card I booked with, credit card for the deposit. ... [continues below]
Cons:
[continued]... The man called me forward and took my documents. There was some faffing around; he asked me for documents he was already holding and generally not looking like he knew what he was doing. After a couple of minutes I was then passed back to "B" who strangely was now able to help me from her same computer that she's couldn't help me from 15 minutes ago. I could see through into the room with "manager" written on the door. I could clearly read a targets board on the wall measuring the staff's targets and numbers. These targets included extra insurance and to my horror "damage". These people appear to be targeted on finding damage. This further fuelled my negitive opinion of this company. We completed the paperwork and was handed some keys and pointed towards the door. No direction of where to find the car. Thankfully I quickly located the dirty vehicle. Following what I had just experienced and having absolutely no trust in the staff or company, I thoroughly inspected the vehicle. I identified some new damage on the car and went back to speak to "B". Just as the previous customer had claimed, she told me to that they don't need to sign anything or make any notes on documents or systems. This still makes no sense at all. This is when I decided to I take her name as reference of our conversation: "B". Not knowing what else I could do I took over 30 pictures of the vehicle, ensuring that my phone made note of the date, time and location of the images. I fully expected to be needing them upon my return. I had a horrible feeling for the duration of my rental, worrying about having to prove existing damage and if I they would return my deposit. In summary I had an extremely concerning and frustrating experience, which took too long and lacked any organisation. I would absolutely never use them again and would encourage others to not waste their time or emotions. Absolutely awful.
Pros:
The most terrible people I have ever meet
Cons:
Not lie to people and try to rob them. Very unprofessional and breaking every rule that is placed by FSA I will still be writing to ombudsman regarding my experience with your company and interent I ended without a car and the money had to be taken back though my bank Disappointing
Sunnycars

Sunnycars
Locations in Hounslow
Northern Perimeter Road West
Firefly

Firefly
Locations in Hounslow
9 Central Park Estate, Staines Road
+44 843 309 3029
| | |
| --- | --- |
| Monday | 07:30 - 17:30 |
| Tuesday | 07:30 - 17:30 |
| Wednesday | 07:30 - 17:30 |
| Thursday | 07:30 - 17:30 |
| Friday | 07:30 - 17:30 |
| Saturday | 08:00 - 16:00 |
| Sunday | 10:00 - 16:00 |
National

National
Locations in Hounslow
Enterprise Rent A Car
+44 208 897 2100
| | |
| --- | --- |
| Monday | 05:00 - 23:59 |
| Tuesday | 05:00 - 23:59 |
| Wednesday | 05:00 - 23:59 |
| Thursday | 05:00 - 23:59 |
| Friday | 05:00 - 23:59 |
| Saturday | 05:00 - 23:59 |
| Sunday | 05:00 - 23:59 |
Practical Car & Van Rental

Practical Car & Van Rental
Locations in Hounslow
109 Vicarage farm road
+44 208 577 4460
24 travellers who hired a car in Hounslow gave the car agency they used an average rating of 8,1
Car hire locations in or near Hounslow
When to book a car hire in Hounslow
Average daily price per month
Car hire prices as pick-up date approaches
Top tips for renting a car in Hounslow
Book your car hire in Hounslow at least 1 day before your trip in order to get a below-average price
FAQs about hiring a car in Hounslow