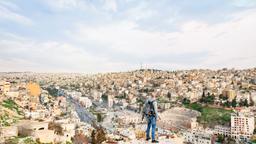 Hotels near Queen Alia Intl airport
Search hundreds of travel sites at once for Queen Alia Intl airport hotels
Best hotels near Queen Alia Intl airport
Based on 1 120 reviews
All
Families with young children
Families
Young couples
Couples
Groups
Solo travellers
Business travellers
Cleanliness
5,6
Comfort
5,8
Facilities
5,8
Food
3,0
Location
7,6
Cleanliness
3,0
Facilities
3,0
Food
3,0
Location
8,5
Overall
3,0
Cleanliness
5,5
Comfort
5,5
Location
7,2
Services
5,1
Staff
5,9
Cleanliness
6,2
Comfort
8,0
Facilities
4,0
Location
8,5
Overall
5,7
Cleanliness
5,9
Comfort
6,1
Location
8,1
Services
5,4
Staff
6,3
Cleanliness
5,7
Comfort
6,0
Location
8,0
Services
5,2
Staff
6,5
Cleanliness
5,6
Comfort
5,7
Facilities
6,8
Location
7,3
Overall
7,3
Cleanliness
5,6
Comfort
5,6
Location
7,4
Services
5,2
Staff
6,0
---
Cons:
I called the lobby multiple times for towels, they didn't even pick up It's a lot for $148 Not worth it at all
Pros:
Great location, comfort and excellent frontdesk people.
Cons:
Everything went well but the berakfast, not good for me and was so repetitive.
Cons:
Most of the facilities inside the room are damaged, like lockers and drawers. Also, the frig was not working well.
Cons:
Absolutely not worth the money
Pros:
Wifi was very slow in the room, staff were somehow frinendly,
Pros:
The Staff is EXCELLENT! Wonderful people and they always remember you. The Staff is the only reason why I return.
Cons:
The rooms are too hot and they do not allow for comfort control throughout the year. I have to travel through there for business and my only issues is that the room heat and air are controlled by the hotel. The bathrooms and rooms are not very clean. I need a cooled room to rest in. The internet is very slow and disconnects a lot. The overall facility could use a modern improvement and better cleaning.
Pros:
The hotel was great, the 24 hour shuttle was a life saver for my 3am flight and untraditional schedule. The staff were all amazingly kind and helpful and had impeccable English and Arabic. The food was very delicious and an incredible value. my room was huge, clean, and the bed was extremely comfortable. Was a perfect place to rest after exhausting travel.
Cons:
I was a little confused with all of the options for where to eat within the hotel at first (there are 4 restaurants), but quickly a staff member helped me explain the differences and make a great choice.
Pros:
The staff are amazing. It's not a four star hotel, but it's great if you have a long layover and don't want to stay in the airport.
Cons:
They are updating some of the rooms and they need to.
FAQs when booking a hotel near Queen Alia Intl airport
How much is a cheap hotel near Queen Alia Intl airport?
How much is a cheap hotel near Queen Alia Intl airport for tonight?
How much is a cheap hotel near Queen Alia Intl airport for this weekend?
How can I find hotels near Queen Alia Intl airport?
Where to stay in Amman?
Our map will help you find the perfect place to stay close to Queen Alia Intl airport by showing you the exact location of each hotel.