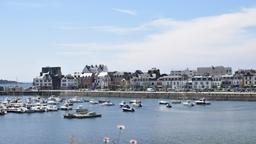 Hotels near Wick airport
Search hundreds of travel sites at once for Wick airport hotels
Best hotels near Wick airport
Based on 395 reviews
Cleanliness
9,6
Comfort
9,3
Location
9,2
Services
9,1
Staff
9,5
---
Based on 298 reviews
Cleanliness
8,8
Comfort
8,4
Location
8,5
Services
8,1
Staff
9,1
---
Cons:
internet did not work in my room i had to go to the loby
Pros:
This is a well run and comfortable hotel ideally situated if you want to visit the north of Scotland. The food was good, the rooms were warm and the staff were friendly and helpful.
Pros:
Staff extremely friendly and helpful ,rooms clean and tidy.All meals excellent in restaurant and bar.
Pros:
Great hotel! Comfortable, relaxing and clean with a delicious resteraunt in the hotel!
Pros:
The food in the restaurant was good. Small town far north of Scotland. Cliffs and rough nature.
Cons:
We had ordered a family room and noted that we needed 2 extra beds, but the staff had overlooked our note. The staff managed to give us a room with 2 extra beds, but the room was very small for four persones. The service in the resaurant could have beeb better: The staff forgot orderes, worked slow and it took over half an hour from we gor the bill before we were told to pay in the bar.
Pros:
The hotel operator was very accommodating and the location was excellent.
Pros:
Personell, one man running the hotel, and the pub next to it. Breakfast.
Cons:
The outside of the hotel (backside) looks a old. Don't let it confuse you, on the inside everything is OK
Pros:
The food was excellent The rooms were clean, and adequetly furnished
Cons:
Being an old hotel, and just having been taken over, the decor was poor.
Pros:
The location was great, and the facilities themselves were very nice.
Cons:
When we arrived, there was only one person on staff working both the front desk and the bar, and due to her 'running around' we never got towels in the family room.
Pros:
People friendly and helpful, E.G. over lack of Wi-Fi connection - offered use of hotel computer
Cons:
Castletown appears to be in an economically deprived area visited by few people, so it would be unfair to judge it or the hotel without taking that into acount. Given that, every effort was made to look after this guest.
FAQs when booking a hotel near Wick airport
How much is a cheap hotel near Wick airport?
How much is a cheap hotel near Wick airport for tonight?
How much is a cheap hotel near Wick airport for this weekend?
How can I find hotels near Wick airport?
Where to stay in Wick?
Our map will help you find the perfect place to stay close to Wick airport by showing you the exact location of each hotel.