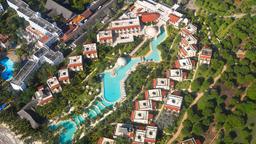 Hotels near Ukunda airport
Search hundreds of travel sites at once for Ukunda airport hotels
Best hotels near Ukunda airport
Based on 56 reviews
All
Families
Couples
Groups
Solo travellers
Business travellers
Cleanliness
9,5
Comfort
9,5
Location
9,1
Services
9,0
Staff
9,6
Cleanliness
9,5
Comfort
10,0
Location
9,3
Services
9,3
Staff
9,8
Cleanliness
9,5
Comfort
9,6
Location
9,3
Services
9,0
Staff
9,6
Cleanliness
9,0
Comfort
9,0
Location
10,0
Services
8,5
Staff
10,0
Cleanliness
9,6
Comfort
9,3
Location
8,2
Services
9,1
Staff
9,5
Cleanliness
10,0
Comfort
7,5
Location
10,0
Services
9,2
Staff
10,0
---
Pros:
A wonderful hotel with wonderful friendly staff and great food. The pool and beach were both fantastic.
Pros:
Good. Could have offered more variety. No brown bread offered.
Pros:
The rooms are nice and the bed is comfortable. I liked they there was hot water heater for coffee or tea and a mini refrigerator in the room. It's right on the beach. The pool is really nice. It's clean.
Cons:
It's far down the road from town. There are beach guys who wait around all day to harass you when you go to walk on the beach. So that makes going to the beach unpleasant. The hotel has a cold and lonely feel. I wouldn't recommend it if you are alone as I was. I didn't like the food at all. The price was a bit high as well.
Pros:
perfect approach of staff, willingness, nice beach, good swimming
Pros:
I love the rooms ,they are comfortable.and clean i liked all the workers and more soo their supervisor LEWA.
Cons:
The workers they were happy n good communication, and the food is beyond awesome..the way they prepare you can tell are excellent.
Pros:
Beach, pool and food quality
Cons:
Excellent resort will come back again if price reduced
Based on 802 reviews
All
Families
Young couples
Couples
Groups
Solo travellers
Business travellers
Cleanliness
8,3
Comfort
8,4
Location
9,1
Overall
9,8
Services
8,1
Cleanliness
8,2
Comfort
8,2
Location
9,0
Services
7,7
Staff
8,4
Cleanliness
10,0
Location
10,0
Overall
10,0
Staff
10,0
Value for money
10,0
Cleanliness
8,5
Comfort
8,6
Location
9,2
Overall
10,0
Services
8,4
Cleanliness
8,2
Comfort
8,2
Location
9,0
Services
7,8
Staff
8,6
Cleanliness
8,0
Comfort
8,3
Location
8,8
Services
8,0
Staff
8,7
Cleanliness
8,0
Comfort
7,8
Location
8,7
Services
7,3
Staff
7,8
---
Pros:
Excellent breakfast, very professional and friendly staff and everything is extremely clean.
Cons:
Furniture in bathroom is quite old, but it was very very clean
Pros:
It was okay can't say much of it.
Cons:
I liked everything about that place
Pros:
The hotel is very big so you always feel like you have your own space. The rooms are also a nice size. If you need a PCR test, the hospital is right across the street which is convenient. The entertainment in the night was a lot of fun and the beach is beautiful. Overall good value for money.
Cons:
The hotel is need of a renovation and general up keep. The towels provided in the room weren't always clean. The service at Finns was extremely slow. We visited a 4 star hotel during our stay and their facilities were of better quality and they had a beautiful beach because they cleaned away the sea weed. I wouldn't rate this property a 5 star but still worth it for what you pay.
Pros:
I requested for a room move due to a faulty shower head and the duty manager honoured my request with a room on the higher floor with a sea view. The food was delicious,entertainment at the dunes was 👌
Cons:
After playing on the sand I went to clean up at the pool shower,the security guy approached in without even confirming if I stayed in the resort or not he asked me why am using the pool shower yet I dint look like a resident in the resort,I asked him how the residence looked like and he was very rude and had this unwelcoming attitude. The next morning he met me at the breakfast restaurant,I thought he would chase me out again....smh🙄🙄🙄🙄
Pros:
Nice staff, nice location
Cons:
The bridges in the garden were under construction. So we had to walk "far" to the beach and towel stand. I asked when they renovate them. ASAP was the answer, so hopefully things get better
FAQs when booking a hotel near Ukunda airport
How much is a cheap hotel near Ukunda airport?
How much is a cheap hotel near Ukunda airport for tonight?
How much is a cheap hotel near Ukunda airport for this weekend?
How can I find hotels near Ukunda airport?
Where to stay in Ukunda?
Our map will help you find the perfect place to stay close to Ukunda airport by showing you the exact location of each hotel.