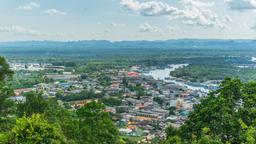 Hotels near Chumphon airport
Search hundreds of travel sites at once for Chumphon airport hotels
Best hotels near Chumphon airport
Based on 211 reviews
All
Families with young children
Families
Couples
Groups
Solo travellers
Business travellers
Cleanliness
8,7
Comfort
8,7
Location
9,0
Overall
8,5
Services
8,6
Cleanliness
7,0
Location
9,0
Overall
7,5
Staff
6,0
Value for money
7,5
Cleanliness
8,4
Comfort
8,6
Location
8,8
Services
8,7
Staff
9,0
Cleanliness
8,8
Comfort
8,8
Location
9,2
Services
8,3
Staff
9,1
Cleanliness
8,8
Comfort
8,8
Location
8,9
Services
8,8
Staff
9,1
Cleanliness
9,3
Comfort
9,1
Location
9,4
Services
9,3
Staff
9,6
Cleanliness
8,1
Comfort
8,8
Location
8,8
Services
8,8
Staff
8,8
---
Pros:
Clean and comfly rooms - we had 6 - , good BF , secured , smiling and helpful staffers , next to a beautiful beach ...
Cons:
There is a small road between the front of the hotel and the beach ...
Pros:
Good location just next to the beach and a number of restaurants. Very specious room. Breakfast good even though with limited choices. Parking space available just in front of the property.
Pros:
Netflix on tv in the room.
Cons:
I was in a ground floor room at the back of the building - dark and rather depressing with a view of a wall. If anyone tries to put you in 107 ask for another room. I suspect constant rain did not help create a good impression!
Pros:
We have been visiting this place for years usually as a stopover on a longer road trip, but also for short breaks from Bangkok. The rooms are great for a family to share, and there is a large balcony for drying clothes from the beach. The place is right across from the beach and the staff are always really welcoming.
Cons:
It could do with a coat of paint :) apart from that all good.
Pros:
Staff were very friendly and the location is superb. I also like the complimentary unlimited drinking water in glass bottles oh and the foot massage machine!
Cons:
The breakfast was very limited for vegetarians. It would be good to have more vegetarian options
Pros:
Clean, comfortable, next to the beech and lovely staff
Pros:
Full of love, nicely staff, good location, if I have to go Chumphon again I would love to be there again
Based on 121 reviews
All
Families
Young couples
Couples
Groups
Solo travellers
Business travellers
Cleanliness
8,4
Comfort
7,9
Location
7,9
Overall
7,5
Services
7,7
Cleanliness
8,2
Comfort
8,2
Location
7,7
Services
7,6
Staff
8,5
Cleanliness
8,0
Location
8,0
Overall
8,0
Staff
8,0
Value for money
10,0
Cleanliness
8,4
Comfort
7,7
Location
7,7
Services
7,6
Staff
7,9
Cleanliness
8,8
Comfort
8,5
Location
8,3
Services
8,5
Staff
9,0
Cleanliness
8,2
Comfort
7,9
Location
8,0
Services
7,6
Staff
8,5
Cleanliness
6,7
Comfort
5,8
Location
6,7
Services
5,4
Staff
7,9
---
Pros:
Large basic room with balcony. Everthing was clean and worked ok. I stayed in a budget fan room for 390 baht and considered it good value for money. Would stay there again.
Pros:
Another excellent stay at this hotel and i had the fan room this time and very good and clean and a nice view
Pros:
Close to the beach. Lovely family run guest house. Great value for money.
Cons:
Need transportation..
Pros:
Location cleanliness place in front to eat and hang out
Pros:
It's quiet place, good to relax on vacation
Cons:
A lot of ants in the room and you can feel the spring once you lay on the bed
Pros:
only booked for 1 night but then decided to extend my stay as a great hotel and location and excellent staff.will sure book here again will get some photos on my next stay
Cons:
excellent stay nothing bad to say about this hotel
Pros:
great hotel and very friendly staff and a great location and quiet location so a good nights sleep and only few minutes walk to the beach where you will find bars and restaurants and with very good prices.the owner even gave some information on good places to visit in the area which was very helpful.will sure book this hotel again wish i could have remembered to take some photos of this hotel but forgot.will take photos on my next stay
Cons:
everything was excellent
FAQs when booking a hotel near Chumphon airport
How much is a cheap hotel near Chumphon airport?
How much is a cheap hotel near Chumphon airport for tonight?
How can I find hotels near Chumphon airport?
Where to stay in Chumphon?
Our map will help you find the perfect place to stay close to Chumphon airport by showing you the exact location of each hotel.