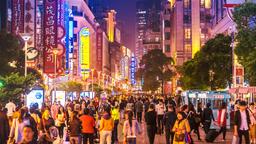 Shanghai car hire
Search hundreds of travel sites at once for car hire deals in Shanghai
Shanghai car hire information
| | |
| --- | --- |
| Pick-up location | Shanghai |
| Hire locations | 33 |
| Airport locations | 7 |
Shanghai car hire reviews and directory
Avis

╳
Avis reviews
Car hire locations
Avis
Locations in Shanghai
Lane.1199 Minsheng Rd Parking
+86 215 833 5759
| | |
| --- | --- |
| Monday | 09:30 - 18:00 |
| Tuesday | 09:30 - 18:00 |
| Wednesday | 09:30 - 18:00 |
| Thursday | 09:30 - 18:00 |
| Friday | 09:30 - 18:00 |
| Saturday | 09:30 - 18:00 |
| Sunday | 09:30 - 18:00 |
No. 168 Zhengtong Road
+86 182 214 9098
| | |
| --- | --- |
| Monday | 09:00 - 17:00 |
| Tuesday | 09:00 - 17:00 |
| Wednesday | 09:00 - 17:00 |
| Thursday | 09:00 - 17:00 |
| Friday | 09:00 - 17:00 |
| Saturday | 09:00 - 17:00 |
| Sunday | 09:00 - 17:00 |
No. 199 Fangdian Road
+86 215 833 5759
| | |
| --- | --- |
| Monday | 09:30 - 17:00 |
| Tuesday | 09:30 - 17:00 |
| Wednesday | 09:30 - 17:00 |
| Thursday | 09:30 - 17:00 |
| Friday | 09:30 - 17:00 |
| Saturday | 09:30 - 17:00 |
| Sunday | 09:30 - 17:00 |
No. 5 Jinian Rd
+86 216 070 8600
| | |
| --- | --- |
| Monday | 09:30 - 18:00 |
| Tuesday | 09:30 - 18:00 |
| Wednesday | 09:30 - 18:00 |
| Thursday | 09:30 - 18:00 |
| Friday | 09:30 - 18:00 |
| Saturday | 09:30 - 18:00 |
| Sunday | 09:30 - 18:00 |
No. 555 Guoquan Road
+86 182 214 9098
| | |
| --- | --- |
| Monday | 09:00 - 17:00 |
| Tuesday | 09:00 - 17:00 |
| Wednesday | 09:00 - 17:00 |
| Thursday | 09:00 - 17:00 |
| Friday | 09:00 - 17:00 |
| Saturday | 09:00 - 17:00 |
| Sunday | 09:00 - 17:00 |
No. 913 Jiangxue Road
+86 186 0164 1650
| | |
| --- | --- |
| Monday | 09:00 - 19:00 |
| Tuesday | 09:00 - 19:00 |
| Wednesday | 09:00 - 19:00 |
| Thursday | 09:00 - 19:00 |
| Friday | 09:00 - 19:00 |
| Saturday | 09:00 - 19:00 |
| Sunday | 09:00 - 19:00 |
No.3611 Zhangyang Road
+86 215 833 5759
| | |
| --- | --- |
| Monday | 09:30 - 17:00 |
| Tuesday | 09:30 - 17:00 |
| Wednesday | 09:30 - 17:00 |
| Thursday | 09:30 - 17:00 |
| Friday | 09:30 - 17:00 |
| Saturday | 09:30 - 17:00 |
| Sunday | 09:30 - 17:00 |
Zone 5,No.2 Wulian Rd Floor 1
+86 215 833 5759
| | |
| --- | --- |
| Monday | 09:30 - 18:00 |
| Tuesday | 09:30 - 18:00 |
| Wednesday | 09:30 - 18:00 |
| Thursday | 09:30 - 18:00 |
| Friday | 09:30 - 18:00 |
| Saturday | 09:30 - 18:00 |
| Sunday | 09:30 - 18:00 |
All Avis reviews
Avis reviews in Shanghai
╳
Hertz reviews
Car hire locations
Hertz
Locations in Shanghai
1200 Qihang Rd
+86 189 1705 4225
| | |
| --- | --- |
| Monday | 00:00 - 23:59 |
| Tuesday | 00:00 - 23:59 |
| Wednesday | 00:00 - 23:59 |
| Thursday | 00:00 - 23:59 |
| Friday | 00:00 - 23:59 |
| Saturday | 00:00 - 23:59 |
| Sunday | 00:00 - 23:59 |
2250 Hongqiao Rd P7 Rallying P
+86 181 2128 8980
| | |
| --- | --- |
| Monday | 00:00 - 23:59 |
| Tuesday | 00:00 - 23:59 |
| Wednesday | 00:00 - 23:59 |
| Thursday | 00:00 - 23:59 |
| Friday | 00:00 - 23:59 |
| Saturday | 00:00 - 23:59 |
| Sunday | 00:00 - 23:59 |
2nd Flr Carpark 239 Jufeng Rd
+86 181 2128 6330
| | |
| --- | --- |
| Monday | 08:00 - 21:00 |
| Tuesday | 08:00 - 21:00 |
| Wednesday | 08:00 - 21:00 |
| Thursday | 08:00 - 21:00 |
| Friday | 08:00 - 21:00 |
| Saturday | 08:00 - 21:00 |
| Sunday | 08:00 - 21:00 |
3001 Changning Rd West
+86 181 2128 9116
| | |
| --- | --- |
| Monday | 08:00 - 21:00 |
| Tuesday | 08:00 - 21:00 |
| Wednesday | 08:00 - 21:00 |
| Thursday | 08:00 - 21:00 |
| Friday | 08:00 - 21:00 |
| Saturday | 08:00 - 21:00 |
| Sunday | 08:00 - 21:00 |
350 Jinian Rd
+86 181 2128 5581
| | |
| --- | --- |
| Monday | 08:00 - 21:00 |
| Tuesday | 08:00 - 21:00 |
| Wednesday | 08:00 - 21:00 |
| Thursday | 08:00 - 21:00 |
| Friday | 08:00 - 21:00 |
| Saturday | 08:00 - 21:00 |
| Sunday | 08:00 - 21:00 |
699 Yingkou Rd
+86 181 2128 6359
| | |
| --- | --- |
| Monday | 08:00 - 21:00 |
| Tuesday | 08:00 - 21:00 |
| Wednesday | 08:00 - 21:00 |
| Thursday | 08:00 - 21:00 |
| Friday | 08:00 - 21:00 |
| Saturday | 08:00 - 21:00 |
| Sunday | 08:00 - 21:00 |
B2 760 Datong Rd
+86 181 2128 9785
| | |
| --- | --- |
| Monday | 08:00 - 21:00 |
| Tuesday | 08:00 - 21:00 |
| Wednesday | 08:00 - 21:00 |
| Thursday | 08:00 - 21:00 |
| Friday | 08:00 - 21:00 |
| Saturday | 08:00 - 21:00 |
| Sunday | 08:00 - 21:00 |
Cnr Humin / Hongmei Rds
+86 181 2128 9809
| | |
| --- | --- |
| Monday | 08:00 - 21:00 |
| Tuesday | 08:00 - 21:00 |
| Wednesday | 08:00 - 21:00 |
| Thursday | 08:00 - 21:00 |
| Friday | 08:00 - 21:00 |
| Saturday | 08:00 - 21:00 |
| Sunday | 08:00 - 21:00 |
Dong Yi Htl,#555,ding Xiang Rd
+86 181 2128 5583
| | |
| --- | --- |
| Monday | 08:00 - 21:00 |
| Tuesday | 08:00 - 21:00 |
| Wednesday | 08:00 - 21:00 |
| Thursday | 08:00 - 21:00 |
| Friday | 08:00 - 21:00 |
| Saturday | 08:00 - 21:00 |
| Sunday | 08:00 - 21:00 |
Huaxia East Rd,nongwangzu Sq
+86 181 2128 9792
| | |
| --- | --- |
| Monday | 08:00 - 21:00 |
| Tuesday | 08:00 - 21:00 |
| Wednesday | 08:00 - 21:00 |
| Thursday | 08:00 - 21:00 |
| Friday | 08:00 - 21:00 |
| Saturday | 08:00 - 21:00 |
| Sunday | 08:00 - 21:00 |
Parking B3 Shanghai West Rail
+86 213 220 6673
| | |
| --- | --- |
| Monday | 08:00 - 21:00 |
| Tuesday | 08:00 - 21:00 |
| Wednesday | 08:00 - 21:00 |
| Thursday | 08:00 - 21:00 |
| Friday | 08:00 - 21:00 |
| Saturday | 08:00 - 21:00 |
| Sunday | 08:00 - 21:00 |
Terminal 2, Domestic Arrival
+86 216 833 9811
| | |
| --- | --- |
| Monday | 00:00 - 23:59 |
| Tuesday | 00:00 - 23:59 |
| Wednesday | 00:00 - 23:59 |
| Thursday | 00:00 - 23:59 |
| Friday | 00:00 - 23:59 |
| Saturday | 00:00 - 23:59 |
| Sunday | 00:00 - 23:59 |
Unit 101 Changfeng Centre
+86 216 085 1900
| | |
| --- | --- |
| Monday | 00:00 - 23:59 |
| Tuesday | 00:00 - 23:59 |
| Wednesday | 00:00 - 23:59 |
| Thursday | 00:00 - 23:59 |
| Friday | 00:00 - 23:59 |
| Saturday | 00:00 - 23:59 |
| Sunday | 00:00 - 23:59 |
Information
Pros:
We are in China and they did not rented us the car because we need a Chinese drivers license, the website never informed that!!
Value for money not worth it!
Don't use Hertz in Shangha !
Cons:
Although i booked the car for 6:00 am i was able to get a car at 9:00 am. No English spoken at the office, very difficult to communicate. The car I got had a non-Shanghai license plate which has limited access to the city. I asked to change to Shanghai license plate and had to pay extra's, whilst nothing was mentioned during the booking.
Ehi

Ehi
Locations in Shanghai
1st floor Parking lot P6, Hongqiao airport terminal T2
+86 181 4979 0731
No. 103, Huashi Road
+86 400 888 6608
No.21 North Pusong Rd near West Tian Shan Rd, Changning District
+86 216 233 8565
No.2750, Gonghexin Rd.(near to Lingshi rd.,exit 4 of metro Line 1 )
+86 216 630 2501
No.355,Molin Road
+86 215 101 3275
No.413 Kaixuan Rd near Changning Rd
+86 216 260 7389
North Square of Shanghai South Railway Station,taxi transfer point(Line 1 No.4 Exit)
+86 216 422 4407
P4 Parking Lot, Pudong Airport
+86 216 833 6816
Europcar

Europcar
Locations in Shanghai
Shop N.73-9, Jiachen Life Sq, N.479
+86 151 5015 7207
Shouqi Car Rental,n.188
+86 185 1212 3975
keddy by Europcar

keddy by Europcar
Locations in Shanghai
Near Haitian 3 Road Subway Station, 888 Parking Lot Qihang Road
3 travellers who hired a car in Shanghai gave the car agency they used an average rating of 2,9
Car hire locations in or near Shanghai
When to book a car hire in Shanghai
Average daily price per month
Car hire prices as pick-up date approaches
Top tips for renting a car in Shanghai
Book your car hire in Shanghai at least 1 day before your trip in order to get a below-average price
FAQs about hiring a car in Shanghai
What is the cheapest car hire agency in Shanghai?
What is the cheapest car hire location in Shanghai?
How can I find a car hire near me in Shanghai?