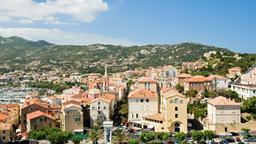 Calvi car hire
Search hundreds of travel sites at once for car rental deals in Calvi
Calvi car hire information
| | |
| --- | --- |
| Pick-up location | Calvi |
| Hire locations | 16 |
| Airport locations | 12 |
Calvi car hire reviews and directory
Avis

╳
Avis reviews
Car hire locations
Port De Plaisance
+33 4 95 65 06 74
Monday
09:00 - 12:00
15:00 - 18:00
Tuesday
09:00 - 12:00
15:00 - 18:00
Wednesday
09:00 - 12:00
15:00 - 18:00
Thursday
09:00 - 12:00
15:00 - 18:00
Friday
09:00 - 12:00
15:00 - 18:00
Saturday
09:00 - 12:00
Sunday
Sainte Catherine
+33 4 95 65 88 38
| | |
| --- | --- |
| Monday | 07:00 - 20:30 |
| Tuesday | 07:00 - 20:30 |
| Wednesday | 07:00 - 20:30 |
| Thursday | 07:00 - 20:30 |
| Friday | 07:00 - 20:30 |
| Saturday | 07:00 - 20:30 |
| Sunday | 07:00 - 20:30 |
All Avis reviews
Avis reviews in Calvi
Recent reviews
All reviews
Positive
Neutral
Negative
Budget

╳
Budget reviews
Car hire locations
Budget
Locations in Calvi
Aeroport Sainte Catherine
+33 4 95 65 88 38
| | |
| --- | --- |
| Monday | 07:00 - 20:30 |
| Tuesday | 07:00 - 20:30 |
| Wednesday | 07:00 - 20:30 |
| Thursday | 07:00 - 20:30 |
| Friday | 07:00 - 20:30 |
| Saturday | 07:00 - 20:30 |
| Sunday | 07:00 - 20:30 |
Europcar

Europcar
Locations in Calvi
Route De Santore
+33 4 95 65 10 35
Ste Catherine Airport
+33 4 95 65 10 19
keddy by Europcar

keddy by Europcar
Locations in Calvi
Route De Santore- Immeuble Le Grand Large
Sunnycars

Sunnycars
Locations in Calvi
Aéroport de Calvi-Sainte-Catherine
Route De Santore / Immeuble Le Grand Large
Alamo

Aero De Calvi- Ste Catherine
+33 4 95 65 16 06
| | |
| --- | --- |
| Monday | 00:00 - 00:00 |
| Tuesday | 00:00 - 00:00 |
| Wednesday | 00:00 - 00:00 |
| Thursday | 00:00 - 00:00 |
| Friday | 00:00 - 00:00 |
| Saturday | 00:00 - 00:00 |
| Sunday | 00:00 - 00:00 |
Citer

Aero De Calvi- Ste
+33 4 95 65 16 06
| | |
| --- | --- |
| Monday | 00:00 - 00:00 |
| Tuesday | 00:00 - 00:00 |
| Wednesday | 00:00 - 00:00 |
| Thursday | 00:00 - 00:00 |
| Friday | 00:00 - 00:00 |
| Saturday | 00:00 - 00:00 |
| Sunday | 00:00 - 00:00 |
Enterprise

Enterprise
Locations in Calvi
Aero De Calvi- Ste
+33 4 95 65 16 06
| | |
| --- | --- |
| Monday | 00:00 - 00:00 |
| Tuesday | 00:00 - 00:00 |
| Wednesday | 00:00 - 00:00 |
| Thursday | 00:00 - 00:00 |
| Friday | 00:00 - 00:00 |
| Saturday | 00:00 - 00:00 |
| Sunday | 00:00 - 00:00 |
Goldcar Rental SP

Goldcar Rental SP
Locations in Calvi
Calvi - Sainte-Catherine Airport
| | |
| --- | --- |
| Monday | 00:01 - 23:59 |
| Tuesday | 00:01 - 23:59 |
| Wednesday | 00:01 - 23:59 |
| Thursday | 00:01 - 23:59 |
| Friday | 00:01 - 23:59 |
| Saturday | 00:01 - 23:59 |
| Sunday | |
Hertz

Betonggatan 3
+33 4 95 65 02 96
Monday
11:00 - 15:00
16:30 - 18:00
Tuesday
13:00 - 18:00
Wednesday
13:00 - 15:00
Thursday
13:00 - 15:00
Friday
12:00 - 18:00
Saturday
09:30 - 14:00
Sunday
13:30 - 18:00
National

National
Locations in Calvi
Aero De Calvi- Ste Catherine
+33 4 95 65 16 06
| | |
| --- | --- |
| Monday | 00:00 - 00:00 |
| Tuesday | 00:00 - 00:00 |
| Wednesday | 00:00 - 00:00 |
| Thursday | 00:00 - 00:00 |
| Friday | 00:00 - 00:00 |
| Saturday | 00:00 - 00:00 |
| Sunday | 00:00 - 00:00 |
Rhodium

Rhodium
Locations in Calvi
Calvi - Sainte-Catherine Airport
| | |
| --- | --- |
| Monday | 00:01 - 23:59 |
| Tuesday | 00:01 - 23:59 |
| Wednesday | 00:01 - 23:59 |
| Thursday | 00:01 - 23:59 |
| Friday | 00:01 - 23:59 |
| Saturday | 00:01 - 23:59 |
| Sunday | |
Car hire locations in or near Calvi
When to book a car hire in Calvi
Average daily price per month
Car hire prices as pick-up date approaches
Top tips for renting a car in Calvi
Book your car hire in Calvi at least 1 week before your trip in order to get a below-average price
FAQs about hiring a car in Calvi
What is the best car hire agency in Calvi?
Based on ratings and reviews from real users on KAYAK, the best car hire companies in Calvi are Alamo (9,2, 2 reviews), Avis (7,6, 2244 reviews), and rentalcars.com (6,9, 1424 reviews).
How can I find a car hire near me in Calvi?
Take a look at our extensive car hire location map to find the best car hire deals near you.