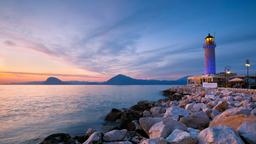 Hotels near Araxos airport
Search hundreds of travel sites at once for Araxos airport hotels
Best hotels near Araxos airport
Based on 224 reviews
All
Families with older children
Families with young children
Families
Couples
Groups
Solo travellers
Business travellers
Cleanliness
8,9
Comfort
8,8
Facilities
8,8
Food
6,5
Location
8,1
Cleanliness
8,0
Comfort
8,0
Facilities
10,0
Location
8,0
Overall
8,0
Cleanliness
8,5
Facilities
8,5
Food
6,5
Location
6,5
Overall
8,2
Cleanliness
8,9
Comfort
8,6
Location
8,1
Services
8,1
Staff
8,8
Cleanliness
8,8
Comfort
8,6
Location
7,9
Services
8,3
Staff
9,1
Cleanliness
8,7
Comfort
8,8
Location
8,1
Services
8,0
Staff
8,7
Cleanliness
9,4
Comfort
9,4
Facilities
8,0
Location
8,7
Overall
8,0
Cleanliness
9,2
Comfort
9,1
Location
8,9
Services
8,7
Staff
9,3
---
Pros:
Very friendly and helpful staff. Wonderful evening view from the garden in the sunset
Cons:
Can not mention anything, was very happy
Pros:
Dinner in the evening - great food and excellent value.
Cons:
Asked for a quiet room as we had our dog with us. We were put on the back of the hotel facing residential properties many of which seemed to have ferocious dogs that barked day & night. The hotel was almost empty and I couldn't help but wonder why they were unable to put us in the room we stayed in on our previous visit - the room was not occupied! Couldn't sit on our balcony because of the sewage smell that wafted up.
Pros:
Good location, friendly people, clean, very mice restaurant. Value for money! I will definitely go back.
Cons:
There is nothing I did not like.
Pros:
Lovely hotel all around, pool, sea, close to Ostria, one of best food You can ever get ! Close to ferry, 45 min drive so You can go to Zakynthos easily. Close to Patra, nice big town.
Cons:
There is not much to do around. You will need to drive to see anything but its close to ferry to Zakynthos
Pros:
The food, the team, the cleanliness, the pool, the rooms. Everything is great. They even upgraded our room without any additional cost.
Cons:
Everything was perfect
Pros:
We were on holiday with our two dogs (small, maltese). The staff was very friendly and we did not have any problem. It is not common for a 4 stars hotel to allow pets. I am glad and grateful that they did! :) Also, the location is so beautiful. It is right by the sea and you can swim without worries. It is not a sandy beach, there are rocks in the water, but if you do not mind that, it is really beautiful! Great spot to see the sunset.
Based on 176 reviews
All
Families with young children
Families
Couples
Groups
Solo travellers
Business travellers
Cleanliness
9,0
Comfort
8,4
Facilities
10,0
Food
10,0
Location
8,2
Cleanliness
10,0
Facilities
10,0
Food
10,0
Location
8,5
Overall
10,0
Cleanliness
9,2
Comfort
8,8
Location
8,5
Services
8,7
Staff
9,2
Cleanliness
8,8
Comfort
8,3
Location
7,9
Services
8,4
Staff
9,2
Cleanliness
8,8
Comfort
8,1
Location
8,1
Services
8,3
Staff
8,5
Cleanliness
8,8
Comfort
7,8
Location
8,2
Services
7,8
Staff
9,2
Cleanliness
9,1
Comfort
8,3
Location
8,3
Services
8,4
Staff
8,9
---
Pros:
Beautiful hotel and swimming pool !
Pros:
Location was great right on the sea, food at restaurant was fantastic. Room was very clean and comfortable. Pool area was very clean. Breakfast was lovely and all staff were amazing. This place is better than the photos
Pros:
The pool area was nice and it was fairly empty (except external people that entered it). The price paid for the rooms was good. The parking was convenient.
Cons:
The pool was being used by multiple groups of external people. It looked like its the community pool of the village. The room was very small, our air conditioning was barely working (it took few hours for it to cool down). the breakfast was very basic with the coffee not being good at all.
Pros:
Hotel has perfect name (god of water) as pool is great with very nice view of the see.
Pros:
Despite being very quiet, all the facilities were still available and the staff very helpful
Cons:
Nothing, it was all goid
Pros:
The breakfast is great and the hotel is very nice.
Cons:
The standard room is very small.
Pros:
cozy hotel and nice people
Pros:
Everything was perfect!
Pros:
Views of the sea and the surrounding hills are quite attractive. The pool is ok. The breakfast was quite good. Perfect for staying overnight on passing by.
Cons:
Although the hotel is at the sea shore, you can't really enjoy swimming in the sea. The water is muddy and not easily to enter. The hotel gives an impression of slow decay, which does not improve the atmosphere.
FAQs when booking a hotel near Araxos airport
How much is a cheap hotel near Araxos airport?
How much is a cheap hotel near Araxos airport for tonight?
How can I find hotels near Araxos airport?
Where to stay in Patras?
Our map will help you find the perfect place to stay close to Araxos airport by showing you the exact location of each hotel.