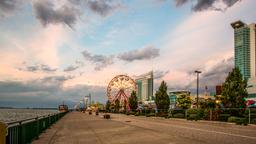 Windsor car hire
Search hundreds of travel sites at once for car rental deals in Windsor
Windsor car hire information
| | |
| --- | --- |
| Pick-up location | Windsor |
| Hire locations | 14 |
| Airport locations | 8 |
Windsor car hire reviews and directory
╳
Enterprise reviews
Car hire locations
Enterprise
Locations in Windsor
1014 Tecumseh Rd E
+1 519 966 8500
| | |
| --- | --- |
| Monday | 07:30 - 17:00 |
| Tuesday | 07:30 - 17:00 |
| Wednesday | 07:30 - 17:00 |
| Thursday | 07:30 - 17:00 |
| Friday | 07:30 - 17:00 |
| Saturday | 09:00 - 12:00 |
| Sunday | 09:00 - 12:00 |
1150 Provincial Rd
+1 519 250 9005
| | |
| --- | --- |
| Monday | 07:30 - 17:00 |
| Tuesday | 07:30 - 17:00 |
| Wednesday | 07:30 - 17:00 |
| Thursday | 07:30 - 17:00 |
| Friday | 07:30 - 17:00 |
| Saturday | 00:00 - 00:00 |
| Sunday | 00:00 - 00:00 |
3200 County Rd 42
+1 519 966 7923
| | |
| --- | --- |
| Monday | 00:00 - 00:00 |
| Tuesday | 00:00 - 00:00 |
| Wednesday | 00:00 - 00:00 |
| Thursday | 00:00 - 00:00 |
| Friday | 00:00 - 00:00 |
| Saturday | 00:00 - 00:00 |
| Sunday | 00:00 - 00:00 |
9250 Tecumseh Road East
+1 519 735 0755
| | |
| --- | --- |
| Monday | 07:30 - 17:00 |
| Tuesday | 07:30 - 17:00 |
| Wednesday | 07:30 - 17:00 |
| Thursday | 07:30 - 17:00 |
| Friday | 07:30 - 17:00 |
| Saturday | 09:00 - 12:00 |
| Sunday | 00:00 - 00:00 |
The car was dirty when I picked it up and it seeme
Cons:
Seemed like it had an engine problem.
9,2 Excellent
Aug 10 2018
Excellent overall experience
Pros:
When I rented my vehicle the initial experience wasn't the greatest. I express d that to the young lady that bright me to my car. I had no idea she was going to do what she did. I had a different drop off than pick up. When I dropped my vehicle off they had waived some fees. I was more than pleasantly surprised
10,0 Excellent
Jul 13 2016
Pros:
I had a very good experience at the enterprise rental place, the person who helped us with our rental was great, very friendly, and very helpful in choosing our vehicle, it didn't long to get everything done
Cons:
there wasn't anything I didn't like
10,0 Excellent
Jul 16 2016
Trip
Pros:
The staff was friendly and professional. Also, they came to our hotel which made things much easier.
Cons:
Car seemed very light.
10,0 Excellent
Aug 23 2016
Avoid Sundays/Mondays if not a member with special
Pros:
I received the car that was shown in advertisement, a Lincoln. They push the pressure sale for additional insurance, fuel and options. The drop off was excellent and transportation to and from airport was great. PS, if the Lincoln is Ford's top of the line, Ford no longer has a luxury car! This was a Taurus with a upgraded interior.
Cons:
On Sunday and Mondays, they're swamped and sometimes overbooked. I waited in line over 40 minutes with only 10 people in front of me when I got there. They wouldn't serve the next person in line until a car was ready for the person at the counter. If this is the norm then they should have lines for different types of rentals and be able to process through rentals they have and get them on the road. Very frustrating after flying all day and wanting to get to your destination. As to cleanliness, there was something spilled in the back seat on the leather that had not been cleaned when we received the car.
Car company wasn't even at the airport!
Cons:
Showed up in Windsor and Enterprise was a cab ride away from the airport. Due to local bylaws they weren't able to pick me up at the airport. We went with Budget for the same price and got a better vehicle right at the airport.
10,0 Excellent
Nov 15 2016
Pros:
I LOVED Matthew! He was super friendly!
10,0 Excellent
Nov 21 2016
Excellencent service personnel
Pros:
Autumn and Cleo at the return counter went above and beyond good service. There was an issue paying for the gas and they solved it quite quickly. It was quick and got me to my plane on time.
Cons:
The shuttle took a long time to pick us up at the airport.
10,0 Excellent
Jan 1 2017
Pros:
We were given an upgrade and we were able to drop car off before office opened
╳
Avis reviews
Car hire locations
Avis
Locations in Windsor
3200 County Road 42
+1 519 966 2782
| | |
| --- | --- |
| Monday | 09:00 - 17:00 |
| Tuesday | 09:00 - 17:00 |
| Wednesday | 09:00 - 17:00 |
| Thursday | 09:00 - 17:00 |
| Friday | 09:00 - 17:00 |
| Saturday | 09:00 - 15:00 |
| Sunday | 09:00 - 15:00 |
Cons:
Wait time for processing rental was greater than one hour.
Cons:
More expensive than anticipated. Partially my fault making reservation. I didn't check pick up location closely enough.
Not Good!
Cons:
I booked a car through Kayak to be available to me when I landed at the Detroit Airport. The car I reserved, for some reason, is not at the Detroit Airport. It's in Windsor Ontario. And the great price I received was in Canadian dollars so it wasn't so great after all. And when I attempted to contact customers service, there is none to be found. Nice job Kayak!
Pros:
The agent was very nice with the transaction.
Cons:
It took me at least an hour to get my car. There were 3 agents working. Since I was doing a turn around flight this utilized far too much of my needed time. This was the LONGEST I've ever had to wait and get a car and the issue wasn't stock. There were plenty of cars on hand.
Newer clean vehicle.
Pros:
Clean car.Quick pickup and drop off.
Cons:
Wish it was a little cheaper
Cons:
Price gouging and over charging by Avis. No care for people, all about the money. Child's car seat was dirty and quite a hassle for them. Car was ok but service from Avis representatives was poor and disorganized.
╳
Europcar reviews
Car hire locations
Europcar
Locations in Windsor
298 Walker Road
+1 888 412 3733
Call 1 5199720967 For Disc Shuttle
+1 519 972 0967
10,0 Excellent
Sep 6 2017
Pros:
Employees were terrific - there was a massive flood and they seemed to be doing a terrific job of handling all the issues that came along with it
No car available for me after booking well in advance
Pros:
Never going to try there again
Cons:
The fact that I booked my van rental two months in advance to make sure I had one for my trip and the day I was going to pick it up there was nothing available make me so mad. I was super lucky to have found a van with enterprise at the last minute! After that I will always rent from them. They have the best service!
No vehicle available
Cons:
I had reserved a vehicle through them. Three days before the reservation date I was emailed that to vehicle was over booked. I the email it said that they would like to offer me alternatives, but I was given zero and got the run around, oh and of course they were closed over the weekend when I got the email and I had to wait until a day before my trip to sort it out. No one helped at all, given zero alternatives, and just told to call priceline/discount company. I will never use them. Had to pay $500 more for a car since it was so close to when I needed it.
Avoid at all costs!!! Waste of time and money
Cons:
There is no car rental booth at this location. Only a little metal kiosk that connects you by phone to Discount. There is only a train station. It's not Europcar but Discount Auto carrying on business as Europcar. No Europcar signs.When you call the number on the reservation Discount operator answers the phone. She had no idea what to do or what was going on. Shame on you for allowing this to happen. I ended up borrowing a car from a friend. Otherwise I would have been stuck
Ridiculous Experience with Europcar
Pros:
Friendly staff willing to help and provide the best that organization has to offer.
Cons:
Poorly maintained fleet of cars by the associates of Europcar Car Rentals i.e. Discount Car & Truck Rentals. Inability to appreciate the time of customer. Misleading the customer of the location of rental facility.
No cars actually at the station, just a video kiosk
Pros:
Staff was great, helpful
Cons:
I was surprised to find no rental counter at Windsor station, just a video kiosk marked Discount (not even Eurocar). After calling, it took 20 minutes for an agent to arrive to pick us up and drive us another 20 minutes to the rental counter, where we took another 20 minutes to finally get the car and be on our way. That was nowhere advertised or stated, so it came as a surprise. As a minimum, I would suggest their confirmation email ask us to call 15 minutes before arriving so the shuttle can be there. Or they could monitor the train arrival times and just be there when our train arrives. Then you need to drop the car to the rental office over an hour before the train. Something to keep in mind.
Car wasn't there
Cons:
I made a reservation a week in advance, but the car wasn't there when I showed up because someone else extended their rental, and they had no other sedans at all! Had to go with a different company and pay more.
╳
Budget reviews
Car hire locations
Budget
Locations in Windsor
3200 County Road 42 (Cr-42)
+1 519 969 5611
| | |
| --- | --- |
| Monday | 09:00 - 17:00 |
| Tuesday | 09:00 - 17:00 |
| Wednesday | 09:00 - 17:00 |
| Thursday | 09:00 - 17:00 |
| Friday | 09:00 - 17:00 |
| Saturday | 09:00 - 15:00 |
| Sunday | 09:00 - 15:00 |
You get what you pay for
Cons:
The car was cheaply made and uncomfortable.
Understaffed and 2 hour wait to pick up regardless of reservation
Pros:
Ultimately, one customer service agent and the relative cost.
Cons:
Long wait. Uncoordinated lot staff and lacking a universal understanding of basic customer service.
Check in process very poor
Pros:
Received free vehicle upgrade
Cons:
Stood in line for over an hour to pick up my car
Pros:
Tried to rent a car 10 times and was rejected saying price no longer available. Website is a. Mess! Need to fix your tech issues before any more customers are lost!!!!
Mean
Cons:
I found out that the reservation was not st DTW, but rather at a smaller regional airport and, though on the phone the representative was very kind and transferred the reservation for no charge, at DTW the representative would not honor that and insisted on doubling the rate. So I left and rented from Thrifty.
Pros:
friendly staff, closeness of the rental office to the vehicle
Cons:
long wait due to staff shortage, wrong/no instructions on toll fees
Cons:
Instead of telling me when I booked the reservation that they were sold out at the airport I flew into. It booked my car reservation somewhere in Canada. I ended up using an Uber.
Pros:
Nothing. They didn't give me the car I booked. They kept the nicer car for other potential bookings. When i asked for the car i booked they argued... "it shouldn't matter since your saving money" ya Two dollars! i brought the car back and they claimed i put a small crack in the headlight. I didnt!
Cons:
Terrible customer service. Scammers Rude and made fun of my accent
8,0 Excellent
Feb 18 2019
Cons:
Since only one agent to serve both Avis and Budget, it slows down the check in process.
Discount Car & Truck Rentals

Discount Car & Truck Rentals
Locations in Windsor
2565 Dougall Avenue Unit No. 3
keddy by Europcar

keddy by Europcar
Locations in Windsor
298 Walker Road, Windsor
+1 888 412 3733
Call 1 5199720967 For Shuttle To- Discount//2565 Dougall Av Unit N?3
National

National
Locations in Windsor
3200 County Rd 42
+1 519 966 7923
| | |
| --- | --- |
| Monday | 00:00 - 00:00 |
| Tuesday | 00:00 - 00:00 |
| Wednesday | 00:00 - 00:00 |
| Thursday | 00:00 - 00:00 |
| Friday | 00:00 - 00:00 |
| Saturday | 00:00 - 00:00 |
| Sunday | 00:00 - 00:00 |
Sunnycars

Sunnycars
Locations in Windsor
45 travellers who hired a car in Windsor gave the car agency they used an average rating of 5,9
Car hire locations in or near Windsor
When to book a car hire in Windsor
Average daily price per month
Car hire prices as pick-up date approaches
Top tips for renting a car in Windsor
Book your car hire in Windsor at least 1 day before your trip in order to get a below-average price
FAQs about hiring a car in Windsor
What is the best car hire agency in Windsor?
How can I find a car hire near me in Windsor?