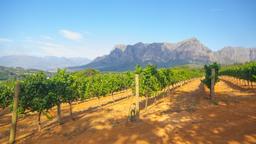 Find cheap flights from Malta Island to South Africa
Search hundreds of travel sites at once for deals on flights to South Africa
FAQs for booking flights from Malta Island to South Africa
How does KAYAK find such low prices on flights from Malta Island to South Africa?
How does KAYAK's flight Price Forecast tool help me choose the right time to buy my flight ticket from Malta Island to South Africa?
What is the Hacker Fare option on flights from Malta Island to South Africa?
What is KAYAK's "flexible dates" feature and why should I care when looking for a flight from Malta Island to South Africa?
Top 4 airlines serving from Malta Island to South Africa
Scores according to KAYAK customer reviews
8,0
SWISS
Overall score based on 8 997 reviews
Pros: "Crew was great, seating comfortable."
Pros: "Excellent service from the crew and prices were good."
Cons: "The seats seem to have gotten smaller and were rather uncomfortable for a 7 hour flight."
Pros: "Crew"
Cons: "My flight tickets were mess up and I had to purchase new tickets . Horrible"
Cons: "seat comfort"
Pros: "Crew was very nice and attentive"
Cons: "Leg room on my first flight (longest leg of the trip) was not much and when the person in front of me leaned their chair back, my knees were touching the chair."
Pros: "Good service"
Cons: "Valencia is probably the least user friendly airport. Security personnel there are unbearable. Boarding took unnecessarily long. Luggage took close to 30 min in Zurich"
Pros: "I liked how nice the crew was."
Cons: "I didn't like how check in took a very long time. And they made me check in my carry on when it fit the restrictions and the overhead bins on board were not full."
Pros: "Flight share with another airline so we couldn't book our seats in advance."
Cons: "Space is cramped. Very professional and courteous crew."
Pros: "Everything"
Pros: "Very positive experience."
Cons: "Flight was delayed because of a flight late arriving from Barcelona. Unlike an international flight...no entertainment & only a slight snack food. Still highest marks for the crew and the service that they provided"
Pros: "Spacious seats"
Cons: "Bag check process"
Pros: "Food service is adequate."
Cons: "Standard complaint, but economy seats are way to squeezed in!"
Pros: "Overall everything was great"
Cons: "None"
Pros: "Checkin was smooth, cabin crew and service was great. Absolutely no complaints."
Cons: "Nothing. All was exceptionally good."
Pros: "The food wasn't bad"
Cons: "Business seats suck"
Pros: "Food"
Cons: "I couldn't take it. To travel to pass through Canada you need a Visa"
Pros: "Everything was very good. From the staff, to the food and comfort. Excellent!"
Cons: "It was hard to figure out how to request a special meal"
Pros: "Amount of times drinks, water, was served."
Cons: "The person in front of me reclined seat the whole trip. Very, very uncomfortable for me."
Cons: "Mackenzie Gray/ My flight was cancelled due to bad weather conditions unfortunately. I'm upset that I never received my initinerary for my substitute flight! I tried online and calling the # that was provided no results. I managed to get thru to someone and they told me they would send the info to my email but they never did."
Pros: "Air hostesses were very courteous, friendly and the cabin was clean and comfortable. My flight from jfk to Geneva (then Zurich) was cancelled due to weather in Geneva (Swiss 23) so I got upgraded to a delta flight to Brussels then to Zurich Comfort+ !!! Thank you!"
Cons: "Flight from Zurich to Johannesburg: Swiss 288 (airbus a340-300) Sat in the last row of the Swiss air flight, economy, which was okay but our whole row video enternatinment system didn't work. You'd pick a movie and it wouldn't play. The games, camera and flight status animation all worked but not the movies. Air hostess tried resetting , still nothing. But it was a great opportunity to have a lovely conversation with my new German Friend Barbara and read my book! More lactose intolerant alternatives for breakfast which had much (cheese, yogurt, croissant) Other than those two , excellent flight. Thank you Swiss!"
Pros: "Wonderful flight with less leg room . Since I am 5'6'm I was fit enough on the seats, beyond that you should be worried about"
Cons: "Flight attendant, food , service and many good things except the leg room which you regret in your entire journey"
Pros: "Crew was nice."
Cons: "Cabin is old and needs updating. For the cost of the ticket, I expected better entertainment, more room, and better food."
Pros: "Plane on time, crew friendly. Great flight!"
Pros: "Everything !"
Pros: "EVERYTHING WAS AWESOME BEFORE THE PLANE EVEN TOOK OFF!! My flights somehow got real messed up and everything down to my luggage had to be input manually. I wasn't sure if it was going to make it with me to the final destination. But it did! The head rest blew me away just as i sat. I love to know I can fall asleep and not have neck problems. And everything from the movies to the service to the food was great! My first international yet BEST experience in economy class was all worth it!"
Pros: "Stewards are very kind and friendly unlike those in US flights."
Cons: "None."
Cons: "My seat did not recline and my tv did not work"
Pros: "Once staff arrived all went well."
Cons: "The flight was scheduled for about 1pm and we arrived with another connecting flight to the Athens airport at 8am as that was our only choice. No staff arrived until 11am to check people in and take baggage. We were flying business and would have liked to check in earlier and make our way through security to the business lounge but could not and had to wait for three hours. It would have been nice to have one person on duty."
Pros: "Comfort"
Cons: "The guy in front of me at the flight from Zurich to Newark..."
Pros: "I really enjoyed the flight overall. Made a long flight seem not so bad."
Pros: "Great customer service."
Cons: "Breakfast was a strawberry yogurt, orange juice and a croissant. Sugar free options ie. Eggs, rye or whole grain bread are a few examples of sugar free breakfast items that could be provided."
Pros: "Loved the cute attendant we had on flight :)"
Cons: "Old TV screen and remote"
Pros: "Helpful staff"
Cons: "I was uncomfortable with the space"
Cons: "Unorganized and hectic at the gate; personnel were rude and unhelpful. I was asked numerous times to Leave and let them do their work" when I asked why I was on standby and what that meant."
Pros: "Comfy seats. Friendly staff. Lots of food and beverage options"
Cons: "The length of the flight. But I don't know how to make it shorter"
Pros: "At list 2 attendants were extremely not polite . Air condition was turned on 2 minutes before landing . To collect food plates from passengers took more then 2 hours . When passengers asked attendants, to evaluate when it going to happen the answer was very rude ״ you should fly business in case you want it faster " . It was a night flight and it took 3 hours to turn off the lights . One of the girls attendants told me that I have too many hand handbags with me , only 1 piece allowed . I was with 3 pieces but we were 3 persons my wife and my Childe . I was trying to explain her, but she was unable to listen . It is not Swiss I know , I like to flight Swiss , but this flight was extremely disappointing .It was many confusions with other passengers as well. wrong meals , wrong seats , no air condition, ... the flight was a nightmare"
Cons: "In this flight nothing , one of the worst I have ever had ."
Pros: "Nothing"
Cons: "Once again, I paid extra to select my seats and once again they did not honor that. I paid extra for an aisle and a window seat and we were put in that horrid middle seat area. The video/television screens in our row were broken the entire flight. The attendants kept telling us they would be fixed soon and they never were. There was one attendant who was nice and the rest were rude and unhelpful. We arrived in Boston 2 1/2 hours late. Terrible experience."
Pros: "Overall this was an average international flight. But the crew and food made up for all the short comings. One of the most amazing crews I have ever experienced....and food was surprisingly delicious...even ice cream. they visited frequently with water and tea. We're friendly accommodating and fun everything that you want in a crew."
Cons: "Cramped coach seats and pretty boring movie selection.The double checking and multiple lines at boarding was a ridiculous but perhaps it's required"
Pros: "Wonderful staff and service. Multiple snack and meal service very much appreciated. I love Swiss Air."
Cons: "I found the movie selection a bit limited for such a long flight."
Pros: "The crew was terrific, the pilot provided us with lots of good information, and though the plane left late, it arrived on time."
Cons: "The seats are configured exactly opposite the human back. Clean, new, but very uncomfortable."
Pros: "The food was delivered fast. The meals were delicious, especially the chicken and polenta. I also appreciated the ice cream and I enjoyed the selection of movies and television. I also appreciated the map and trip information display."
Cons: "Very bad service, staff was not polite or helpful"
Cons: "Delayed boarding due to overheated plane, when we did board it was still warm and we had to sit longer due to other mechanical issues. Wish they would have waited for all issues to be resolved before boarding."
Pros: "Crew was very kind and accommodating."
Cons: "I was unable to choose my seat online due to Swiss system issues and when I called, customer service was completely unhelpful despite the 25 minutes I had to wait for someone to answer."
Pros: "Nothing"
Cons: "The most racist and unfriendly and uncivilized people ever."
Pros: "Nice crew, good food!"
Cons: "NO INTERNET!!!"
Pros: "Crew was kind and helpful."
Cons: "Seats are so narrow and led room. Another bathroom is always a plus."
Pros: "Very good leg room and comfortable seat."
Cons: "Foot rests in economy - better ventilation options airflow"
Pros: "Everything...the food was delicious, the staff was gracious and always went the extra mile."
Pros: "Food good. Staff friendly."
Cons: "Kid sitting behind me was kicking my seat."
Pros: "I love the food and the movies"
Pros: "three main dishes. chicken. pasta. beef. I donot eat beef and pasta. I request her to give me chicken, but she told me that the chicken is finished. and donot ask me to take any other item."
Pros: "Sleeping accommodations, storage, crew attentiveness in business class was outstanding. 5he business lounge in Istanbul was the best ever. Great airline."
Pros: "The Turkish Airlines flight attendants are some of the sweetest people you can meet. Good souls and extremely dedicated to customer service."
Cons: "First, the Boeing Executives need to be punished by having to fly in the Economy section of their airplanes. Second, Turkish Airlines (a wonderful company) must impose hygiene requirements for their passengers. I sat next to a man that had insane body odor and when I let the Flight Attendant know she kindly reseated me... It was great until I saw the poor woman who took my place ALSO asked to be reseated due to the man's smell! Unfortunately, I was reseated in the middle of the row, which apparently is by Boeing design, none of the middle seats recline. Who makes an aircraft that handles long (13 hour) hauls with seats that do not recline and are too narrow for the average adult? It was such a painful and uncomfortable 13 hour flight. To add insult to injury, the plane was delayed and I missed my connection and had to sit in Istanbul airport for almost 8 hours."
Pros: "everything . also very spacoius restrooms. it deserves vest airtline"
Cons: "hmmm the flight is slightlt longer . hopefully one day soon there will be ditect flight to Malta"
Pros: "Comfortable seats, good food and in flight entertainmen"
Cons: "None"
Cons: "Entertainment system not operational"
Cons: "Bumpy ride"
Pros: "Enhanced security screening is great."
Cons: "Their website reports INCORRECT departure times for their flights!!! BEWARE I travel frequently and Turkish Airlines is posting WRONG information about their flight departures, causing people (like myself) to miss their flights!!!"
Pros: "Food"
Cons: "After bus arrived at steps kept on it 20 mins. 2 more buses arrived in this time. Still wait. Then let out all at once. Massive queues to board. Poeple not dressed for this. Poor babies crying Maybe 15 mins waiting in 2am cold on tarmac."
Pros: "Overall it was ok. I enjoyed the leg space."
Cons: "I suppose it's just a matter of different manners"
Pros: "The flight itself was fine."
Cons: "The flight was delayed about an hour. Prior to that I had a 10 hour layover at the Istanbul airport. As this is busy 24 hours per day there are times that it is difficult to even find a seat to relax in let alone a spot to lay down."
Pros: "Crews were cooperative."
Cons: "See above"
Pros: "When I missed my flight from Belgrade to Istanbul due to plane being late 45 min.and I missed my flight to LA, they gave me a free accommodation and meals."
Cons: "I didn't like the fact that nobody told me that Ataturk Airport in Istanbul is so big that you can not make to connect flight on time for an hour.Especially if you flight has been late to depart like mine from Belgrade due to the rain. I thought I will make it to the connect flight to LA but the gate was already closed. I was instructed to do multiple errands, to get Turkish visa, etc all on my expense to be able to exit the transit as an American citizen and be able to take Turkish airlines bus to the hotel.The hotel was fine and the meals. The problem was that they calculate bus traveling time wrong in the hotel and put people on the bus next day too late, so due to the traffic jam, we barely made it to the airport, and then we had to stress the officials to put us on the fast passport control lane due to boarding time."
Pros: "Freebies gifts"
Cons: "Nothing"
Cons: "Food was dried out and tasteless"
Pros: "Food from Cape Town to Istanbul was very tasty and juicy. Yummy."
Pros: "As above"
Cons: "As above"
Pros: "We liked being in Exit row and the food and service"
Cons: "On way over BOS-->IST the seats were the closest together I have ever had. Exit row video screen support arm did not hold in place"
Pros: "Food is good; service is good. Boarding times were later than expected and left late but didn't arrive lat. Entertainment options were good"
Cons: "more food options would be good; also include decaf coffee or green tea as options"
Pros: "I used the prime lounge in Istanbul and when it was time to go, I was able to practically walk on the plane without any wait. The seats were comfy and didn't have a ton of legroom but it wasn't bad. The staff we're friendly and helpful. The in-flight entertainment had a pretty impressive selection and had one of the best-designed interfaces I've seen so far (and I've ridden a variety of airlines). Last and most important, the food was hands down the BEST I've had on a plane. Turkish is killing it, they're my new go-to airline!"
Cons: "I really can't complain about anything, even if I try! Maybe the touch screen sensitivity on the entertainment console seemed a little off, but that's just nitpicking"
Pros: "Crew was professional, pleasant"
Pros: "Food, value"
Cons: "My personal tv did not work for the entire 11 hours flight"
Cons: "I made it to the flight gate 15 minutes before the plane took off. The crew could not re-open the doors to let me in. I was late; this is understandable. However, after that, this was the worst customer service experience I have ever had. WHY WERE THE REST OF MY FLIGHTS CANCELLED? I paid for those, and I should have been allowed to be on those flights. WORST FLIGHT EXPERIENCE OF MY LIFE."
Pros: "Turkish Airways service is very good -- good staff, clean airplane, attentive service"
Cons: "The airport really lacks seating for its passengers in the general areas. You need to sit in a restaurant to rest your feet as waits are quite long between flights. Another problem is the lack of internet for passengers without Turkish cell accounts. This should be corrected."
Cons: "My flight was cancelled"
Pros: "Staff on plane were friendly and respectful"
Cons: "Landing was rough , boarding gate is isolated from amenities"
Pros: "Nothing"
Cons: "Staff was rude, was so bad cannot even use word customer service to describe it"
Cons: "The seat Screen did not work."
Pros: "Crew were pleasant and did a superb job of making passengers feel welcome."
Cons: "My gripe is mostly with the ground staff. I was happily sitting in the lounge drinking copious amounts of hot tea due to an illness when my flights status changed on the monitor; "go to gate", it read. When I dutifully arrived at the gate, what was happening? Absolutely nothing. I sat there shivering for another 30 mins before boarding, my heat source (the tea) removed. The moral of the story is that a passenger's time has value, DO NOT waste it. In my case, the cost was physical agony of freezing on a mediterranean island in the summer while wearing 2 shirts, long pants, and double socks. If the ground staff did everything to procedure and are thus faultless, then the procedure is reprehensible and should be updated."
Cons: "Leg space a nighrmare!! Was uncomfortable for all the 13 hrs of the flight. Terrible experience"
Pros: "It was a 12 or 13 hour flight and except for sitting too much we were never uncomfortable. The service level made me think we were back in the 80's. Hot towels, attentive service, tons of food and free drinks. There was actually one meal that we would have eaten even if it wasn't on a plane. They gave out full size blankets and pretty fluffy pillows. (I bring our own anymore, because you never know if you will get one on most airlines, and if you do they're usually useless). Their entertainment system was amazing. We caught up on all the recently released movies that we've wanted to see for FREE! If only Netflix had this quality of movie offerings. They had fresh flowers in the huge bathrooms. It's that type of attention to detail you just really don't see anymore."
Cons: "Can't think of a thing that could actually be changed."
Pros: "Service when it was done"
Cons: "Infrequent service Crowded Entertainment system bad"
Pros: "I flew Turkish Airlines this year - 2 domestic flights and 3 international - and every flight was great. The long-distance flight (Japan-Istanbul) especially. My seat was more comfortable than with USA companies I've used, I was fed on short-lap flights and provided a pillow (no extra charges), I had real milk to put in my coffee (not chemical creamer) and I didn't pay extra for baggage. Flights were on time, crews were friendly. I'll be using Turkish Airlines more in the future, for certain."
Cons: "Failed to offer me newspaer upon boarding....passed our seat flying with cart full of papers!"
Pros: "Selection"
Cons: "Headphones or headphone plugs do not make good connection. Screen touch is hard to manage."
Pros: "Excellent food, service and on-time"
Cons: "Seats too close together. Also -- and VERY important -- they are so close together that they shouldn't be allowed to tilt back and press further into the person n the back's knees. NOTE: Turkish Airlines is, by far, not alone with this problem. Airlines have jammed too many seats in the plane. Increase fares a tad and give more knee space."
Pros: "I was pleased with the food. It was plentiful and varied. I appreciated that the cabin lighting was increased gradually allowing people to wake up gradually instead of abruptly."
Cons: "The seats were very close. The seats were not well padded. The bathroom trash was overflowing."
Pros: "The price, wonderful service, plenty of good food. Great entertainment selection"
Cons: "I wish there was a little more leg room, specially for such a long flight."
Pros: "Food & metal utensils,, courtesy, 5-star hotels on my two 14-hr layovers with meals as appropriate.,"
Cons: "Being asked to raise my seat back so that I woman behind me would find the positioning of her magazine more comfortably read. The space was mine. I am 78 and need all the backward lean (which is not much in economy) for my back that I can get. I finally said so. But my discomfort should not be asked in such a case....when at first I though it might have something to do with some expected chop or the like."
Pros: "Food was very good, flight crew were fine"
Cons: "We were delayed 3 times and never once were given any information as to the delays! Fortunately, I was not in transit in Istanbul!"
Cons: "I lost my luggage and they said we ganna send it to you they didn't send any thing"
Cons: "4 HR ground hold only partially made up for with faster flight time"
Pros: "Very little"
Cons: "Broken seat, TV only showing in black and white, ice cold and/or inedible globular food, air attendants with very little command of English"
Pros: "The crew was Ok except at the beginning when they could help more inside the plane with finding the seating."
Cons: "I missed the plane shopping because i don't recall seeing the crew after the meal offering it. I heard the announcement at the beginning of the flight so I was looking forward to make purchases. Later when I asked it was already closed."
Pros: "Crew was very friendly. Liked that you can see how far away and how much longer the flight was."
Cons: "Flights to be more on time"
Cons: "More space on economy for long flights."
Pros: "Crew was kind and helpful. The flight left on time and was smooth."
Cons: "The food could have been better! Also, the entertainment options could have been more current."
Pros: "Clean and comfortable airplane"
Cons: "Entertainment wasn't working the entire flight"
Pros: "The plane looked new and clean. The TVs worked well (as opposed to our first flight) and kept our family entertained. The kids meal was prepared in an appealing way for my kids (even though the kids didn't like it some of it - but they tried everything!)."
Cons: "We had a great experience. No issues."
Pros: "The crew performed their duties in a professional manner."
Cons: "We arrived late, but that was nothing compared to the horror I experienced with my connecting flight out of Frankfurt to Mallorca. I should get a refund."
Pros: "The new Airbus was a very cool aircraft."
Cons: "Boarding process is really disorganized."
Pros: "crew was good food was good"
Cons: "comfort"
Pros: "Really cheerful and friendly crew."
Cons: "They changed my seat just before boarding. Front lavatories are not usable by passengers behind the curtain."
Pros: "The problem was with the booking, cancelled flights- under stable- but nobody willing to make it right. Flights still screwed up"
Cons: "Give some customer service to your paying customers. Don't make a bad situation worse. Practice a can do attitude. Very disappointed in customer service. Not the flight itself."
Pros: "Comfortable seats, pleasant service"
Pros: "Good"
Cons: "Our flight was cancelled by the airlines due to mechanical failure. Told us to go home and wait for email on what to do. No compensation"
Pros: "On board crew was friendly and helpful"
Cons: "Muslim meal does not mean all Muslims eat curry. It's rediculous that we cant have a decent English breakfast instead you get curry or some form of curry for breakfast, lunch and supper. Your so called Muslim meals are not suitable for kids!! There is no such thing as a Muslim meal either. It's simply called Halal otherwise then everyone else's meals should be called Christian or Jewish meals etc. Also I requested help with transfer to my last flight which was horrendous because I'm one adult with 4 kids ages 1 to 11 and my eldest has sever learning disability. I nearly missed my flight because our flight landed late and I was struggling to keep my kids safe and together while running for the next flight. Somone should have been there to help with transfer."
Pros: "My previous flights with Lufthansa have been in business class, which is fabulous. However, on this occasion flew economy because I got an exceptionally cheap ticket. I was pleasantly surprised. Obviously the seat was narrower, but had plenty of legroom. The food in economy in Lufthansa is better than most airlines' business class meals. The crew is very courteous and professional. You really can't go wrong with this airline."
Cons: "There was no downside."
Pros: "Excellent service and food"
Cons: "Very poor connecting flight information for check in. United connecting flight through Lufthansa has no information. Have to ask around airport and nobody seems to know exactly when United will open for checkin. Discover next morning it is only 2 hrs before flight, 1.5 hrs before boarding. Lufthansa made no effort to pass along their connecting flight information, they just drop all responsibility and say it is a United flight so offer no help. First and last time with Lufthansa."
Pros: "Easy boarding. Nice crew. Good leg room"
Cons: "The seat was so hard and my seat back was broken so I could not recline. I paid extra for these seats and it was not comfortable."
Pros: "I like the Aircaraft - A350-900 and service"
Cons: "It was delayed an LH didn't allow enough to allow me to catch my connecting flight"
Pros: "They even filled my water bottle a couple of times in addition to numerous glasses at my seat."
Pros: "Loaded plane from both ends, giving fast boarding time."
Cons: "Limited entertainment on this short flight."
Pros: "Clean aircraft, very friendly crew, good food, overall great trip."
Cons: "That you get out the plane using the steps and take a bus to the main airport.. and waiting for the wheelchair for half an hour"
Pros: "Upgraded seats from PHL to FRA, which was great. Had a lot of legroom. Very nice staff, comfortable flight"
Cons: "Very small legroom from Frankfurt to Budapest. When you are 5'11 it's hard to fly . The prices i have to pay all the time to upgrade only because I am tall is out of control. It adds hundreds to my flight cost when the prices are already high."
Pros: "Firstly, the food was great!"
Pros: "Crew service and positive attitude"
Cons: "Gate change made with no PA announcement; we'll, if you must, ok. But beginning boarding without telling anyone at all, making no announcements, not even in Hungarian, seems weird."
Pros: "I was upgraded after all the pressure from thehurrricane this was the icing on the cake"
Pros: "Perfect service and comfort for a short flight. Very modern, excellent!"
Cons: "Sandwich delicious but too small."
Pros: "There was good in flight entertainment"
Cons: "The food was barely edible. I'm glad to have brought a snack in my bag."
Pros: "Not much"
Cons: "Entertainment system wasn't working. 11 hour flight. Boring. No seat change available. No reading light, as light controlled by entertainment system. Seats in front of toilet cluster lit up every time door was opened. Crew were slow to react. Wasn't a priority. Ruined the excellent first leg of had from Philadelphia to Frankfurt. Do they run inferior planes to South Africa compared to USA?"
Pros: "The service was very good. You never really felt you had to ask. I was able to catch up on a few movies of my choice. That was nice."
Cons: "It's a long flight and it's always difficult to get comfortable and 1st class is just out of my budget."
Pros: "Very friendly staff and food was delicious."
Cons: "I had to run from Terninal A to Z to make this flight since our first flight was delayed arriving due to weather. As a result, my luggage didn't make it to my destination."
Pros: "Seat and service on board"
Cons: "It was difficult to watch the movies. Some of them were stuck and couldn't be played. Only after a while they "unlocked"."
Cons: "The seats were uncomfortable."
Pros: "They were average in terms of comfort and crew. You can only get so conofortable in economy class and the crew did what they were expected to. I did feel that my empty meal tray was left on my table for quite some time though."
Cons: "We had no individual entertainment on the flight, only very old CRT screens hanging from the ceiling, circa 1995. They did show movies but the sound quality was poor and my headphone jack did not work so I had to share with my husband. They offered no explanation for this, since their website clearly promises individual screens for international flights. When asked, the FA simply said "this isn't our usual plane for these types of flights." However, we had the same issue when flying to Frankfurt with them, so the company seems to just be lying. The food can barely pass as food. Everything was ice cold except the main dinner entree, even the bread. The only vegetable available throughout our 8+ hour flight was shredded carrots absolutely swimming in mayonnaise. The boarding process was exceedingly slow and they would not allow use of cell phones for boarding passes, although their check in provides the attachments. This required probably 1/4 of those boarding to have to step aside to another line for a paper copy. Again, no apologies or explanations from the company. Overall, I wish I had shopped around a bit more and chosen another airline. International flying is supposed to be somewhat enjoyable, even in economy class. Instead, this was the longest 8+ hours of my life."
Pros: "The attention to service. We traveled with an infant and Lufthansa staff was more helpful and attentive than any other airline we've filed with our infant in the past."
Cons: "Nothing"
Pros: "The crew members were friendly."
Cons: "Fro dinner the quanty was very little. I weigh barely over 100 lbs, and l don't eat very much. Still even for me there wasn't enough, so I got hungry after a few hours. For breakfast the egg was rubbery. It was disappointing."
Pros: "All the staff was very friendly and helpful."
Cons: "Terrible leg room."
Pros: "Love being able to watch whatever I want on the entertainment screen. The crew was very considerate and helpful to passengers. This plane had the restrooms downstairs which really reduced congestion."
Cons: "The "dinner" meal was really not good. The lunch meal was OK. I remember much better food being served several years ago when I last flew Lufthansa."
Cons: "My chair did not recline at all, which make long fly very uncomfortable. When I complained to fly attendant, she said that there is nothing she can do about it. The table in front of the chair was also very hard to open."
Pros: "Just much more professional than US carriers... Also much more leg room in economy class then most US carriers"
Pros: "Lufthanza is very bad with customer service. They have a NO COMMUNICATION POLICY. Tell the customer nothing. Leave them in the dark."
Cons: "no announcements about a flight that did't occur for one hour later"
Pros: "Very efficient service! Debarkation at MUC very fast and efficient for making it easy for connections to other flights. Nice crew!"
Pros: "Service wonderful Seating and cleanliness excellent"
Cons: "I did nt like the food offered."
Cons: "It needs bigger seats More comfortable for far flights"
Pros: "Flight on time, overall good."
Cons: "Luggage did not arrive in San Francisco which believe the problem started at the Malta airport. I was booked in as a stand by according to staff at SFO. I had booked my flight in Jan. with a seat assignment confirmed so not sure why I was booked in as a stand by passenger. Bag arrived to my home the day after I arrived home. Overall, good flight."
Pros: "So rude crew"
Cons: "Friendlier crews"
Pros: "Very friendly and responsive crew. Announcements from the Capitan and chief of flight attendants are very informative and comforting. Seat positions: very good leg room (even in economy)!"
Cons: "Newer airplane, as 747s are kind of outdated now, especially for long distance flights. But overall had good experience with KLM"
Pros: "Great atmosphere, crew was excellent!"
Cons: "I'm 6'5", so legroom can always be a complaint, but this wasn't too bad. The plane appeared to be fairly old and didn't have WiFi. Entertainment also was on an older screen which was navigated by using an old in-seat phone."
Pros: "Crew helpful. Food good."
Cons: "Better range of movies please"
Cons: "Not being 1 hour late"
Pros: "Seat was comfy and spacious for economy class"
Cons: "Vegetarian meal was okay but could be more enjoyable if served with bread at start of meal."
Pros: "Great crew, comfortable seating with enough leg room."
Cons: "Provide dinner before getting to joburg, instead of a snack. Flight arrives late so dinner would be appreciated"
Cons: "Flight 2 hours delayed, started boarding but had to wait on line 10 more minutes on boarding ramp for plane door to be opened, upon landing in Dublin had to wait on tarmac for anther 15 minutes for stairs to arrive and be connected to airplane. Then had to wait another hour for checked luggage...."
Pros: "Nice aircraft"
Cons: "Unexpected refueling stop. 2 hr delay Lost connection Reached destination after 18 hr delay"
Pros: "Crew's hospitality, good music, good destination material, terminal info, good system overall"
Cons: "Less legroom, storage space, bad food, few movie options."
Pros: "Very good service, teh flight attendants made it as pleasant as possible, plane left on time"
Cons: "tough to sit on a plane for 9.5 hours"
Pros: "Light snack and complementary wine"
Pros: "The service"
Cons: "The seats"
Pros: "Seat 39A did not recline. The gentleman next to me spread his arms out a bit as he typed on his computer the entire way. So I did not get ANY sleep. Plus he got up at least four times."
Cons: "Except for the man next to me - great!"
Cons: "Still waiting to board after missing this connection had to be booked on another airline"
Pros: "The food rocks! I know that I will always be eating well with KLM. The staff is always so nice, professional and cordial...I always know I'll be in good hands with the flight. KLM #605 from Amsterdam to SFO---please pass the praise to all of them."
Pros: "Professional crew. Good boarding."
Cons: "No entertainment on board in business. Stale buns - staff unapologetic. Older 737 with uncomfortable seats."
Pros: "We were fed a nice pasta meal and offered drinks twice. They also gave a muffin for desert. The flight attendants were very nice and attentive with cheerful smiles. I wish every airline had service this good!"
Pros: "Fairly nice flight. 7 hours AMS to JFK. They had ice cream cones for us mid flight and an after dinner cognac if you wished."
Cons: "Not a big fan of paying for a few extra inches of leg room in a better seat after paying for a ticket."
Cons: "The cabin crew was racist! She asked me to move from a seat because she wanted another guy ( obviously from her country ) to take it! Rude and racist."
Pros: "Arrived Early!"
Cons: "Left Late :-)"
Pros: "Nice flight, nice crew, and a nice experience."
Pros: "Sandwich was incredibly tasty (although not much filling)"
Cons: "2 hours on the tarmac delayed with no explanation. Uncomfortable seats, no leg room. Poor management of seating, there was enough empty seats to have groups together but they were split up. Drinks served from a communal bottle in a polystyrene cup."
Pros: "Crew were friendly. Flight was comforyable smooth and on time. Nice snack."
Cons: "Bag was lost"
Cons: "Amesterdam airport employee was really rude"
Pros: "Helpful and smiling cabin crew."
Cons: "I don't like the limited choice of drinks on these short KLM flights."
Pros: "The flight was great."
Pros: "Flight was delayed for three hours and was a very stressful flight"
Cons: "Flight was not on time and got to destination very very late pier management of aircrafts"
Pros: "The flight was very good, specially considering it was a daylight one. Staff was friendly and servicial. Tue food was above the industry's average."
Pros: "quick and relaxed"
Pros: "Good multi media access and content"
Cons: "old plane, tight and uncomfortable"
Cons: "Long stop over at Schiphol. Too Long!!!!"
Cons: "Our flight was canceled from Amsterdam to Bordeaux and did not receive any direction and had to find alternate flights for ourselves with the personal expense of using our own cell phones. Then our luggage lost for 3 days. Not happy! We ended up flying from Toronto to Paris then to Bordeaux. Lost my upgrade money for seats. Now have to deal with KLM for refund!"
Pros: "Jet airways flight till mumbai"
Cons: "Poor legspace in Klm flight till Amsterdam"
Pros: "Fortunately, the plane was not full, so people could spread out a bit to create extra room. The food was really good! (surprisingly)."
Cons: "KLM's new configuration for this type of plane made the seats even narrower than before. While leg room was reasonable, the 3 abreast seating meant a lot of discomfort, especially in the row right in front of the restroom."
Pros: "delayed"
Pros: "For an 8 hr flight...multiple snacks, 2 meals and continuous beverage service. Blanket, pillow amd movies."
Cons: "Watched flight attendant drop tongs on floor, pick them up and put them back in the bowl of buns and continue to use them to serve bums"
Cons: "The crew on the Lagos Amsterdam route (in economy) are particularly unfriendly and brusque. This is my experience each time i fly this route in economy"
Pros: "Was able to check in online, very convenient and easy to access site."
Cons: "I didn't go on this flight, unable to leave Seoul (to Beijing) with China Southern."
Pros: "Boarding was smooth and hassle free, crew were friendly and helpful, food and drinks were very good, entertainment system is awesome and up to date with latest contents, good flight overall"
Cons: "Cabin noise and air conditioning too cold, didn't sleep well"
Pros: "No entertainment or food needed on a half hour flight. Otherwise excellent."
Cons: "Nothing​"
Pros: "Good food, good entertainment system, comfortable seating."
Cons: "Only one toilet working in business class. A crew member told me that it was a decision to fly with only one toilet to ensure no delay. There was a disgusting stench of sewerage for the complete flight from Amsterdam to Johannesburg. This was in all likelihood due to the broken toilet on the left side."
Pros: "Smooth boarding. Good food. Decent leg room at my seat. Good crew. Flight was on time. Good magazine on the flight for entertainment."
Cons: "They didn't give any napkins out with the food which was weird."
Pros: "Newer plane. Dimming windows, upgraded bathroom. Flight crew very pleasant."
Cons: "Boarding wasn't announced. Limited in flight movie selection. Food was average. Same dessert for both meals served."
Pros: "10 hour flight - I was well looked after, regular drinks, the food and snacks were good enough and tasty. The in flight entertainment was good - latest movies and worked a great variety of tv, books and movies. The airplane was modern and comfortable"
Pros: "pleasant"
Cons: "Pleasant"
Read more about SWISS
Safety measures for airlines flying from Malta Island to South Africa
Airlines flying from Malta Island have enacted additional safety measures and adjusted policies to better accommodate travellers. Policies vary by airline.
Heightened sanitation
Daily cleaning, installation of cabin HEPA filters on flights from Malta Island
Mandatory masks
Masks required on board, masks provided on flights from Malta Island
Social distancing seating
Middle seats unavailable to book on flights from Malta Island
Pre-flight testing
Testing for antibodies, testing for symptoms for flights from Malta Island
Book cheap flights from Malta Island to South Africa
Recent return flight deals
Search by stops
Search by airline
Search by price